I was really determined to get to Croydon again this year – after all, it's not a difficult drive from Dorset (150 miles) and I already had the route in the Satnav from the last time! Wife Jane was keen to come along and help, which ended up with her doing a lot more than dishing out sandwiches and sympathy – thank you darling! Work commitments dictated that we drove up on Sunday morning then stayed overnight in the Aerodrome Hotel. The Croydon Airport Museum is part of the hotel complex, complete with a De Havilland Heron on a stand outside. It's always open on the first Sunday of the month, so we were able to pay a quick visit to the pilots' briefing rooms, passenger departure area and Control Tower (there's some good models of Handley-Page 42s in there!) then on to the Carrier flying field actually on what remains of the aerodrome at about 13:30.
Andy and the team had set up the deck, and the event had obviously been going for a little while already. Surprisingly there were not many entries this year despite the gorgeous weather and a really excellent venue. As a bonus, there was a C/L scale competition taking place next to the Carrier field, and at least one of the Carrier chaps had entered that as well -I think it may have been Peter Tribe. Whoever it was had brought along a turbine-powered mini-jet and oh my goodness, that wonderful aroma of burnt kerosene wafting across the tarmac as it pirouetted sweetly around! Next year I will be entering a ducted-fan F4 (K&B 7.5 powered) in Carrier but the year after it's got to be a real jet!
Above: the Croydon Flyco Team!
I watched again in admiration as Peter Tribe flew his electric Meteor(s). He now has two; one the original full-bodied plane, the other a new profile version. They can move very rapidly on the fast laps, and oh-so-slow and smooth on the loiter section (that large wing area must help). Peter is of course a very talented pilot, and he makes 100-point landings look easy (they aren't!).
Above: Peter Tribe's Profile Electric Meteor
I was distracted for a while when Andy twisted my arm to enter my Fokker D7 for the scale comp. I'd only brought it to try running it with its new engine – alas, the needle valve was the wrong one and full revs were never going to happen. I therefore missed some of the Carrier flying, but eventually got to the oche with the MO-1; despite behaving perfectly at Leicester, the Webra 61 refused to run for more than 10 seconds. Oh well, on to my version of the Housden Hellcat. After more fuel-feed problems, rectified thanks to kindly help from Andy, she ran well, and on my last flight at the last meeting of 2013 I finally got my first 100-point landing!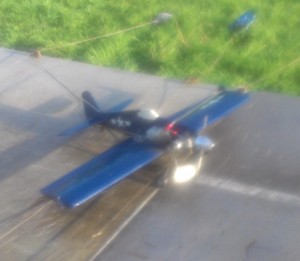 Above: Lens covered in greasy fingerprints, but never mind: it was my first arrested landing! Thank you everyone who helped me get that milestone out of the way, especially Jane who learned how to launch a C/L model, got covered in Methanol, but still came home smiling…Enough of my rambling – here's some more pix of the event, and also the results: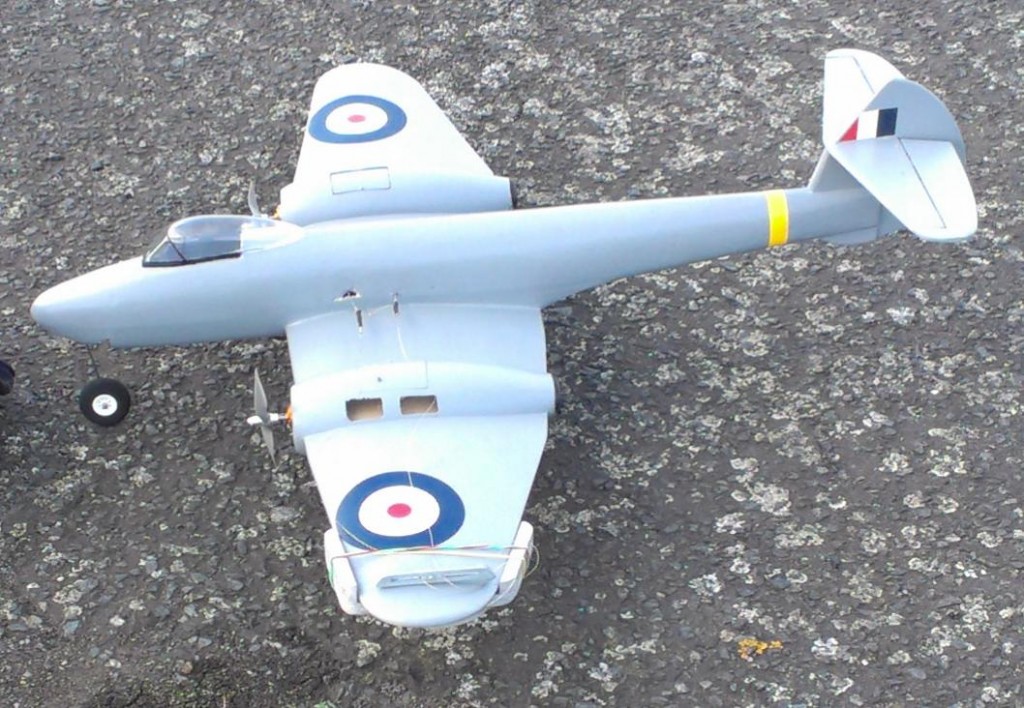 Above: Peter Tribe's Full-bodied Meteor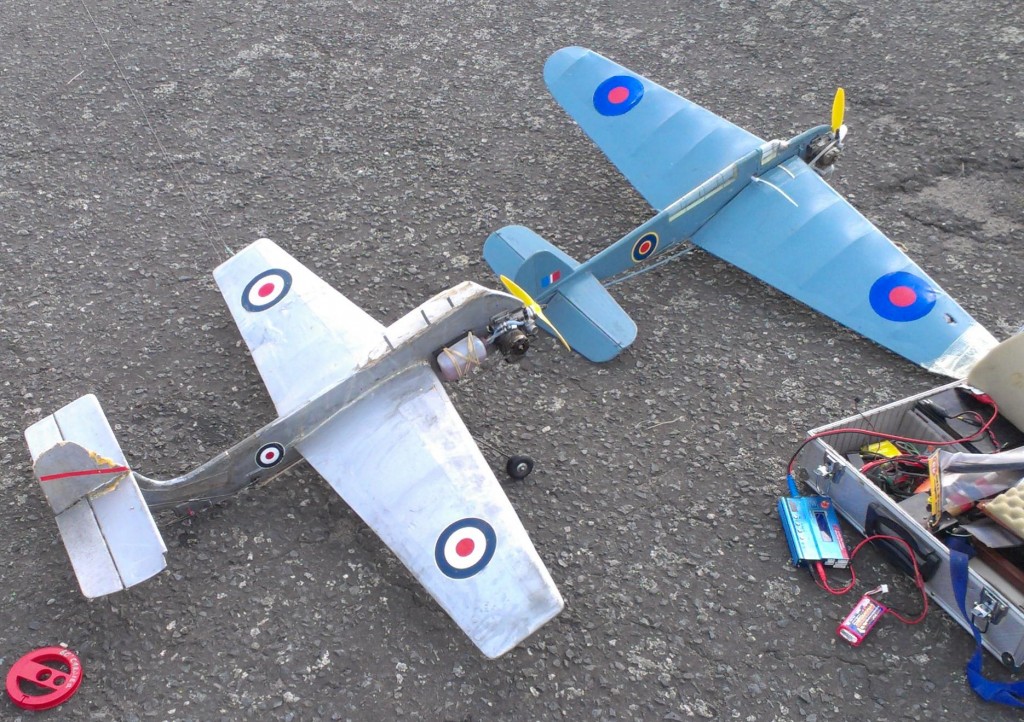 Above: Andy Housden's Seamew and Mike Welch's Fulmar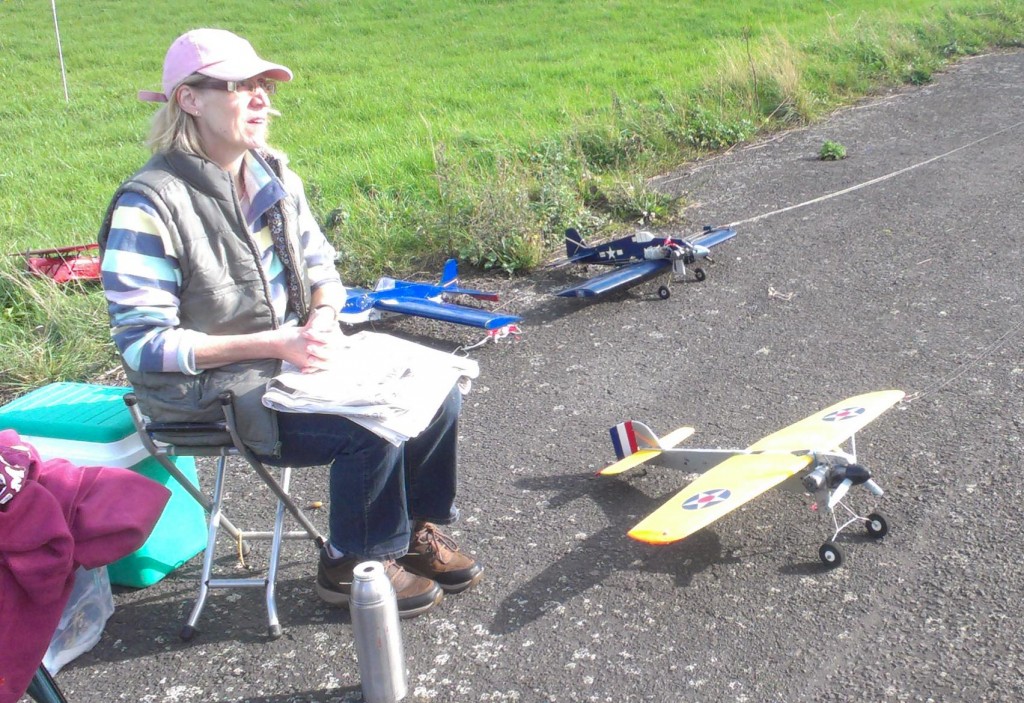 Above: Jane scolding the MO-1 "just stop being silly"!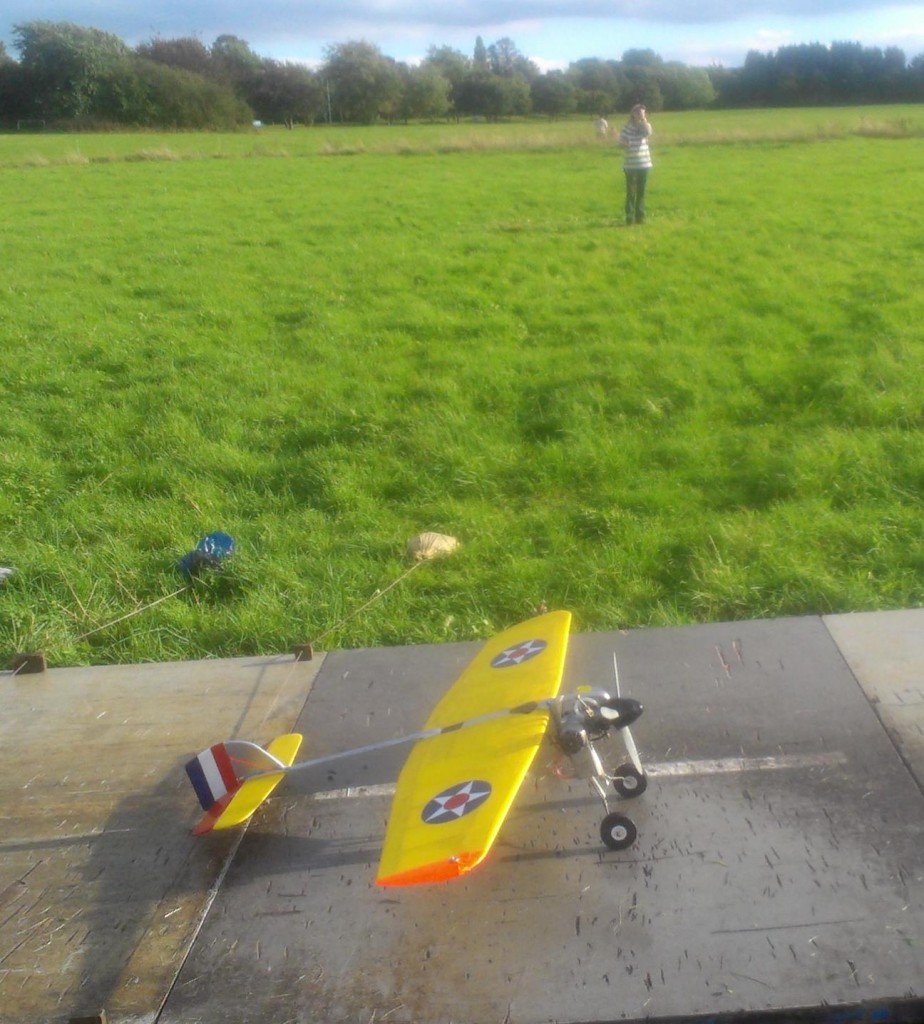 Above: General view of the Venue – super site!
RESULTS!
Croydon BCD and Class 1 Meeting October 6th 2013
Weather: Sunny, warm, no wind, deck dry and perfect
Pos
Pilot
Aircraft
Engine
Fast 7
Slow 7
Time
Landing
Deduct
Scale
Colour
Total
Mike Welch
Fairey Fulmar
SC 38
33.6
135.8
102.2
100
0
10
10
222.2
1
Mike Welch
Fairey Fulmar
SC 38
32.9
147.1
114.2
100
0
10
10
234.2
Peter Tribe
Gloster Meteor 3
Twin Electric
26.5
136.4
109.9
100
0
10
10
229.9
2
Peter Tribe
Gloster Meteor 3
Twin Electric
25.8
137.2
111.4
100
0
10
10
231.4
Peter Tribe
Gloster Meteor 3
Twin Electric
27.0
137.5
110.5
100
0
10
10
230.5
3
Roy Green
Short Seamew
OS 40
31.5
116.4
84.9
80
0
10
10
184.9
Roy Green
Short Seamew
OS 40
29.1
111.6
82.5
20
0
10
10
122.5
Andy Housden
Short Seamew
OS 40
30.9
Ditched
DQ
4
Andy Housden
Short Seamew
OS 40
30.9
110.6
79.7
80
0
10
10
179.7
Mike May
Hellcat
ASP 40
34.1
51.7
0.0
Ditched
DQ
5
Mike May
Hellcat
ASP 40
38.3
54.9
16.6
100.0
0.0
10.0
10.0
136.6
Matt Cornell
Fairey Fulmar
SC 38
32.0
Ditched
DQ
6
Matt Cornell
Fairey Fulmar
SC 38
38.3
Attempt
DQ
Matt Cornell
Fairey Fulmar
SC 38
30.8
Ditched
DQ
Statistics for the Anoraks!
Fastest fast
 25.80
Completed Flights%
64.3
%
Slowest fast
 38.30
100 point Landings%
66.7
%
Average fast
 31.55
Fastest slow
 51.70
Slowest slow
 147.10
Average slow
 113.92