Now hear this! Now hear this!
THE TANNOY specialises in links, news articles and pictures found in magazines and on the internet that relate to our kind of model flying. Some you may have seen before, others will be new. I regularly trawl mags and sites to find new stuff, but more is always very welcome – please drop me an email at flyco@carrier-deck.com if you know of a really tasty morsel for Carrier fans.
Let's start with a couple of excerpts from the fantastic US-based FLYING MODELS magazine from the 1950s. I do hope they don't mind – the mag is still going strong in the States and I buy second-hand job-lots regularly for browsing – great fun!
First up is an extract from the cartoon strip (nowadays known as "Graphic Novels" I understand) starring Fixit Wright (knows everything about model flying), his girlfriend Bunny (who's a dark horse in every way) and her older brother Tailskid (a bit of a numpty but full of puppy-like misplaced energy) – they're all model plane fanatics. Worth noting is the added bonus that Bunny is genuine centrefold material, but my goodness, she knows about rigging an auto-rudder for line-towing gliders, flies a mean-looking Skyraider in Carrier and can probably knit fuel tubing too. What a combination! This story had lost part of the last frame, so our resident Photoshopper grafted in a Bunny look-alike and made her yearn for something a bit more challenging – a natural reaction from a girl who's a far better pilot and a lot better-looking than the guys!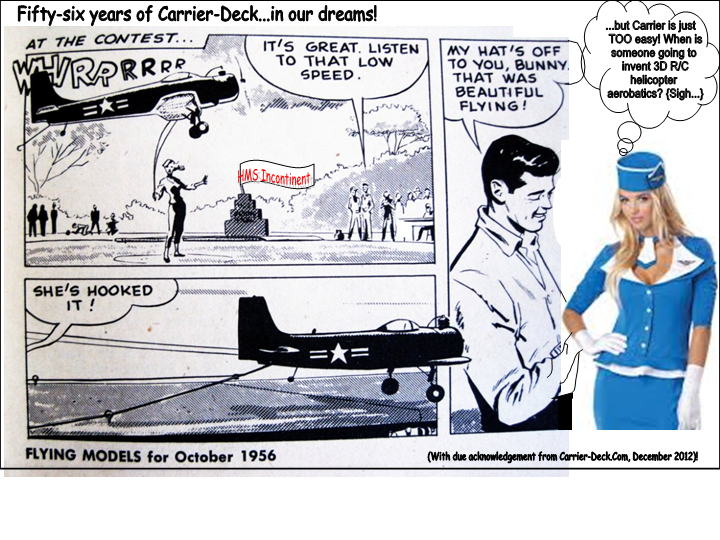 Next up, we have an amazing cover from Flying Models that beautifully captures the whole atmosphere of Carrier flying, both full-size and C/L. We're shown the Class 1-type near-scale Tigercat at the US Nats leaping off the model deck with its anxious launch crew giving that extra push, while the military judges provide a clever link between the model and the real carrier launching a jet in the far distance of our collective imagination! Now how about that for a motivational message for the American teenager debating whether to join the US Army or Navy?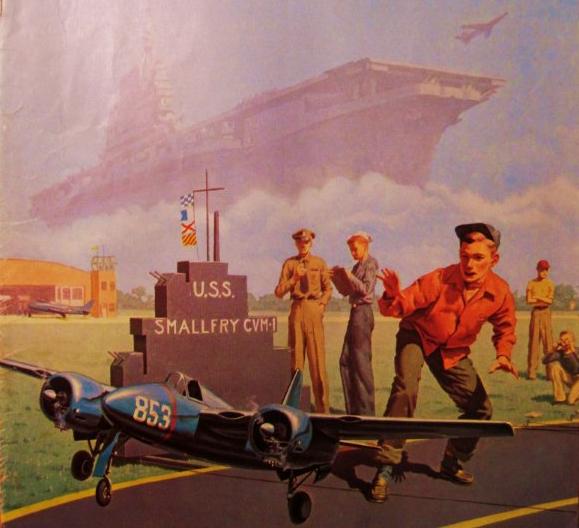 Maintaining the theme of melding full-size carrier flying with our own miniature version, here's some amazing pictures taken on the USS Lexington's flight deck, where some enterprising Navy model fliers had somehow managed to persuade the Captain of the PR benefits of holding a model Navy Carrier competition right there on the ship! The pictures are dated 1964 and come once more courtesy of Jan Odeyn. I do rather like the look of that Corsair in the big picture..complete with scale four-bladed prop. It's also interesting to read that this event was planned, among other activities,  as a way of getting air- and sea-minded people onto the 'Lady Lex', where they might well be attracted by a career in the Navy. Not too sure about the use of the word "indoctrination", though!
,