REPORT FROM ANDY HOUSDEN

The forecasts for both days were surprisingly accurate (for once!), being a 4-8mph SE wind, sunny/cloudy and showers for Saturday and a 10-13mph SW wind, cloudier and heavier showers for Sunday. As aeromodellers, we know that as long as wind speed is not excessive (though Sunday's was occasionally marginal), it's rain which usually makes model flying the most untenable. So, providing a forecast is not for continuous rain, there are likely to be periods during which flying is perfectly possible, and, over this particular weekend, all flights were indeed made within weather 'windows' during which the rain had eased off. It is entirely understandable that flyers may want perfect weather before they attend events and whilst this desire is to be sympathised with, such flyers are advised that this may be the pursuit of an increasingly unrealistic goal in these changing times!
David Cowburn kicked off the proceedings on Saturday with his traditional balsa construction/i.c. power Blackburn Firebrand. Although this was the only day he flew Carrier, he recorded easily the most consistent scores of the event, and considering the nature of the weather and the fact that his model was a trainer-type with a deliberately small wing area – in fact, perhaps better suited to the weekend's conditions than any of the other models would have been, had beginners been trying to fly them – he produced three very respectable full-score flights that each finished on the No.2 wire. The landing score is always assessed at the instant that model forward motion stops, which was just as well for David's first flight as he pulled the Firebrand off the inboard deck edge moments afterwards! After a minor adjustment to his landing position marker, the second flight was identical (except for a single overshoot) right down to where the model stopped on the deck, except, of course,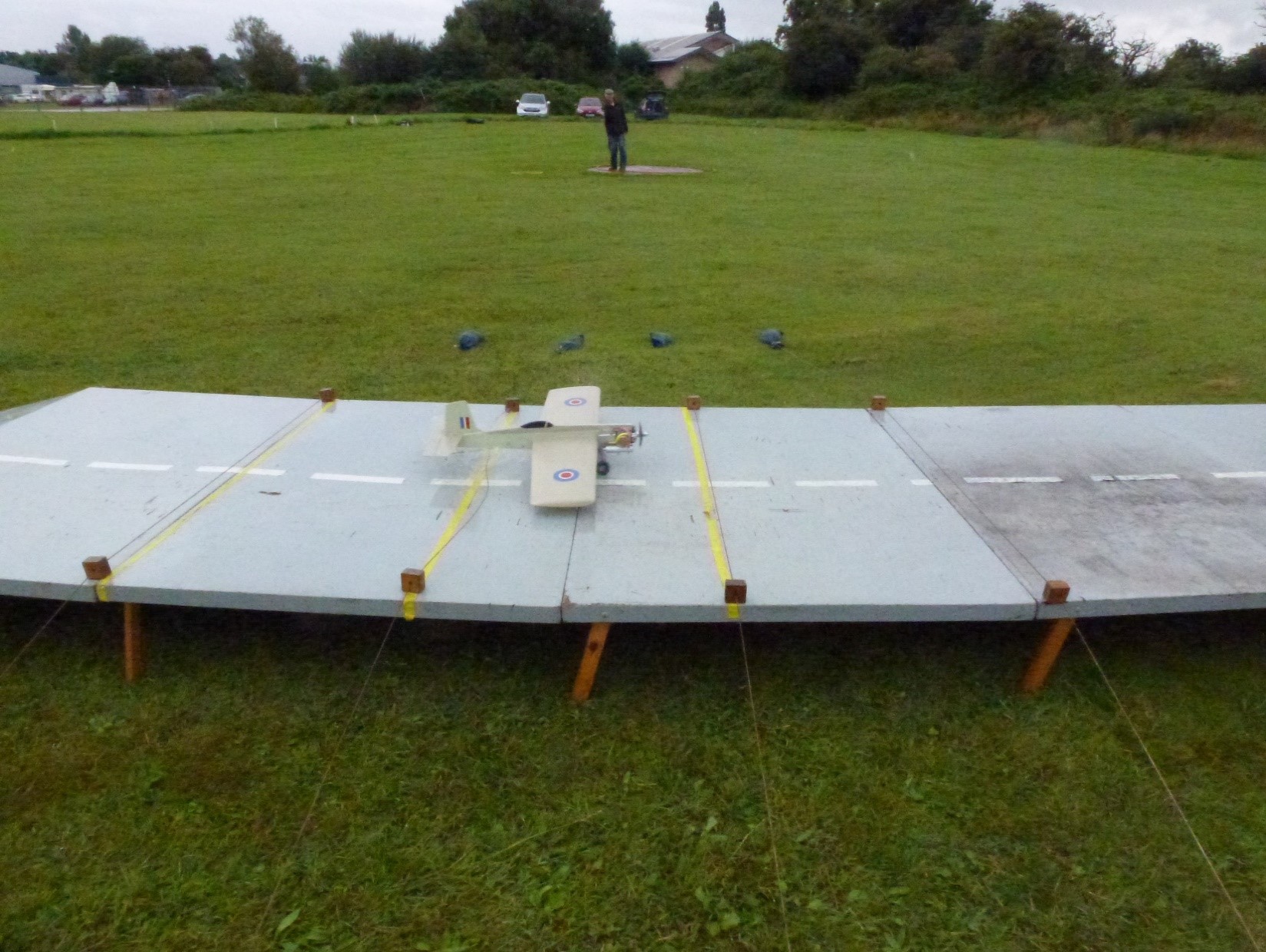 that it was a foot or so further outboard (above). David's third flight, however, rang the changes as he picked up the No.1 wire as well as the No.2, though stopping in much the same place! But as David is a very experienced Aerobatics pilot, however, perhaps such locational precision shouldn't be so surprising after all…
Ian Gilbert was unsure which of his models would be best for Saturday's conditions, but after two very hairy upwind moments with his foam/electric P-51 Mustang (modern aviation tech-speak might have called them 'flight path excursions'…), finally resulting in a ditch, his balsa/i.c. Westland Wyvern was used for the rest of the day. Even so, the Wyvern produced its own upwind 'excursion' on its first flight by rolling in and free-flighting across part of the circle, fortunately rejoining the proper flight path (and pilot control!) further on!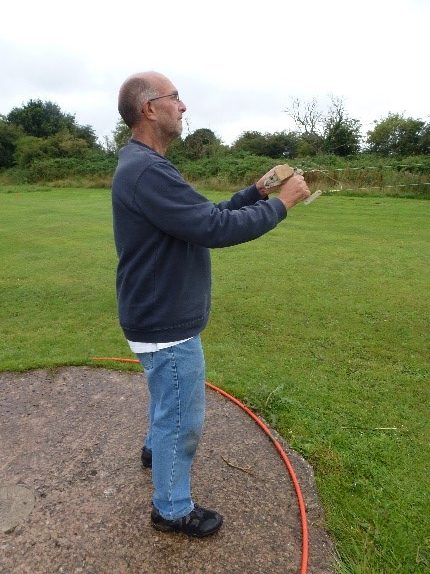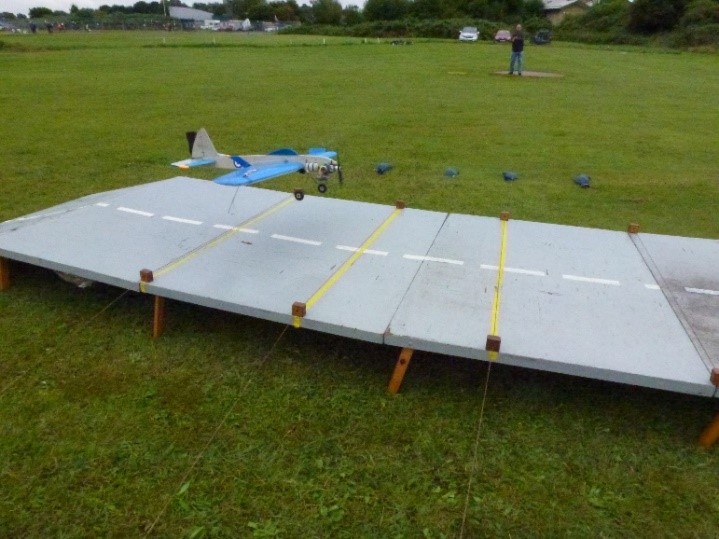 The second flight ended with hook/water contact when the model dropped unexpectedly into the downwind hole after an unexpected sudden gust of (tail)wind. The third flight was nearly a repeat of this, but Ian managed to add enough power to avoid a ditch, finally hooking up on the No.2 wire for his best score of the day, 234.6 points (above).
Sunday's distinctly worse weather still didn't stop Ian from trying his foam/electric Mustang again and although it was fairly obvious that his heavier Wyvern would behave more predictably, Ian executed an outstanding flight under very trying conditions with the Mustang (below). A major problem with lightweight models of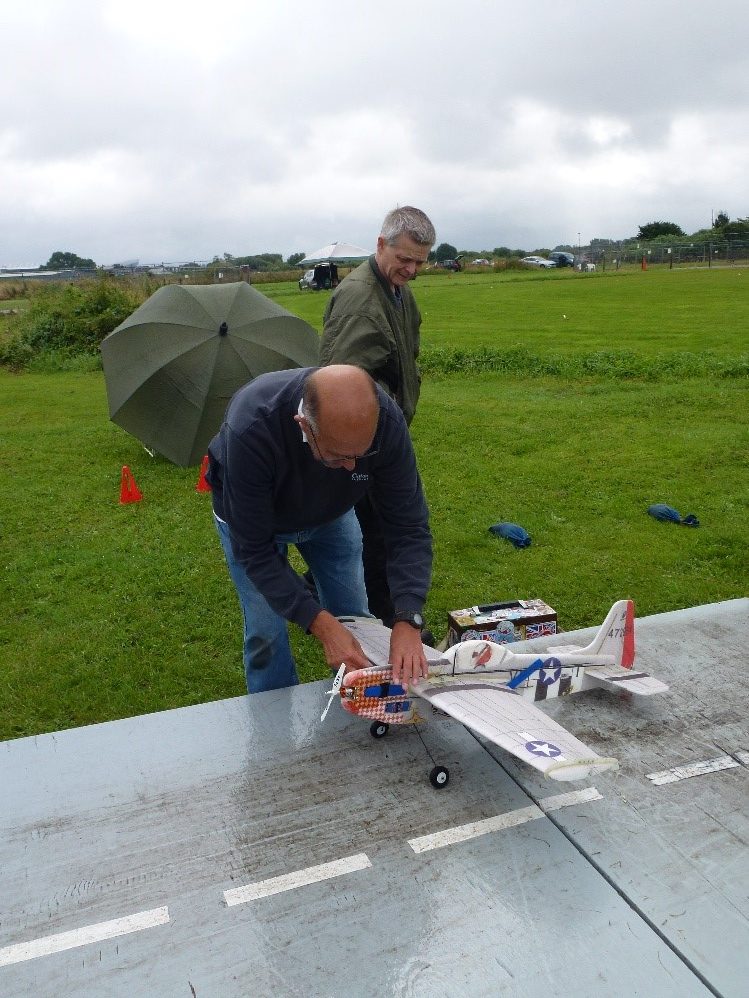 this type is the lack of into-wind penetration when wind speeds are high and Ian's fast and slow runs both suffered accordingly. Nevertheless, he battled gamely on, even when the rain returned at the beginning of the slow run. The model hooked up on the No.1 wire, but exactly as happened to Dave Cowburn on Saturday, he pulled the Mustang off the inside edge of the deck – but again, exactly as happened to Dave, it was after all forward motion had stopped, so he retained the landing score to produce his weekend's best score of 250.3. Ian's last two flights were understandably with his Wyvern, but this model was blown backwards by a violent gust when flying into wind during the first flight slow run and it simply dropped out of the sky flying downwind when assailed by another gust during the second flight slow run, both events inevitably each earning a disqualification.
Paul Stubbs' first flight on Saturday (below), actually his first Carrier flight since 2019, would have produced a very respectable score for his balsa/i.c. Grumman F6F Hellcat, except that the elastic band used to keep the hook out of the way during storage & transport hadn't been removed! Although a small section of the hook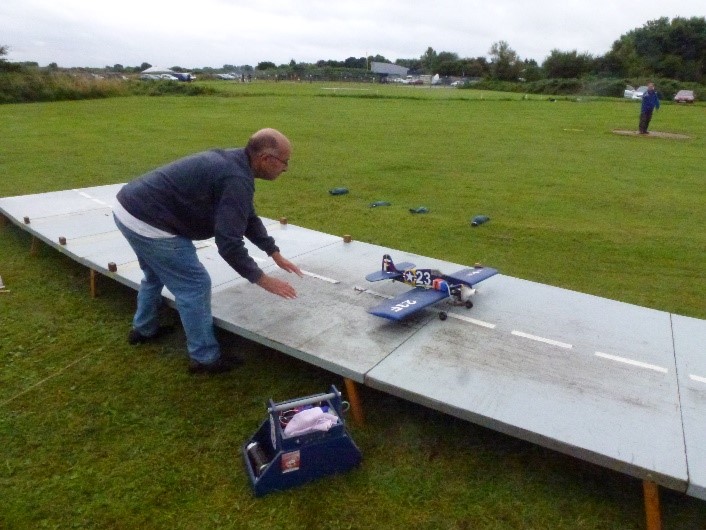 actually projects beneath the Hellcat even when undeployed, Paul wasn't able to catch a wire with it, despite a number of landing-on attempts. The second flight started by looking better, particularly as Paul was able to increase his lap time on each of the first three slow run laps. However, on the fourth lap, whilst he was adjusting his grip on the control handle, the model suddenly stalled in the downwind hole and ditched before he could recover it. The third flight was trouble-free and would have been perfect if he'd picked up a wire at the end of it, but the hook briefly plucked at the No.4 wire and didn't trap it. Shame! The first three of Paul's Sunday flights with his other model, a balsa/i.c. Douglas AD Skyraider, suffered from an unusually savage wind which led to Paul calling attempts for all three. The wind fortunately abated (a bit!) for his fourth and fifth flights, but both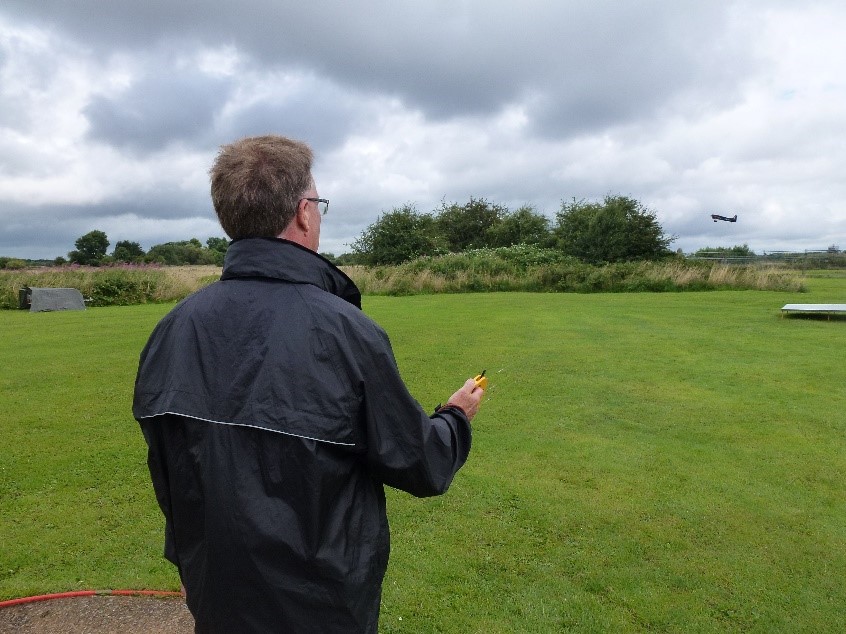 flights' landing approaches were each just a little too high and too late to pick up a wire, the model contacting the deck but running off both times. Despite this bad luck, the Skyraider turned out to be much faster than his Hellcat, and combined with his second slowest slow run time (above), his last flight of the weekend gave him his best score of 64.0 points – which was so nearly 164.0 points instead!
After the last of Paul Stubbs' flights on Saturday, there was a long period of rain which encouraged shelter, hot drinks and chin wagging! However, at about 1600, a beam of sunlight broke through the Pennine murk for an hour and there was much model- readying in the pits. Both Andy Housden and Chris Howell were able to squeeze in some flights during the weekend's single period of proper August summer weather, ie: warm, dry, almost calm and blue skies with white fluffy clouds (yes, it happened – but where on earth did it come from?). Selecting his foam/electric Grumman AF Guardian (below) as the model most likely to benefit from the better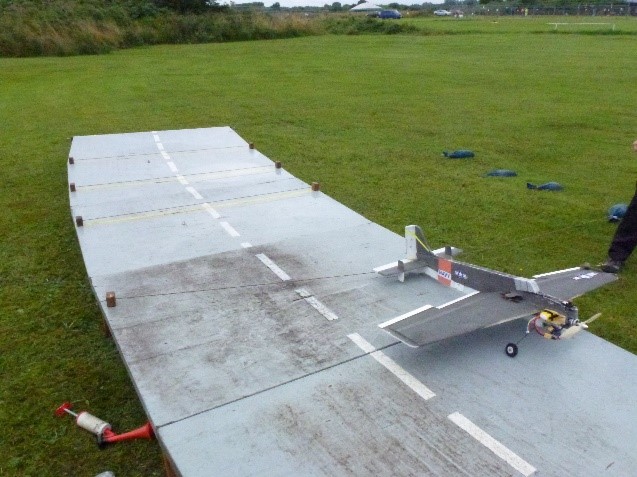 conditions, Chris put in two excellent flights, with the scores (and the number of warnings!) increasing as he got his eye in. The first flight landing nearly wasn't arrested, though – the very light model simply floated over the first three wires and only because Chris somehow contrived to get the tail to drop down enough did he pick up the No.4 wire (above right). Perhaps overcompensating slightly for this on his second flight landing, he instead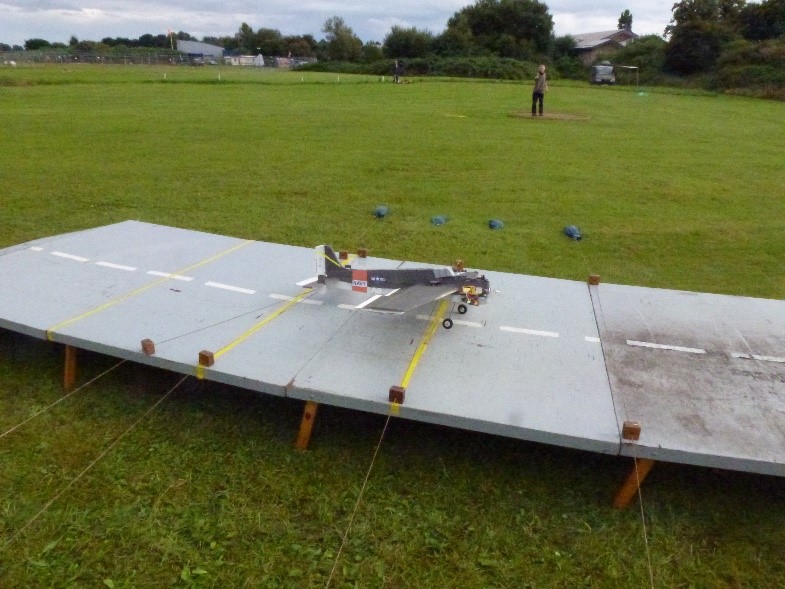 picked up the No.1 wire (above), but his score of 297.5 turned out to be the best of the day, and in the event, the contest's winning score. Chris changed to his foam/electric Grumman TBF Avenger for Sunday's deteriorating weather as the model is known to fly more safely in high winds than most other types, but was still unable to better his Saturday score even though both flights were completed without incident, right down to the No.3 wire both times. Nevertheless, both flights were quite hairy, with the Avenger characteristically and dramatically weathercocking when upwind, sometimes flying half-sideways! The slow run flight paths were also carefully made below the upwind hedge to keep clear of the vortex rolling off the top of the vegetation, just as was done by Ian Gilbert when flying his Mustang. Ballsy stuff, this Carrier lark, eh?
Andy Housden used his balsa*/i.c. Short Seamew (right) to put in two happily mistake-free flights in which the rather overweight Bent Winged Bird (not an F4U Corsair-like reference to a cranked wing but merely a verbal description of the warped state of the Seamew's outboard mainplane) was able to motor round in a moderately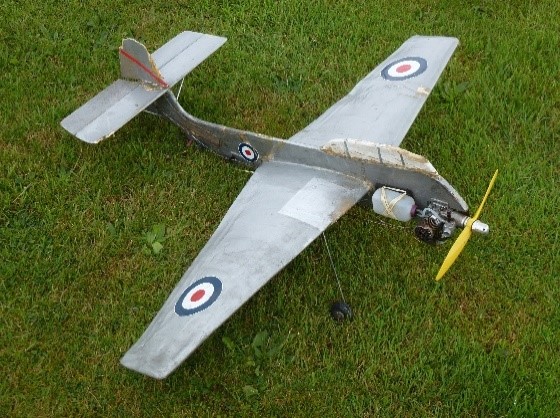 nose-up attitude and be plonked down in a relieved heap onto the No.1 wire at the end of both flights for an unremarkable but reasonable best score of 199.3. The second flight nearly didn't happen due to an unfathomable throttle problem, but instead of banging the model on the deck like Andy did, which didn't cure the problem, launcher Fred Skinner spoke to it nicely instead and, of course, that did cure the problem! Thanks, Fred! And just after Andy had finished flying, back came the dark skies, wind and rain!
* Yeah, OK. The beast is largely epoxy, PVA and superglue repairs, but there's some balsa there. Somewhere…
A dampened and buffeted group of flyers therefore retired from the somewhat challenging conditions on Sunday at about 1430 – quite an early end to a contest but certainly prudent – with Chris Howell in first place with 297.5 points, Ian Gilbert in second place with 250.3 points and Andy Housden shuffling into a sneaky third place with 199.3 points.
The Basic Carrier Deck competitor list for the contest held during the Barton BASH at Barton Airport near Manchester on Sat-Sun August 7th-8th 2021

The Basic Carrier Deck detailed scoresheet for the contest held during the Barton BASH at Barton Airport near Manchester on Sat-Sun August 7th-8th 2021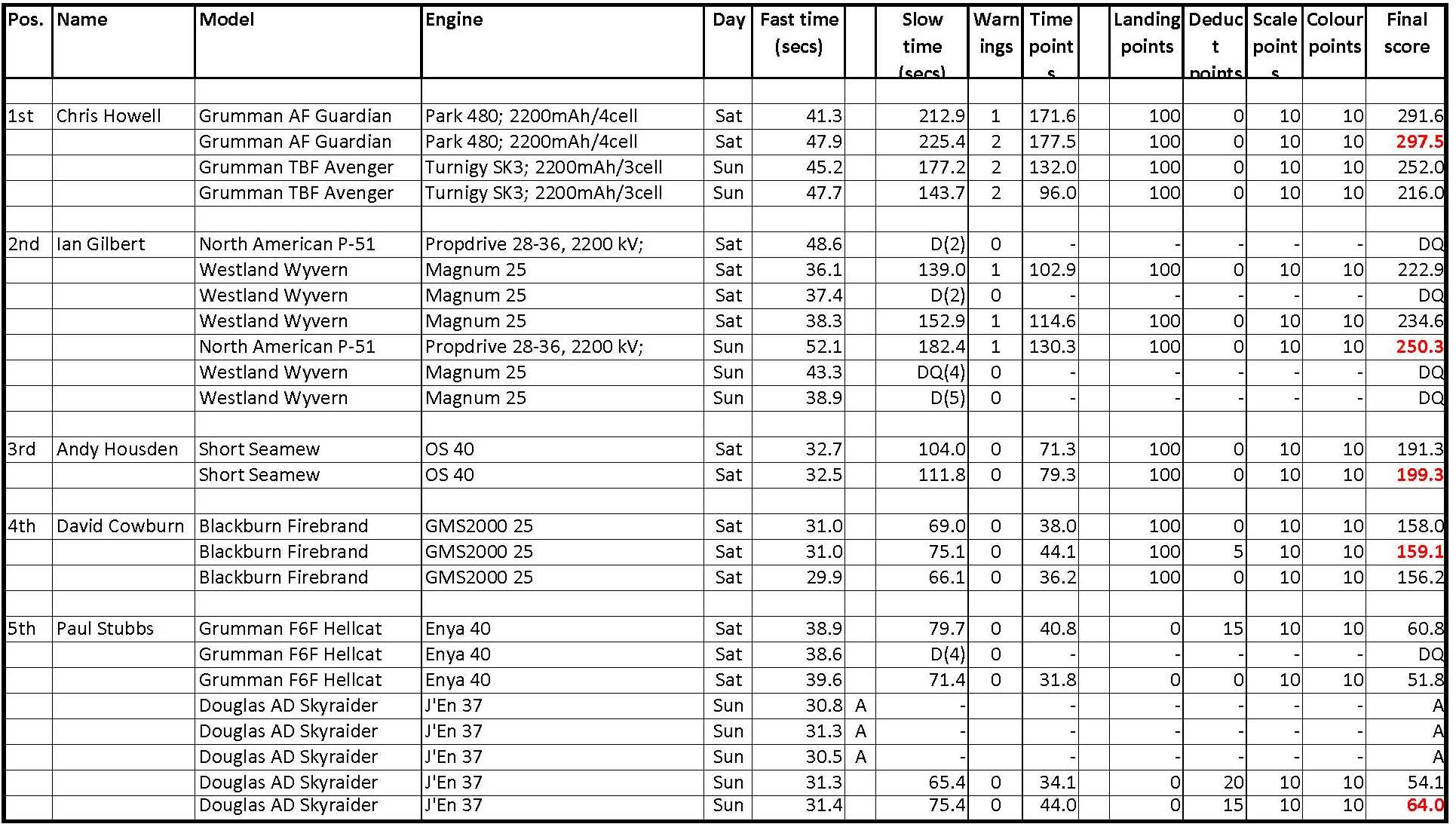 …and here's more Class 1 Postal (C1P) stuff!
Nigel Crabtree brought along his test-flown-but-not-yet-competed-with Short Seamew, built from the old APS Carrier design by Mick Reeves. Of the two versions on the plan (which we have in stock!), Nigel's is the 0.40 cu.in.-power smaller model, and he's put a Super Tigre Quickee 500 in it, complete with tuned silencer (below).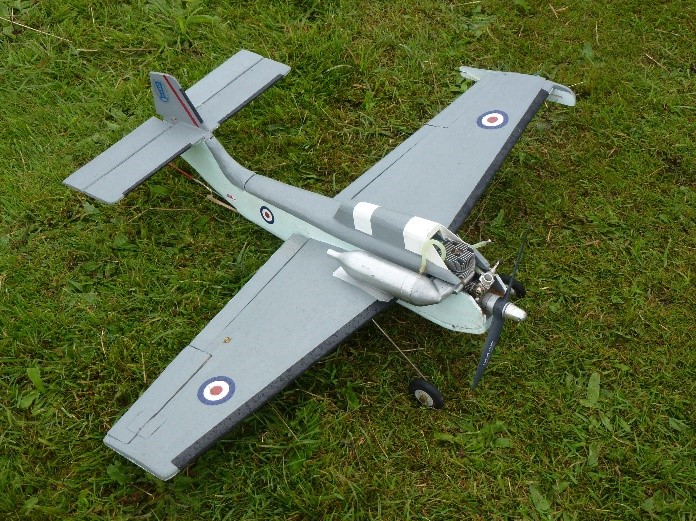 Although the model's top speed hasn't been measured, it can safely be said that the fast run is fast, ie: fast! The design has flaps and an outboard aileron as well as a throttle and a deployable hook, but Nigel has also fitted a leadout line slider as well for better line tension during slow runs. It was the slider that started misbehaving on Sunday because the plywood slot in which the slider travels had swollen in the damp conditions, requiring some remedial work with a file before functionality was fully restored. In the meantime, the weather had measurably deteriorated and Nigel made the very sensible 'Discretion is the better part of Valour' decision not to risk a flight. Although the Seamew is a design from the UK's original Carrier era that started in 1968, it conforms to current Class 1 rules and is therefore entirely suitable for C1P. The model has three-line throttle control which has a C1P proposed bonus score of 30 points, an i.c. engine bonus of 10 points, and 10 point bonuses each for the deployable hook, flaps and aileron. Not bad – a total bonus score of 70 points! Here's to better weather conditions for the next time Nigel comes out to play with it!