REPORT FROM ANDY HOUSDEN
At the end of 2019, Carrier was welcomed by SAM35 to be included, each year, in all three of its major weekend events at the BMFA's National Centre of Buckminster Lodge near Grantham. Inevitably, the Covid-19 pandemic threw a major spanner into these works from March 2020 onwards and the only contests that were able to be run during the year were at Old Warden in September and, finally, the last SAM35 event itself at Buckminster in October. So 2020's success rate turned out to be 2 out of the 11 planned events! For 2021, a full season has again been planned, though with obvious pre-knowledge of all the virus-related uncertainties likely to be present. Disappointingly, but entirely unsurprisingly, what was hoped would be the fourth Carrier contest this year – the SAM35 Retrofest at Buckminster reported below – has turned out to be Carrier's first contest!
Whilst the total number of Carrier participants that were present at Buckminster over the weekend was actually in double figures, the majority attended only on Sunday when a worse-than-forecast wind discouraged most of them (together with most of SAM35!) from flying. The unexpected better-than-forecast conditions of Saturday therefore produced the best day even though, perversely, fewer Carrier flyers were present. The weekend's results are shown in the accompanying tables.
Although no outstanding BCD scores were achieved for the inevitable reason that flyers spent their time removing from between eight months' to over a year's worth of cobwebs (!), Chris Howell placed first at 247.7 points with his electric Grumman Avenger, Andy Housden placed second at 177.5 points after borrowing Mike Welch's i.c. Supermarine Seafire and Zoë Quilter placed third at 172.3 points with her electric Grumman F4F Wildcat. Here's Zoë during her highest scoring flight's Slow Run and subsequent fourth-wire hook-up.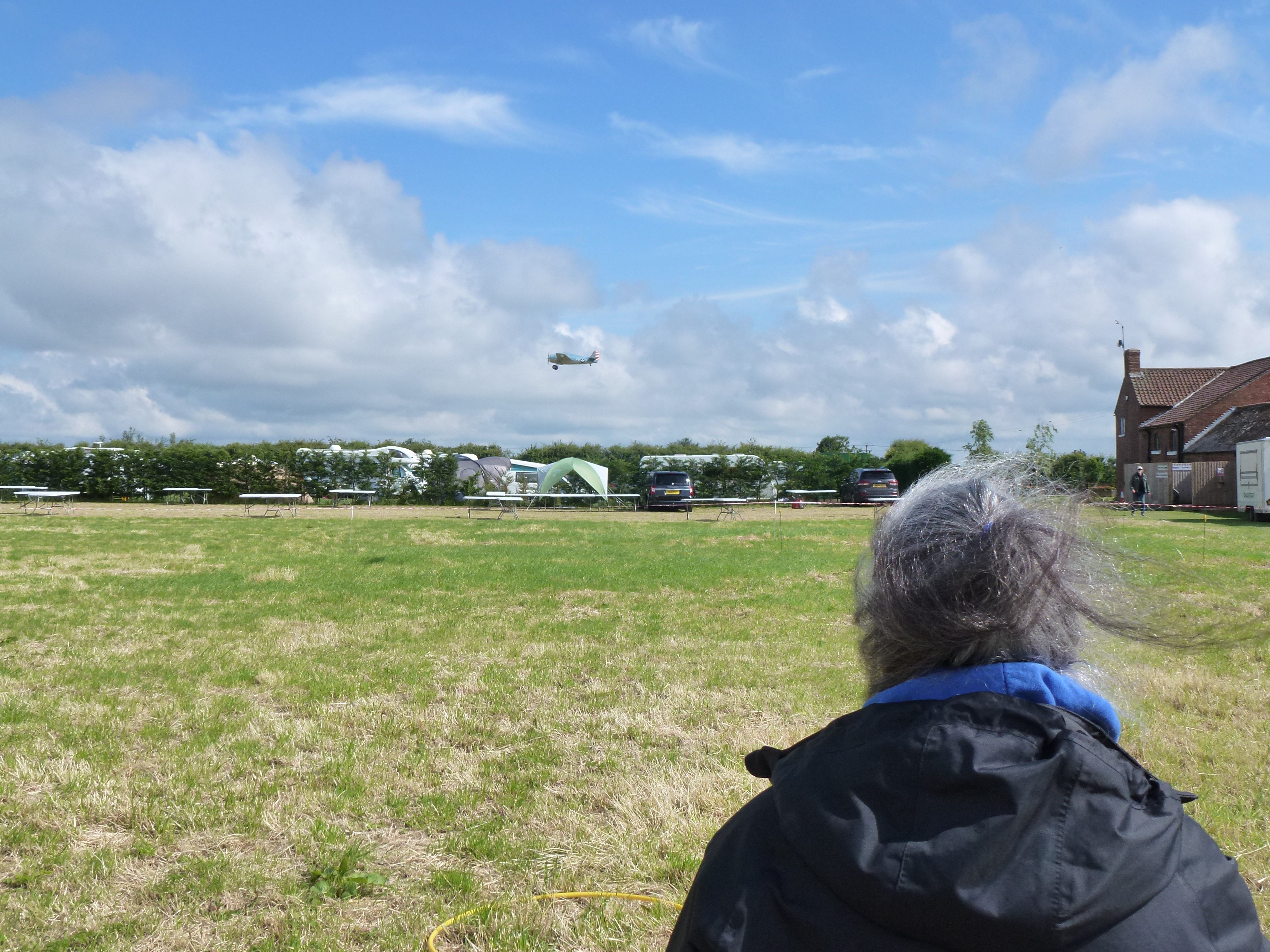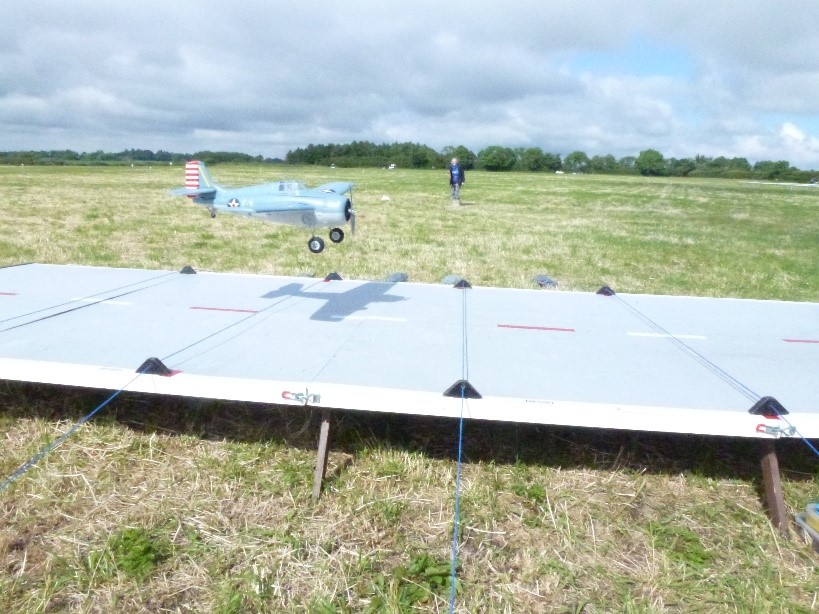 The Basic Carrier Deck competitor list for the contest held during the SAM35 Retrofest at Buckminster Lodge near Grantham on Sat-Sun June 26th-27th 2021

The Basic Carrier Deck detailed scoresheet for the contest held during the SAM35 Retrofest at Buckminster Lodge near Grantham on Sat-Sun June 26th-27th 2021

Whilst there were insufficient participants for Class 1 (all SAM35 Buckminster Carrier events will feature both classes), Zoë and Mike Welch each brought along a Class 1 model, both of which were electric ducted fan types.
Mike's model below is now several years old but was Carrier's first proper Class 1 Jet: it's been seen before at several Class 1 contests including the National Championships and has flown well enough to achieve placings!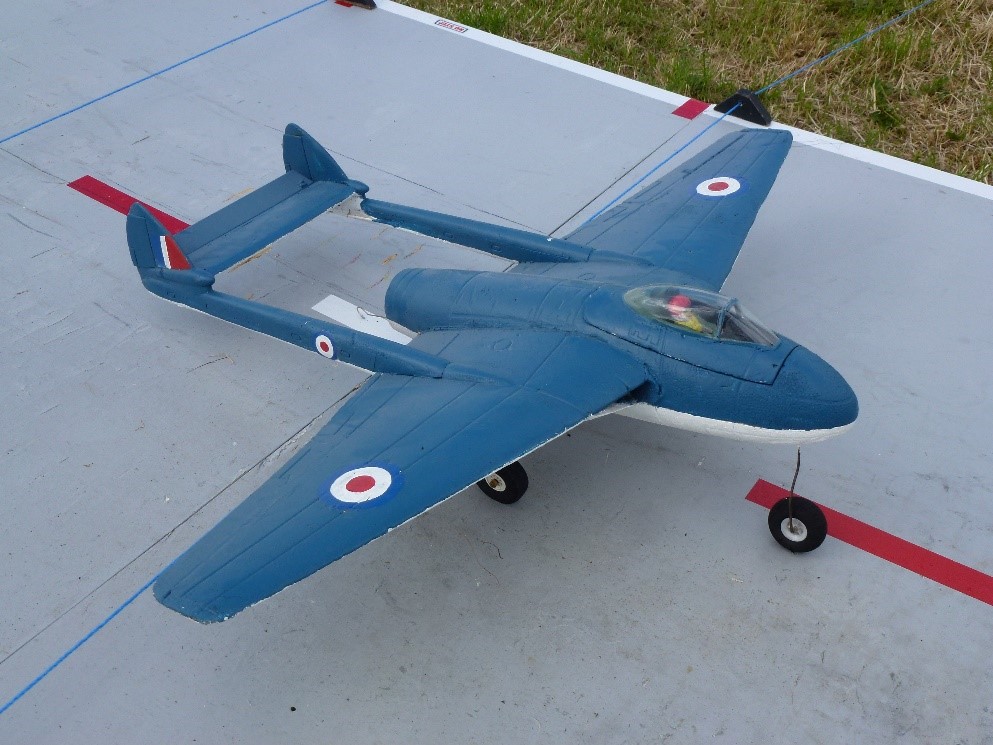 Zoë's model below was fresh from her workshop and whilst unflown before the weekend, was powered with a more modern EDF system which she was itching to try!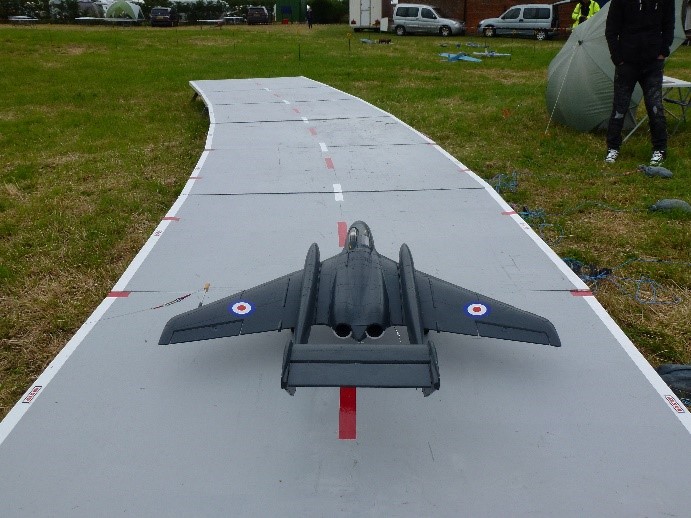 The appearance of these two models was not entirely coincidental. Andy Housden had asked for them both to be brought along as he's developing a variation of Class 1 to be known as Class 1 Postal (= C1P). This is intended to make it easier to participate in Class 1 by allowing C1P flights at ANY Carrier contest, with flyers' accumulated best scores being assessed halfway through the season and again at the end of the season. Whilst C1P is open to all existing Class 1 models as it's based on the normal Class 1 rules, it's intended to be additional to normal Class 1 contests. It'll also start off with some extra trial features such as bonus points to encourage types of naval aircraft that don't normally get built, such as biplanes, unhooked deck-landing aircraft and jets! Electric ducted fan jets will get a proposed extra 50 points in recognition of the greater difficulty in flying them – and gas turbine jets will get 120 points because they'll be REALLY difficult to fly competitively with their very pronounced throttle response lag! Andy is also looking at other C1P trial features that will improve Class 1 safety and cater for the inevitably increasing age of Carrier participants at the same time; it is also his intention to better 'level the playing field' between the various power and control systems now in Carrier use. You'll be seeing and hearing more of the C1P proposals in the future!
Anyway, as you might have expected, both the Sea Vampire and the Sea Vixen were R/C expanded polystyrene foam scale models designed for R/C use but converted to C/L. This type of model conversion is encouraged by C1P with normal Class 1 documentation or Proof of Scale deemed unnecessary.
Zoë's Sea Vixen has a 70mm EDF unit with a 12-blade fan by the Chinese manufacturer QX-Motor with a QF 2827 2500 kV motor from the same manufacturer running off a 2200 mAh 4-cell Lithium Polymer battery – the latter with a 70-150C discharge rating, very considerably in excess of normal lipo discharge rates. The ESC unit that controls all this is rated at 80A, and at take-off, the max current draw (of 80A) is probably achieved! The whole arrangement is controlled by a normal R/C transmitter, but which is instead plugged into her C/L handle from which the throttle control is operated. Find this ducted fan manufacturer's items at www.aliexpress.com.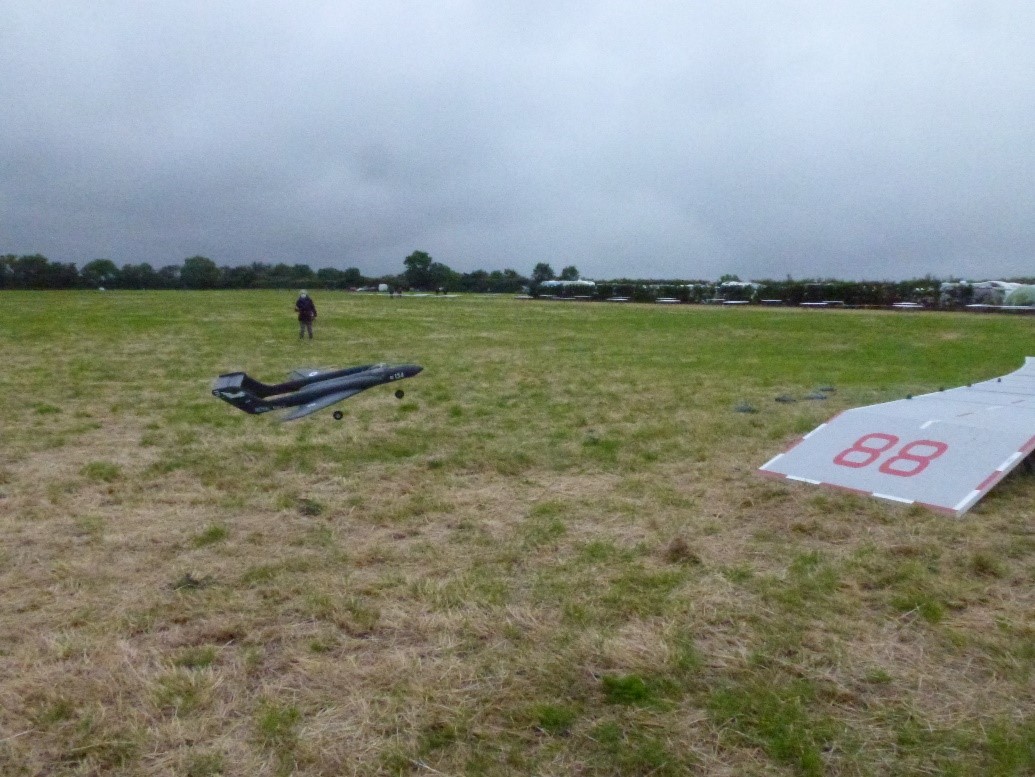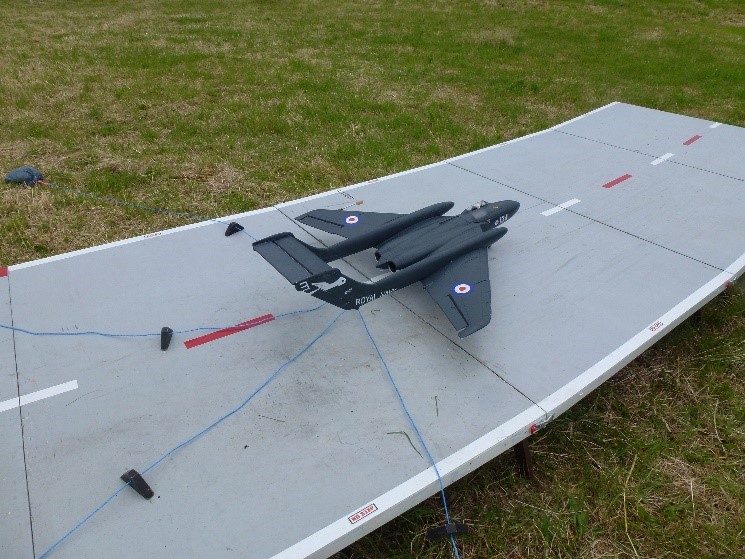 Whilst Carrier HAS already experimented with catapult-assisted take-offs, a universal and reliable system has yet to be developed for launching Ducted Fan and Gas Turbine models, since their unassisted acceleration will always be slow in comparison with that of prop-driven aircraft. The Sea Vixen was therefore given the full length of the deck for an unassisted free take-off, but the model actually lifted off before the last panel. The Sea Vixen's resulting maiden flight and first-time arrested landing as shown above very handsomely exceeded everybody's hopes for model handling, stability and performance! Watch this space for future developments!