The Official Report from Andy Housden!
Carrier Deck National Championships held at the ModelAir Festival of Flight
Old Warden airfield on Sat-Sun Sep 18th-19th 2021
Andy has come up trumps again with a full report and official result sheets from the UK NATS, which I've used to replace my interim (and rather sketchy!) version. Andy writes:
Normally enjoying the splendid ambience of RAF Barkston Heath in Lincolnshire over the August Bank Holiday, the Carrier championships part of the BMFA's Power Nationals had to be moved to this Bedfordshire venue and later date for the second time in five years – the previous occasion in 2016 being caused by the temporary relocation to Barkston of the Battle of Britain Flight whilst their home base at Coningsby had the runways resurfaced. The reason this time, of course, was the continuing Covid-19 virus pandemic and the ongoing (but understandable) refusal of the Crown to sanction use of its airfields for civilian use.
Welcomed instead by organisers ModelAir and courtesy of SAM35 CD Dave Cowburn (operating on behalf of the other C/L users who were shifted about to provide space for two Carrier circles instead of the usual one), plus stalwarts Roy Green as CD for the entire weekend and Circle Centre Marshals Ian Gilbert and Chris Howell, a very full two days of flying was able to be had. Although towards the end of the flying season the event weather was surprisingly kind, with a 5mph easterly breeze and sunshine throughout Saturday and a 2mph westerly with only an hour or two of very light rain on Sunday – often light enough for most flights to continue unaffected.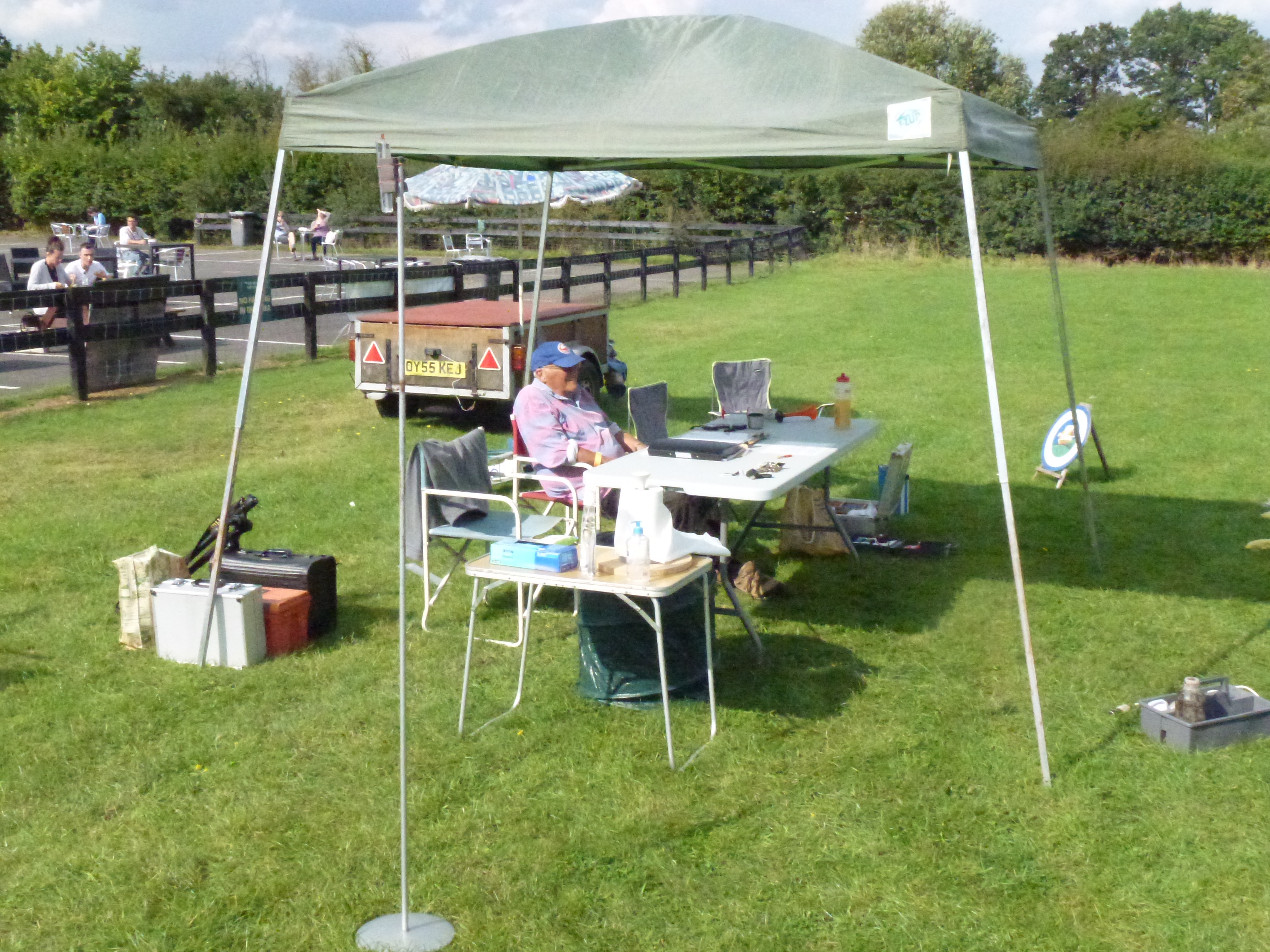 Contest Director Roy Green ready for all comers!
The use of Old Warden's grass runways by aeromodellers is strictly rationed (by CAA regulations, actually: the airfield's NOTAMS state unequivocally that Festival of Flight attendees can only be airside between 1000 and 1700 hours) which means that all contest infrastructure had to be set up, all the flying carried out and everything then dismantled again within these time limits – totally unlike Barkston Heath. As timing over the weekend was clearly of the essence, many flyers helped Carrier's officials with erecting and dismantling such infrastructure and it was exactly this help that enabled fairly close adherence to the programmed start and finish flying times on both days. Thanks, everybody!
Particular thanks must also go to ModelAir's Sheila Sheppard, not only for kindly presenting the BMFA medals and certificates to the prizewinners at the end of activities on Sunday afternoon, but also for her liaison with the Airfield Manager which resulted in permission to keep the two decks and the CD's position left in place on the runways from 1700 on Saturday to 1000 on Sunday, saving hours of dismantling and re-setting-up. It helped, of course, that all such equipment was relatively close to the hedge along the public road, and therefore pretty much out of the way of any full-size aircraft arrivals either wanting fuel or hangar access. So thank you also, wind direction…!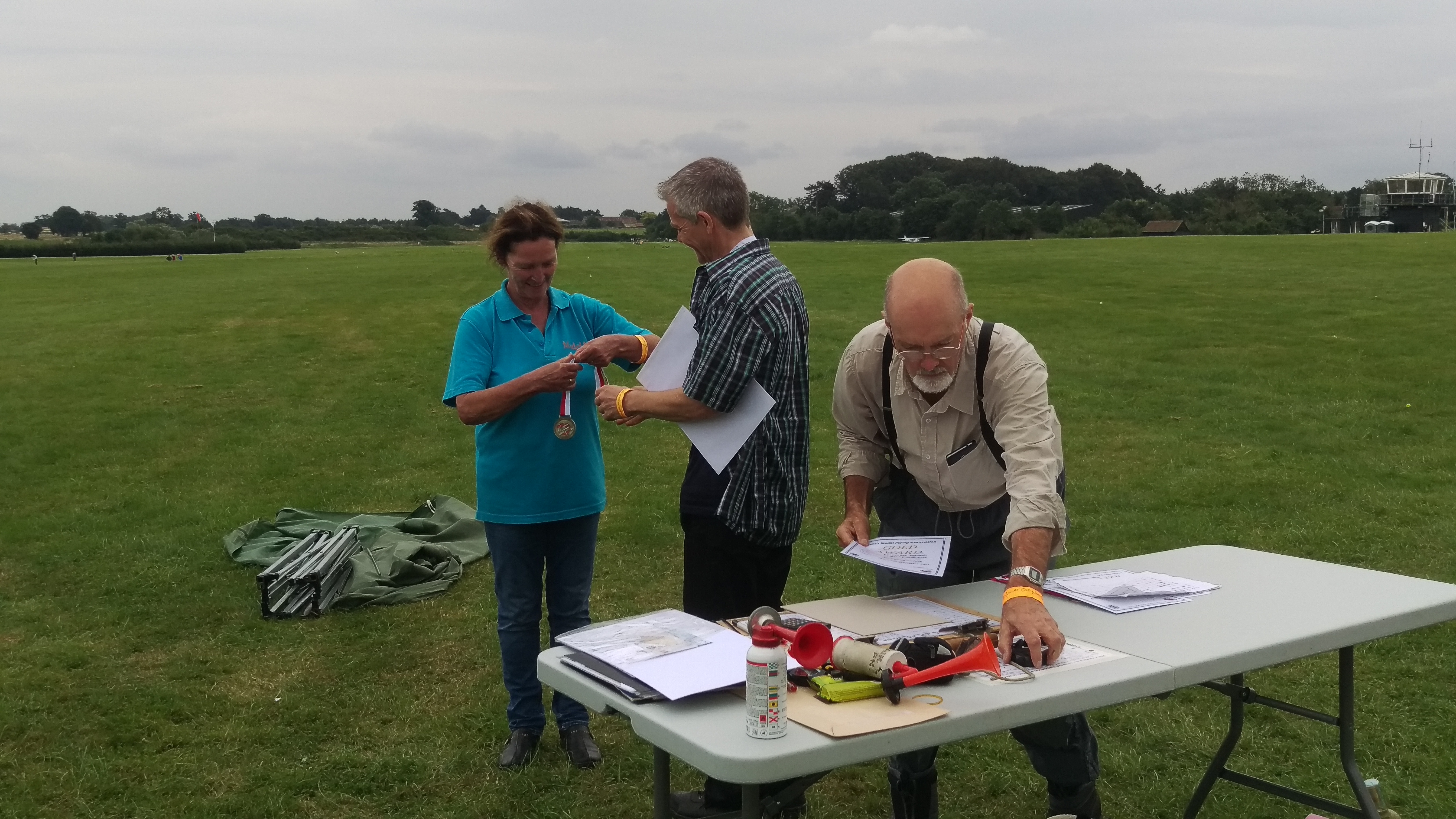 Sheila Sheppard presented the medals, in this case to Chris Howell for his Class 1 victory
Even though the 18 BCD pre-entries represented about a 40% reduction in the level of normal championship contestants, this percentage seems to be roughly characteristic of most Carrier contests this year, hardly unexpected or surprising given the continuing effect of the pandemic. The seven Class 1 pre-entries were, however, about representative for a normal Nats, so the second deck (Three Kings Aeromodellers' HMS Perseverance), originally intended for practice flying, had to be used on a number of occasions to take pressure of the main contest deck (Marlborough MFC's HMS Incredible). Class 1 is therefore also alive and well!
What follows is a report of the activities of the contestants roughly in Flight Schedule order. It was a busy two days, so there was unfortunately less time available for photography than would have been desired – hence the limited number of shots that are available here. Remember that photographs of Carrier's various activities are never wasted, so please try to take them whenever and wherever the opportunity presents itself!
Basic Carrier Deck – Saturday

Kicking off the contest proceedings on Saturday morning was Bilston MAC's Dave Holmes with his APS Vought A-7 Corsair II designed way back in 1980 by Norman Ashford of the Broadlands club, the Corsair being one of the earliest profile fuselage models and therefore very suitable for our modern BCD. Very unluckily for Dave, the OS40 stopped in the middle of the slow run and the model ditched. Despite plumbing modifications and subsequent trial flights during the rest of Saturday and Sunday, he was unable to solve the problem. This single flight therefore became his only official flight of the weekend, Dave eventually retiring late on Sunday with the intention of changing the entire fuel supply system for future contests.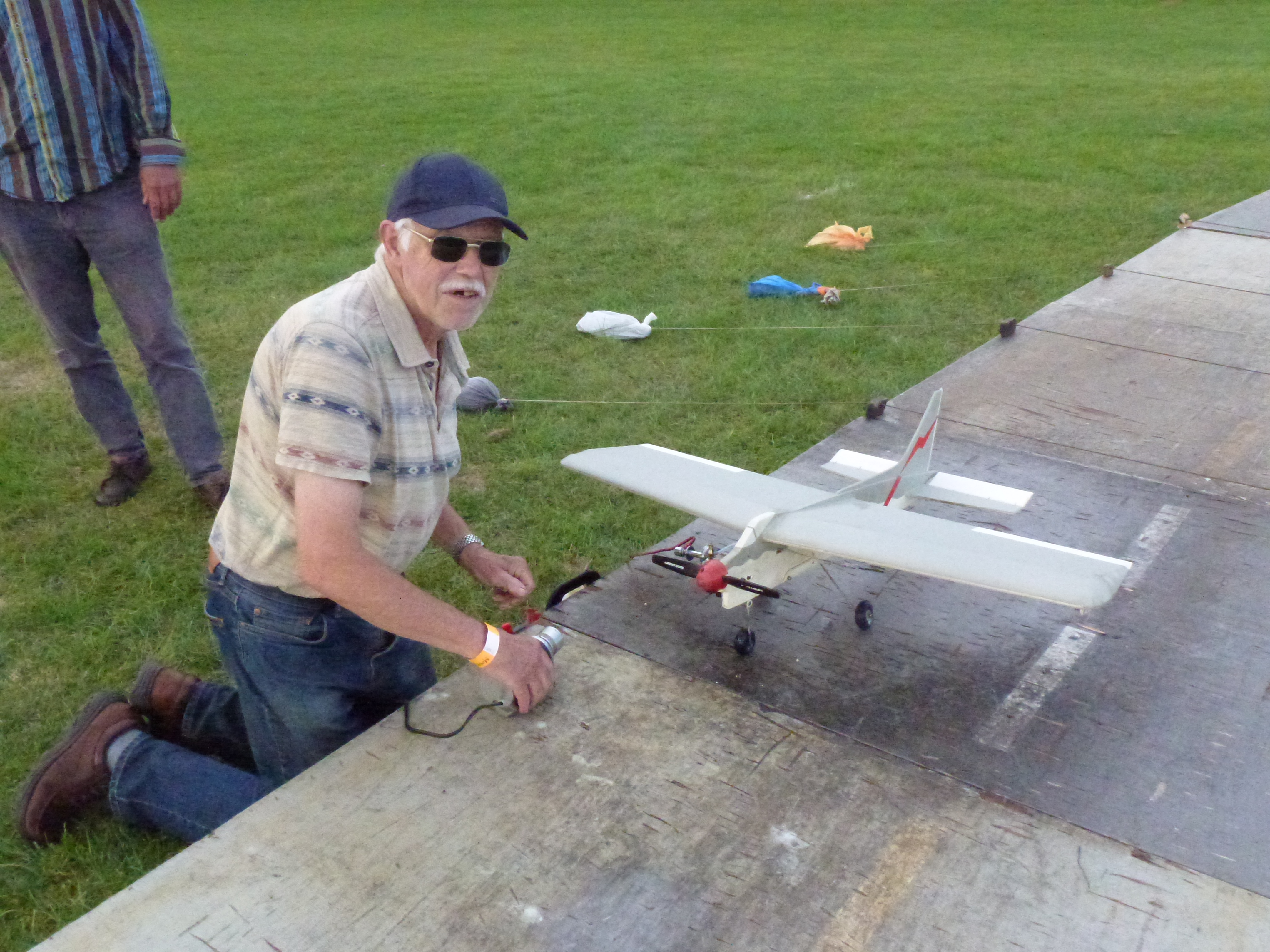 Dave Holmes about to fire up his OS40-powered/balsa Vought A-& Corsair II for its single BCD flight.
It was delightful to see Johnathon Crabtree back in the Carrier circle after a number of seasons devoted to Combat, culminating in his becoming National Champion in two C/L Combat classes earlier in the year! Fortunately, as he was booked to fly Combat at Old Warden only on Sunday, he had Saturday for Carrier! Using his trademark J'En 37-powered/balsa silver Fairey Spearfish with mechanical 3-line throttle control, he turned in two flights with a best score that was good enough for 5th place. The Spearfish's fast runs were as good as Jon's flights of old, but slow flight in Carrier is where the contest is usually determined and slow flight skills will inevitably fade if you don't use them for a long time – his own later words were "I felt really out of practice!" Despite the cobwebs he obviously found, John still put in two full-score hookups – so obviously he hadn't forgotten how to land properly! As Jon re-acclimatised himself, the flight scores increased from the first flight to the second, so had he been able to fly on Sunday as well, he might well have rattled the cages of the top three places. Hope to see you back flying Carrier again in the future, Jon!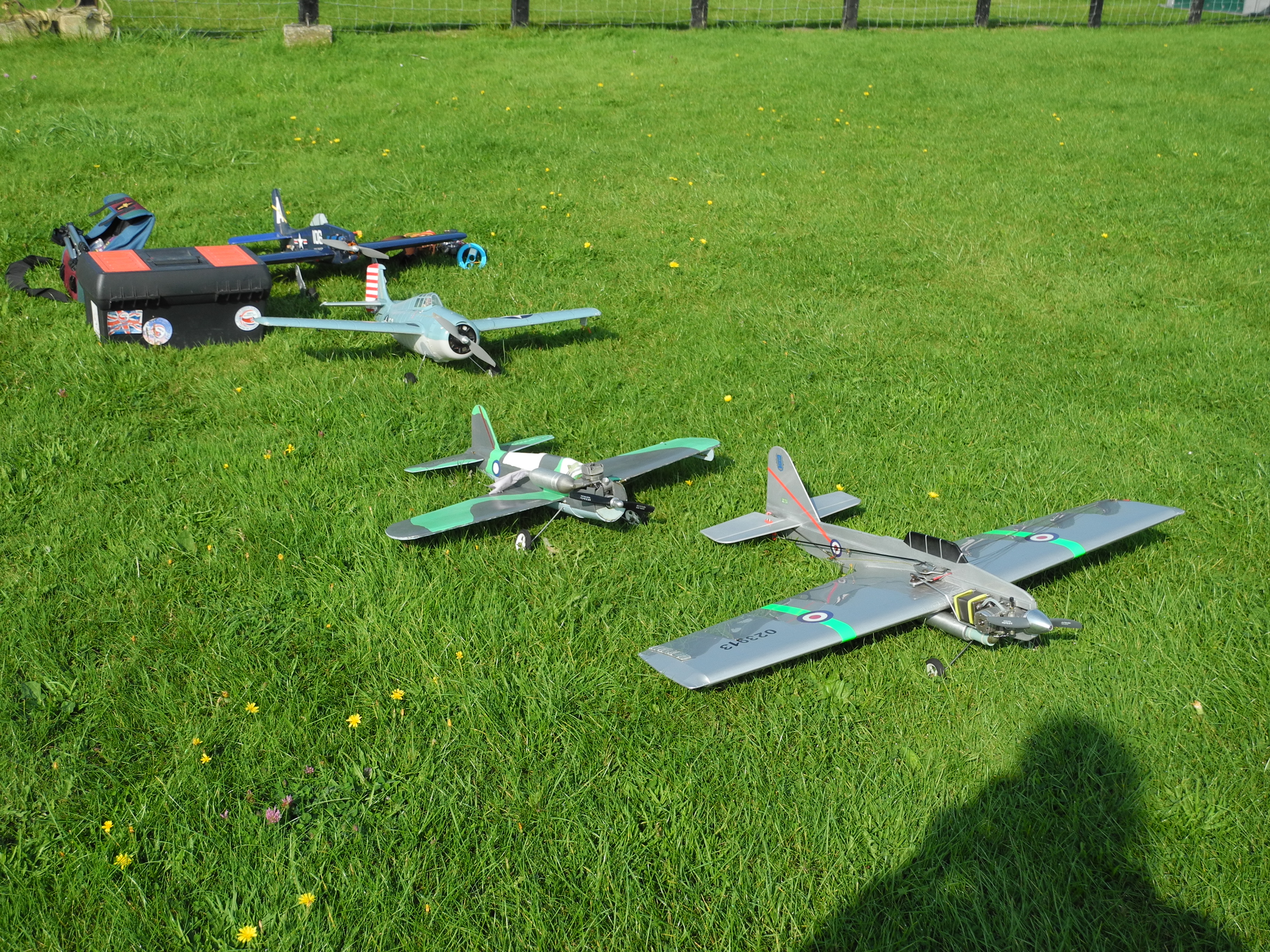 Array of Carrier models, with the shared Team Crabtree BCD Fairey Spearfish at (front) and Nigel Crabtree's Class 1 Vought Kingfisher (behind), not flown during the weekend.
The other half of Team Crabtree was Jon's Dad, Nigel Crabtree, who elected to use Jon's Spearfish instead of his usual electric-powered all-blue Grumman Guardian (Nigel's trademark models are always Grumman Guardians and they're always all-blue!). Most of Saturday's single flight suggested that Nigel's choice might not have been entirely sensible as the Spearfish is VERY quick and inevitably not set up in a way familiar to him – so the fast run was quite hairy to watch and the slow run earned him two warnings; he also overshot on landing. Nevertheless, Nigel did get the model down next time round and for a full-score landing. Moreover, due to the acclimatisation process also operating for Jon, Nigel's single Sunday flight had a distinctly smoother fast run, a warning-free slow run better than Saturday's by over 10 seconds and a non-overshot hookup that got him another 100 landing points and a score nudging the 200-mark – and therefore 6th place, directly after Jon!
Carrier Webmaster Mike May surprised everyone by turning up with a Sea Weatherman – yes, that's the navalised version of the model flown in Nostalgic Speed classes, complete with a throttle and an arrester hook! Er, no, such a full-size prototype didn't exist… Mike's first Saturday flight was a ditch directly after take-off, possibly due to the fact that this was also the model's maiden flight and he was unfamiliar with its trim! The second flight was better, but the model is a speed model with relatively high wing loading, so when Mike throttled down during the slow run, the amount of power he took off, although OK for a conventional model, was too much for the Weatherman and it simply descended into the briny!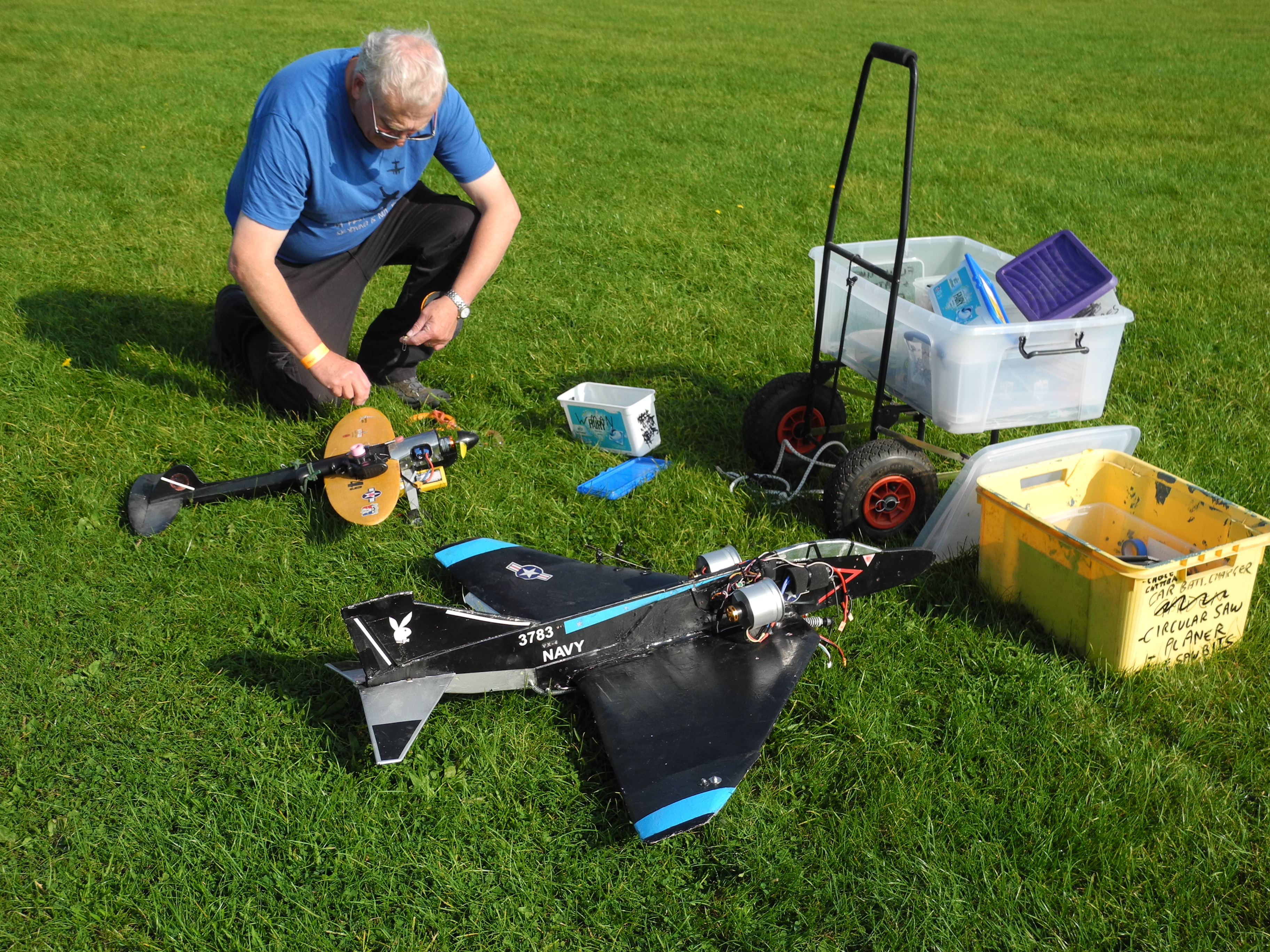 Two thirds of Mike May's Nats airforce for BCD! At the rear is the 'Sea Weatherman'; nearest model is the positively awesome F-4 phantom described below.
Sunday, however, saw a major change in May Industries' aeronautical policy – a mighty twin ducted-fan profile-fuselaged McDonnell Douglas F-4 Phantom II! Mike had flown this model before and it left the deck competently with a very realistic scream and with as much acceleration as that shown by many a conventional prop-driven BCD models! It was only when Mike pointed out later that each DF unit had its own 6-cell lipo that the amount of power hurled out by the DF units was realised! It also explained the weight of the model… However, ducted fan-powered models are never as easy to fly slowly as are those that are propeller-driven. When a DF model starts to wallow at the beginning of a stall, the rapidly-needed additional aerodynamic lift and elevator authority provided by a sudden burst of power from a propeller are completely absent! Instead, while the pilot has already banged the throttle open wide, he has to wait for the model to accelerate to the speed that will provide the necessary extra lift and control authority. Although this may only take a second or two, that's often longer than required for the model to simply fall out of the air! And that's what happened to the Phantom! Mike reported afterwards that he thought he had taken the power off too quickly after signalling for the slow run and he may well have done so, but recovery of the Phantom would have been many times more problematical not because of pilot error – after all, Carrier pilots are juggling with the throttle all the time – but because of DF characteristics. Bad luck, Mike!
Fortunately, his last Sunday flight was a scoring one, this time using a classic 'Housden electric/balsa Grumman Hellcat'. Crikey – how many models did this Carrier aficionado bring with him? (Webmaster: it was five!) Anyway, the Hellcat made it successfully through the fast and slow runs and a complete flight was looking possible, but the first landing approach was an overshoot and the next approach, though lower and resulting in deck contact, sadly missed the wires with the model rolling off the bows and ditching. However, though his 47.6 points gave him 14th place, Mike is capable of much higher scores as proven by his performance in previous contests – so here's to a better next time for him!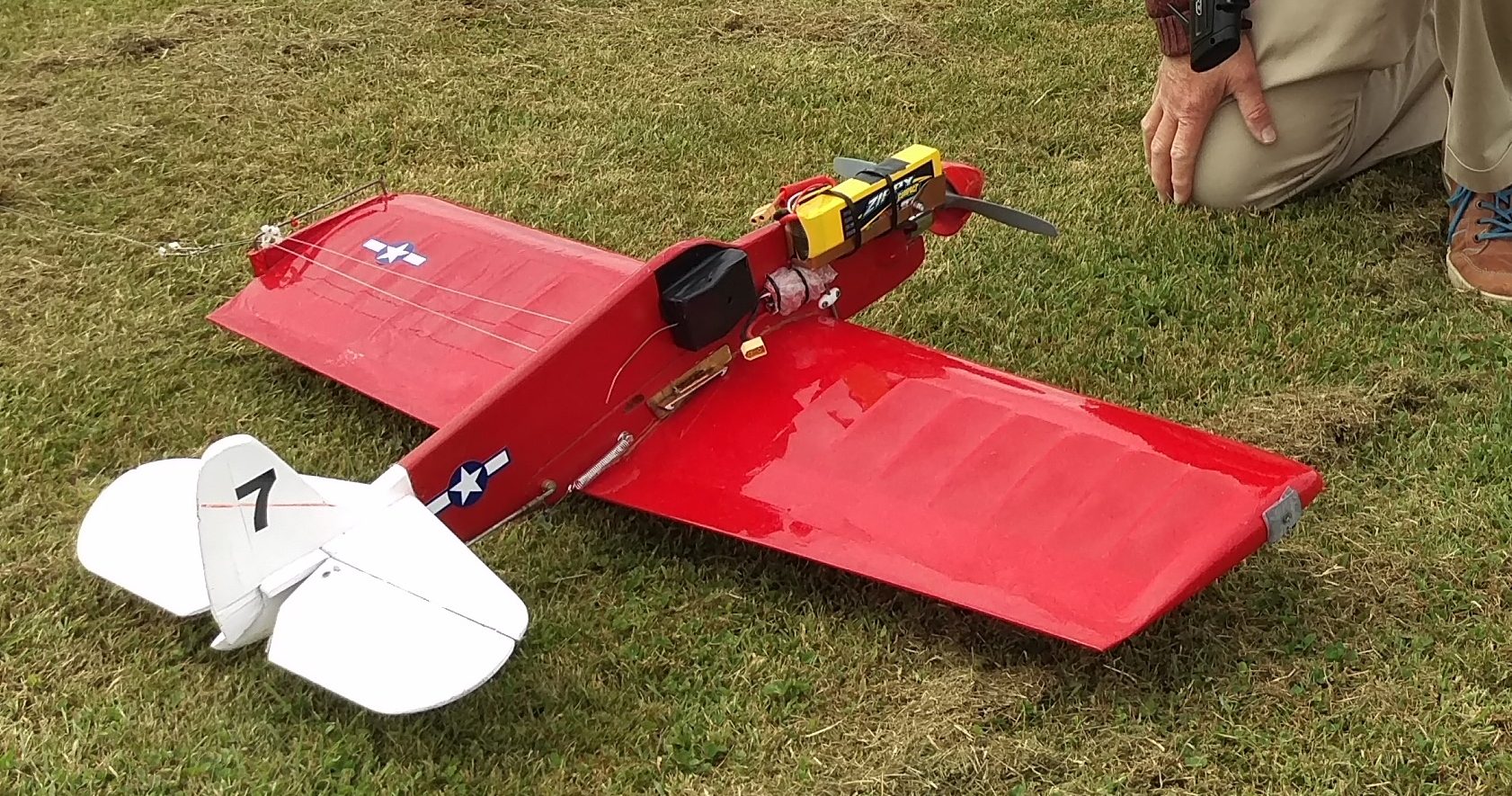 Mike's Housden Hellcat in authentic US Navy Target Drone livery!
Zoë Quilter's first Saturday flight with her electric/balsa Grumman Bearcat was neat and competent, though her landing approach was slightly too high and the model failed to hook up. The following flight was clean and complete, right down to hookup, but it was marred for Zoë by a slower fast time due to a different battery and to the excessive caution she found herself exercising during the slow run. Sunday, however, was a different story, with the first flight producing her best flight score of the weekend after taking considerable care during the slow run. This, together with another 100 point arrested landing despite a single overshoot, gave her eventual 7th place overall. Zoë's second Sunday flight suffered from a particularly slow fast run – could this have been due to the poor battery again? – but she was trying hard now and the slow run was her best so far. Unfortunately, disaster struck during landing when the Bearcat hit the ramp and, unknown to her, the impact threw the hook upward into the elevator, limiting its movement and resulting in a succession of aerobatics that looked like the Bearcat's last! Although Zoë got the model under control, another ramp strike followed her second approach with identical results, and whilst a third approach got the difficult-to-control model to execute normal deck contact, the model still missed the wires and the electric motor started to make some unpleasant noises. Zoë sensibly executed a gentle ditch (the flight would not have beaten her previous score anyway) to find that the lightweight electric propeller – what was left of it – had been progressively chiselled away by the various impacts!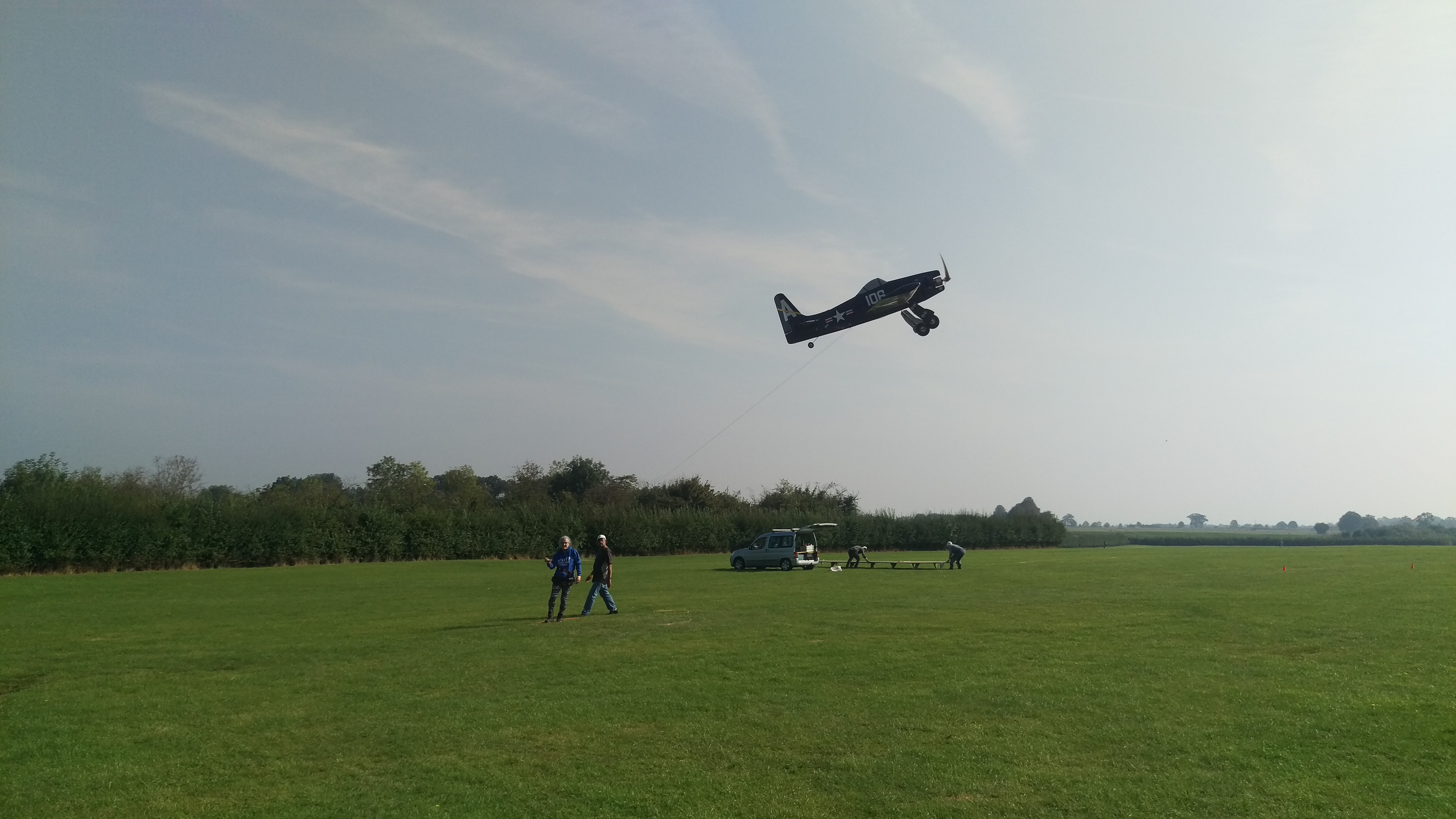 Zoe's Bearcat in action…
Carrier's Facebook Page Manager Paul Stubbs was able to attend Old Warden only for Saturday, so with both Carrier classes to fly in and two days of flights to squeeze into a single day, he was a busy man! Aided and abetted by fellow Carrier flyer and friend Adrian Thompson, he managed to squeeze in all six BCD flights, with the first being the maiden contest flight for his new J'En 37-powered/balsa Westland Wyvern.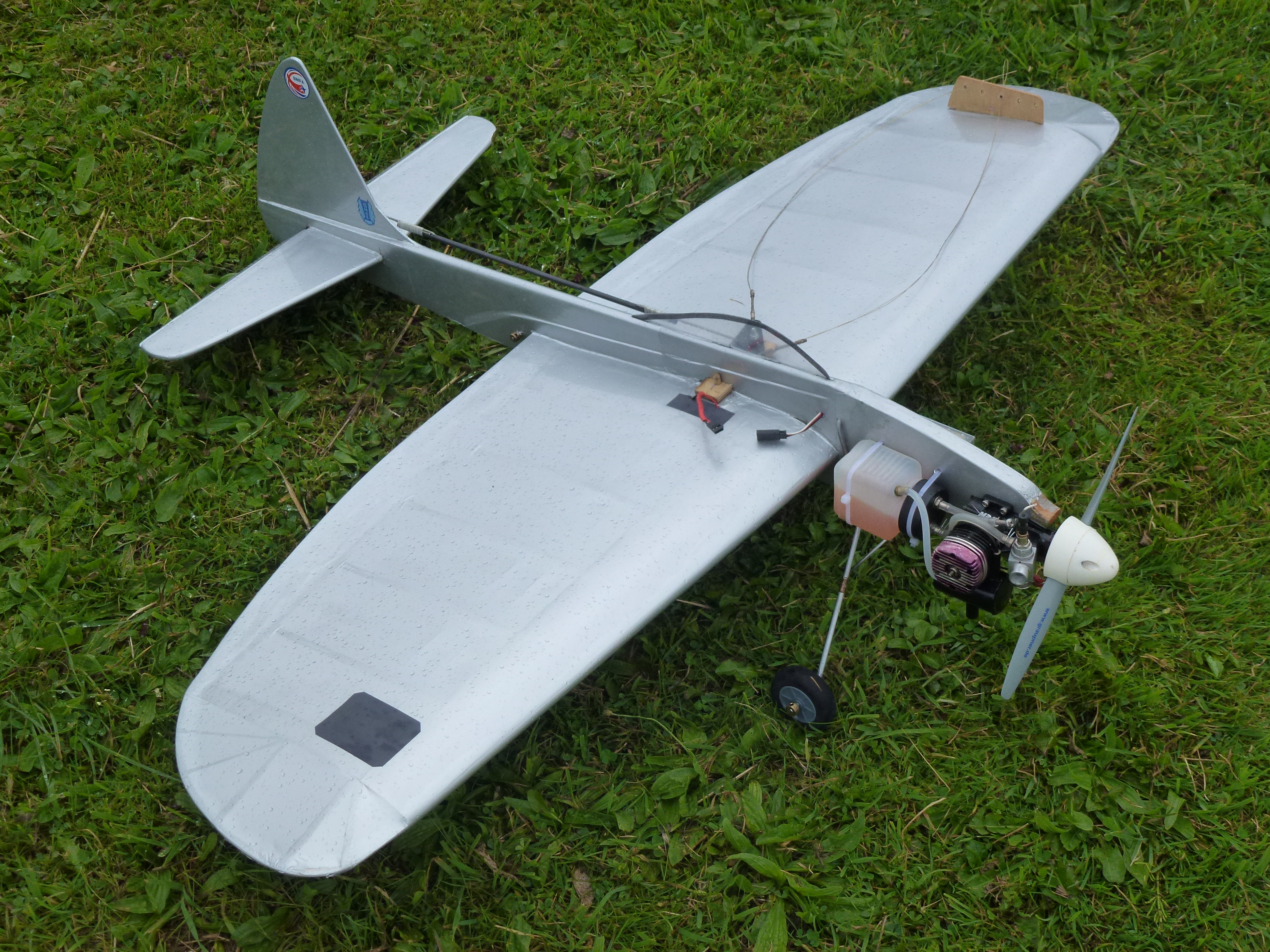 Paul Stubbs' BCD Westland Wyvern – before its maiden contest flight!
Understandably cautious during its first outing, Paul nevertheless achieved a complete flight right down to a successful hookup – although he found that the model, undoubtedly one of the most competitive i.c. designs seen in BCD in the last few years, was a real 'floater' and didn't have the same partiality to gravity as his previous Grumman Hellcat.  The J'En 37 also seemed to be providing too much power even at tickover. Hence the resultant seven overshoots! Paul's second flight had the J'En cut on take-off and his third flight also suffered from the engine cutting during landing after deck contact beyond the wires. The fourth flight again experienced an engine cut on take-off and the fifth, whilst shaping up measurably better even if the model was reluctant to sit at the maximum attitude of 30 degrees, had yet another engine cut after a missed approach, with the model ditching just short of the deck. By this time, the engine was clearly in need of attention! Mike Welch spent some time adjusting the J'En's carburettor and this clearly made a significant difference in reliability, with Paul's last flight giving him the best slow run time so far and only a single overshoot before his second 100-point landing, a score of 157.5 and 11th place.
Unusually for him as he's been a BCD Nationals Champion in the past, John Green did not have a particularly successful Saturday, this being the only day he could attend. Although permitted two days of contest attempts, ie: a maximum of six in one day, his FMT15-power/balsa Consolidated Vultee Seawolf appeared to be suffering from a serious dose of cobwebs and clearly didn't achieve anything like its full potential on the five flights he was able to make. John first flight suffered from an engine cut during the slow run, and even though the model's potential became obvious during his second flight with an excellent slow run score that would have put him in 3rd place overall, the model bounced over all the wires on landing and failed to hook up. As all three of John's remaining flights had the engine cut on takeoff resulting in an immediate ditch, it was his second flight score that gave him 13th place – not at all representative of his capabilities. Unlucky!
Taking a rest from his major area of interest, Scale C/L, it was good to see Matthew Cordwell fly in BCD. It is likely that Matthew had only a modest expectation of himself, so it was heartening to see him execute a very competent and clean first flight on Saturday with his Irvine 39-powered/balsa Supermarine Seafire, despite the engine hardening up mid-flight due to the combination of an over-rich needle setting and probably old fuel or a faulty glowplug. Although he leaned the mixture out before his second flight, Matthew had the bad luck of an unexpected upwind gust during the slow run which blew the model inwards and although he was able to recover the model enough to avoid major damage during the ditch, the impact-loosened wing required more attention than could be given on the field – so no more flights! Nevertheless, though he obviously couldn't have known it at the time, his first flight was good enough to get him 8th place – so well done, that man!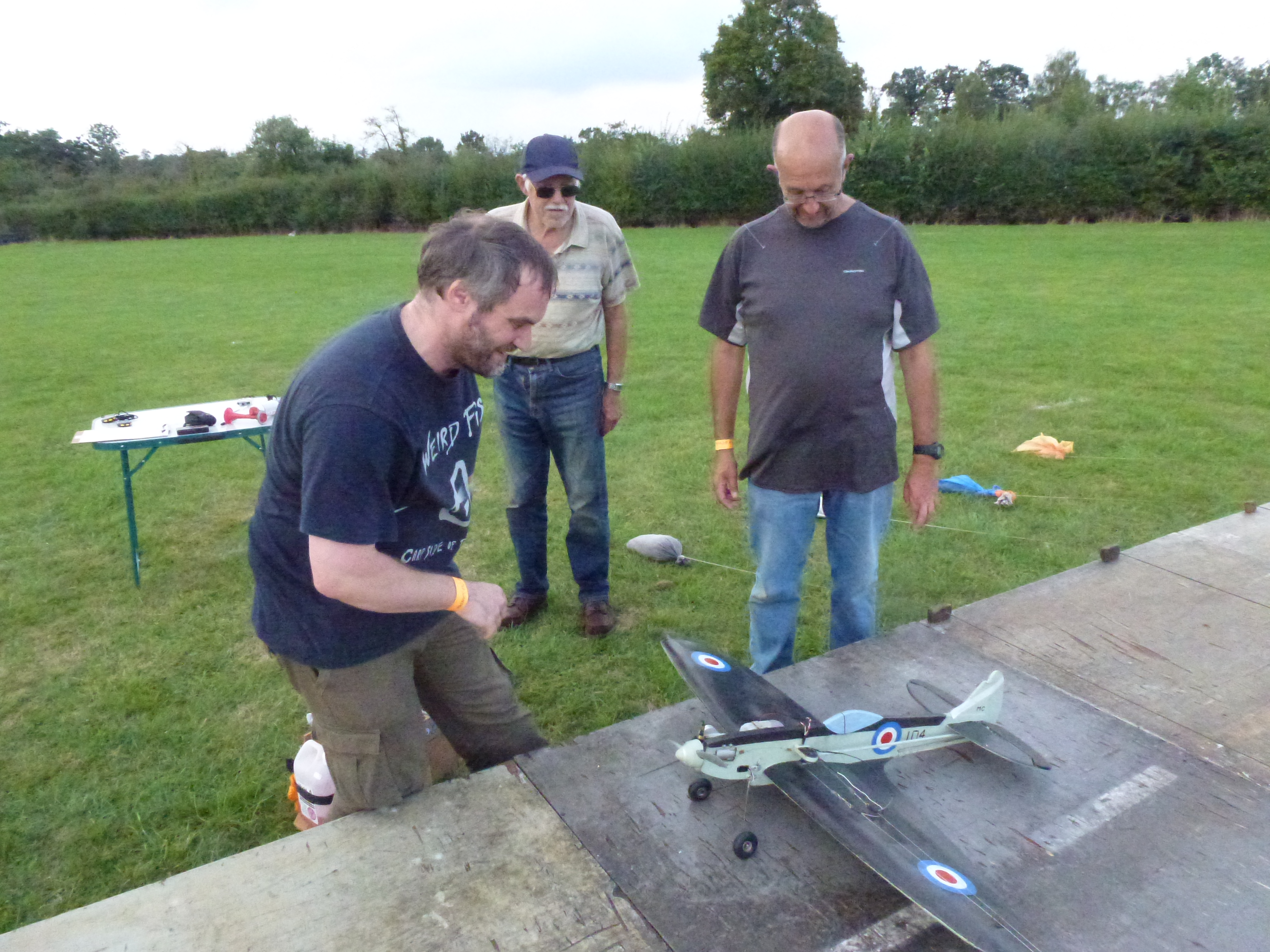 Matthew Cordwell readies his BCD Supermarine Seafire for flight as described below.
One of the principal contenders for top place in BCD, Ian Gilbert chose to fly his Magnum 25-powered/balsa Westland Wyvern on Saturday and his electric/foam P-51 Mustang on Sunday. Saturday's first flight had an over-rich fast run, meaning that, in addition simply to an unsatisfactorily-set engine, fuel consumption during the slow run might actually empty the tank before landing – so Ian sensibly called an Attempt. However, the second flight saw Ian now trying hard, making a stonking slow run of over three minutes duration with only a single warning. This, plus a faultless 100-point landing, gave him the then leading score of 273.3. Ian was able to increase this score slightly to 273.6 by his last flight of the day after two warnings and yet another faultless landing. Saturday finished with Ian still in the lead!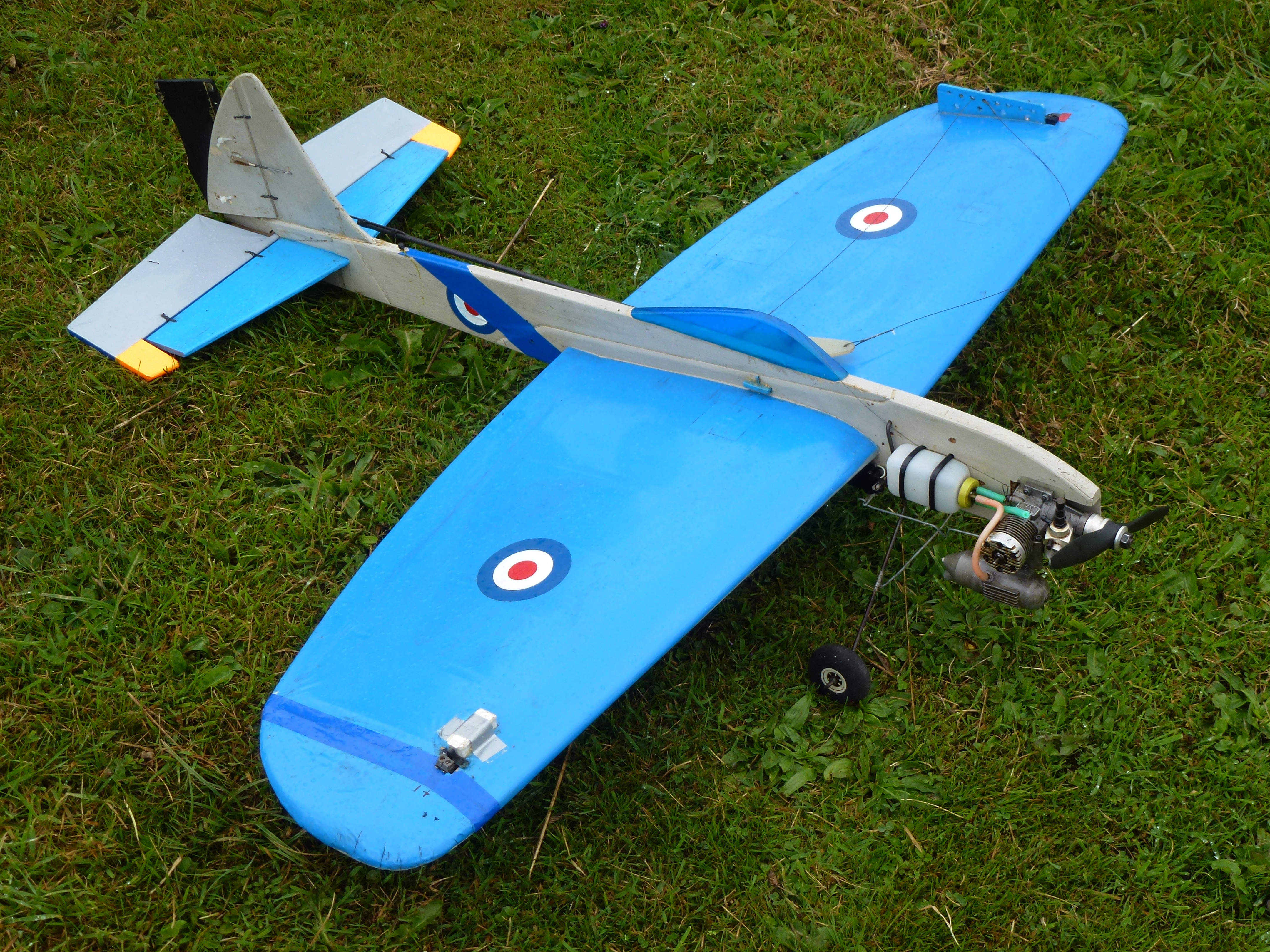 Ian Gilbert's BCD Silver medal-winning Westland Wyvern.
Basic Carrier Deck – Sunday
Sunday dawned significantly calmer and although the threat of rain appeared as drizzle, Ian flew through all of this with his Mustang in an attempt to further increase his existing score and later to try to beat the astonishing score of 314.7 achieved by Chris Howell late that morning. Although Ian's second Sunday flight suffered from a propeller that came loose during the fast run and required that the model be ditched for an Attempt, it was his bad luck that the low wind speed on his first and third flights was less than that required to get the best out of his Mustang. Although both latter flights were successfully completed with Ian's usual expertise, to the surprise of many present his Saturday score remained marginally his best. Although all his scores were easily the most consistent of the entire contest, Ian eventually had to concede top place to Chris at this Championship – though Ian's overall 2nd place and BCD Silver is surely a worthy achievement in anybody's book!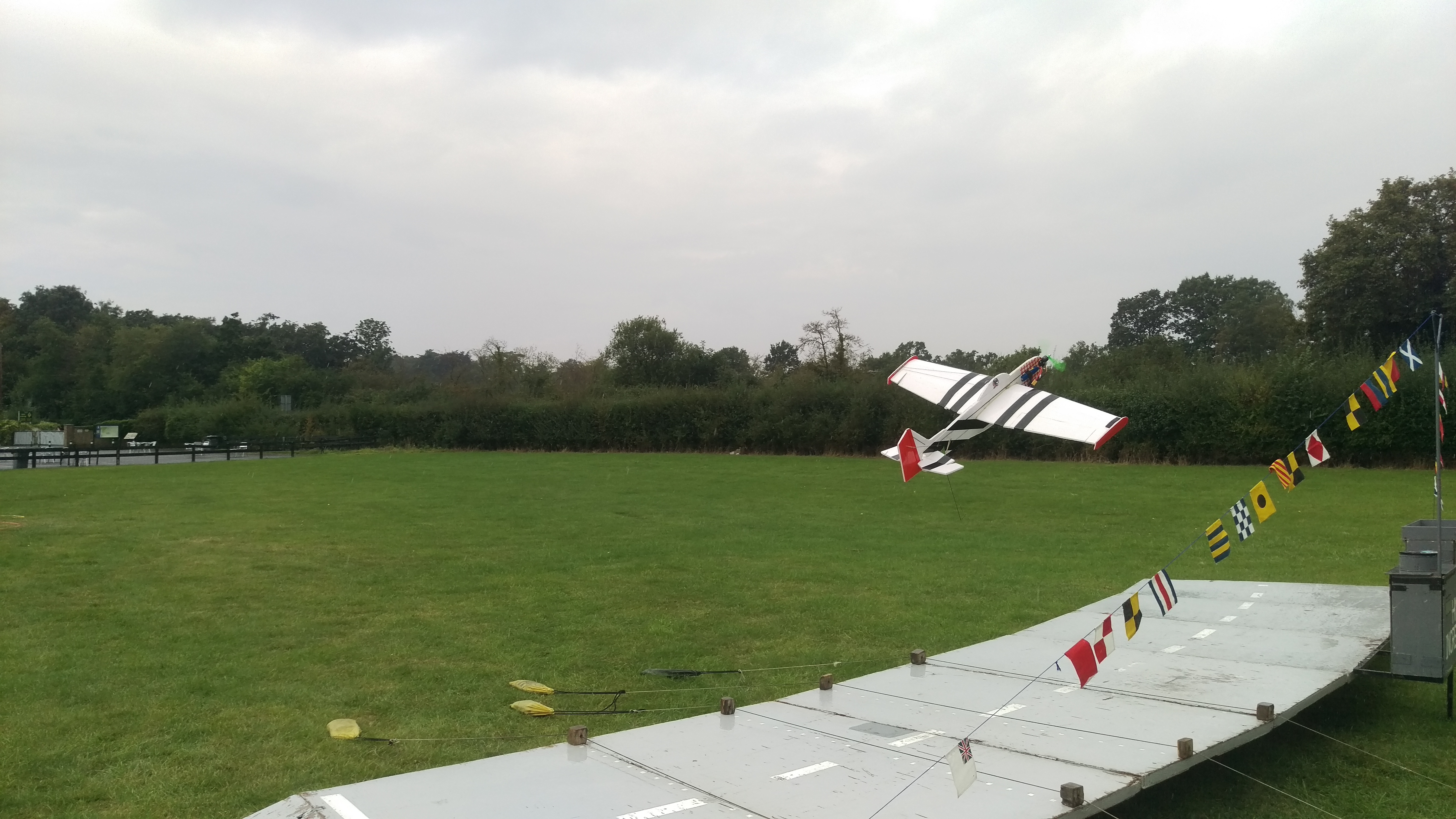 Ian's Mustang in action on Sunday…
Never underestimate Mike Welch – even if Mike is guilty of often underestimating himself! Flying his Irvine 20-powered/balsa & foam Fairey Gannet AEW3 on both days – that's the model you'll have seen on several pages within the September Aeromodeller – he found that the generally low-wind conditions of the weekend were very suitable for him, with the near-calm conditions on Sunday being particularly to the Gannet's liking. Although the Irvine cut during Saturday's first flight slow run and had to be retuned, Mike's second flight that day and both his flights on Sunday racked up some of the slowest slow runs of the contest.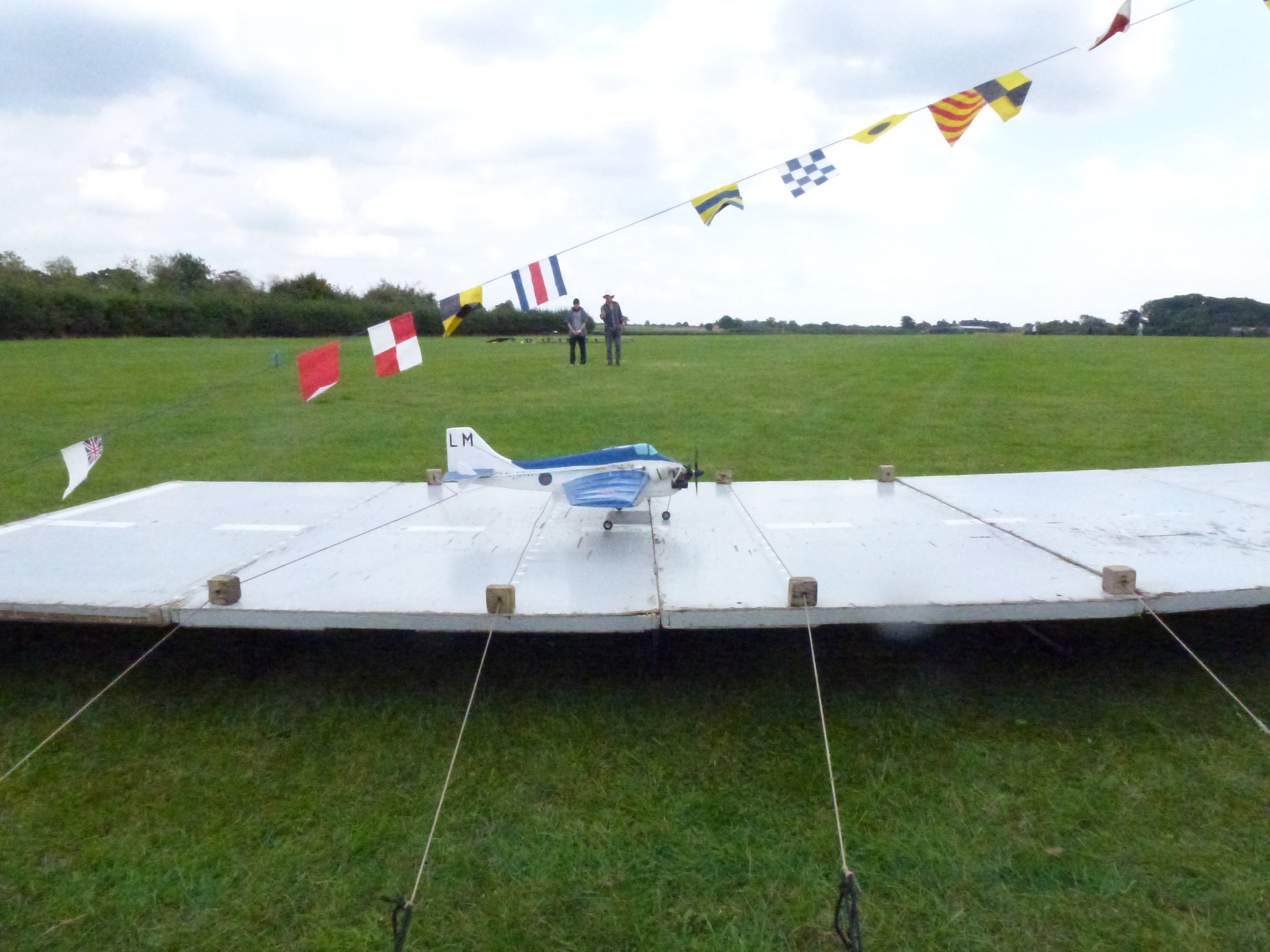 Mike Welch's BCD Fairey Gannet picks up the No.1 wire on HMS Incredible with absolutely no fuss!
However, the relatively small Irvine 20, obviously contributing to the model's light weight and therefore to its excellent slow run performance, is still only of modest power and cannot tow the model around anything like as fearsomely quickly as, say, the Irvine 39 in Gary Church's Gannet (see later). In consequence, although Mike's Gannet's slow runs were all better than those of Gary's, Mike's fast runs were averagely some 17 seconds or so slower than Gary's. Mike's highest score of 237.9 was therefore behind Gary's best by the relatively small margin of only 5.3 points – but behind nevertheless, leaving him in 4th place to Gary's 3rd! – so close!
Chris Howell, one of the other principal contenders for top place in BCD, chose to compete with the same model throughout the weekend – unlike Ian Gilbert. An early mistake saw Chris fitting an 1800mAh battery into his electric/foam Grumman Guardian instead of the usual 2200mAh size, a mistake he would have corrected had he noticed, since he didn't think the 1800 size contained enough energy for a full flight. He was wrong! Pleasantly wrong, of course. Not only was the battery lighter, but the model CG moved slightly rearwards – both potentially increasing slow flight performance! Saturday's first flight score of  266.6 was undoubtedly extremely good, although Chris clearly wasn't pushing his luck, wanting merely to get a complete score on the board. It was when he changed the battery that he discovered his battery capacity mistake, but  had only one spare battery of the same capacity. This second battery was measurably less capable and ran out entirely before the end of his second flight slow run, leaving Chris no option but to ditch. At the end of Saturday, Chris was therefore in second place, 7.0 points behind Ian's leading score.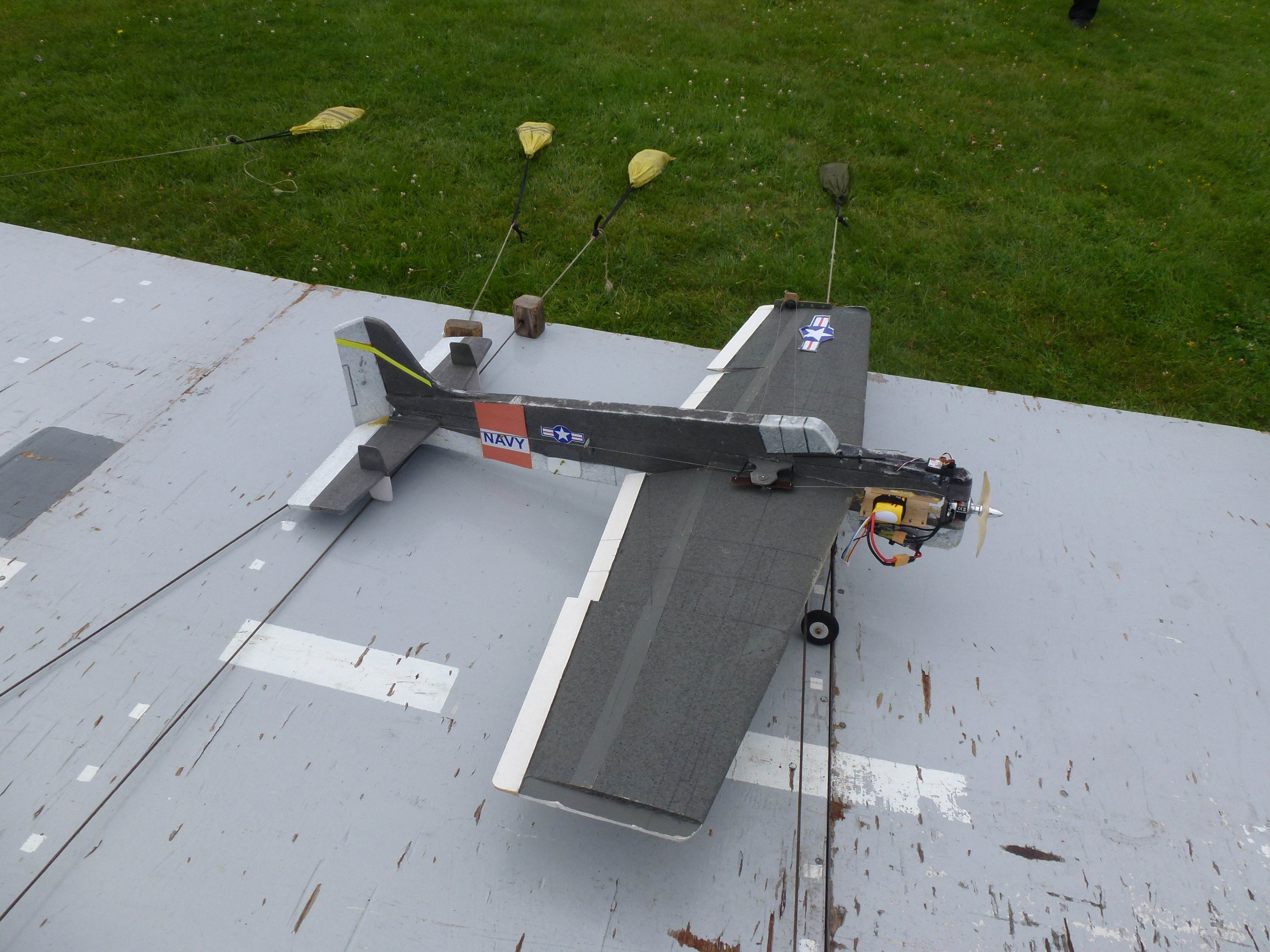 Chris Howell's BCD Grumman Guardian immediately after its single Sunday flight – read about the result below!
Sunday's single flight was made with the 'good' 1800mAh battery after an overnight recharge, and Chris decided to make a balls-out attempt with it to beat Ian. Chris has easily got two warnings in the past when trying hard as the Guardian is apt to rear up unexpectedly in gusty weather, but the Sunday near-calm was just what the model needed to give of its best, and the single warning he got didn't really suggest how slowly he actually flew. Chris's fast run proved to be identical to that of Saturday's first flight, but his slow run was only 3.1 seconds short of a full four minutes! All that he (and his battery) had to do was to get back on deck! They both did, of course, the result being a spectacular 314.7 points! Although Chris was prepared to recharge the same battery for a second flight if necessary, his score proved unbeatable and so gave him the BCD Gold medal!
Dave Cowburn, normally the most 'law-abiding' of Carrier flyers, appeared to suffer some sort of temporary personality change for his first Saturday flight with his GMS2000 25-powered/balsa Blackburn Firebrand, as he was distinctly seen to exceed the 30 degrees maximum attitude rule during his slow run. Shock! Horror! The Circle Centre Marshal was almost too surprised to give him a warning! But jesting aside – and hopefully Dave will see that it is! – his usual high speed precision landing ensured a hookup for what turned out to be his best flight of the weekend and 10th place in the Championship. Dave's second Saturday flight unfortunately wasn't quite so good for either the fast or slow runs, and although the landing was still spot on, his score was lower.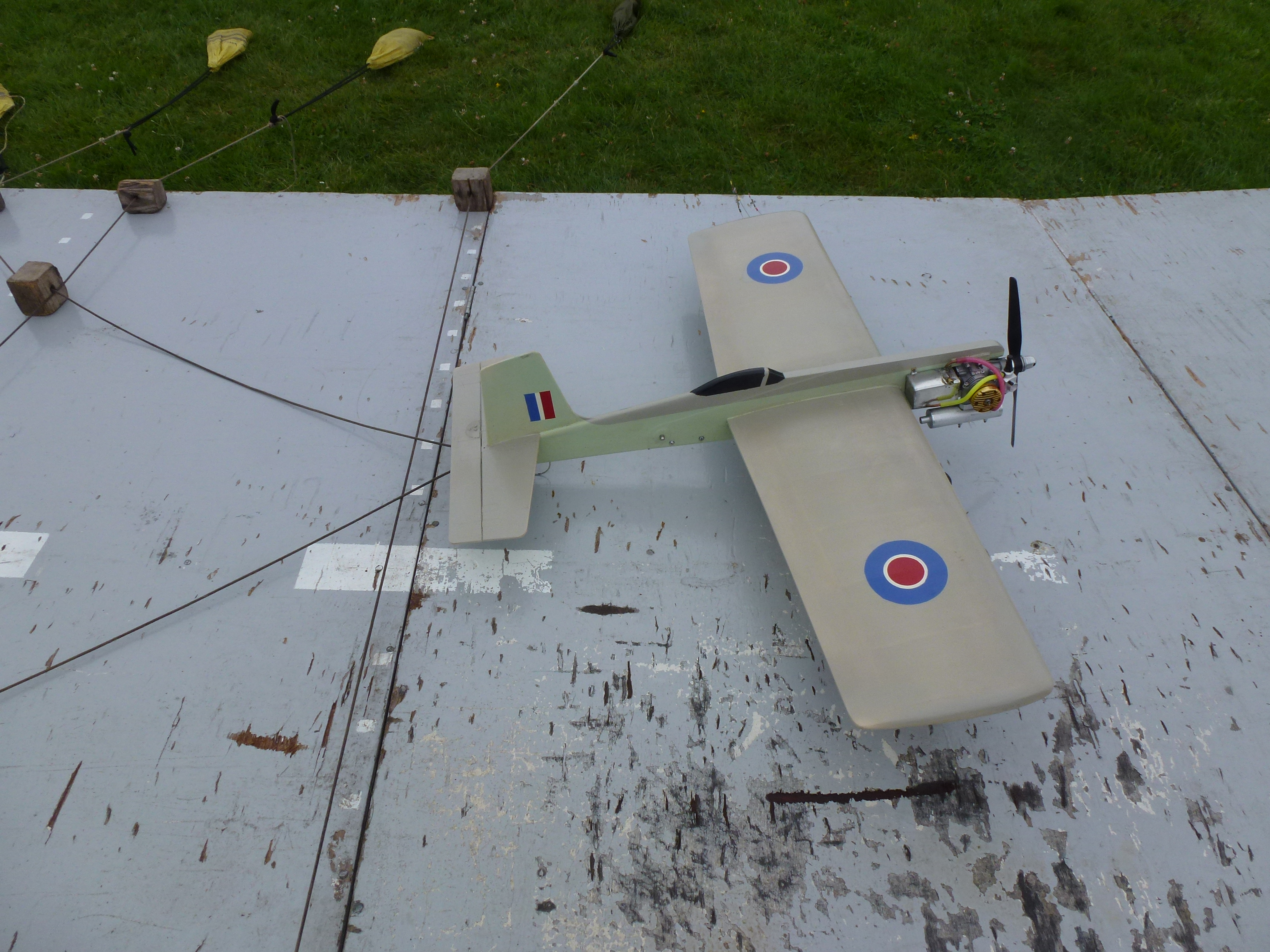 Dave Cowburn's BCD Blackburn Firebrand after one of Saturday's successful flights
Sunday, however, was not a good day for him at all, nor for his very attractive Irvine 40-powered/balsa Supermarine Seafang, as it started with a ditch directly after take-off simply due to the lines being connected up the wrong way round. Oops! His second and third flights with the Seafang were similar in flight scores to those of Saturday with the Firebrand, but the second flight landing was a ditch after he unusually missed every arrester wire, the third flight being accurate enough with the model landing right in the middle of the wires but inexplicably failed to pick any of them up – possibly because the Seafang's relatively thin 14swg hook may have opened out under the arresting loads. No warnings, though!
Like Johnathon Crabtree, Gary Church was able to fly on Saturday though not on Sunday due to unavoidable contest commitments elsewhere on the airfield. His Irvine 39-powered/balsa Fairey Gannet AS1/4 was flown for the first time with a converted R/C car pistol-grip handle instead of his previous neck-hung conventional transmitter, the 2.4GHz radio car handle fast becoming the most popular means of throttle control now in BCD. The Irvine 39 undoubtedly had bags of poke and his fast run was head-turning to say the least: it was easily the quickest of the weekend! The remainder of the flight was very competently executed right down to the full-score landing despite having to get used to the new transmitter, but Gary hadn't got any warnings during the slow run and therefore decided he hadn't been trying hard enough!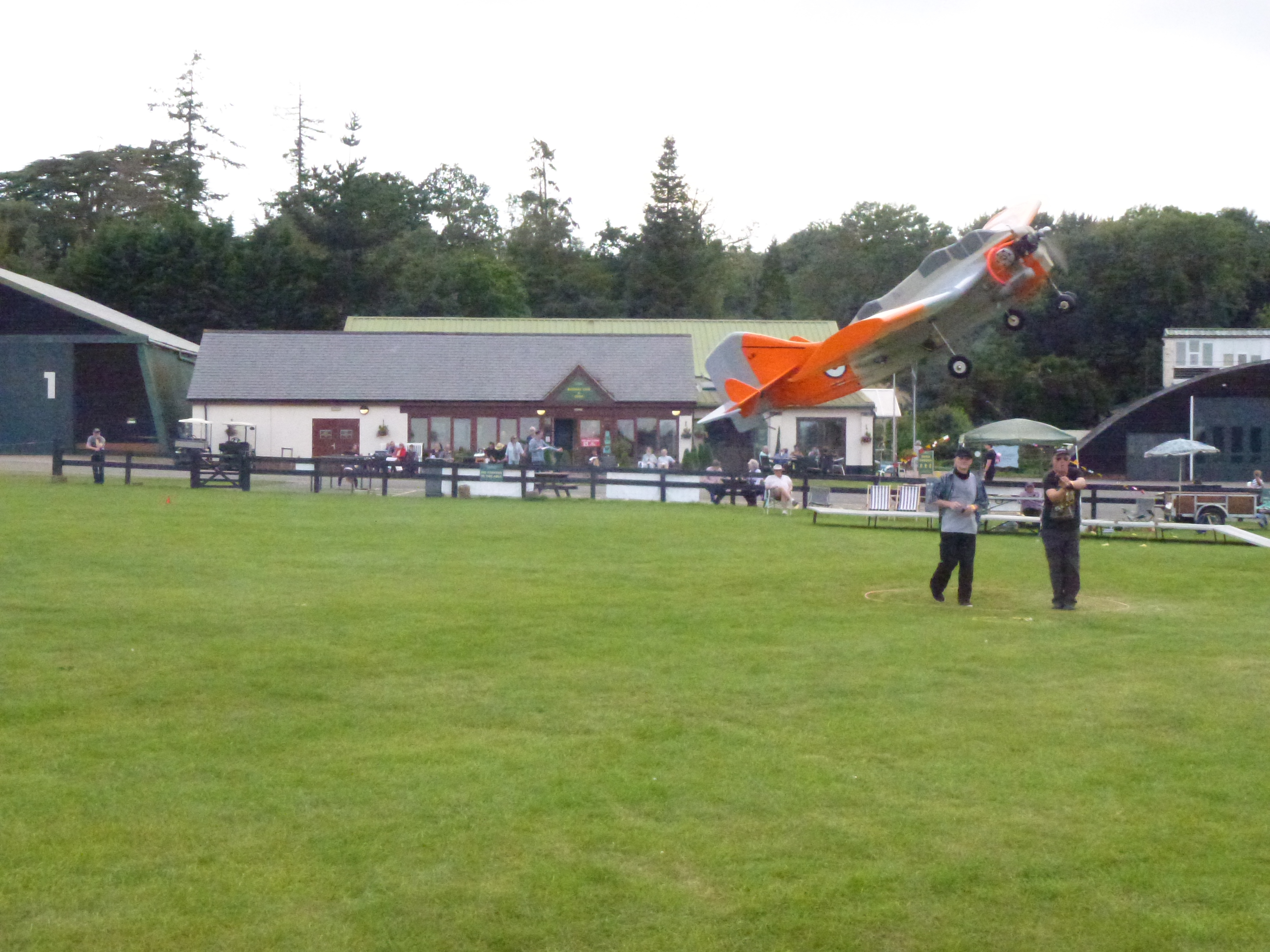 Trying harder now! Gary Church flies at the maximum permitted attitude of 30 degrees while Circle Centre Marshal Chris Howell watches for exceedances- the Bronze medal awaited, but Gary didn't know that at this point!
Although the Irvine was still hot after the first run and slowed down by a second and a half during the second flight fast run, Gary's next slow run was nearly 8 seconds longer. Gary clearly did his utmost to get the model to sit as close to the maximum attitude limit of 30 degrees and finally got a warning for doing so, but afterwards he considered that he could have still improved upon this had the wind been a bit stronger. Nevertheless, his final score of 243.2 turned out to be quite good enough for 3rd place overall and BCD Bronze!
John Marsh was another flyer who could only attend for a single day and his day was Sunday, actually the calmer and therefore better day for any model with potential wind-related sensitivity – which his ST40-powered/balsa Fairey Fulmar turned out to be. John's Fulmar was a relatively new model which hadn't been flown a great deal and needed further trimming, being still a little tail-heavy. John wisely opted for caution during the first flight simply to get a complete score, which he did easily, the Fulmar incidentally showing everybody an extremely clean pair of heels with the second quickest fast run of the weekend.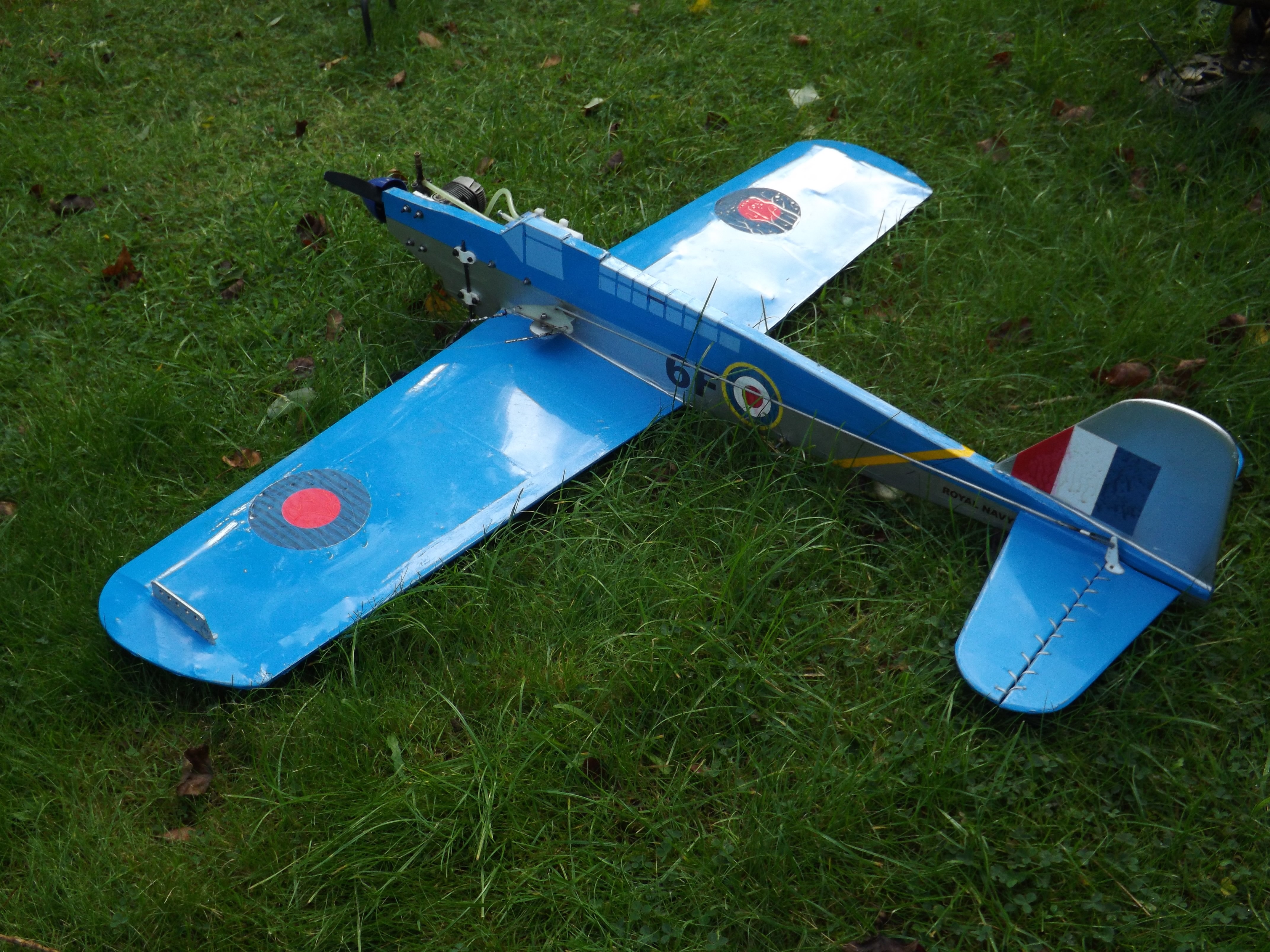 Very nicely built, John Marsh's BCD Fairey Fulmar awaits competition use.
However, trying rather harder during both his second and third flights, the Fulmar's tail-heaviness caught him out on both occasions by sinking enough in the downwind hole to catch the hook in the grass – oops, sorry, wave tops – unfortunately disqualifying him each time. To further add insult to injury on John's third flight, the throttle failed such that the Fulmar wound up going flat out until its tank was empty! Aaargh – remember how fast it was…! The offender here turned out to be the control system battery which had simply gone flat, but this failure prevented any further flights and this meant that John's first flight score of 160.9 was his best, giving him 9th place overall.
Once upon a time, Team Harris flew little red biplanes… but when the sub-class of Junior Carrier Deck was developed, they saw this as ideal for them and all their subsequent entries have been of this type. Initially flying an AP Hornet-powered/balsa Supermarine Seafire, son Ollie Harris and father Paul Harris interleaved their flights until damage required the use of their backup SC15-powered/balsa Seafire. Ollie managed to gradually reign-in his caution with its resulting overshoots until he finished with a competent clean third flight, straight-in 100-point landing, 146.7 points and 12th place. Paul, unfortunately, had a lot less luck, with a crash during the slow run of his first flight that put the Hornet-powered Seafire out of commission, and the SC15 cut during the slow run of his second flight to leave him in 16th place. However, when it's considered that the last time either of them flew Carrier was over two years ago at the 2019 Nationals, Team Harris deserve a round of applause for their continued support of Carrier, bless them!
Class 1 Carrier Deck
Mike May appeared to have brought a very considerable number of Carrier models along from deepest Dorset, but unlike his extraordinary variety of BCD models, both his Class 1 entries were electric-powered converted-R/C ARTF Messerschmitt Bf109Ts – each of them really handsome models! Mike's single Saturday flight with his Hobbyking kit conversion, having a glassfibre/ply fuselage with balsa-covered foam wings, was cruelly terminated almost immediately after take-off by a line break. Of course, it was the up line – what else? – and unfortunately the resulting crash left the model in dire need of workshop repair facilities!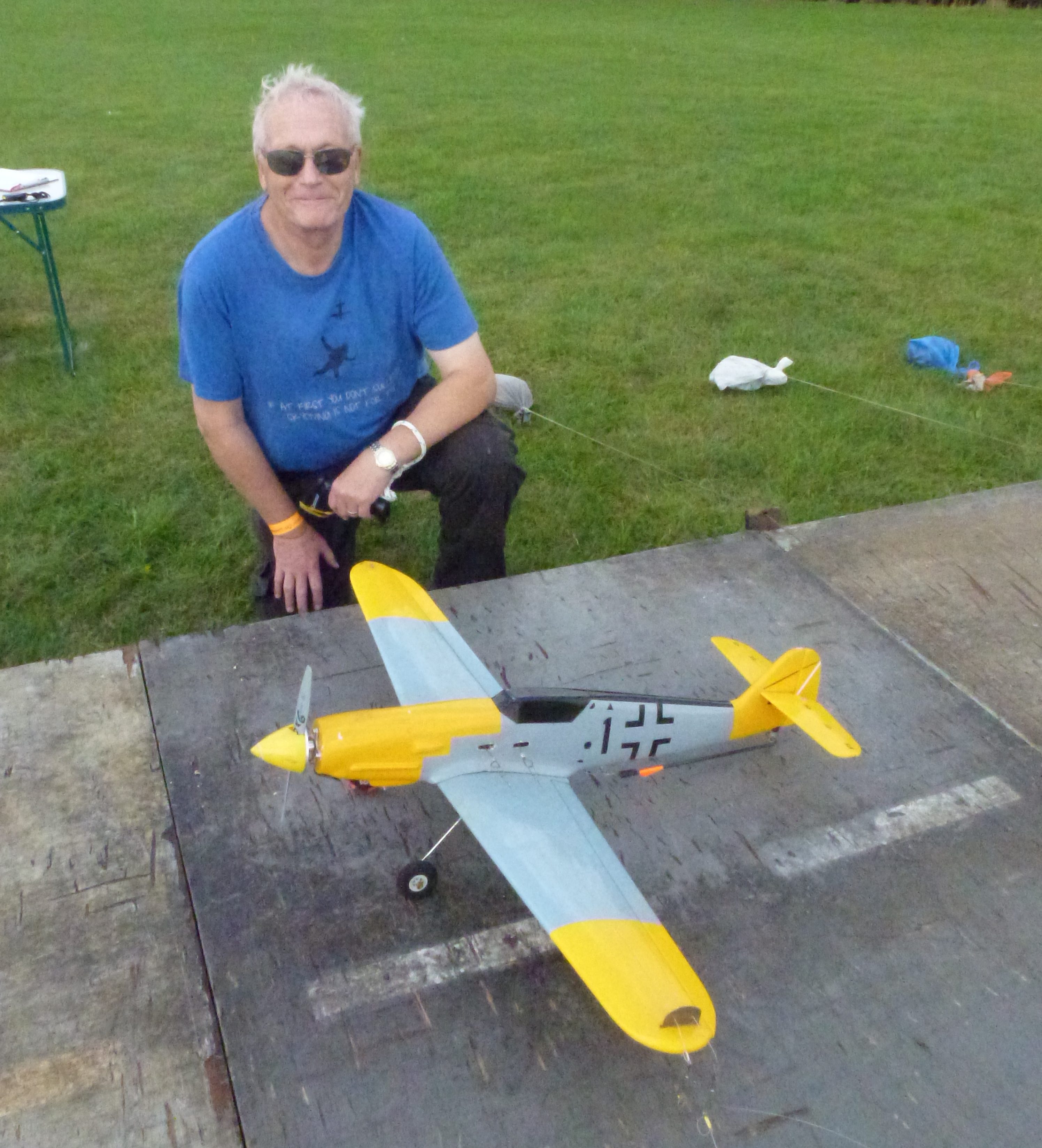 Mike May's extremely attractive Hobbyking Bf109T R/C kit converted for C/L use in Class 1 before it got a wee bit bent by a line break!
Mike's single Sunday flight was made with his alternative and very singular AeroFred 3-D printed model – a most interesting beast indeed! The kit arrived packaged in a relatively small cube of a box, totally unlike a normal kit box shape. This was because printed component size is inevitably limited to the size of the 3-D printing machine itself, such machines generally having a square or mildy rectangular printing bed and certainly not suited to the making of such relatively long thin items like wings and fuselages in one piece! Despite the singularity of the model's subsequent construction and to his pleasant surprise, Mike found it very easy to control and a very good flyer, putting in problem-free fast and slow runs. However, because undercarriage attachment strength is always a worry on converted R/C models, Mike exercised such caution on the landings that his approaches were over-high, the first contacting the deck but beyond the wires, and the second, though lower, still missing the wires and rolling off the bows for a ditch (…and still breaking the undercarriage!). Nevertheless, Mike's score of 165.9 was better than many scores in previous Nationals, but as there were a number of other Class 1 contestants who'd also achieved full-score landings over the weekend, he had to be content with 6th place.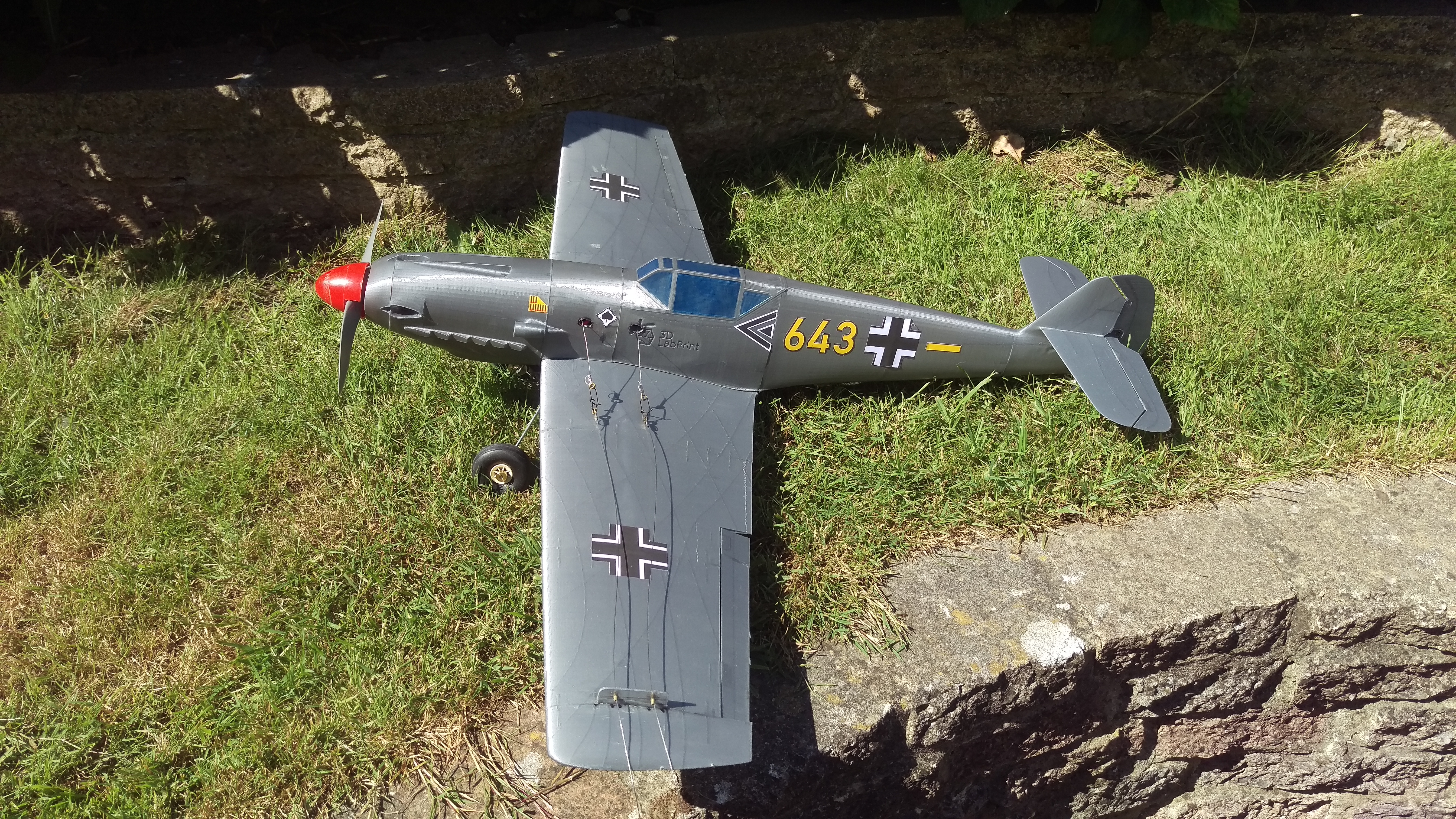 Mike's 3D-printed Bf109T – spot the CA-glued construction joins!
Zoë Quilter's Class 1 flights were scheduled to take place on both days, but she was only able to fly her electric/foam converted-R/C ARTF Grumman Hellcat on Saturday due to damage during the obligatory pull-test on Sunday. Zoë's first flight was relatively cautious and finished with, in her own words, "a rather untidy landing" which missed the wires and rolled off the deck for a ditch. Her second flight, however, featured exactly the same beneficial mistake as had been made by Chris Howell in BCD – the inadvertent fitting of a smaller capacity battery instead of the intended larger type which made the model lighter, slower and more controllable!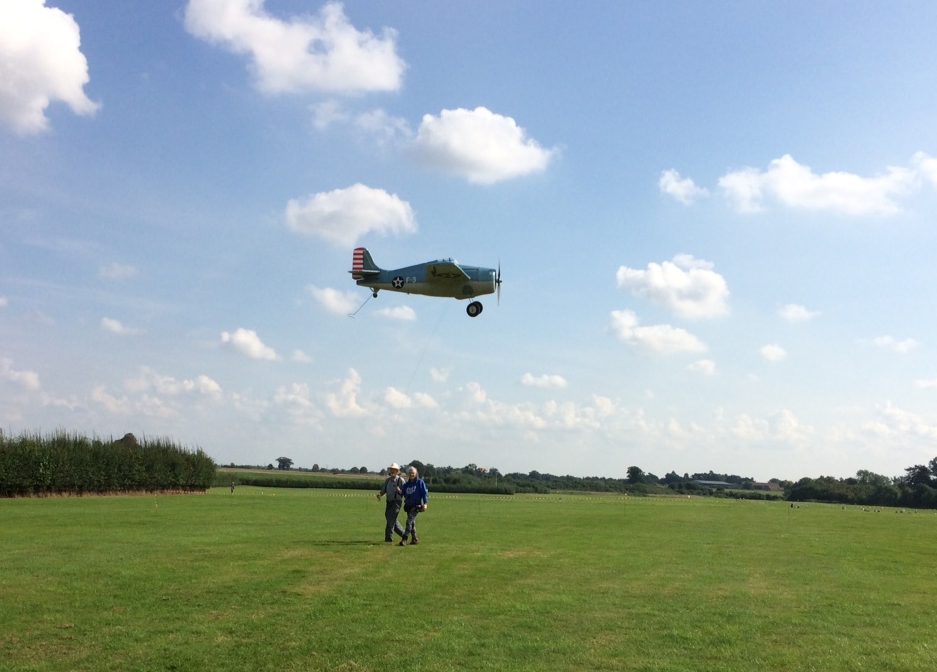 Zoe Quilter flies her Class 1 Grumman Wildcat with the wrong battery but finds that mistakes can sometimes be good things instead of bad!
Zoë found that the Wildcat would float into wind during the slow run noticeably better than previously, and whilst she still flew carefully, the model's improved handling made the full-score landing much easier. So: what are the odds that she'll use the larger battery again in the future…? Zoë was happy with a resultant score of 292.4 points, but she was absolutely delighted (and flabbergasted!) when this score proved to be worthy of the Class 1 Silver medal at the end of the weekend! Well done, that woman!
The 40-year-old ST40-powered/all-balsa Grumman Hellcat of Saturday-only attendee Paul Stubbs was flown in Class 1 primarily as a matter of tradition, as it had already competed at a number of past Nationals – but remember that Class 1 success is even more about achieving a complete flight than is BCD. Models of the latter class with their relatively big wings generally handle more pleasantly, whereas the requirement in Class 1 for scale outline constrains design and flyers are more reluctant to build up to a wing area and often instead build down to a size. The resultant higher wing loading makes low values of slow speed harder to achieve, and higher slow flight speeds make landings more difficult. So, irrespective of flight performance, if a Class 1 model does not hook up, it can easily be beaten by a lower performing model that can make successful landings more reliably!  The Hellcat is not a small model – so there's the clue!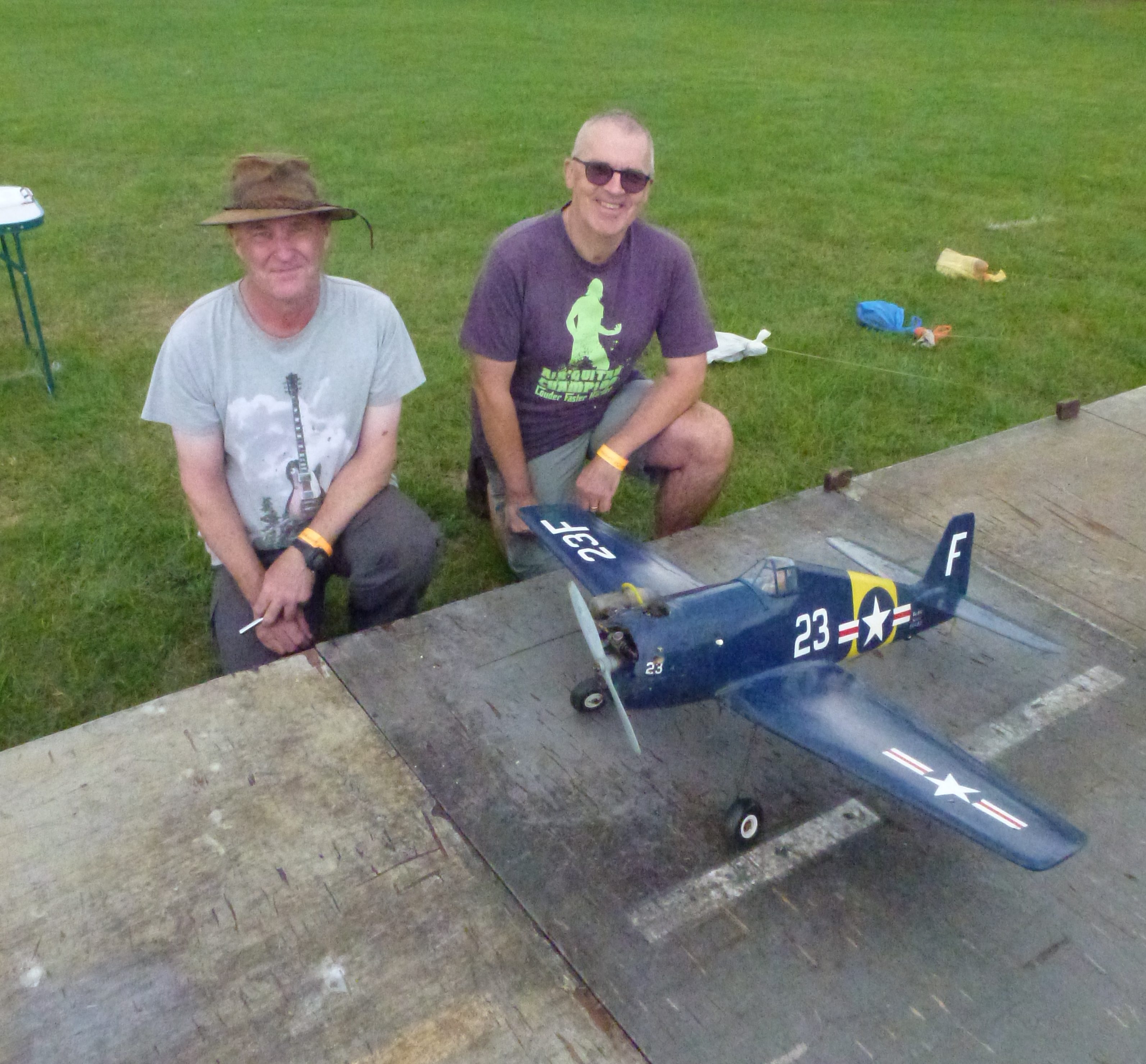 Paul Stubbs and Adrian Thompson smile before flying Paul's Class 1 Grumman Hellcat. Their smiles were even bigger after the second flight described below!
Paul made only two relatively cautious flights, though the first flight's approach was too low, the model hitting the ramp and bouncing clean over all the arrester wires, coming to a halt on the deck upside down but fortunately undamaged. The second flight appeared as if it would end in the opposite way with Paul's final approach looking way too high, but somehow he got the Hellcat down to catch the very last wire, slithering to a halt on the extreme inboard edge of the deck! So there's the pilot's dictum: any landing you can walk away from is a good one! Moreover, Paul's second flight score of 268.8 eventually turned out to be worthy of 3rd place and therefore the Bronze medal! Excellent! Well done indeed! So remember: Class1 is about achieving a complete flight…
Bob Phillipps had been threatening to compete with his electric/foam Grumman Bearcat ever since Old Warden's Scale Weekend back in July! The model was converted from an Arrows Hobby Kit ARTF R/C type and is absolutely gorgeous, almost too attractive to risk in the relative rough and tumble of C/L Carrier. Was that going to stop Bob, though? No, of course it wasn't!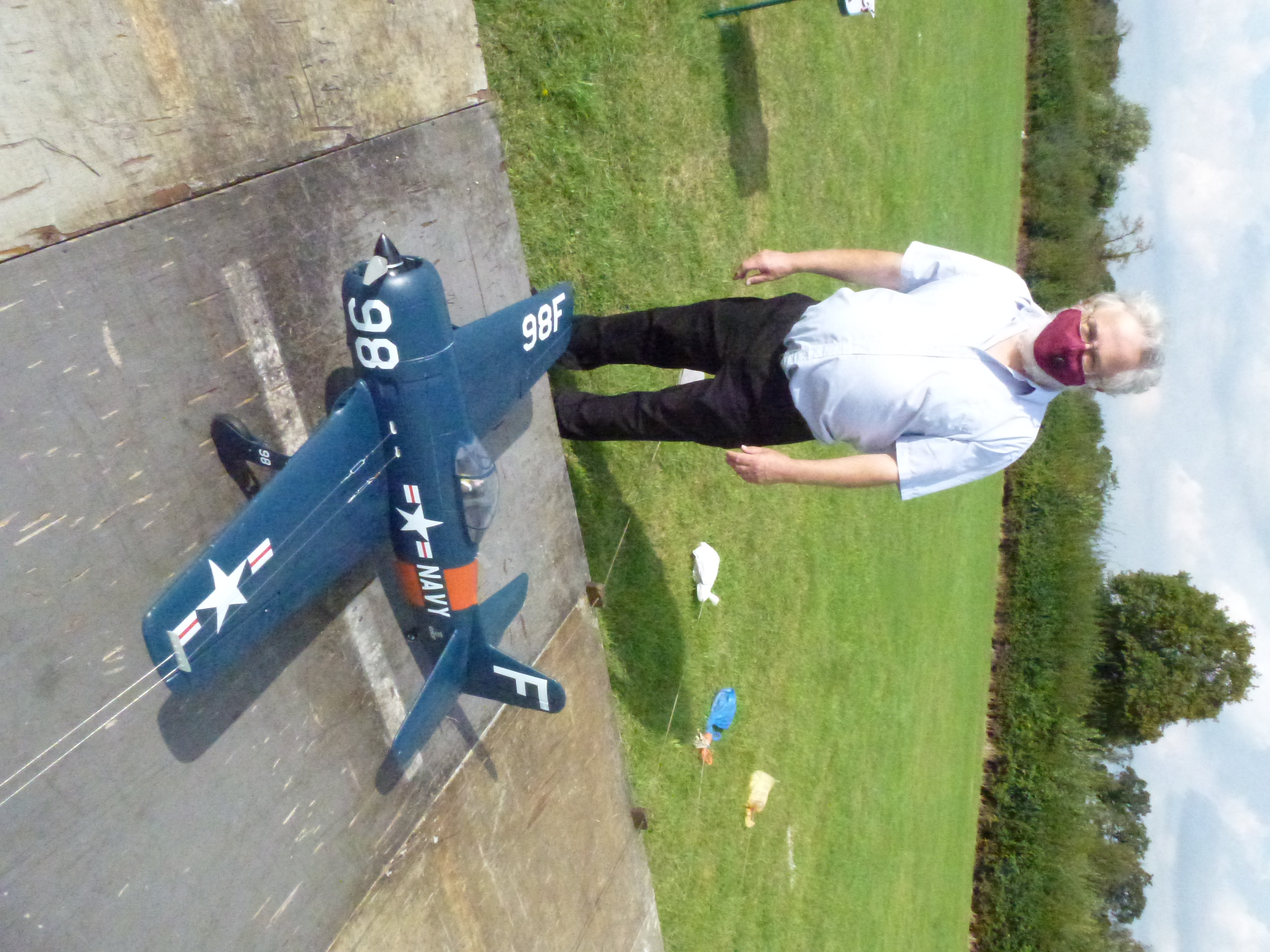 The Masked Carrier flyer! How about that as a good title for a dramatic black-and-white film of nautical derring-do? Mmmm… perhaps not!
Anyway, Bob Phillipps and his beautiful Arrow Hobbies R/C kit converted for Class 1 use was press-ganged into posing immediately after arrival at Old Warden with no chance even to remove his Covid mask!
However, Bob's single Saturday flight was enough to show him that the model required both additional nose weight and reduced elevator sensitivity if it was to survive further outings, and it was perhaps actually lucky that he inadvertently ditched it gently after the slow run, rather than subject the Hellcat to a landing. Bob's two Sunday flights benefited Saturday evening's work of adding extra lead in the nose as well as gearing down the bellcrank throw, and the Hellcat got back to the deck twice in a row this time. But, no, Rome wasn't built in a day, nor does any Carrier model spring fully-trimmed from the drawing board! The Hellcat failed to pick up any wires on both occasions, partly due to the approach attitude – so more longitudinal trimming necessary, maybe – and partly due to the hook's hold-down elastic band not being strong enough. Sunday's first flight gave Bob his best score of 173.8 and subsequent 5th place – and perhaps best of all, the Hellcat survived undamaged!
Mike Welch. Class 1. What could be expected! Nothing conventional, that's for sure! True to form, Mike decided to compete with his EDF/foam De Havilland Sea Vampire, converted from a second-hand model given to him by John Phillipps. The model, however, is most impressive in the air, complete with turbine-like scream, but is very dependent on battery adequacy to find the power for take-off. It was also dependent on adequate tip weight, but that's a later story…  Saturday's first flight was nearly its last, the model being twice rolled inwards upwind, but Mike managed to recover it both times. What was that about tip weight? It was almost a relief to see the model back down on the deck, even if it missed the wires and rolled off! The remaining two flights on Saturday were both ditches immediately after take-off simply due to the use of different batteries of the same capacity as that of the first flight but obviously much less capable. It was afterwards, on inspection, that Mike discovered that he hadn't after all put on any tip weight… Cue hasty work with much lead and swathes of bright yellow insulating tape. Why bright yellow? Closest to hand, of course!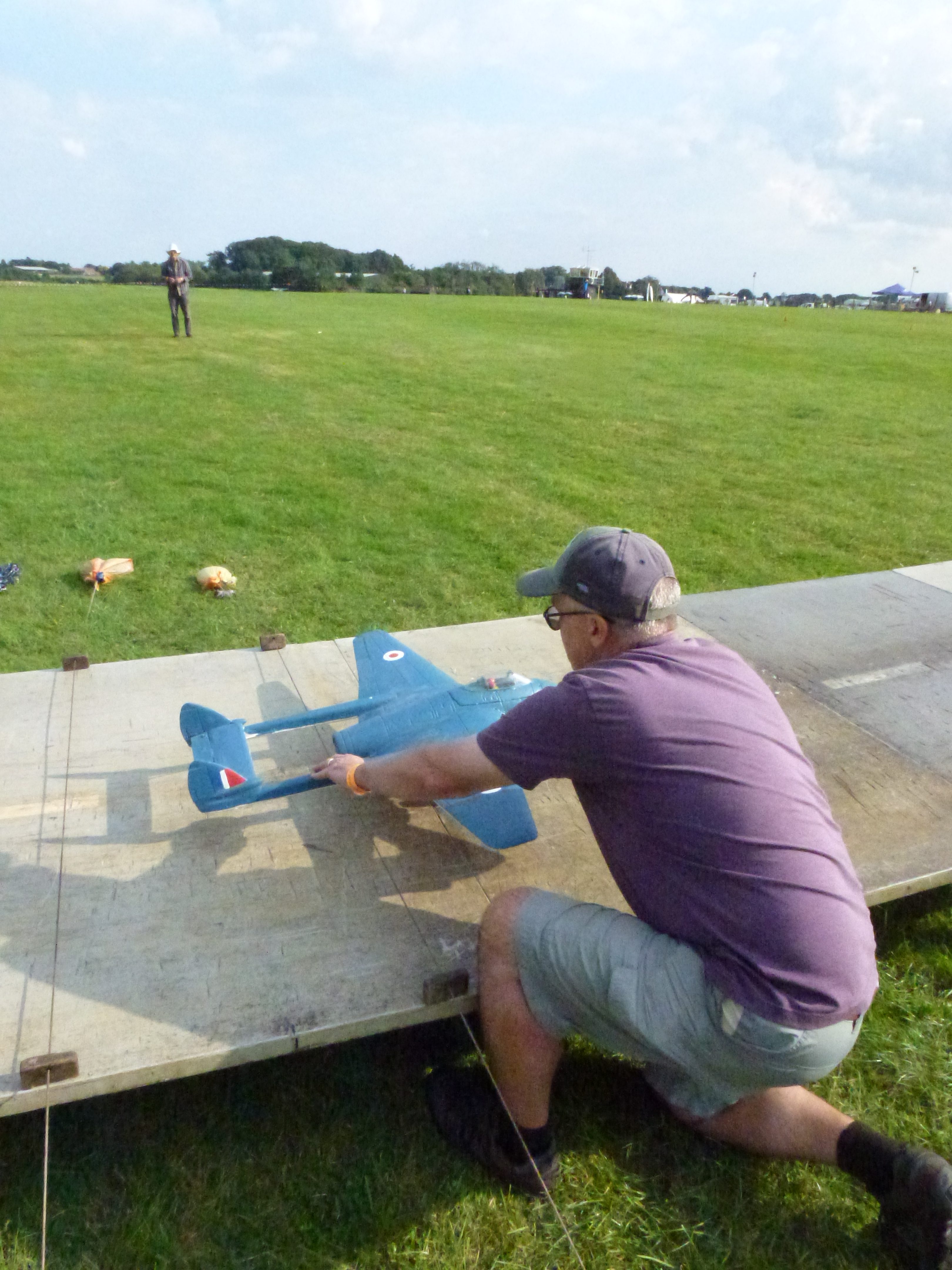 Adrian Thompson restrains the Class 1 EDF De Havilland Sea Vampire of Mike Welch,
while Mike runs the engine up to maximum revs to ensure all possible thrust is available for take-off.
Sunday's flights almost duplicated those of Saturday, with Mike's best lipo giving him his best flight again and the newly-applied tip weight reducing spectator heart-rate during the slow run. Mike said afterwards that it flew really nicely! This time, approach and landing were pretty much perfect, resulted in Mike's best Class 1 score of 253.4 and eventual 4th place. His second and third flights with less capable batteries repeated Saturday's post-takeoff ditches, although Mike was able to show afterwards by continuous taxying that if batteries could be run for long enough to warm up properly, their output was significantly better. Nothing Mike does is ever boring!
Chris Howell's two Class 1 Vought F4U Corsairs were both electric-powered converted-R/C ARTF models, though one was of foam manufacture and the other a more conventional balsa structure. Sadly, it only took Chris's first Saturday flight made with the foamie, despite showing significant promise during the slow run, to break the model into several bits after it got blown in upwind!
This is Chris Howell's Class 1 Vought Corsair – obviously before it got bent!
But: nil desperandum… Chris proceeded to press the second Corsair into service immediately and whilst complaining that he could only get the model to sit up at 40 degrees during the slow run because the model was too nose-heavy (the Class 1 attitude maximum is 60 degrees), he still managed to record his best slow score as well as his best fast score of the weekend! Perhaps he was still grumbling to himself about the model's nose-heaviness, because he made a perfect hookup without appearing to even think about it! Sunday's two flights were not quite as good, so the first flight landing's failure to arrest due to hook staywire breakage and the second flight's failure to arrest because the nose-heavy model tipped forward excessively and lifted the hook clear of the wires… actually didn't hurt his chances! This only became clear to Chris when he finally inspected the official Score Summary Sheet just before prizegiving at 16:00 on Sunday, when to his delight, not only had he placed first in BCD (which he already knew about because Ian and he had been keeping a very close eye on each other!), but his Saturday Class 1 score of 294.5, even though it was the only flight in which he'd achieved a landing, was also the top Class 1 score and meant he'd won not only BCD Gold, but also Class 1 Gold! Grand Slam, in fact! Goodness – well done indeed, Chris!!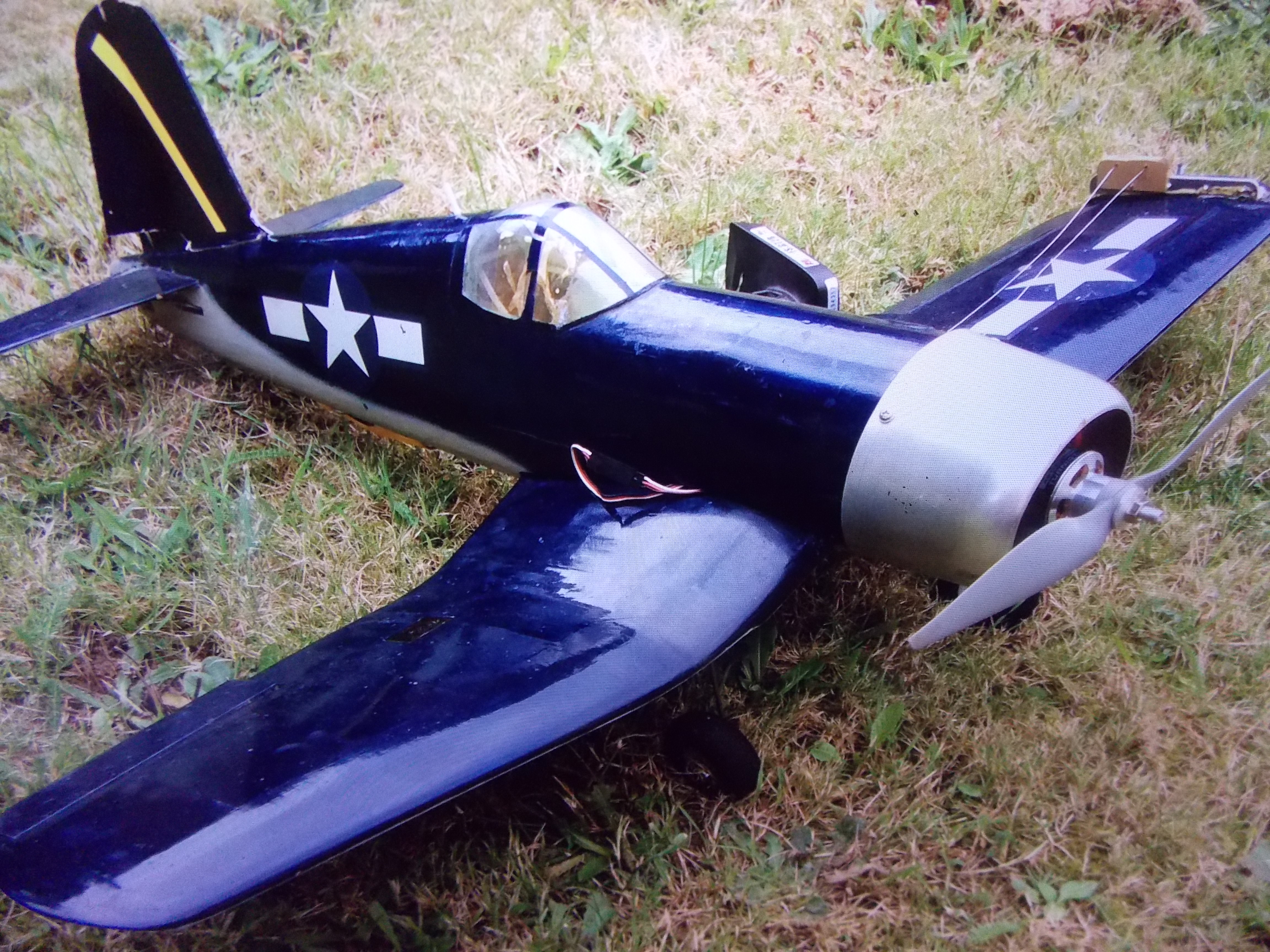 Chris Howell's Gold medal-winning Class 1 Vought Corsair.
DETAILED FLYING AND PLACE REPORTS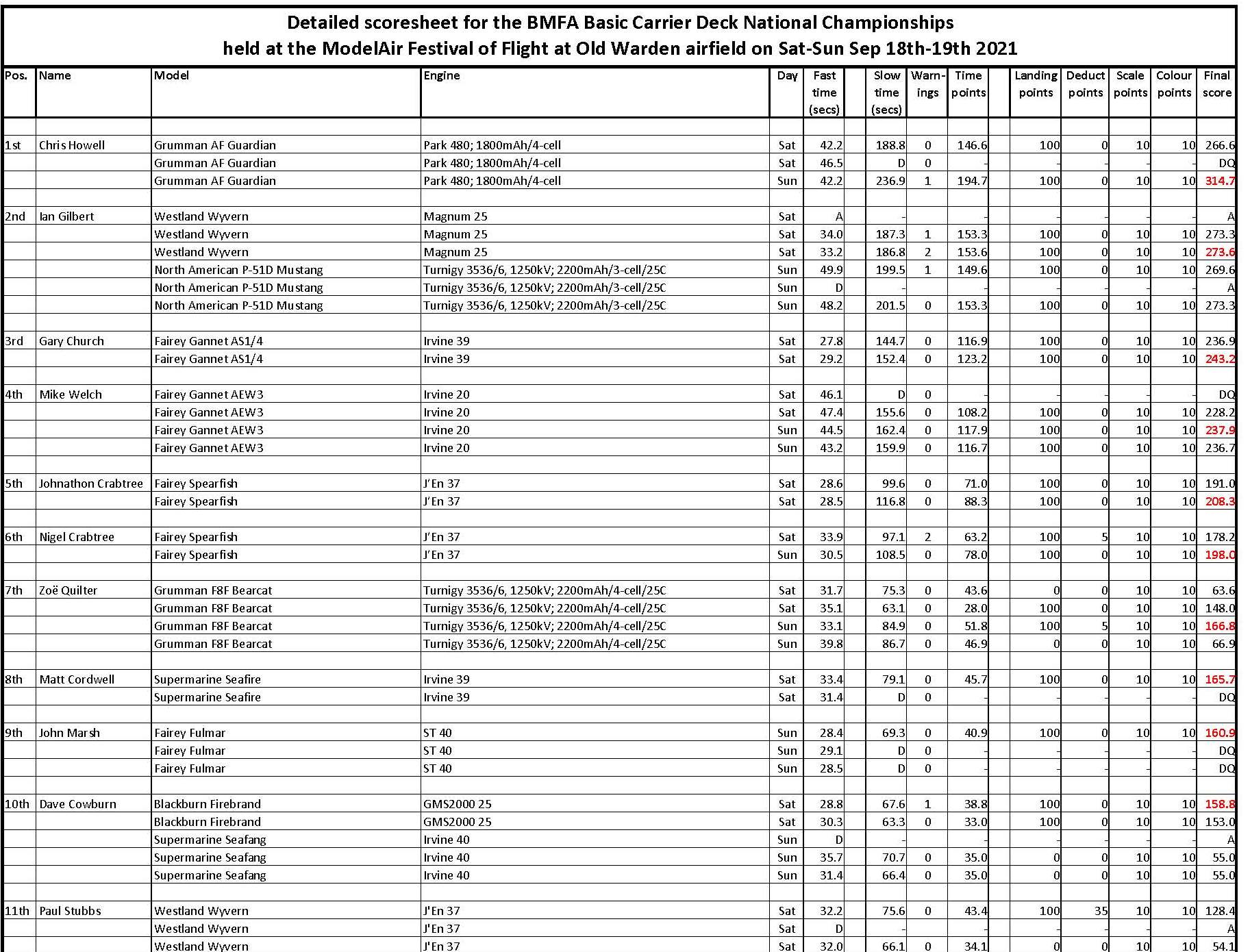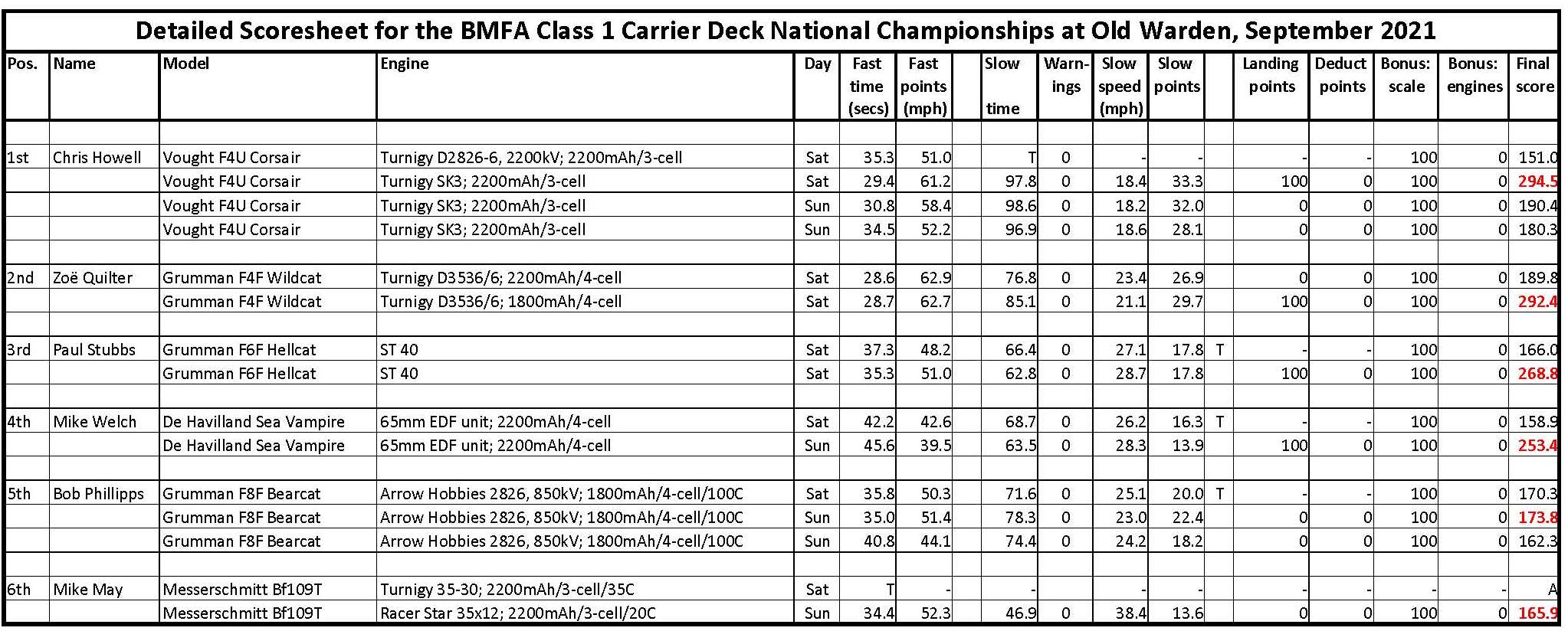 [Webmaster: And finally we MUST all say a heartfelt 'thank you' to Andy for organising, administering and reporting on this very smooth-running event, as well as congratulating the winners, commiserating with the fliers who didn't get to stand on the (virtual) podium, as well as giving thanks to everyone who officiated, shifted the deck, judged, and launched for other competitors!]