The Best of the US – Eric Conley Plans!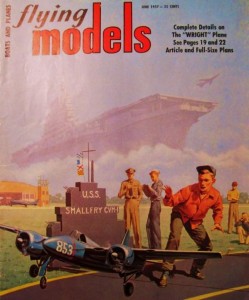 Over the past couple of years I've been privileged to talk to some of the best UK, US and European builders and fliers, and to publish their pictures, stories and plans from all over the world.
This went into overdrive when I added the "Record Breakers" pages, featuring US flier Burt Brokaw's achievements with his Class 1 and Profile models. It really surprised and delighted me to find that not only do our US friends regularly log in to this site, but they are also very generous in providing details of what's going on in the States, more info on Burt and his models, and in allowing me to publish extracts from their own material – even including John Brodak who OKed use of elements from his "Control Line World" magazine.
The icing on the cake has been getting permission from ace designer and flier Eric Conley allowing me to publish plans of his record-breaking Bf109T and MO-1, as well as his F2G Super Corsair and Seafire.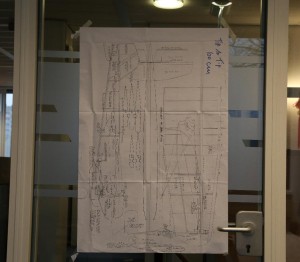 Getting this arranged is an interesting story in its own right – and it's all down to Max Uttien of The Netherlands who flies Carrier and also corresponds with Eric. When Max saw our record breaker pages featuring Eric's model designs he immediately emailed him for permission to pass copies of hardcopy plans of Eric's he had – and Eric said "OK"!

But how to convert the paper plans in Holland into digital media in the UK? We discussed getting them scanned professionally (very expensive) or 'tiling' them through an A3 or A4 desktop scanner (prone to error and needing much post-processing). In the end, Max's friend Just Vecht had a brilliant idea – write a known dimension on each (i.e. wingspan) tape them to a glass door for flatness and photograph them!
The result of the MO-1 plan camera shot is alongside – I've cropped, sized and PDF-ed them all so they're now ready for you to download from the list below in your choice of format. 
So it's a big, big 'thank-you' from me to Eric Conley, Max Uttien, Just Vecht, Bill Calkins, John Brodak and all the guys who helped me out with this project. Here's the index of the plans available – click to download a full-sized PDF of your favourite(s)! IMPORTANT NOTE: ALL THE WING PLANS are viewed from  UNDERNEATH!
| | | | | | | | | | |
| --- | --- | --- | --- | --- | --- | --- | --- | --- | --- |
| Prototype | Body | Wingspan | Engine US: UK | US Class | UK/EU Class | Download | Download | File  Size | Comment |
| Martin MO-1 | Full | 100cm (39″) | <36:40-60: <40 | 1 or 2 | 1 | PDF | JPEG | 620kb | A version of the US record-holding Class 1 model |
| Messerschmitt Bf109T | Profile | 103cm (40″) | <36: Unlimited | Profile | BCD | PDF | JPEG | 720kb | Deactivate extra moveable surfaces for BCD – US Profile Record holder |
| Messerschmitt Bf109T | Profile | 70cm (28″) | <15:  Unlimited | Profile | BCD | PDF | JPEG | 720kb | Deactivate extra moveable surfaces for BCD – originally designed for US .15 class |
| Vought F2G1 Corsair | Profile | 102cm (40″) | <36: Unlimited | Profile | BCD | PDF | JPEG | 1000kb | Deactivate extra moveable surfaces for BCD |
| Supermarine Seafire | Profile | 106cm (42″) | <36: Unlimited | Profile | BCD | PDF | JPEG | 730kb | Deactivate extra moveable surfaces for BCD |