Report by Andy Housden
This, the second Carrier contest of 2021 (though originally planned to be the seventh!), suffered from unduly pessimistic weather forecasting which threatened – variously, depending on the sources – high winds, heavy rain and a Yellow Warning for thunderstorms. Although some nearby parts of the UK got this sort of weather in spades, with London and points south receiving some particularly nasty stuff on the Sunday, the bad weather essentially missed Old Warden more or less completely! In fact, Saturday had some early rain but this cleared before any flying started, and Sunday's initial mistiness and very light rain also faded away before the aeromodellers moved out onto the airfield.
The afternoons of both days were notable for being both fine and warm, with a wind that was consistently from the north east on Saturday and the north on Sunday, occasionally reaching 10mph, but usually averaging much less for long periods. There was, however, some surprising upwind turbulence from the direction of the public road hedge and this caught out one or two flyers! Quite a lot of afternoon thermals were also present which resulted in numerous Buzzards and Red Kites circling overhead, with one of the critters even landing on the grass nearby! So that's where my packet of Jaffa Cakes went…
Although the improvements in the weather from the substantially more unpleasant forecasts earlier in the week took place rather late – the forecasts only became reasonably representative of the actuals during the Friday night – this perhaps demonstrates that:
If you rely heavily on the forecast to plan your visit, you really should also get some idea of how quickly the weather systems in question are likely to change, as this will give you a better measure of forecast reliability.
If you can leave your planning decisions until an early morning forecast on the day of the event, preferably from several sources, you'll have the best data. Yeah, okay, the least inaccurate data, anyway…
And another thing! Those who haven't visited Old Warden since the outbreak of Covid-19 may be surprised at the changes! Pandemic measures required the movement of R/C right down to the south end of the main (north-south) runway, the relocation of the campsite to the larger area of the fields behind the R/C flightline, the shift of the trade/swapmeet area from along the edges of the old flightlines down to the field previously used for evening electric R/C flying and a liberal scattering of new portable toilets across the whole site.
Though originally Covid-related, these changes have also improved ModelAir's operations, so they were retained for the Scale Weekend reported here and will be continued in future years. C/L and F/F have, however, stayed where they always were at the control tower end of the airfield, the relocation of R/C means that F/F now has more space and the normal parking area on the grass field opposite the Museum's hangars is less heavily used.
Moreover, you should remember that your entry ticket also covers museum admission, plus Shuttleworth's new free buggy transport for C/L and F/F aeromodellers and their equipment between the (now more distant) campsite and these flightlines. Finally, a considerable amount of money has been spent by the local council and Shuttleworth themselves on, respectively, a completely public new road junction and internal estate road access westwards from the B658 near the village of Broom, the new road passing right across the southern end of the estate. This new route is for ALL future functions being held on the estate: music concerts, vehicle rallies and full-size aviation shows, as well as our three annual aeromodelling weekends – so don't try the old gates adjacent to the restaurant or in Old Warden village as they'll be closed. Follow the new signage instead!
The Carrier circle was unchanged in its usual place opposite the Restaurant (which is now fully open, but be prepared for the one-way system currently in place which starts at the Gift Shop door). Shuttleworth had a number of parking marshals out on patrol, but there appeared to be some confusion between them as to exactly where Carrier participants could park! Several later arrivals were, initially at least, rather firmly directed to park on the main field, rather than on the usual convenient strip of grass on the public side of the fence next to the Carrier circle.
However, Carrier's diplomatic corps in the form of Mike Welch spent a considerable amount of time 'negotiating' with the marshal concerned, and the problems were ironed out eventually. It seems that part of the new regime included a redesignation of the tarmac area in front of the hangar doors – plus the roadway in front of the restaurant – as a pedestrian area and not the public vehicular access area of old. Obviously, no-one had told us of this beforehand. Mike got us round this one by an array of signed coning, plus restricting car movements to the grassy strip; when it was necessary to swing round momentarily onto the tarmac, he directed traffic in his dayglow yellow coat in a very visible way! I hope we'll be able to do this again in the future…
As flyers present only for a single day at Carrier events are allowed to have two days' worth of flights if they want them – though the majority don't – Ian Gilbert flew three different models to see which performed the best. First up was his Westland Wyvern of conventional balsa construction and Magnum 25 power, but the engine was over-rich and Ian called an attempt after the fast run. The re-set engine was good enough to complete a second flight as shown below: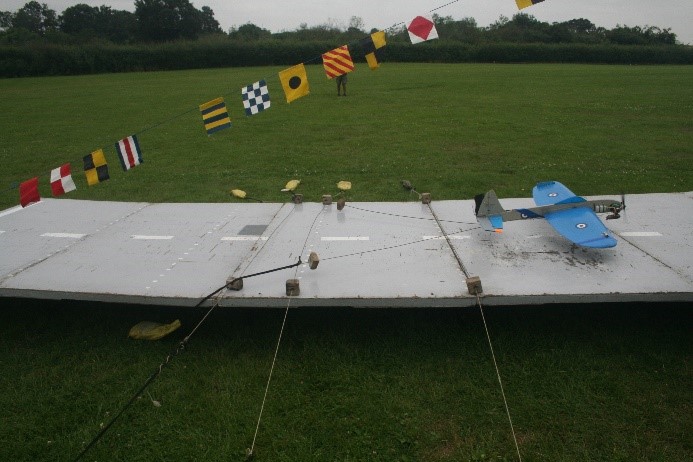 but Ian then moved on to his two foam construction/ electric power P-51 Mustangs to see if he could do better. The majority of such models – maximum wing area but with a smaller power train for minimum weight – produce fast runs that are quite slow by traditional (ie: .40 cu.in) i.c. standards, but, of course, their slow runs can be really very slow! The second of his Mustangs, seen below: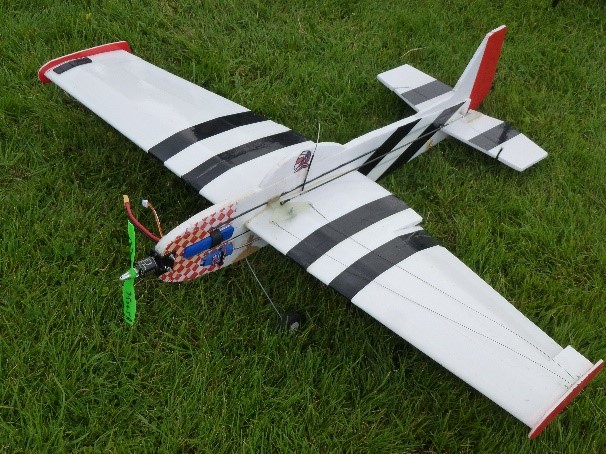 gave Ian his best score of 289.1, but these models are quite light (the model here weighed only 741g/26oz) and it was often touch and go as to whether the model would be blown to a halt by a gust during its progression into wind and therefore disqualified for not maintaining forward motion – in fact one flight actually was! However, Saturday finished with Ian in the lead, looking likely that he would take overall first place…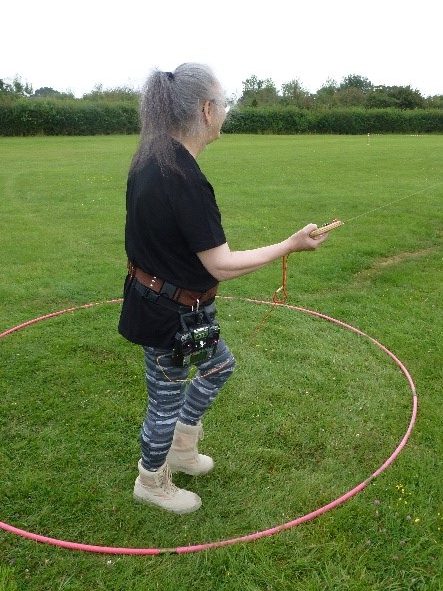 Zoë Quilter attended on both days, but flew her BCD balsa/electric models on Saturday and her foam/electric Class 1 models for Sunday, the latters' exploits being described later in the 'Class 1 Postal' section. Zoë uses R/C throttle control as do a number of Carrier flyers, but she's the only one who chooses to mount the control on the handle, with a cable connection down to a standard R/C transmitter hung on her belt, as can be seen here on the left. It was unfortunate that the controls for her BCD Grumman F8F Bearcat had been reversed prior to her first flight and the model was released before she had time to check them.
The inevitable nose dive off the end of HMS Incredible fortunately didn't damage the model, but it broke the prop shaft clean off, so she reverted to her tried and tested Grumman F7F Tigercat which has a considerable presence in the air and was a pleasure to watch. Zoë put in two very clean and competent flights, both with first time hook-ups, with a best score of 180.9. The second flight was a tad hairy during the landing as Zoë came in very fast and almost horizontally, picking up the No.2 wire but taking it down most of the deck before stopping, as seen here on the right. A technique definitely worthy of the term split-arse!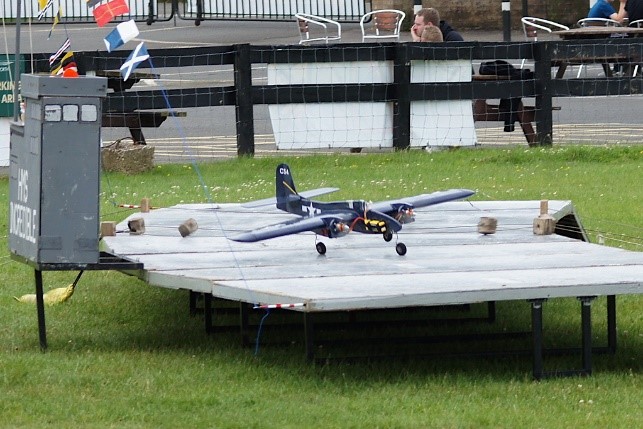 Mike Welch's mixed foam & balsa/Irvine 20 power Fairey Gannet AEW3 was another model of the minimum-power i.c. type, where a smaller lighter motor sacrifices some fast run performance, but the weight reduction gives a better slow run performance, hopefully by a larger amount! The Irvine 20, however, proved to be difficult to be set properly, producing fast runs on both days that were rather pedestrian. The slow runs were nevertheless distinctly better, with Mike being able to get the Gannet to sit up at 30 degrees for long periods of time, and as his highest flight score was married to a full point landing, his best score was a creditable 217.7.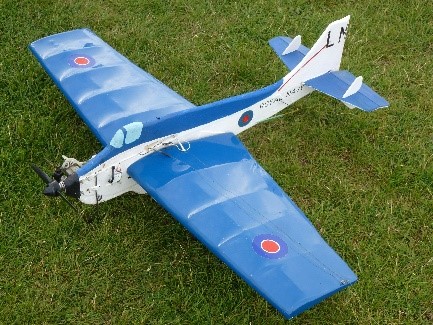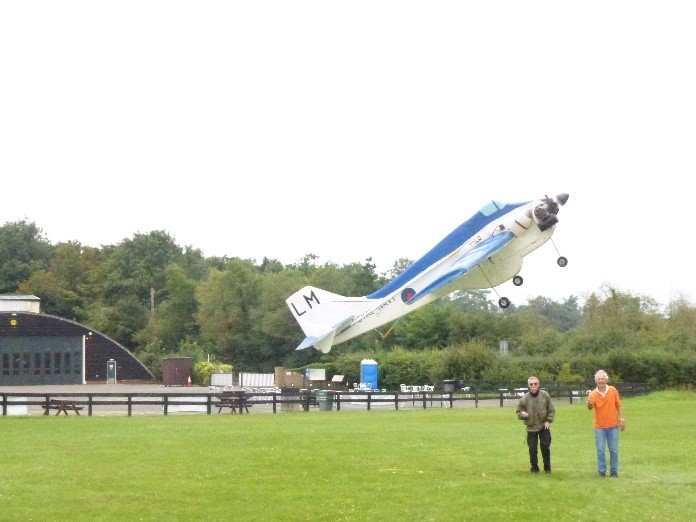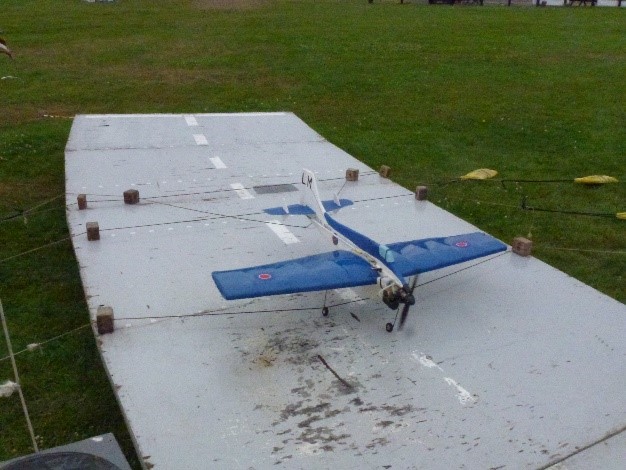 Dave Cowburn's attractive 36 inch wingspan Blackburn Firebrand, powered by a GMS2000 25 – er, no, I haven't heard of that engine, either – was designed and built experimentally for Carrier beginners, using conventional construction with standard 36 inch balsa lengths and a flat-plate combat-type wing for simplicity. It has a mere 300 or so square inches of wing area as opposed to the 450 maximum permitted by the rules and whilst no threat to the top-scoring models, the relatively higher wing loading will ensure it behaves more controllably in average British wind conditions for beginners.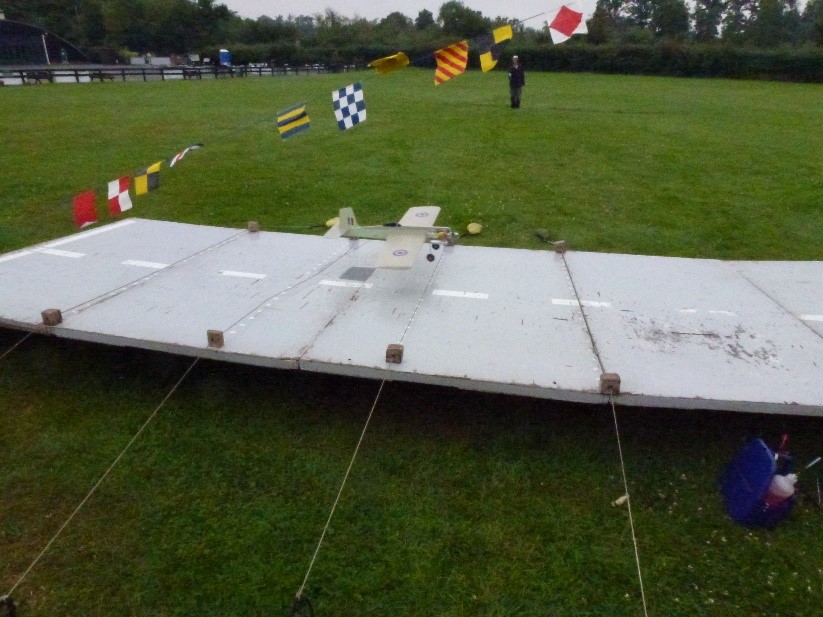 Although Dave had had some trouble with inconsistent engine behaviour during the previous contest at Buckminster, requiring the subsequent replacement of the entire carburettor, he got some respectable performance from it over both days, culminating with a best score of 163.9 on the Sunday after picking up the No.2 wire from a perfect approach, as seen above.
Dave Holmes' balsa/Irvine 40 Vought A-7 Corsair II, whilst sounding entirely business-like during the fast run, had an engine that really didn't want to keep going when throttled back by any amount, and no matter what adjustments Dave made – mixture, throttle, line lengths, handle settings – it wouldn't complete even a single slow run without stopping. Dave retired to spectate with some fellow flyers below,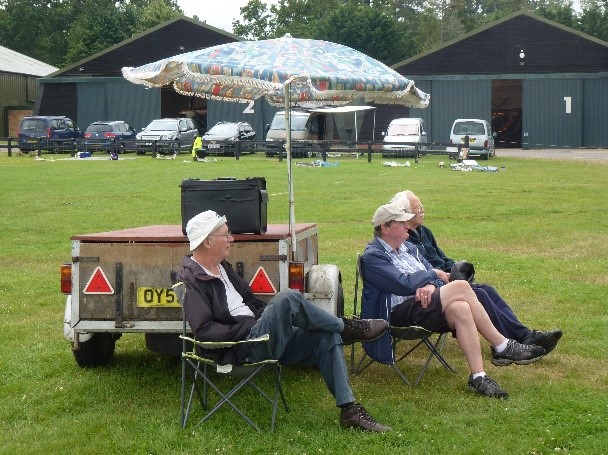 but then eventually decided that he had a Supermarine Seafire that needed an air test. No contest flight, you understand – just a few simple practice laps. However, once he was in the air, out came the stopwatches and he had his arm twisted to put in a contest flight – so he did. The entirely conventional balsa/MDS 38-powered model behaved flawlessly, and whilst Dave was cautious during the slow run as he hadn't flown the model much, he put the model down on the No.3 wire first time for a score of 141.5. The only thing that was a shame was that there were no photographs of any of this, as the model was one of the most attractive profile types seen in Basic Carrier Deck for a very long time!
And speaking of shame, Andy Housden's performance was even worse than that of Dave's Irvine 40! Gifted a near-scale mixed foam & balsa/ OS40 Supermarine Seafire by Mike Welch, he at least managed to get it off the deck (below) and through the fast run, but his attempts at slow flight were foiled by a pressure-fed plastic tank that burst a seam even before he could start the slow run.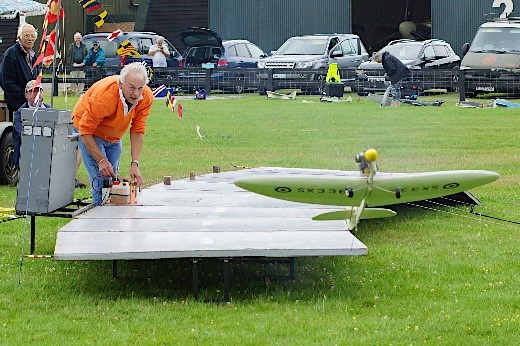 The further loan of Mike's Fairey Gannet AEW3, already proven to be capable of flying very well during the slow run, merely added to his embarrassment when it became obvious that he wasn't capable of flying it very well during the slow run!
Chris Howell's model of choice for several seasons has been his big all-sheet-foam/electric power Grumman TBF Avenger (below) which has served him very well indeed and has won him a number of first places.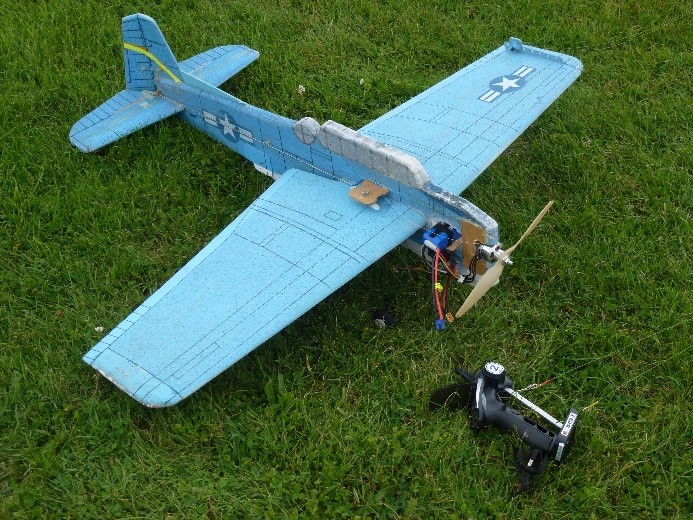 The Avenger put in a number of flights over both days at Old Warden, the outcomes of which varied from a high of 267.9 points down to a disqualification for ceasing to maintain forward motion (due to an unfortunate wind gust), but he was unable to get close to Ian Gilbert's Saturday best score of 289.1. It was only when he changed to his equally large all-sheet-foam/electric Grumman AF Guardian reserve model that he was able to find the improvement he needed, perhaps because the model turned out to be better suited to the peculiarities of the wind conditions in some subtle way. Chris was doubtless attempting to pass the 300 point mark as well as trying to beat Ian and with his second Guardian flight made towards the end of Sunday, though he missed 300 by a mere 1.1 points, his resultant score of 298.9 was a handsome margin of almost 10 points ahead of Ian.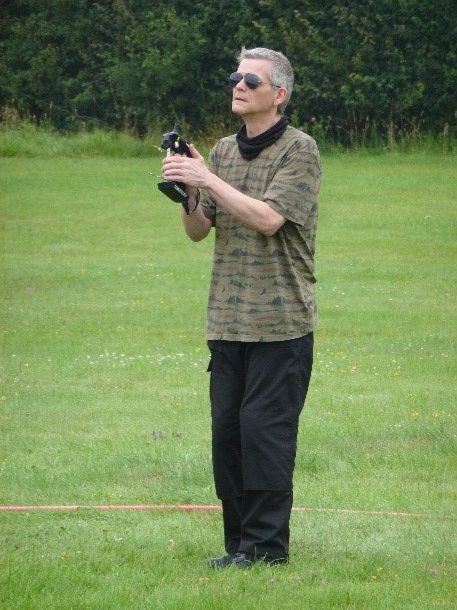 So, at the end of the BCD contest, Chris Howell was therefore in first place with 298.9 points, Ian Gilbert in second place with 289.1 points and Mike Welch, as usual surprised and something of a reluctant hero, in third place with 217.7 points.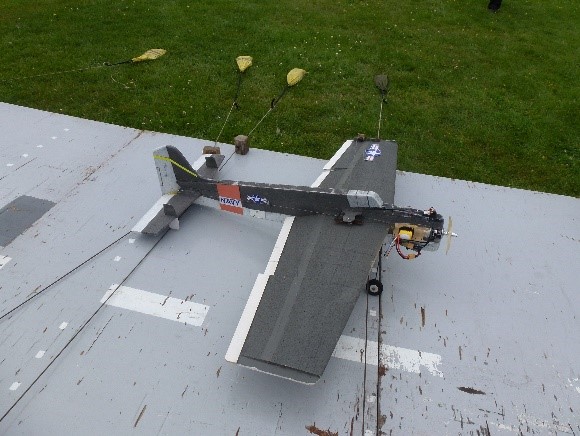 The Basic Carrier Deck competitor list for the contest held during the
ModelAir Scale Weekend at Old Warden airfield on Sat-Sun July 24th-25th 2021

The Basic Carrier Deck detailed scoresheet for the contest held during the
ModelAir Scale Weekend at Old Warden airfield on Sat-Sun July 24th-25th 2021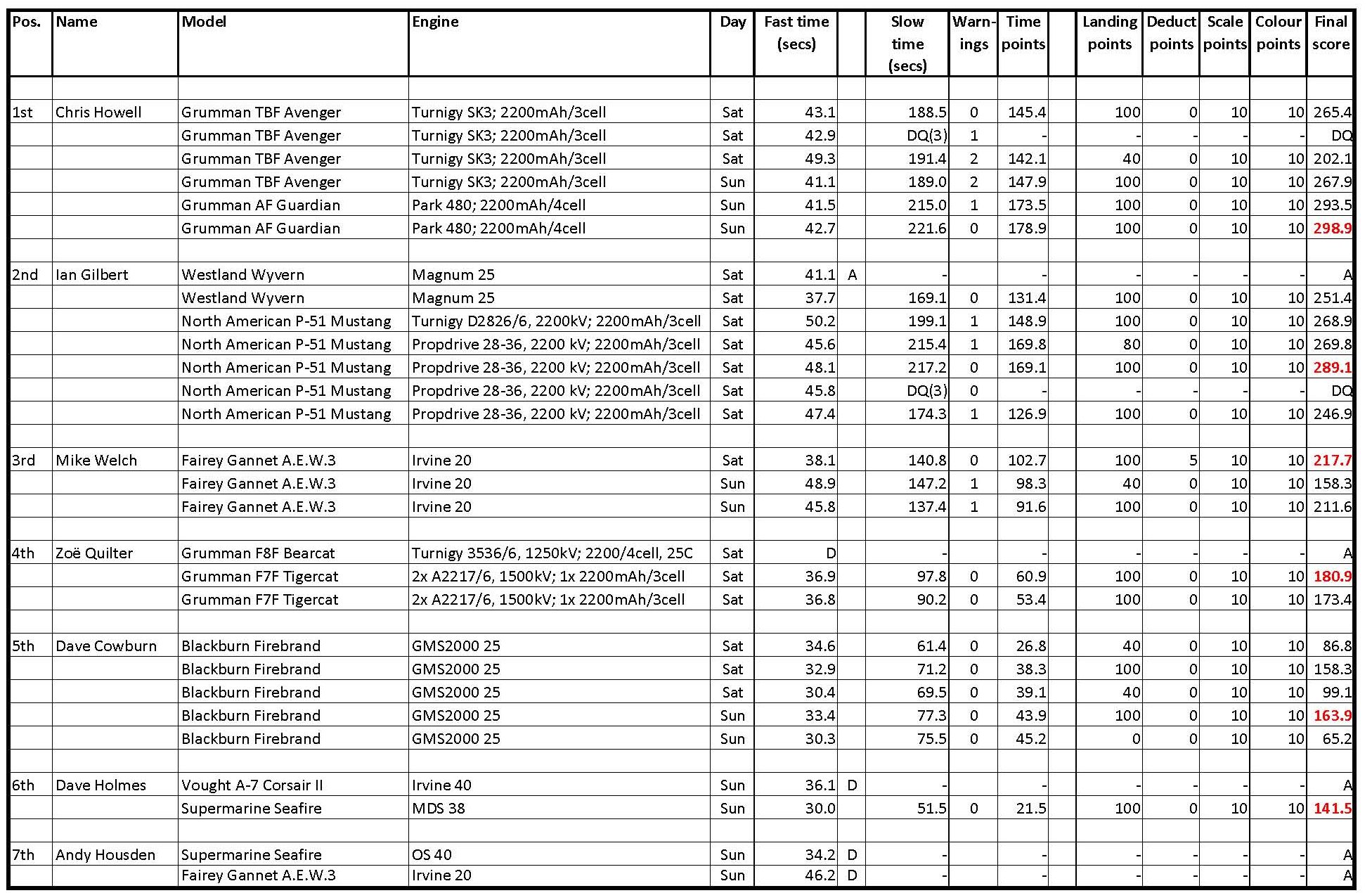 The Class 1 Postal contest flights taken during the ModelAir Scale Weekend at Old Warden airfield on Sat-Sun July 24th-25th 2021
OK – so what the heck IS Class 1 Postal (= C1P)? Ha – serves you right for not coming along to the last two Carrier contests to find out, doesn't it! C1P is at the moment merely a list of proposals and exists only on hard copy to permit timely discussions with individual flyers, rather than making a full appearance on either the Carrier website or Facebook page and ending up as an uncontrollable free-for-all. Nevertheless, as some of the proposals really DO need practical trialling, modellers are now being asked to fly their Class 1 models under the C1P proposals to see how things pan out. Obviously, if accepted, the proposals WILL eventually find their way onto the website and Facebook, but as the proposals currently occupy two very full sides of A4 – and that's in addition to the normal Class 1 rules (which are the core of C1P) – you certainly won't want to wade through all the details here. However, a summary may be worthwhile…
C1P is open to ALL existing Class 1 models and, obviously, any new models subsequently built to take advantage of the new rule additions. There are 4 types of 'Amendments' (ie: additions to the existing C1 rules). Type 1 deals with safety due to all our increasing ages and, essentially, proposes a fast run speed limit and also the use of a proxy pilot for those who feel unsafe with high speeds but can cope with low speeds and landings. Type 2 amendments provide a more level playing field across the various control systems, with the old- fashioned 3-line methods given the highest bonus points and the 'modern' R/C systems given the least.
Type 3 amendments support greater model diversity with increasing bonus points given to i.c.-power, biplanes, models of unhooked prototypes, autogyros, electric ducted fans, i.c. ducted fans – and even gas turbines!
Type 4 amendments reward modellers who add more scale realism by a standard bonus per feature for up to six additional features such as different extra control surfaces, retracts, lights and external & internal detailing, etc. For those considering newbuild, converted ARTF & RTF R/C scale models, typically EPS foam structures with electric power, are particularly recommended and are excused support documentation or any proof of scale, so the scale discrepancies often made for the greater convenience of manufacture (eg: U/C position, scale size or shape of control surfaces and extra under-fuselage 'cheat' intakes for ducted fans) are not penalised in any way.
C1P is separate to C1 and doesn't replace it; existing C1 events will still run. C1P models can fly at ANY Carrier contest as many times as desired; flyers' best scores will be ranked each year at the mid & end contests.
Zoë Quilter has become Carrier's first C1P contestant! Although Old Warden was not the first event at which Zoë had flown her converted R/C foam/EDF-power De Havilland Sea Vixen F.A.W.2 – she had made a faultless but untimed maiden flight during the previous contest at Buckminster – the model finally recorded two official C1P flights on the Sunday. The C1P bonus for EDF power is 50 points, not only to encourage naval jet models, a seriously under-represented genre at the best of times, but also to recognise that an EDF powered model is measurably harder to fly than one that is propeller-driven. Although a fan unit's motor response will be just as quick as that of any motor driving a propeller, the latter will blast air over wings and elevators instantly and this obviously produces both extra lift and pitch control respectively without the need for extra airspeed. A ducted fan, typically blowing through a jet tailpipe, obviously cannot do this, so the model instead has to accelerate to get the airspeed required for the same amount of extra lift and elevator control. Though this acceleration may take only a second or two, it can often take even less time for the model to fall out of the sky – so the DF flyer has a much harder problem to minimise speed during slow flight and has to think ahead rather a lot more!
[Photo No.14 against the RH margin here, with the top of the photo at the same level as the top of this paragraph starting 'Until…']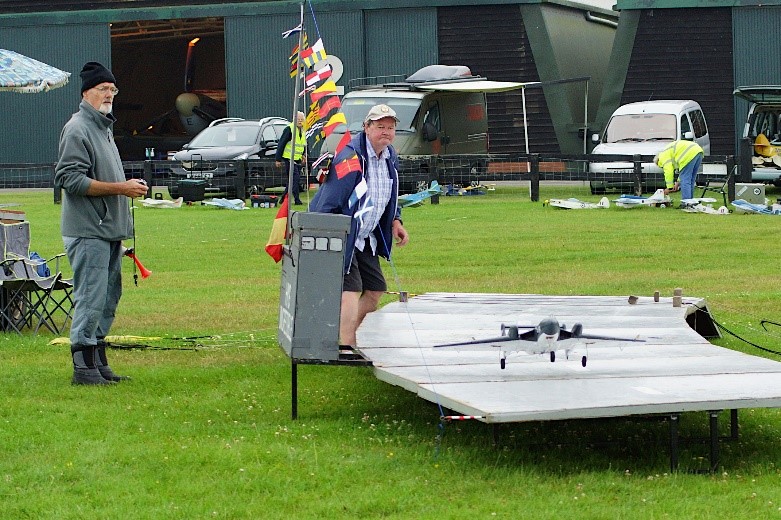 Until a proper catapult has been constructed, ducted fan models can request full deck length for takeoff at the moment, though the Sea Vixen didn't need the entire length to get airborne as can be seen on the right here. However, it was a salutary lesson for all watching, though obviously unfortunate for Zoë, that the DF difficulty described previously was demonstrated to perfection on her Sea Vixen's first flight. Once into the slow run and flying close to the 30 degree attitude limit – and perhaps not yet having been bitten by this particular DF characteristic before – the model started to sink when it inevitably lost airspeed in the downwind 'hole'. Quite normal, of course. Once the model started to drop, Zoë obviously opened the throttle wide, but there was simply not enough time to accelerate out of the stall before the Sea Vixen plonked itself in the briny! It might have been some compensation for Zoë to know that full-size jets suffer from exactly the same problem – in fact this effect is even worse due to turbine throttle-response lag (so that's why the proposed C1P bonus for gas turbine powered models is a whopping 120 points!) – but it still terminated her flight. Fortunately, the Sea Vixen survived ditching undamaged, and that's worth a further comment concerning the nature of R/C foam model U/C mountings, often being quite flimsy since they generally bear rather less stresses than do their C/L counterparts. Part of the conversion of R/C foamies to C/L, therefore, is the very necessary consideration of the strength of the existing U/C mountings, particularly for C/L Carrier use. As it happened, Zoe had not modified the mountings for the Sea Vixen, being of the opinion that they were adequate. Well done ma'am – you were absolutely right!
Zoë's second flight also demonstrated the classic effect that ALL flyers suffer from – perfect flights are often executed during practice beforehand, but once under contest stress, things are never quite as straightforward! The Sea Vixen's Buckminster maiden flight had featured a faultless first-time-approach landing, but not so today! Whilst takeoff, fast run and slow run were actually very impressive (the Sea Vixen looks absolutely beautiful in the air), it took Zoë five very cautious overshoots before the model finally picked up a wire – No.4 – for a real post-flat-approach greaser of a landing seen below. Even this, however, masked the difficulties Zoe had to contend with, since each overshoot obviously required the throttle to be opened wide, but the resulting time delay of the ducted fan acceleration gave the Sea Vixen less airspeed to play with as it ran off the bows than would have a propeller driven model…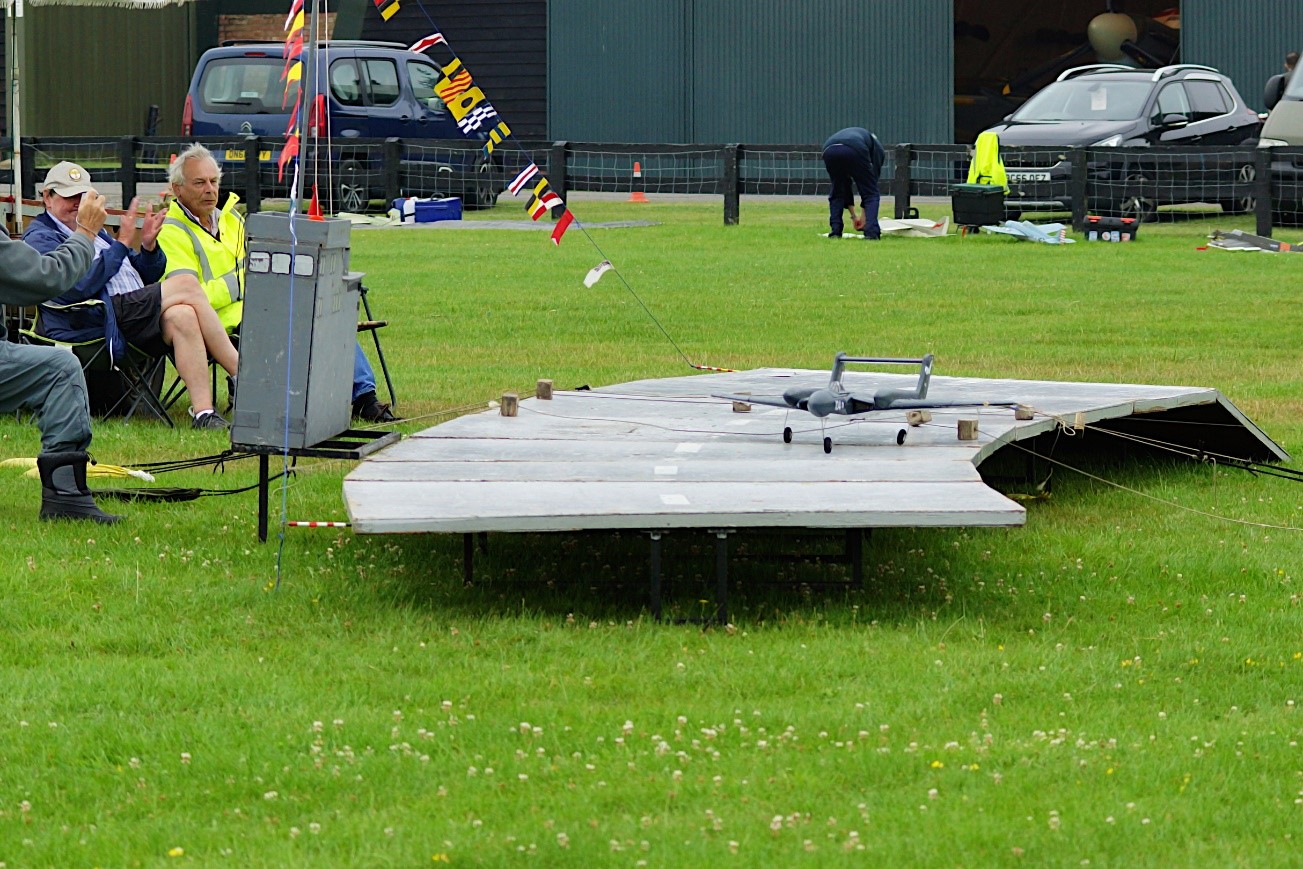 Zoë also made two C1P flights with her converted R/C foam/electric Grumman F4F Wildcat. Remember there are no limits to the number of C1P flights at an event other than the deck access needs of the main contest! During the first flight slow run, however, the Wildcat was twice rolled inwards by upwind turbulence from the hedge. Zoë recovered the model from the first roll-in, but the second was too extreme to do so and visions of foam confetti loomed large! Very fortunately, the model executed a kind of flat loop inside the circle, ending with nothing more than a hard landing near Zoë herself. As Zoë had beefed-up the Wildcat's U/C, the result was nothing more than bent main legs which were easily straightened. Whilst the second flight ended with the model running off the end of the deck (because the hook had been knocked off by the first flight's heavy pancake, but nobody noticed!), the F4F at least finished the day in the same condition as it had started, always a good thing!
The Class 1 Postal competitor list updated after the Carrier event held during the ModelAir Scale Weekend at Old Warden airfield on Sat-Sun July 24th-25th 2021

The Class 1 Postal detailed scoresheet updated after the Carrier event held during the ModelAir Scale Weekend at Old Warden airfield on Sat-Sun July 24th-25th 2021

Note the C1P competitor list: there's only one contestant on it so far – Zoë Quilter – obviously because she's been the only flyer to undertake C1P flights during the last two contests. Come on, you other Class 1 flyers! Note also the C1P detailed  scoresheet: the normal Class 1 scores are shown for comparison (even though the event didn't run a C1 contest, of course), followed by C1P's four additional categories, with the bonus scores listed separately. So who's going to be the next to convert an R/C electric foamie for Carrier? Bob Phillipps has already started on a gorgeous Grumman F8F Bearcat – he brought it over to show everybody on the Saturday afternoon – and this will almost certainly have working flaps, ailerons rudder … and retracts! Bring 'em on!
By the way, the 4th, 10th, 14th & 15th photos were by Paul Breuring – thanks, Paul!