Here's the Carrier results from the last UK meeting of the year. We've also included pix of the Scale event that ran in the adjacent circle – Ronnie Tribe being a worthy winner! If If Matt Cordingly reads this could he please send me the results sheet?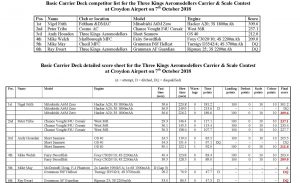 Proposed concession for Carrier fliers using ducted fans in 2019!
Having been somewhat impressed by my efforts to simulate real jet carrier flying with the F4 Phantom, Andy suggested that we should try relaxing the take-off rules for this type of  model next year by either:
Allowing catapult assistance as per the full-sized prototype operation, or

Allowing DF models to use the full length of the deck by collapsing the arrester wires for take-off, then resetting them before landing after the slow laps have been completed – again as per full-sized prototype operation

CARRIER PIX

Nigel Frith on the way to a 330 point score – not! (landing not up to normal perfection…)

 

Ray Ewart tried very hard…

  

…to perfect the art of tent-pegging – and succeeded!

Another good flight from Nigel, this time the winner

My 7lb F4 – actually took off from the (full length of the) deck, but was under-batteried, resulting in a splash after a few laps

Croydon pits on the hallowed tarmac

Peter Tribe's lovely Wyvern

Flyco's Hellcat Drone – defeat snatched from the jaws of success by ditching 6 feet from the deck on landing!

Nigel Frith's Zero – still the one to beat

Andy's vintage Seamew, still a contender, nabbed third place

Er, a new idea for eco-friendly carrier flying – elastic powered?

SCALE EVENT

Matt Cordingley and friend were running a 'Flying-Only' Scale competition on the concrete circle, in parallel to the Carrier activities. Matt talked me into entering the HK Bf109T ARTF that I'd brought along intending to fly in the Class 1 Carrier comp, but I'm easily persuaded to try something new! I had no idea what was expected, but after intensive coaching I agreed to do a take-off (with nice slow start), 5 level laps, 3 high laps, an overshoot, and (gasp!) a loop. I'd never looped the 109 before but hoped it wouldn't turn into a figure 9 – the shame of it!

In the end it all went reasonably well, even the loop exited three feet above rather than three feet below ground level, and on the second flight I got onto the scoreboard with 500 points – well beaten by Peter and Ronnie Tribe, took some mild damage to the u/c from that rugged hard surface, but gained a new interest, I think! Hopefully, Matt will send me the results listing in due course.

Here's some pix of the entries; Ronnies Me262 and weird but authentic forward-swept 1945 JUNKERS JU 287 V1 jet bomber from the Luftwaffe were truly impressive!

Ronnie Tribe's Ju287 with 4 x EDF

Ronnie's Me262 with 2 x EDF, retracts, lights

Matt Cordingley's ARTF R/C-converted Texan, with retracts, lights

Fokker Triplane – not sure if this actually flew on the day

My ARTF R/C converted Bf109T – that concrete was very hard on its tiny little wheels…

…and the Quality Inspector was disappointed by the resulting damage!