Click for provisional FLYING REPORT and FINAL PLACING sheets 
All results are subject to amendment by the Contest Director!
DRAFT MEETING REPORT
How does he do it? "How does Who do What?" you ask! Well, it's Andy Housden and his fantastic knack of arranging superb weather for the Croydon meeting every year! 2014 has been very good year throughout for most carrier meetings, but the weekend of the 7th September was nothing short of perfect, with sunshine, no breeze until tea-time, and a nice temperature. The only problem was the grass, which was very nearly chest-high on the old Aerodrome, probably because the meeting was a month earlier than usual. However, this gave us all the somewhat dubious chance to fly over tarmac, sharing the remains of the old taxiway with a C/L scale contest running right next to us. Pit space was a bit tight, but it all worked out fine, allowing some ambitious pilots to enter (and get high placings) in both events.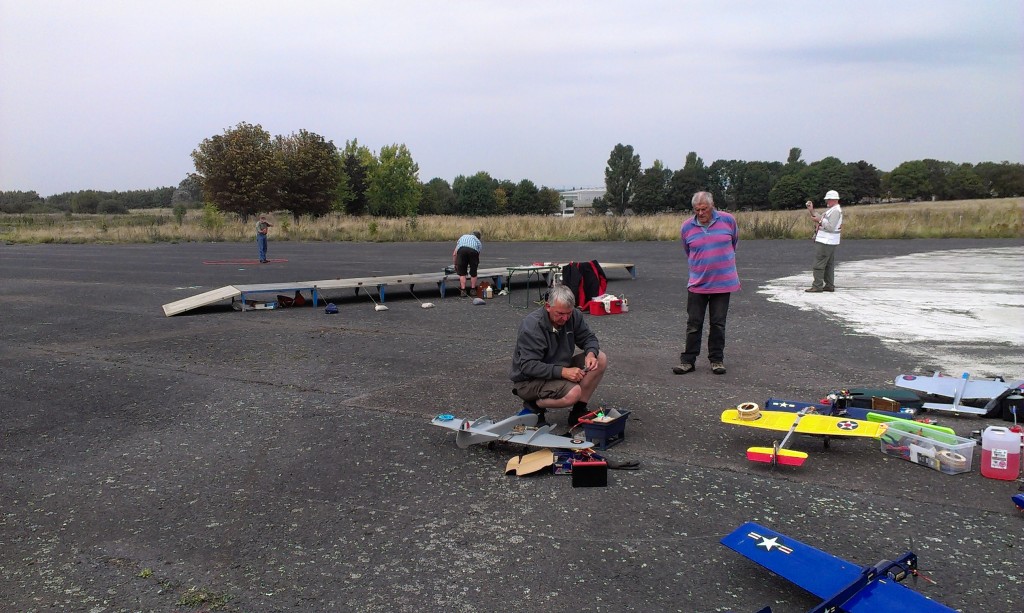 Peter Tribe readies his ultra-successful Meteor III in the pits, while Andy starts the timing for another flight from HMS Incontinent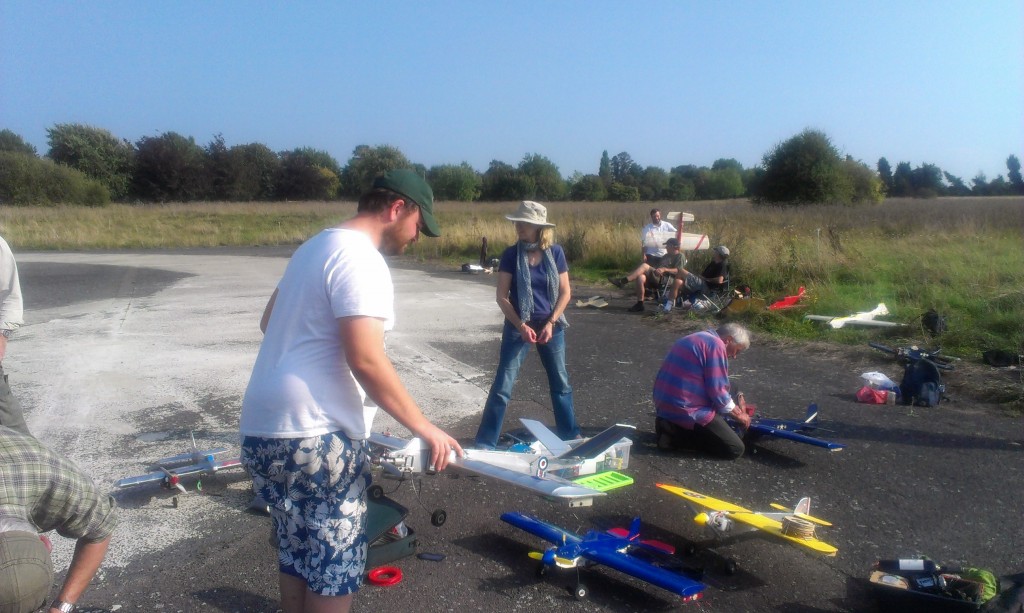 The Scale Event circle is behind John Phillipps (white tarmac) while the Carrier deck is directly behind the camera. Bernard Searle is preparing his Guardian, while Mrs WebMaster Jane looks baffled!
Although there were just nine pilots and 11 planes entered, the contest delivered several fascinating battles at the top and at the bottom, and between I/C and electric power. The expertise displayed by the top three placemen was first-class, with only nine points between them, with John Phillipps taking it to the last flight and giving his all in trying to dislodge the master Peter Tribe from first place. He failed, but by the very narrow margin of three points (233.4 vs 230.4). The progress made by John this year with his Sea Hornet has been a real success story, even beating his dad Bob this time into third place (224.2)! All three top men at the meeting used airframes with low aspect ratio wings giving loads of controllable lift on the slow segments – Meteor, Sea Hornet and Supermarine 508. Bob is flying with his 508 with West 36 power, with reverse engine rotation to give roll-out but with an electrically-operated throttle – he was the only pilot in the top 5 still using glow-power.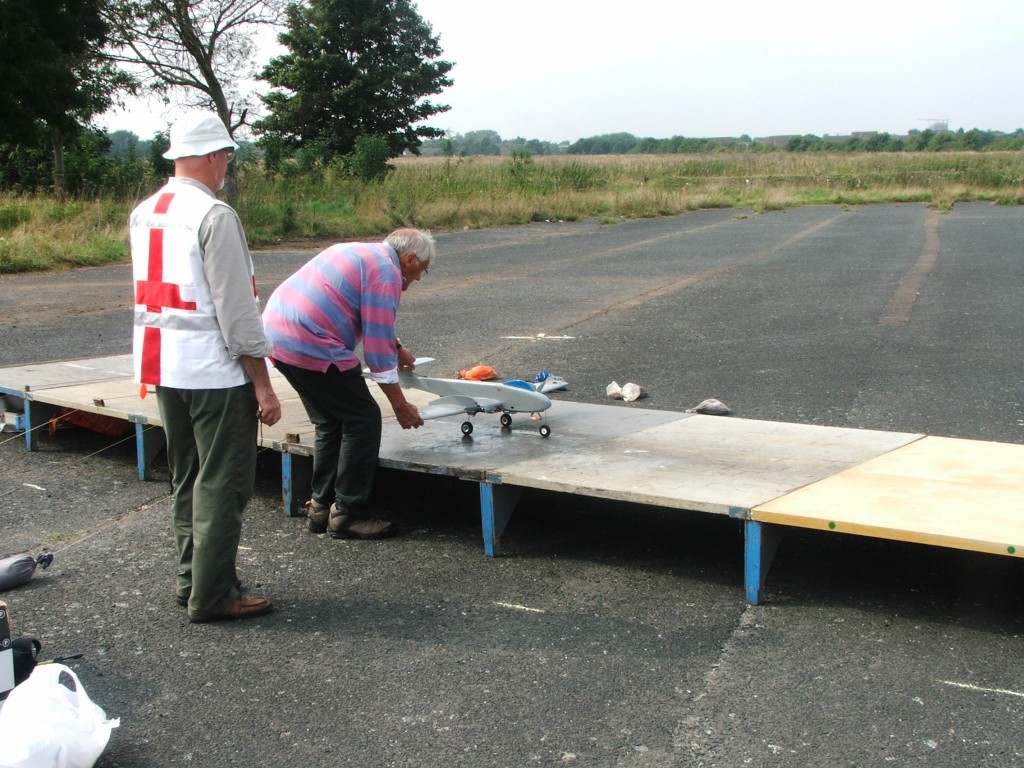 Peter Tribe's Metor ready to launch – note Andy's genuine RN flight Deck tabard!
The Leicester contingent did well too, with Roy Green taking fourth place with his electrically-powered Guardian (209.3) flown very smoothly..,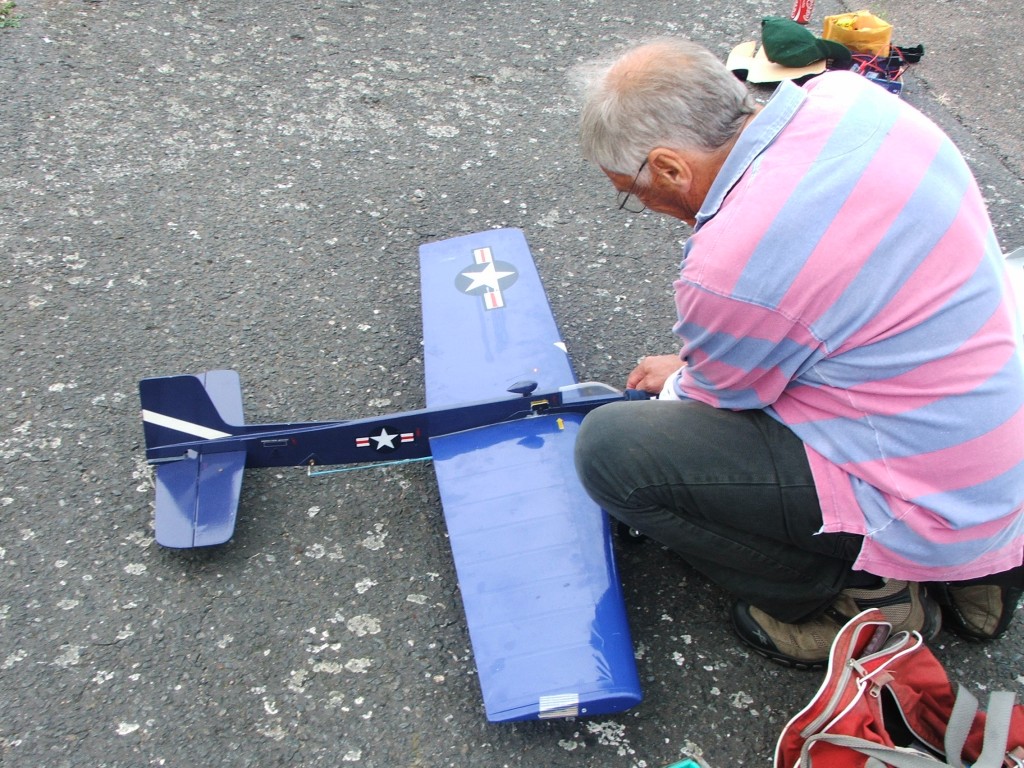 …and Andy Green picking up fifth with his electrically-powered Wildcat – what a nice colour-scheme he's chosen for it – pre-war style yellow and silver with a green tail.
As there was plenty of time, Contest Director Andy Housden decided to increase the number of flights allowed so the guys propping up the lower end of the table could keep trying for something better then "Nul Points". Andy himself was once again hit by "the curse of the Contest Director", recording two scoring flights with his veteran Seamew, both bagging only 20 points on landing, leaving him with a best score of 125.2 points and seventh place.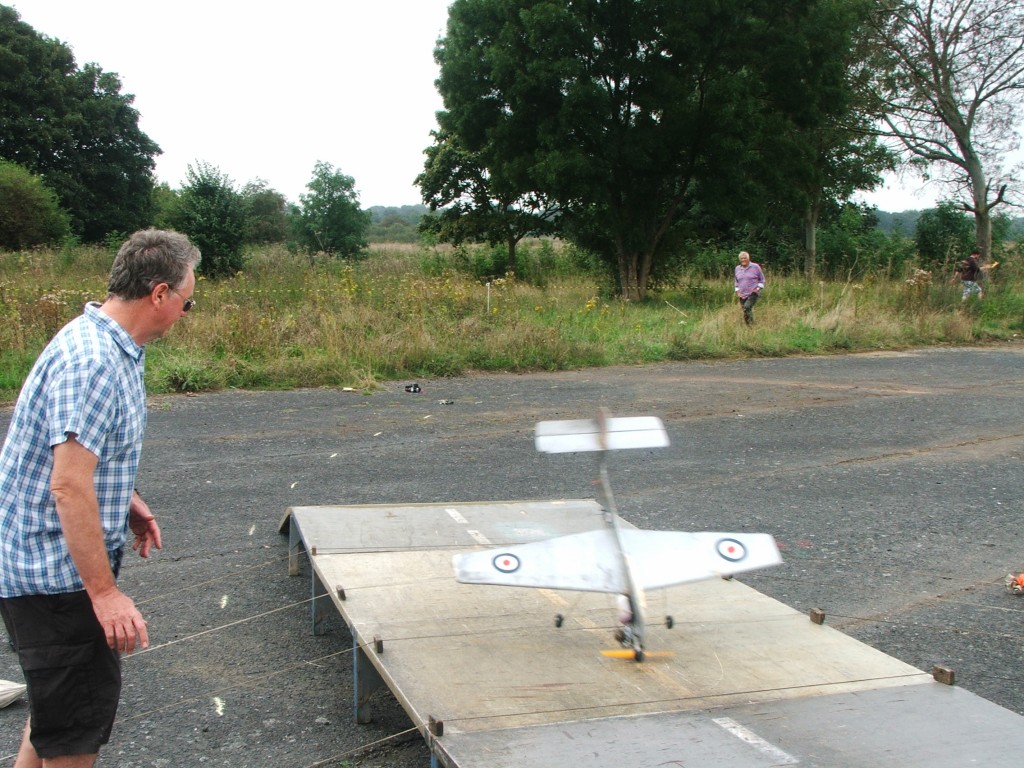 A rare nose-down arrival from Contest Director Andy Housden
Just above him, Bernard Searle kept the flag flying for the I/C enthusiasts with his SC53-powered Guardian. His speed differentials weren't large, but all was redeemed by a nice 100-point landing to net 161.5 points and sixth place. In eighth place Bob Taylor flew an very clean and smart smaller-sized Fairey Barracuda, motivated by a HB25 I/C engine. This looked like a new model to me, and Bob was clearly using the opportunity to test it out without risking an abrupt acquaintance with the tarmac! Nonetheless, he got onto the scoreboard with 47.5 points…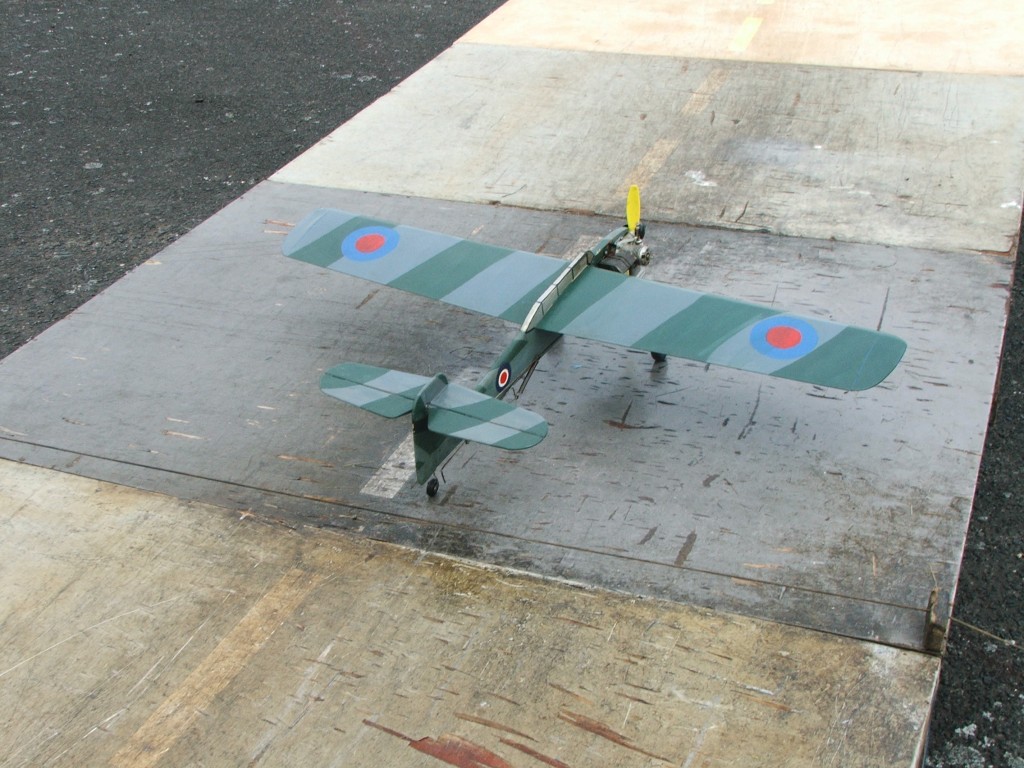 …which was 0.7 ahead of your correspondent who made a bit of an exhibition of himself with some very silly flying – for instance, executing a very slow half-loop backwards on take-off with his Hellcat to leave it on the tarmac upside-down, having covered a minus distance!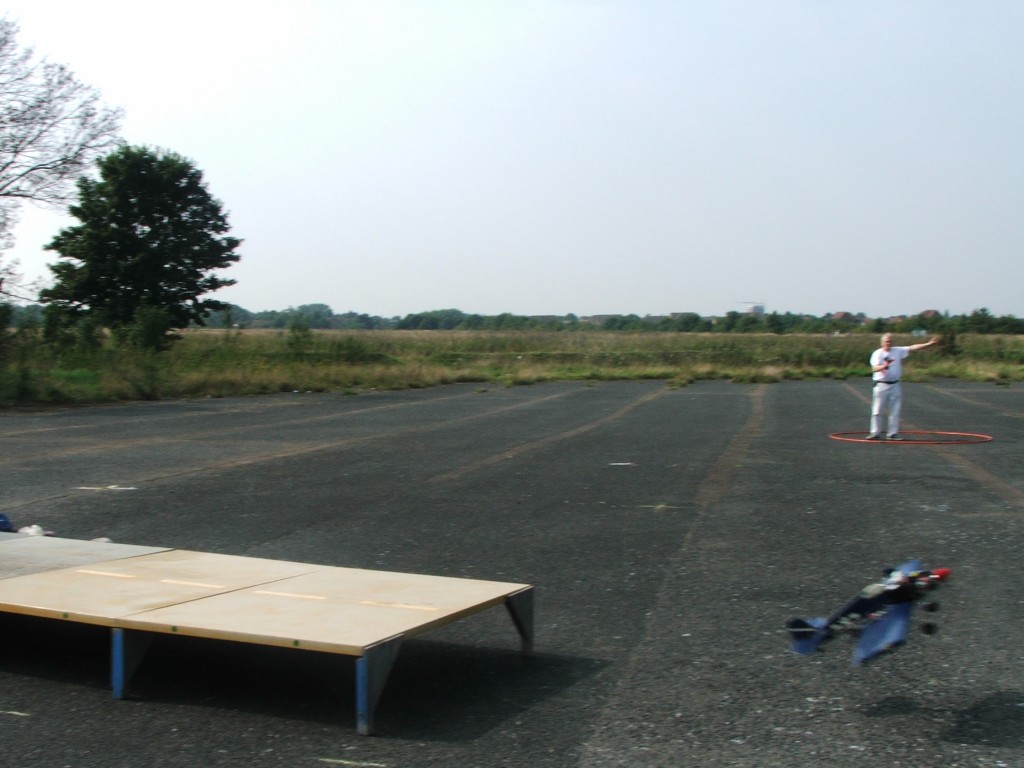 Seconds later, the Hellcat was on its back beside the deck five yards to the left!
My sincere thanks most definitely go out to Bob Phillips, who kindly mentored me through a horrible series of mishaps to finally record a score (46.8), not much but to me a real achievement on a day that without Bob's help would have been literally pointless!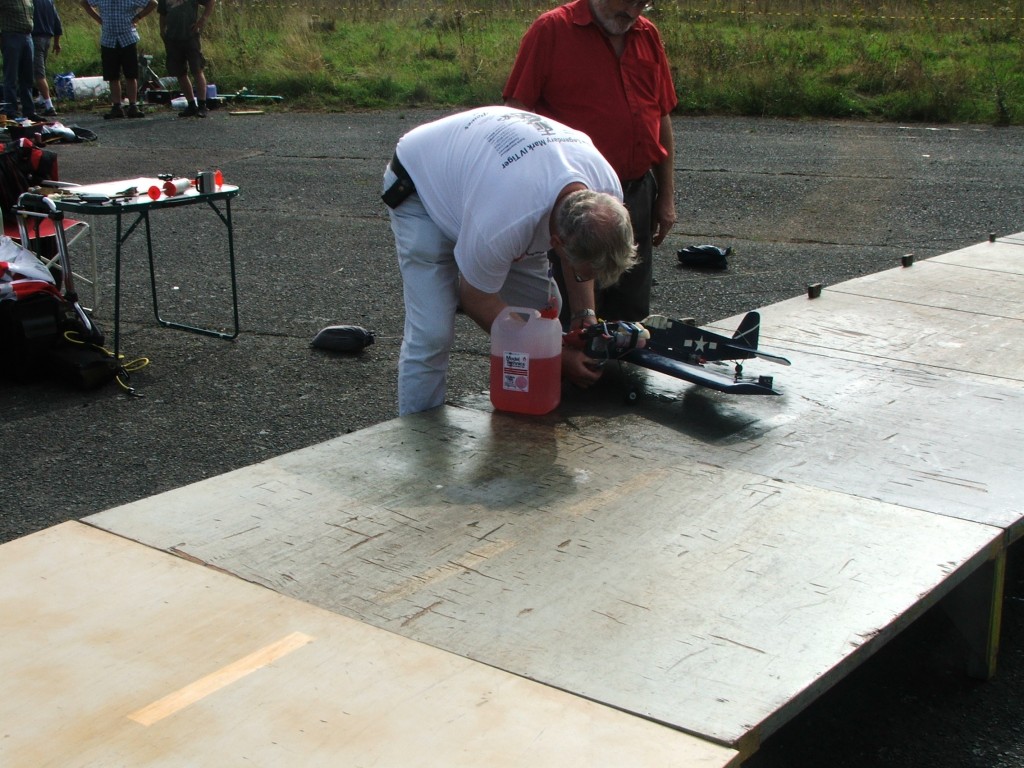 Bob Phillips assisting the hopeless case of the afternoon – your Correspondent!
At the end of a very pleasant afternoon, Andy rounded up the pilots, announced the results and presented some rather nice wine to the top placemen – thank you once again Andy for organising the event, running it so smoothly, doing the timing and record-keeping for us and still finding time for a chat and to fly yourself! Peter Tribe also took first place in the Scale contest running beside us, with a very pretty Bucker JungMeister biplane – well done!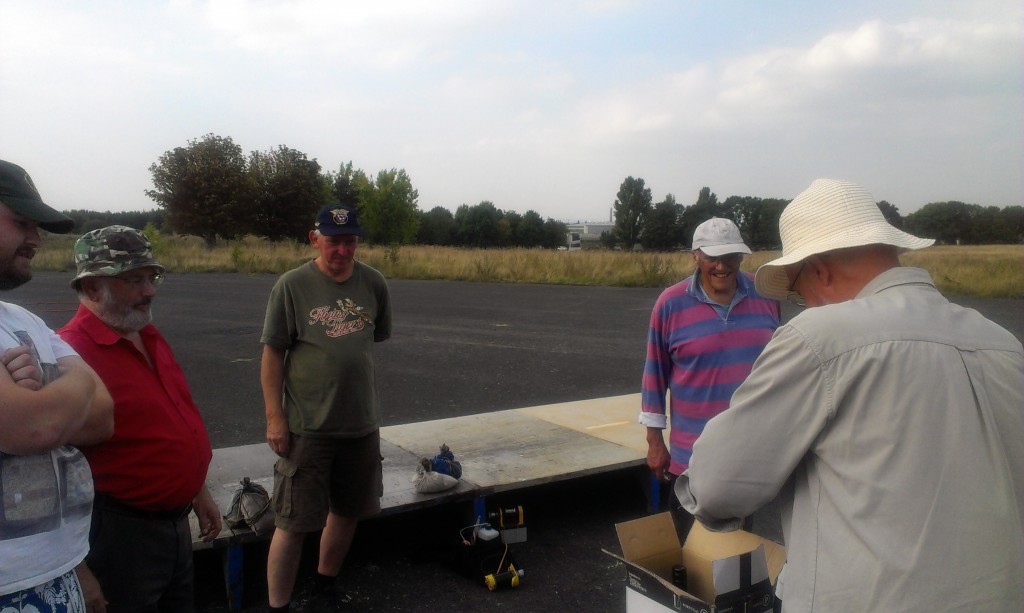 The Carrier Circus now moves onwards to the final UK meeting of the year – it's back to Old Warden on the 25th September!