Dutch Open Championships – De Peel, 7-9th September 2013
This was a special competition! As there was no wind on Sunday, Jan Odeyn offered his Grumman Guardian for flying by all pilots, and all pilots took up his offer! Most left their planes in the car, and although the Guardian flew all day, it says a lot for the high skills of the pilots and the robustness of the Guardian's design that only props were broken.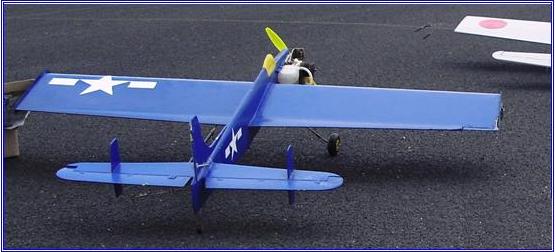 Jan found it a useful experience; he had the opportunity to fine-tune the model after each landing, so the next competitor could benefit. The results of this unique "share a plane" competition are shown in the first table below.
Open Dutch CD Championship: De Peel Airfield, Netherlands, September 7-9th 2013

 

Pos
Name
Nation
Aircraft
Engine
7 Fast
7 Slow
Difference
Landing
Penalty
Design
Warnings
Color
Total
1
Jan Odeyn
Belgium
Guardian
OS 40FP
31.2
126.1
94.9
100
 
10
 
10
214.90
2
Marc Berckman
Belgium
Guardian
OS 40FP
32.1
121.4
89.3
100
 
10
 
10
209.30
3
Robert Schulze
Germany
Guardian
OS 40FP
31.5
122.8
91.3
100
5
10
 
10
206.30
4
Sander v.d. Meij
NL
Guardian
OS 40FP
30.4
114.3
83.9
100
 
10
 
10
203.90
5
Max Uttien
NL
Guardian
OS 40FP
31.4
98.7
67.3
100
 
10
 
10
187.30
6
Christoph Holtermann
Germany
Guardian
OS 40FP
32.3
92.3
60.0
100
 
10
 
10
180.00
7
P. P. v.d. Meer
NL
Guardian
OS 40FP
31.5
103.8
72.3
20
 
10
 
10
112.30
 
Bert v.d. Meij
NL
 
 

Got injured when firing up the engine and had to have three stitches

D.N.F.
 
 
 
 
 
 
 
 
 
 
 
 
 
The table above shows the results when everyone flew Jan's Guardian in a "one plane competition"…
 
 
 
 
 

…and the table below shows the result when flying their own aircraft!

 
 
 
 
 
 
 
 
 
 
 
 
 
 
 
 
 
 
 
 
 
 
 
 
 
 
 
 
 
 
 
 
Pos
Name
Nation
Aircraft
Engine
7 Fast
7 Slow
Difference
Landing
Penalty
Design
Warnings
Color
Total
1
Jan Odeyn
Belgium
Guardian
OS 40FP
30.4
166.4
136.0
100
 
10
 
10
256.00
2
Sander v.d. Meij
NL
 
 
27.6
83.3
55.7
100
 
10
 
10
175.70
3
Max Uttien
NL
 
 
28.2
82.4
54.2
100
 
10
2
10
174.20
 
 
 
 
 
 
 
 
 
 
 
 
 
 
Statistics for the Anoraks!
 
 
 
 
 
 
 
 
 
 
 
 
 
 
 
 
 
 
 
 
 
 
 
 
 
Fastest Fast
27.6
 
Completed Flights
100.0
%
 
 
 
 
 
 
 
Slowest Fast
32.3
 
100 point Landings
90.0
%
 
 
 
 
 
 
 
Fastest Slow
82.4
 
 
 
 
 
 
 
 
 
 
 
 
Slowest Slow
166.4
 
 
 
 
 
 
 
 
 
 
 
 
Average Fast
30.7
 
 
 
 
 
 
 
 
 
 
 
 
Average Slow
111.2