THE CHALLENGE!
In 2013, CARRIER-DECK.COM was proud to sponsor two trophies, awarded to the pilots who flew the fastest and slowest seven laps of the season.
The winners were respectively David Cowburn (Lockheed U2, 23.3 seconds = 77.2mph) and Jan Odeyn (Martin MO-1, 184.2 seconds = 9.8 mph).
Those were very good times – could they be beaten? Surely not – but oh yes, they could – and how!
 ———————————————————————————
THE WINNERS – CARRIER-DECK.COM TROPHIES 2014!
Fastest Speed:  Bert v.d. Meij at the de Peel (Holland) meeting on 14th September, flying his Skyraider
19.1 Seconds = 94.2 mph(!!)
Slowest Speed: Jan Odeyn at the Schwalmthal (Germany) meeting on the 28th September, flying his (not!)-Fleet Shadower
206.4 seconds = 8.72 mph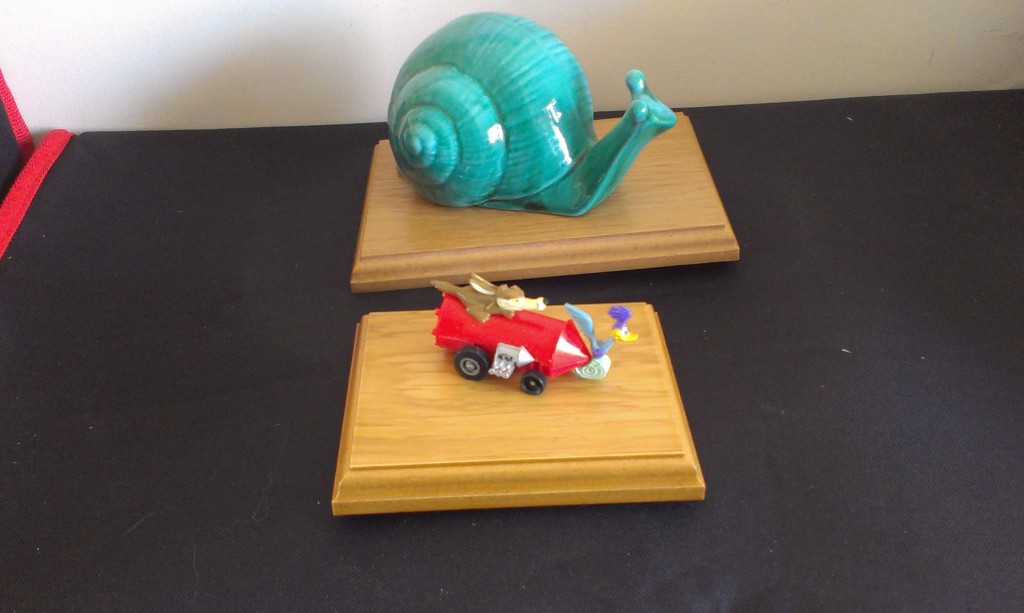 Our unique trophies for 2014
At the back, another snail on its way to Belgium for Jan's collection!
At the front, Wile E. Coyote uses a rocket car but still can't catch that RoadRunner (Beep-Beep!)