The sun was forecast to shine all day, the temperature was pushing 30 degrees and the gates to the College fields were all open and signposted to the event – add to that a trouble-free drive from Dorset for me and it looked like a perfect day for carrier and scale flying, and so it proved to be! The site is surrounded by trees on two sides, and the refreshing breeze was blowing along the treeline facing HMS Incredible's bow, so pilots faced an 'interesting' take-off and first lap with intermittent turbulence. Here's a shot of the deck, pits and treeline…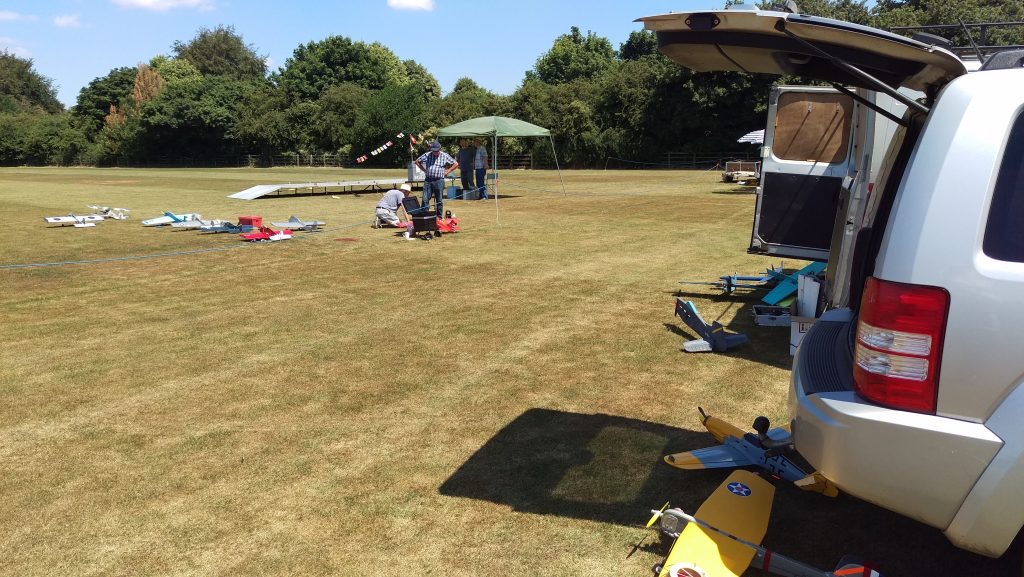 Chris Hague brought along his new foamie Mustang; it's beginning to realise its potential, with a best of 194.3, but Chris clearly felt that his Spearfish could do better, and indeed improved his score to 219.8 that netted him second place. The Spearfish is a beautifully-built classic modern carrier model, but even this doesn't always guarantee a top result; here it is all lined up…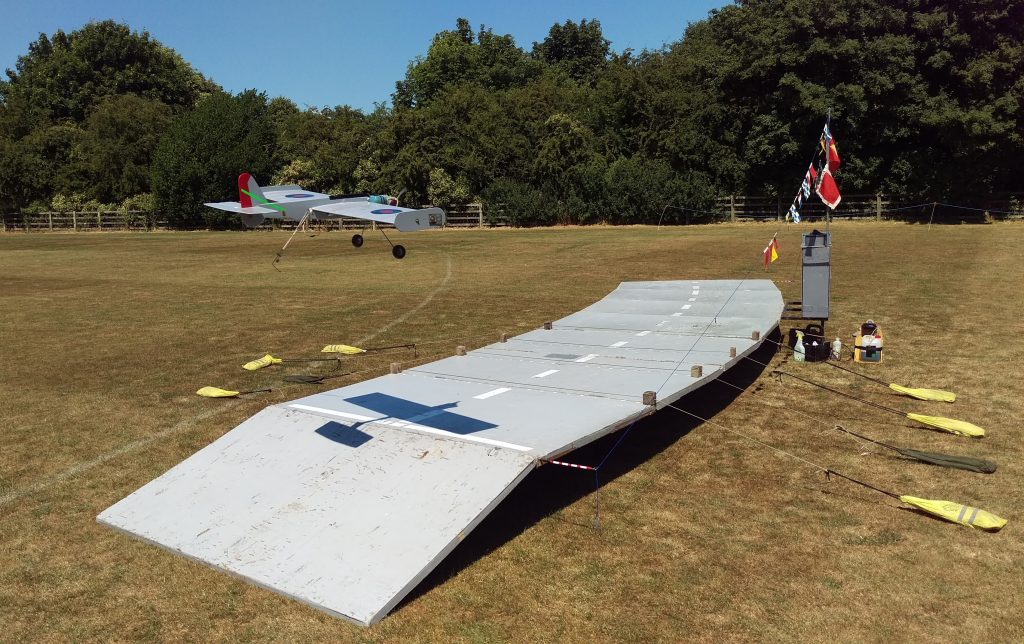 …but alas, not enough wires!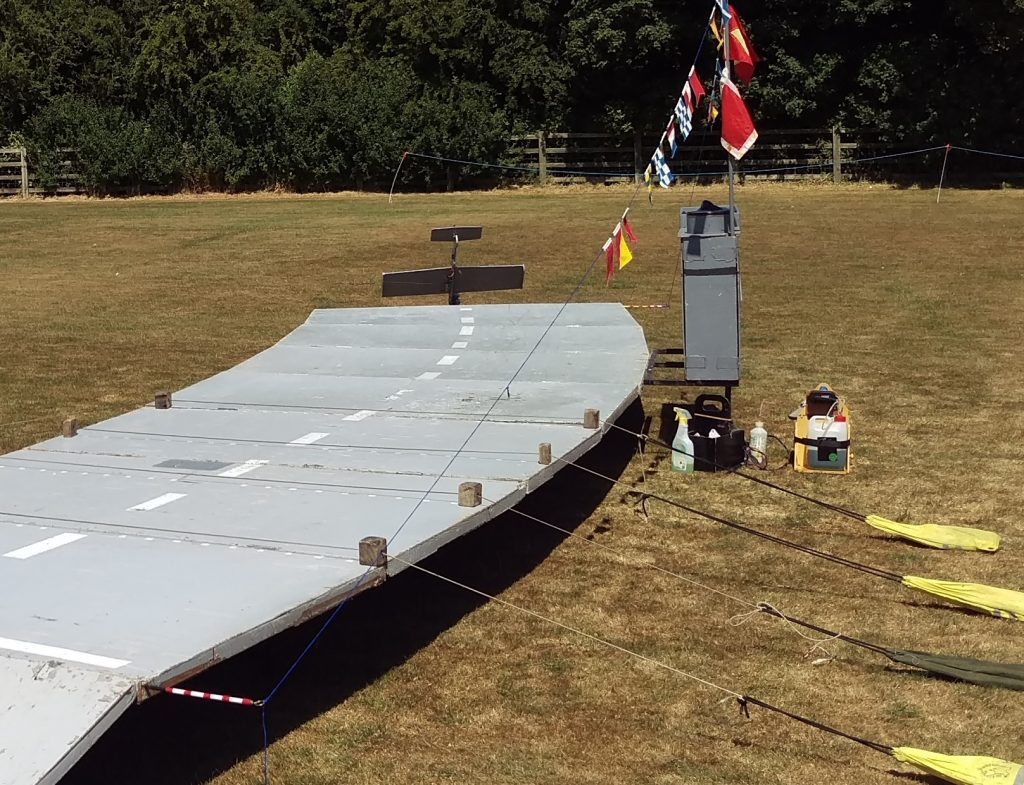 Chris Howell arrived in his mobile workshop/motorhome, which is getting more and more impressive each time I see it!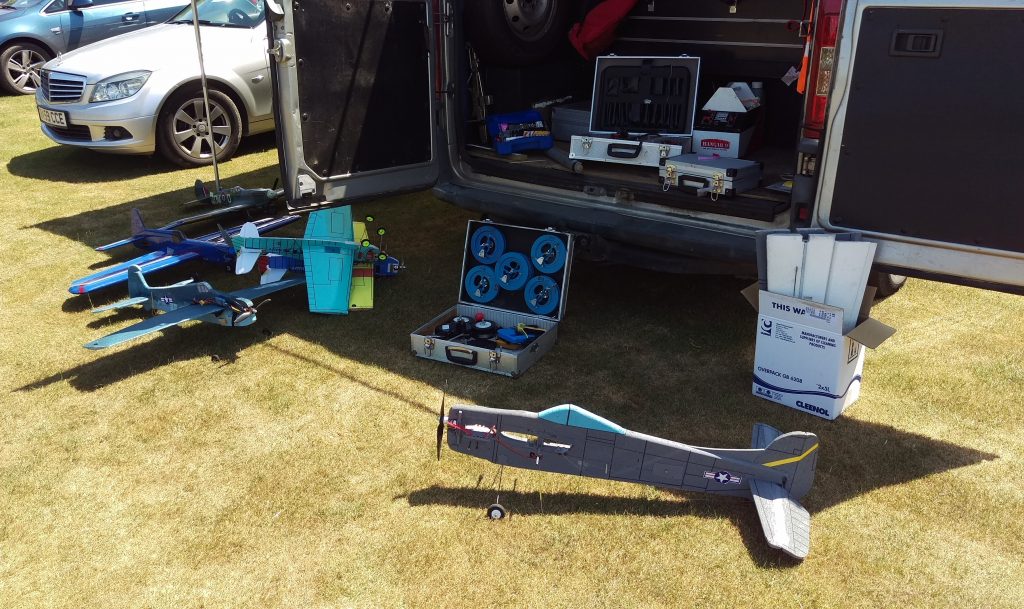 Chris is continuing to experiment with his mini-carrier concept, and brought along his latest foamy Wildcat which he flew very well indeed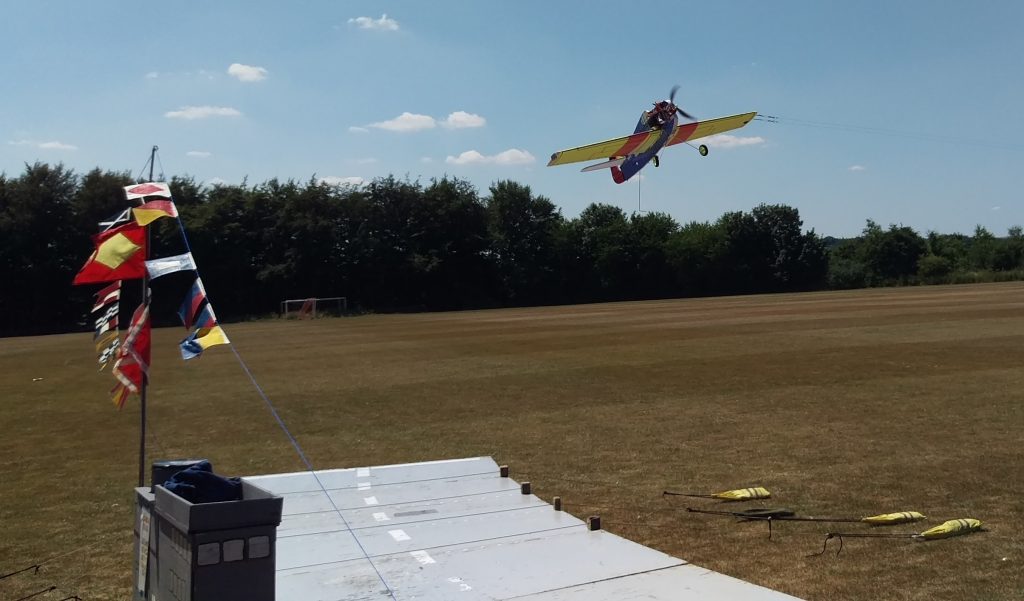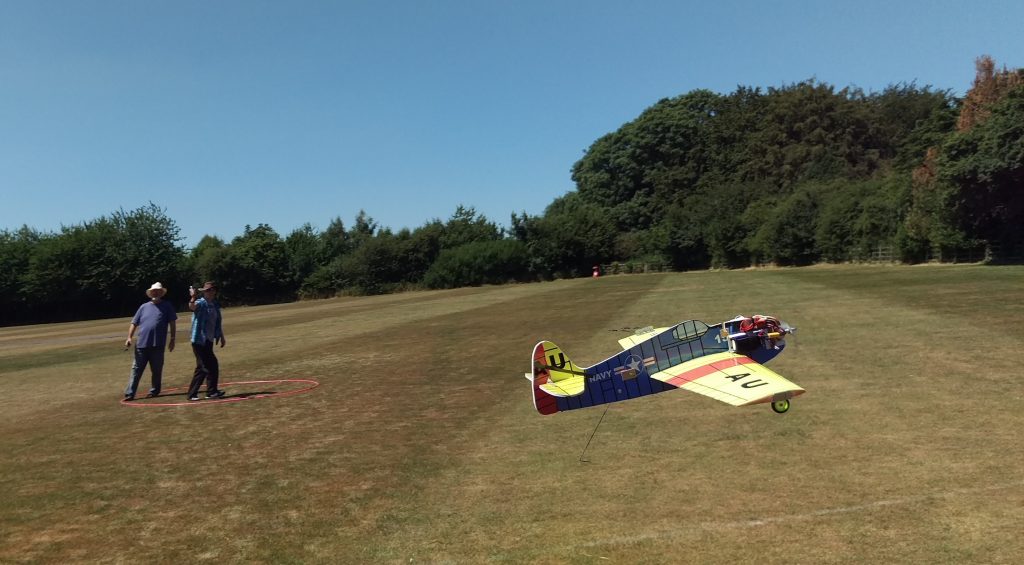 Alas, this is the last time you're likely to see this model! Chris invited anyone who wanted to have a flight. Surprisingly (or maybe not) I was the only one who showed interest, although I did remind Chris of what happened the last time he let me fly one of his planes (I wrote it off at OW when the throttle stuck open). He was unfazed and told me to go ahead, so I did and wrote off this one too… "My goodness, it was twitchy!" I said, as we looked at the wreckage. "Yes", replied Chris, "most people trying it have said that!". He's already developing a Mk4 with thrust, wing and tailplane centrelines aligned, which should help to de-twitch it. Please accept my apologies again, Chris!
Flying his trusty Avenger, Chis went on to pile up a really impressive 251.0 points early in the day, and already looked a surefire bet for first place, but later improved substantially even upon this with his Martin Mauler, topping out with 271.4 while I was there, an excellent score that took top place very convincingly.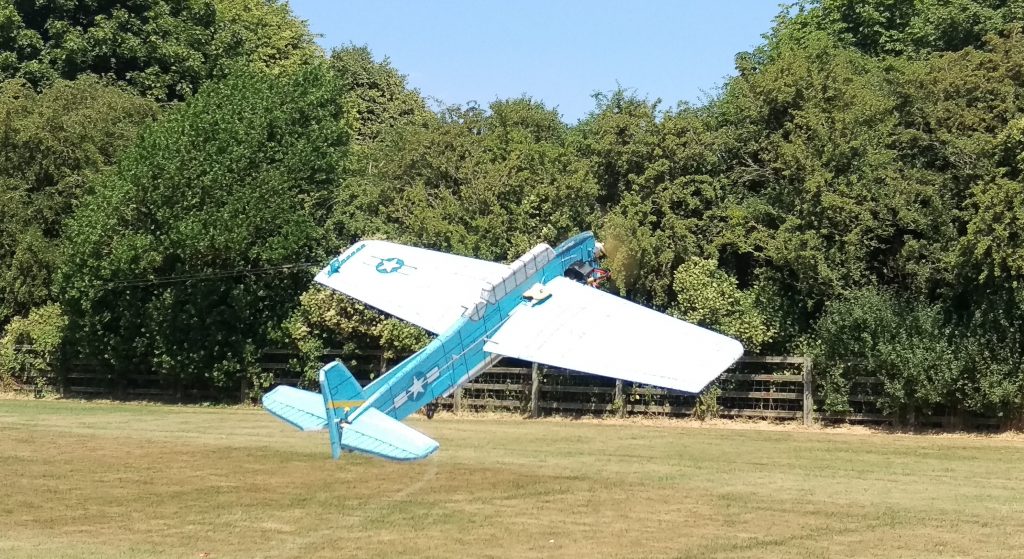 Dave Holmes has built a very pretty OS 40 powered Seamew and campaigned it again here. The word 'alas' can be over-used, but it's once more appropriate as he failed to score while I was there in five attempts, although the last flight was exceptional (unique I think) in that the model snagged a wire, which catapulted a sandbag under the deck, knocking one of the supports flat, with the result you can see below. I thing Dave's going to be known as the Kamikaze Kid from now on! I hoped that Andy would award Dave some points for authenticity or style in landing but again that word, alas no, so Dave ended up below me on the leaderboard, for which I owe him my sincere thanks!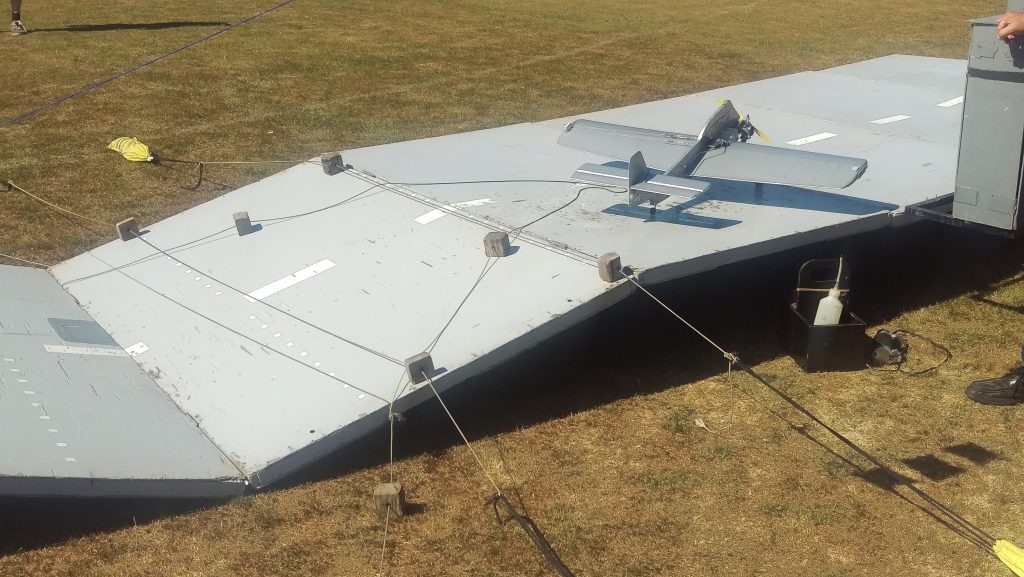 I brought along my electric Bf109T which was immediately declared U/S with a suspect battery lead so never made it to the deck – it was OK the night before, I swear!. Fortunately I also had two other models along as well. My Housden Hellcat in Drone livery now sports a 3700 4S battery instead of a 2200 3S + 4oz of lead, so I was hoping for more speed and duration. I got both, with a best fast 7 of 26.8 and a good loiter (for me) of 68. Unfortunately the tail hook still had its in-transit elastic band around it, but nonetheless I hooked up successfuly for 158.3 on my first flight. Second flight ended in an overshoot.Result? Sixth place.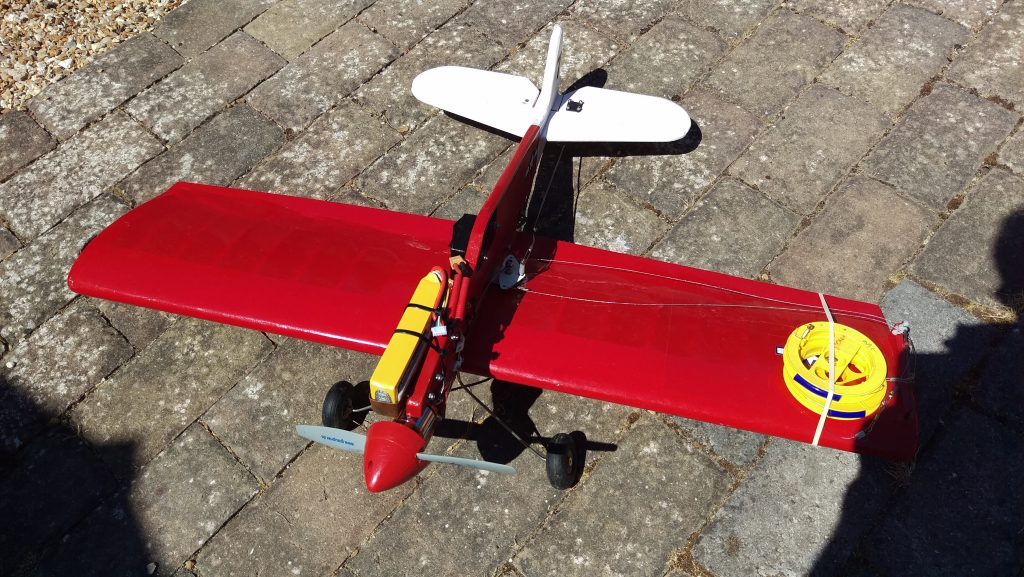 I gave my MO-1 (OS40) a run out for the first time since its total rebuild – very touchy in the crosswind (needed more tipweight) and not very fast – didn't hook up so a meagre 44.8 resulted. That was probably its last outing as my conversion to electric power is gaining momentum!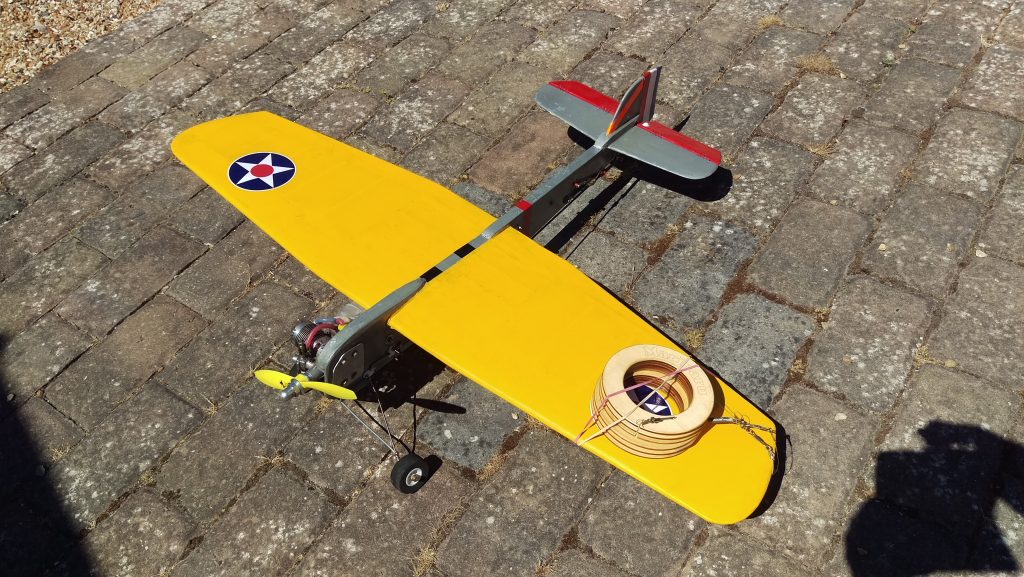 Mike Welch flew just once while I was there – his Fairey Swordfish (electric) is another model that gets better and better, recording a good 190 points and fourth place.
Mike was also involved with the Scale flying as Marlborough is his club. I spotted his Antonov AN-2 and some other scale entries in the pits, including this neat profile Martlet with Super Tigre 29 power built by Brian Hunt. It won the Scale competition after some throttle tribulations were sorted with help from Dave Holmes and Mike Welch – well done Brian!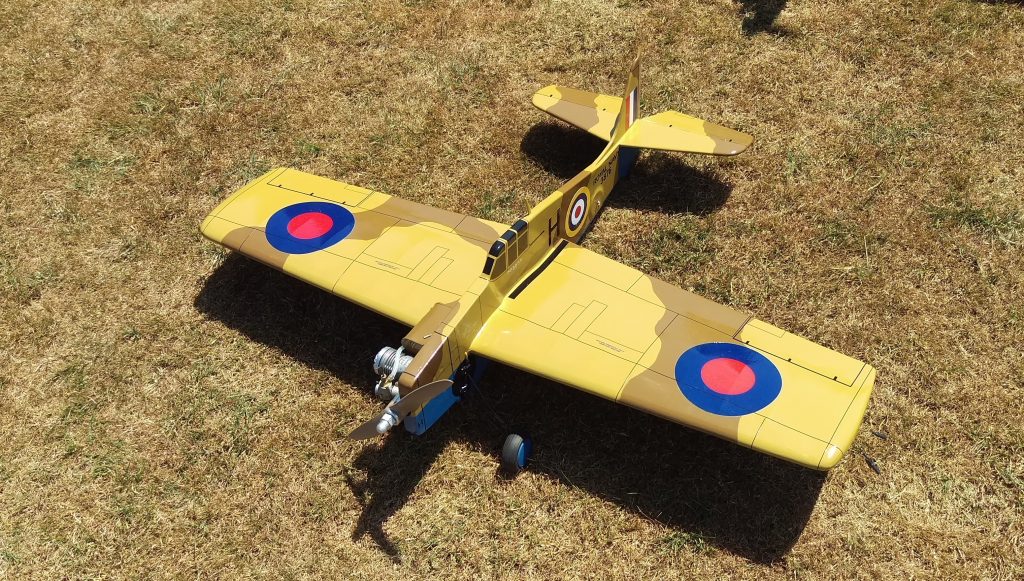 Bob Phillipps made a welcome appearance, flying a Junior BCD Seamew (SC15) on 42′ lines to take 5th place with 174.5 points.
Andy Housden was flying his 'rescued' Curtiss Helldiver, a model passed on to him fairly recently. OS 46 powered, it sports a nicely-detailed finish and (after some fuel-feed tuning) flew well.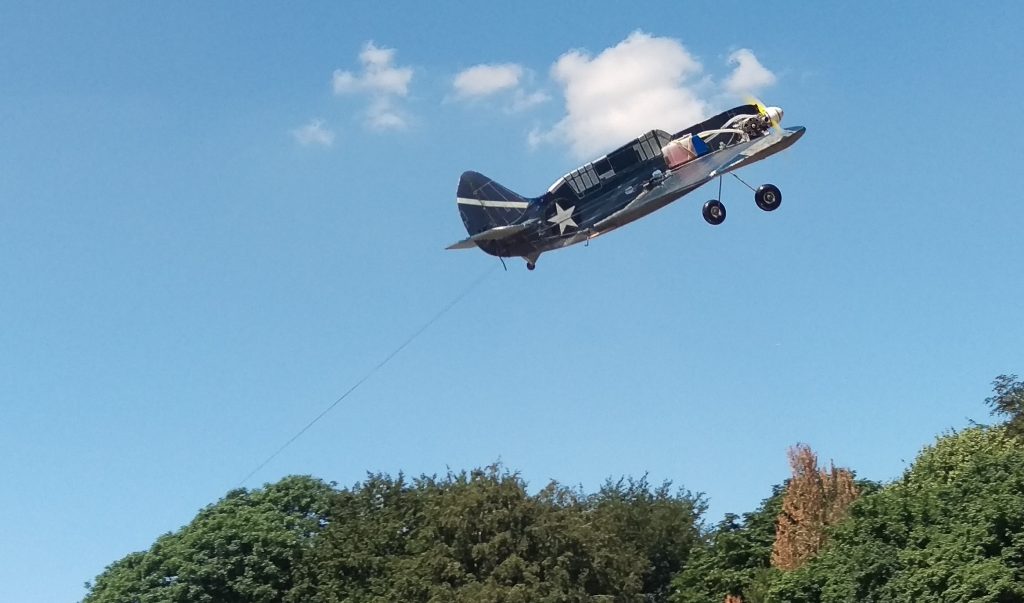 He didn't have much luck hooking up while I was there, clocking a reasonable 98.1 slow segment but zero points for deck engagement, for 81.7 total. However, another flight after my departure racked up 191.0 points for third place – well done Andy!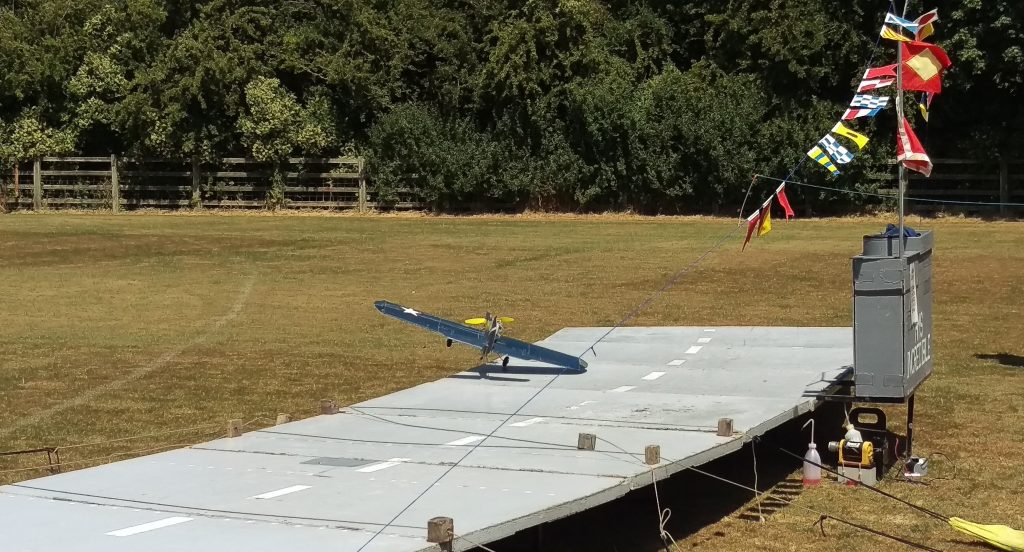 The second round of flights was under way as I was leaving. Chris Hague was having a difficult time landing his Spearfish, scoring nil landing points in both flights I saw, and Dave Holmes did his Kamikaze act shown above.
All told, a very pleasant day flying in very nice weather – thanks to Mike Welch for arranging the venue and Andy Housden for being his usual efficient Contest Director.
Official Results:
| | | | | | |
| --- | --- | --- | --- | --- | --- |
| Pos. | Name | Club or location | Model | Engine | Score |
| 1st | Chris Howell | Langley Model Squadron | Martin AM Mauler | Turnigy SK3536/1400; 3S 2200mAh | 271.4 |
| 2nd | Chris Hague | Wimborne MAC | Fairey Spearfish | West 36R | 219.8 |
| 3rd | Andy Housden | Three Kings Aeromodellers | Curtiss SB2C Helldiver | OS 46 | 191.0 |
| 4th | Mike Welch | Marlborough MFC | Fairey Swordfish | Foxy C3020/10; 4S 2200mAh | 190.0 |
| 5th | Bob Phillipps | Colchester MAC | Short Seamew | SC 15 (flown JCD sub-class with 42′-0″ lines) | 174.5 |
| 6th | Mike May | Chesil MFC | Grumman F6F Hellcat | Turnigy 3542; 4S 3700mAh | 158.3 |
| 7th | Dave Holmes | Bilston MAC | Short Seamew | OS 40 | DQ |