FLYING REPORT (PDF)    PLACINGS (PDF)            
This was my first experience of a meeting at Marlborough, and I was definitely impressed! The captain of HMS Incredible (Mike Welch from the Marlborough Club) had moored his vessel only a couple of yards from the parking area, for which your correspondent was very grateful as he lugged the usual excess baggage from his car (no, not his wife Jane!) into the pit area close-by.
.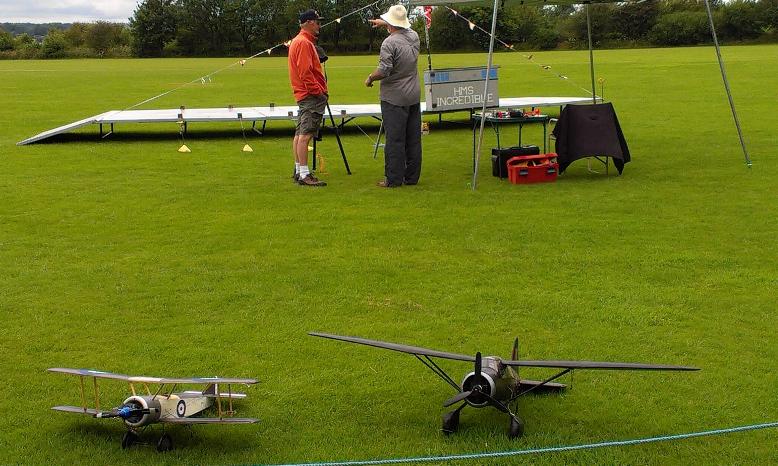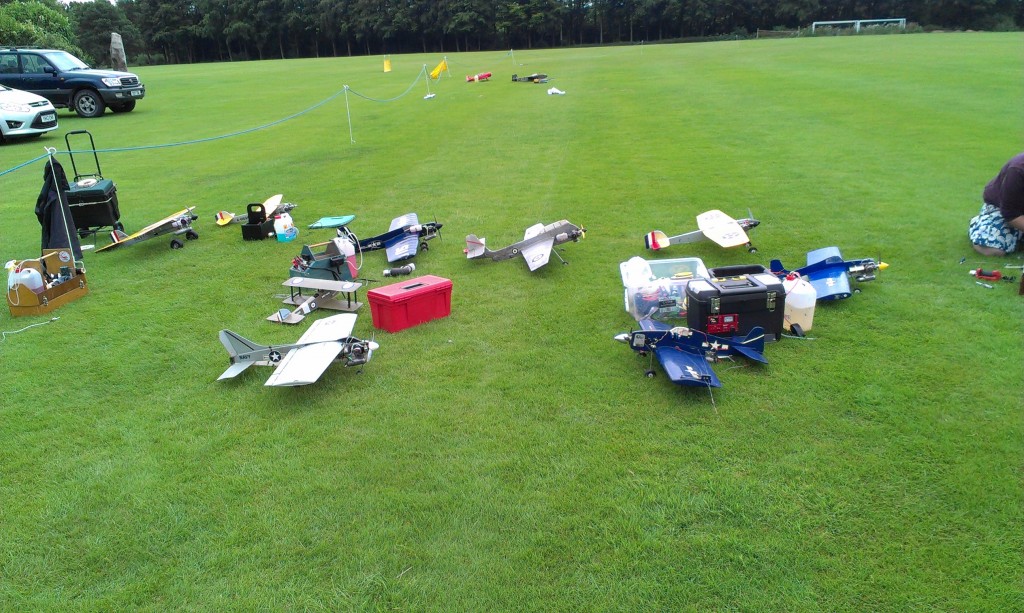 HMS Incredible was ready for action, and the judging equipment set up ready to go under a gaily coloured awning that kept Andy and Mike cool calm and collected all day.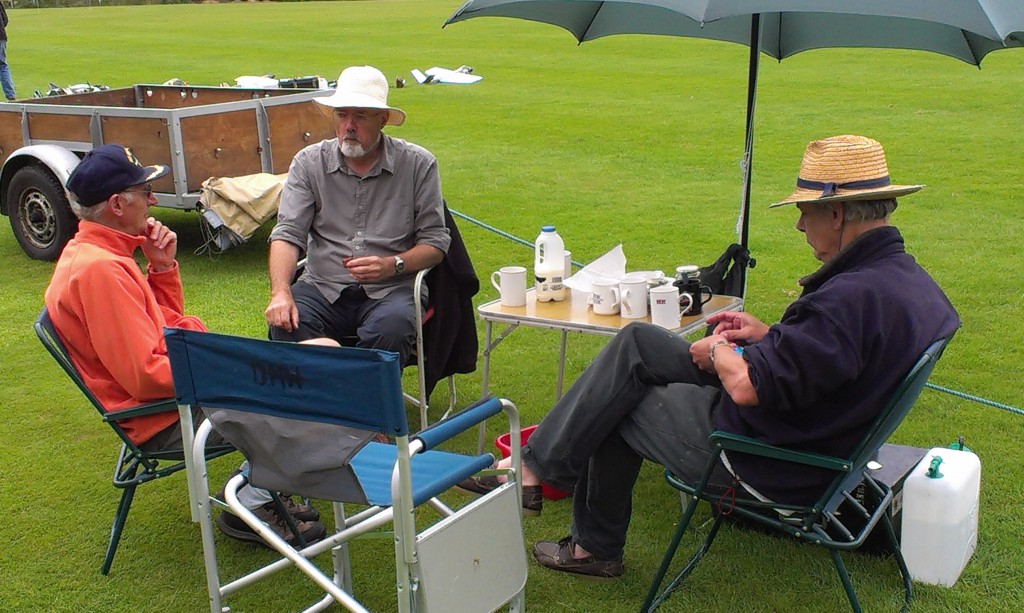 The event takes place at the edge of a beautifully-mown Marlborough College cricket pitch, so there's no chance that the public will wander in and around the flying zone; even better, regular College Security patrols did their rounds, checking for ARTF R/C models and other undesirables! The weather wasn't as hot and sticky as the days before and after, but the rain kept off and the sun broke through at the end of the evening.
While the numbers attending were not high this year, the quality of the flying from the three top placemen was very good indeed. At the other end, it was great to see Jeremy Davies return to the wires with his interesting semi-profile, bolt-together Guardian/SC53 combo. Some model re-commissioning woes prevented him from recording a score, but I'm sure he will get back into it all very quickly
.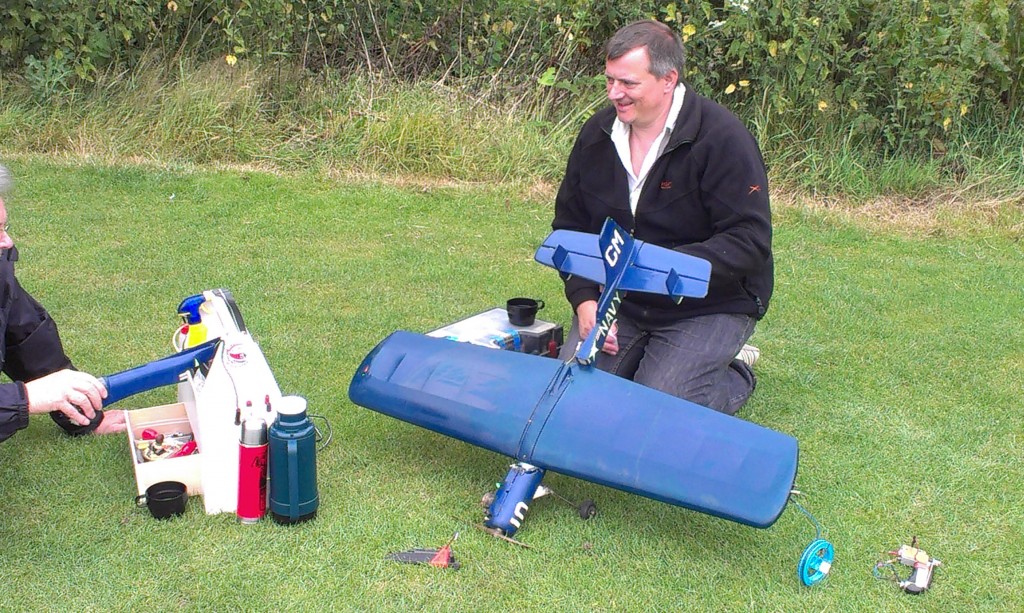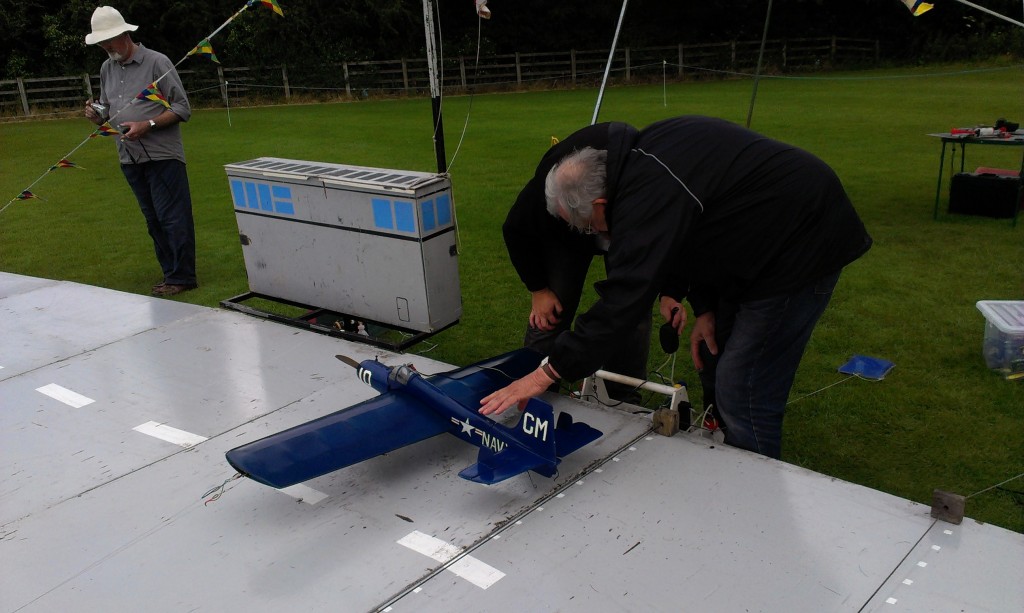 This preliminary report is really just a taster with some pictures to give you the flavour, along with the flying report statistics and final placings as compiled by the Webmaster on the day, so they are of course subject to change. The detailed flying report will be with us when HMS Incredible's XO (Andy Housden) has written up the log from this and other ports of call on her annual voyage around Britain. Some candid camera shots of the planes and pilots appear below.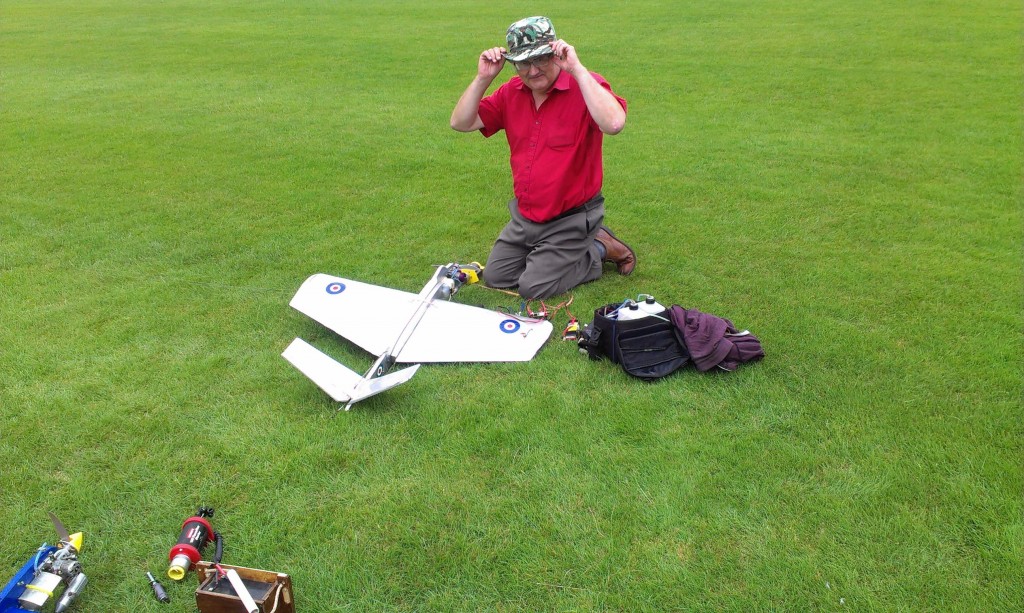 Bob Phillips believes in lots of wing area – this Supermarine 508 ticks all the boxes when it comes to slow flight, with an impressive 141.9 seconds – with 30 seconds for the fast segment, this was easily enough to gain first place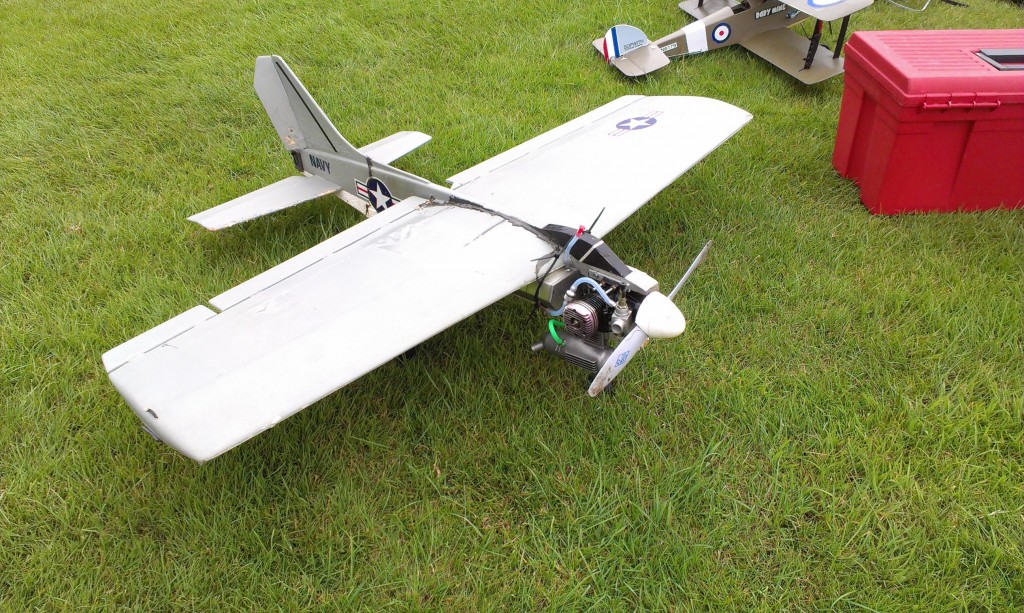 Chris Howell's fast and accurate flying with his LTV Corsair 2 netted him second place with 183.3 points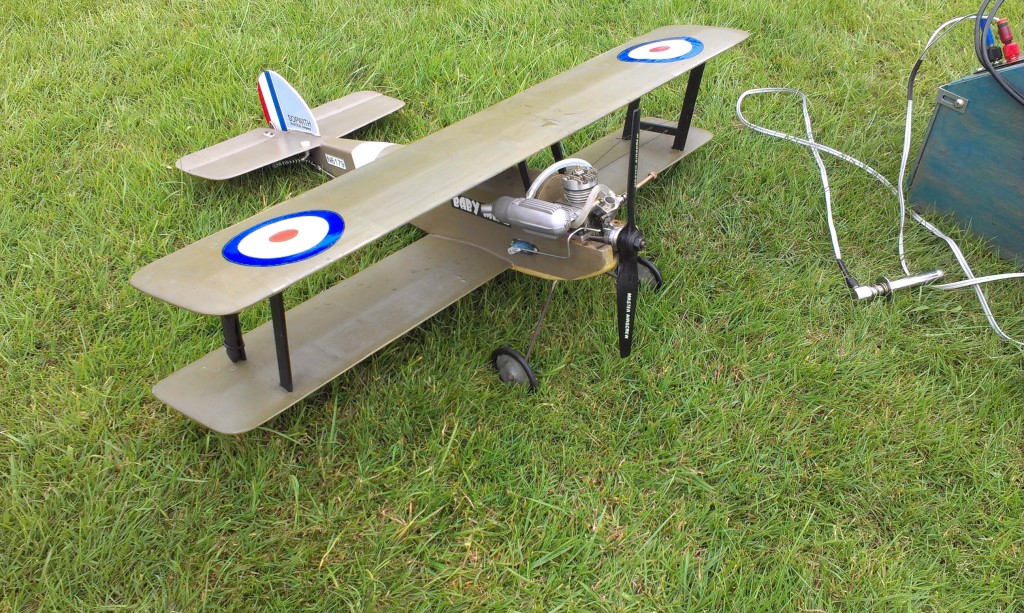 Chris also brought along his WW1 Commemorative Class Sopwith Pup for testing prior to the Old Warden event the following week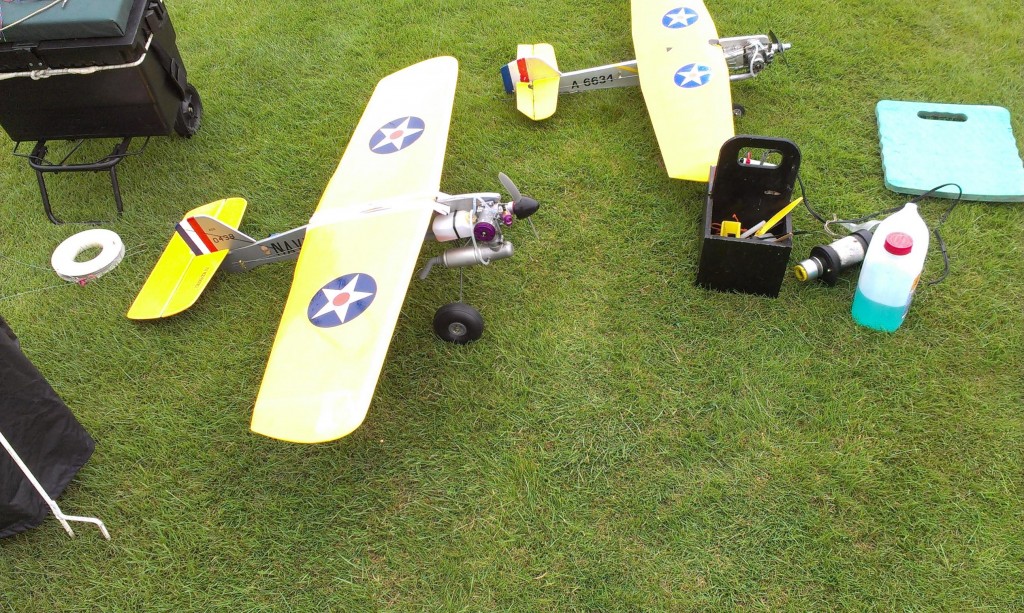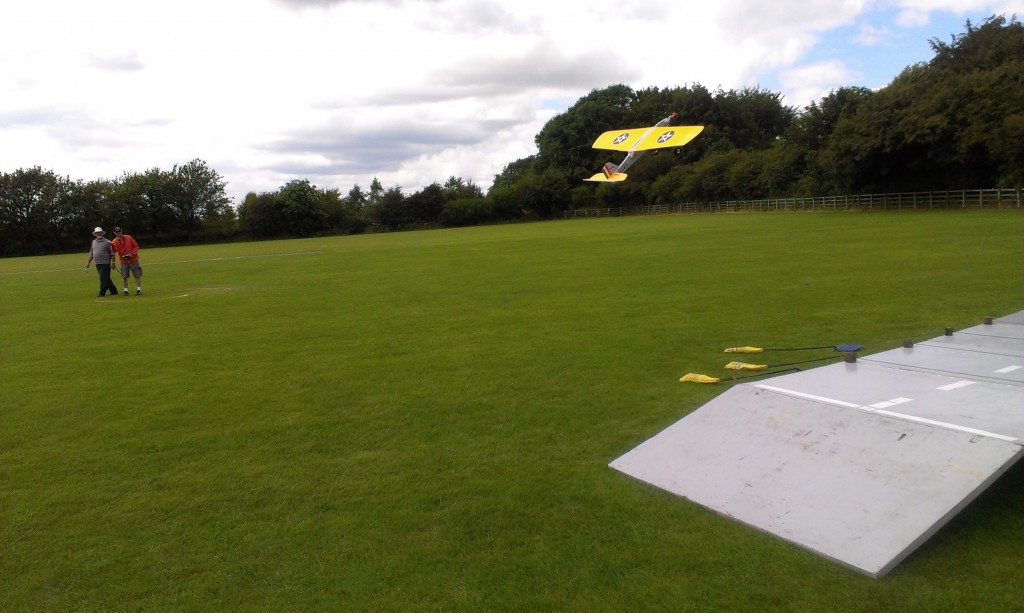 Dave Holmes flew his MO-1 into a forceful third place with 171.50, but your reporter was off-duty with his sandwiches and didn't get a photo of the plane; Chris Hague, up from Dorset, likes MO-1s just as much as Dave and brought two of them – an I/C version with a West50, and its electric cousin with a 2200mA electric motor. The electric version clinched fourth place for Chris with 64.1 points – if you want to see why folk are going electric in noise-sensitive areas, have a look at the Youtube mash-up video of the flying by CLICKING HERE  – a real difference and maybe a flying field saver!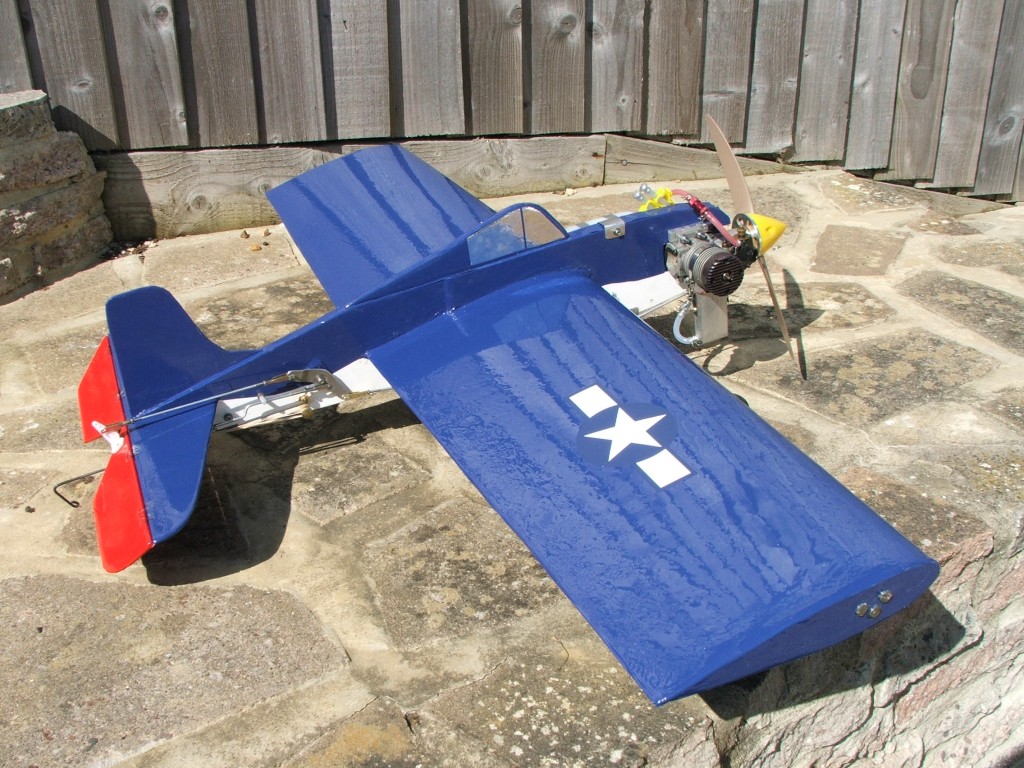 The only other scorer was your reporter with his US-kit Wildcat from Joe Just – while never the fastest plane and suffering from a very reticent OS40FP, it nonetheless managed to score on all three flights but didn't hook up on any – hence "nul points" on the landings and a high of 'Just' 42.1! No other fliers scored.
In conclusion, everyone enjoyed themselves, and so many thanks are due to Mike Welch for organising the event and providing the carrier deck through the Marlborough club, and to Andy Housden and his team of eager helpers who timed, tested, monitored and encouraged the pilots to do their best!