This was truly a meeting of two different days! The weather forecast for Saturday was poor, with rain and wind most of the day, but as it turned out the day was at least 85% flyable, with a couple of light showers and a fair bit of sunshine. The main downside was the wind, which was blowing strongly but erratically straight up the main runway, meaning that HMS Incredible was anchored at completely the the opposite side of the circle to her normal position down by the hedge.
Probably due to the Saturday forecast, the number of carrier competitors and also the number of paying visitors was low. Those of us who flew on Saturday therefore had the chance of flying twice as much as usual, although for some of us (especially me!) this didn't really improve their scores…
Sunday was a brilliant day, with light winds, lots of sunshine and an impressive turnout for all the model aviation classes including carrier; it was also great to see families with kids out on the airfield flying paper darts, chuck gliders and ready-to-fly rubber powered models all day long.
Here are the scores – please excuse the dodgy camera angle, I should have done better! When the official results are through from Andy I'll put them up here. As usual, grateful thanks to Andy for CD-ing in his usual immaculate style, to Mike Welch for the loan of HMS Incredible, and to all those who assisted throughout a great weekend's flying!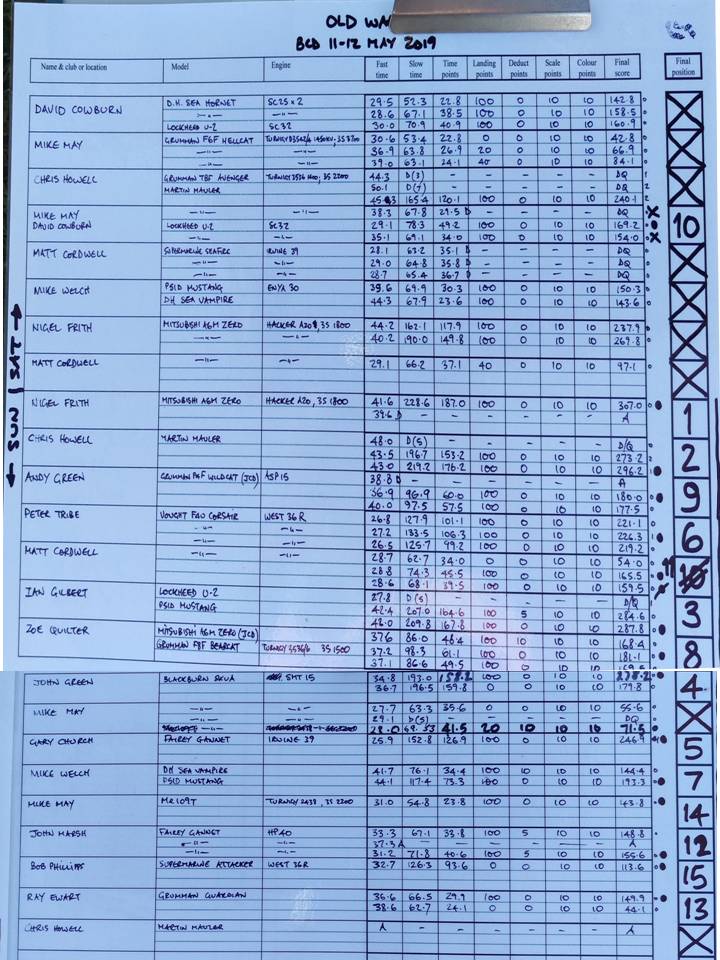 Points to pick out from the results: Nigel Frith broke the 300 barrier again to win with 307 with his Zero, but only eleven points behind was Chris Howell with his Martin Mauler, snapping at his heels. Ian Gilbert flew his Mustang to a convincing third place just ten points behind Chris, and a welcome return by John Green with his Blackburn Skua was again only ten points adrift from Ian. These four are well ahead of everyone else by at least thirty points, but interestingly they fly a variety of model types – there is no outright best design or power-train so far, but Nigel will take some catching!
Here are some pix of the models and fliers – for me, it was another learning process – I flew three models, two of which either failed to get off the deck or to hook up; both had been modified in terms of hook location and/or power train but not test flown – silly me! The only one that I hadn't meddled with (the Bf109) flew perfectly. As they say, go figure, Mike!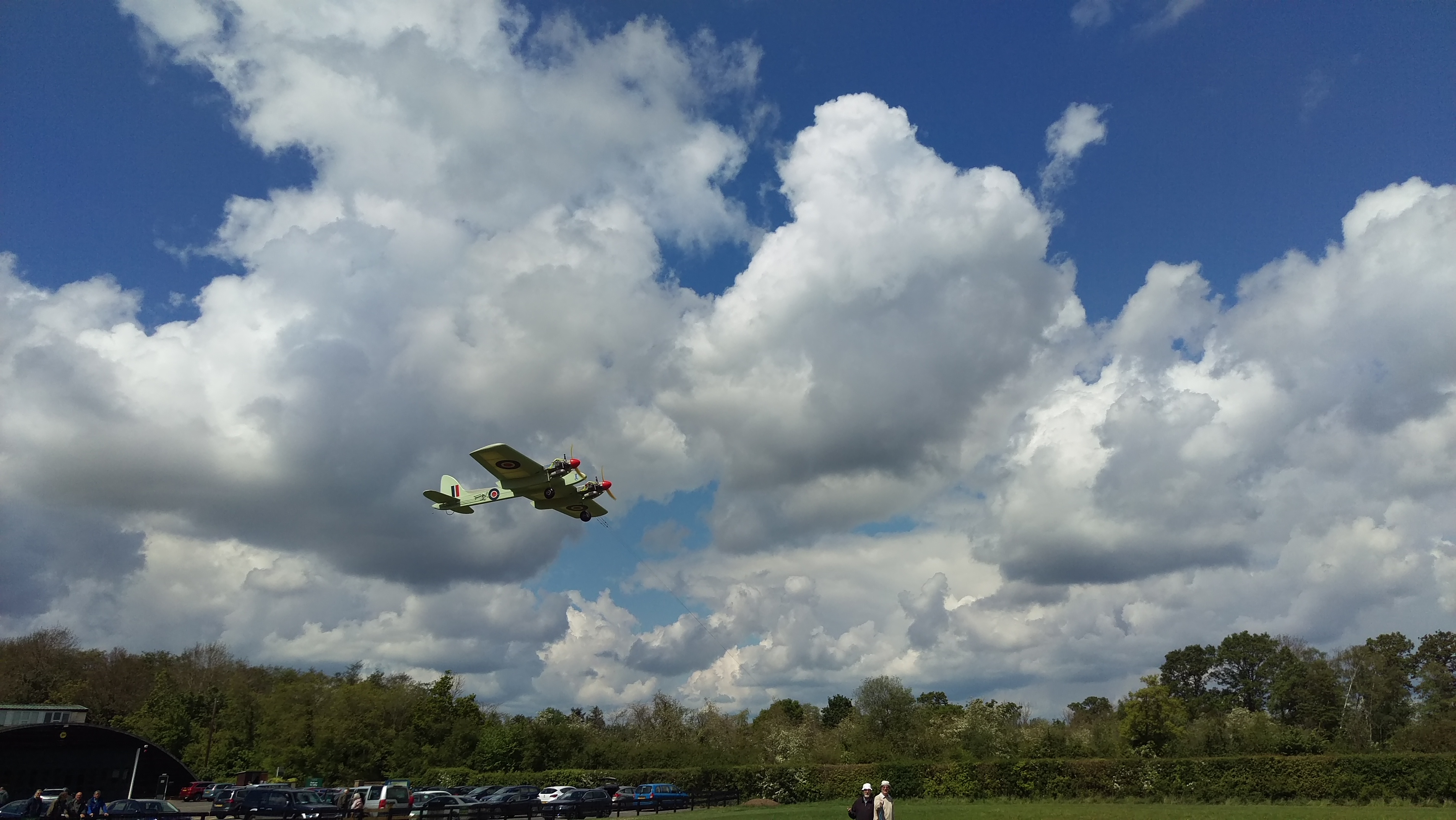 Dave Cowburn's super Sea Hornet – 2 x SC25 motors, not the fastest or slowest but what a lovely sight and sound!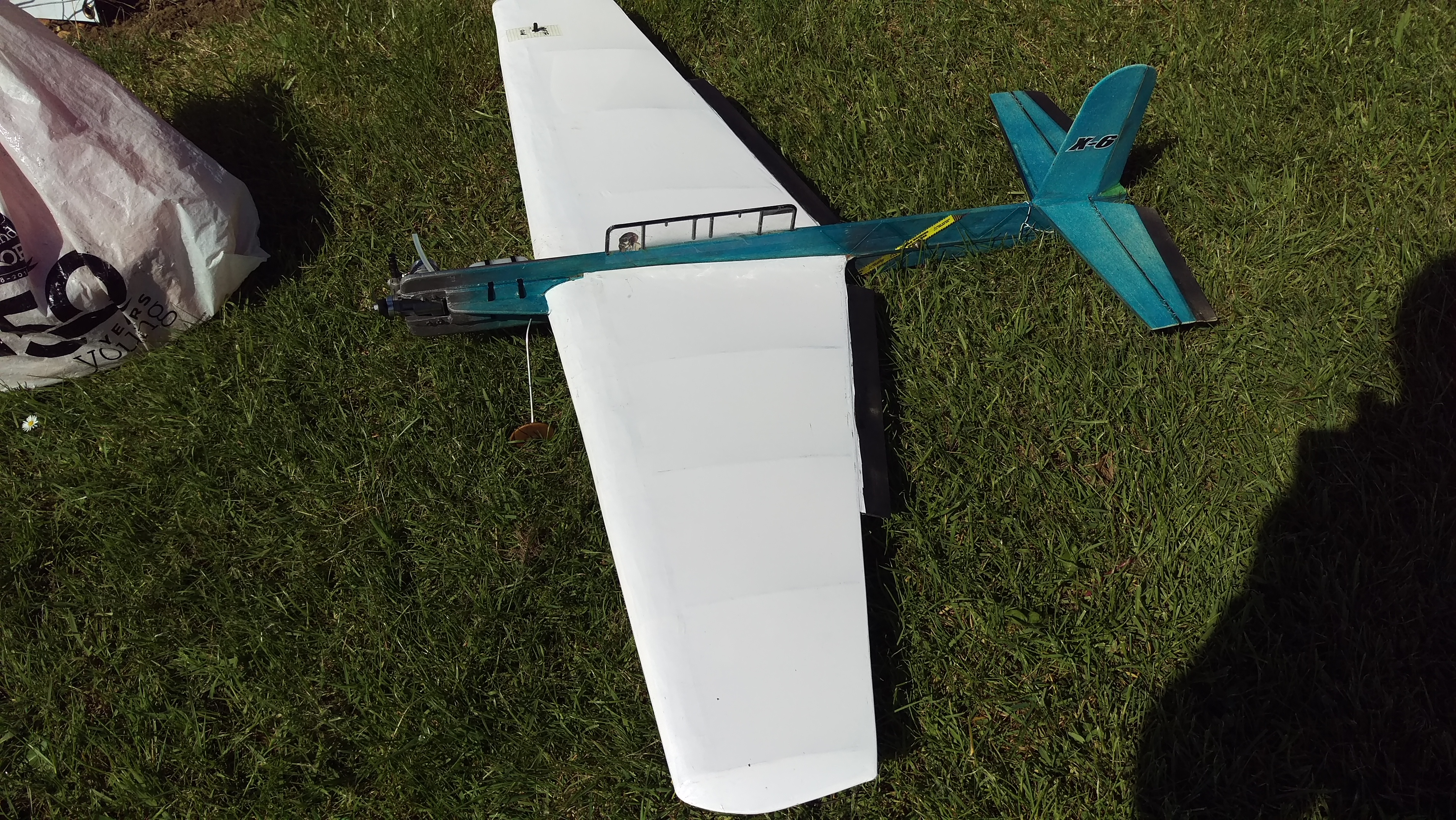 Jon Green's Sea Skua – is that a combat wing I see?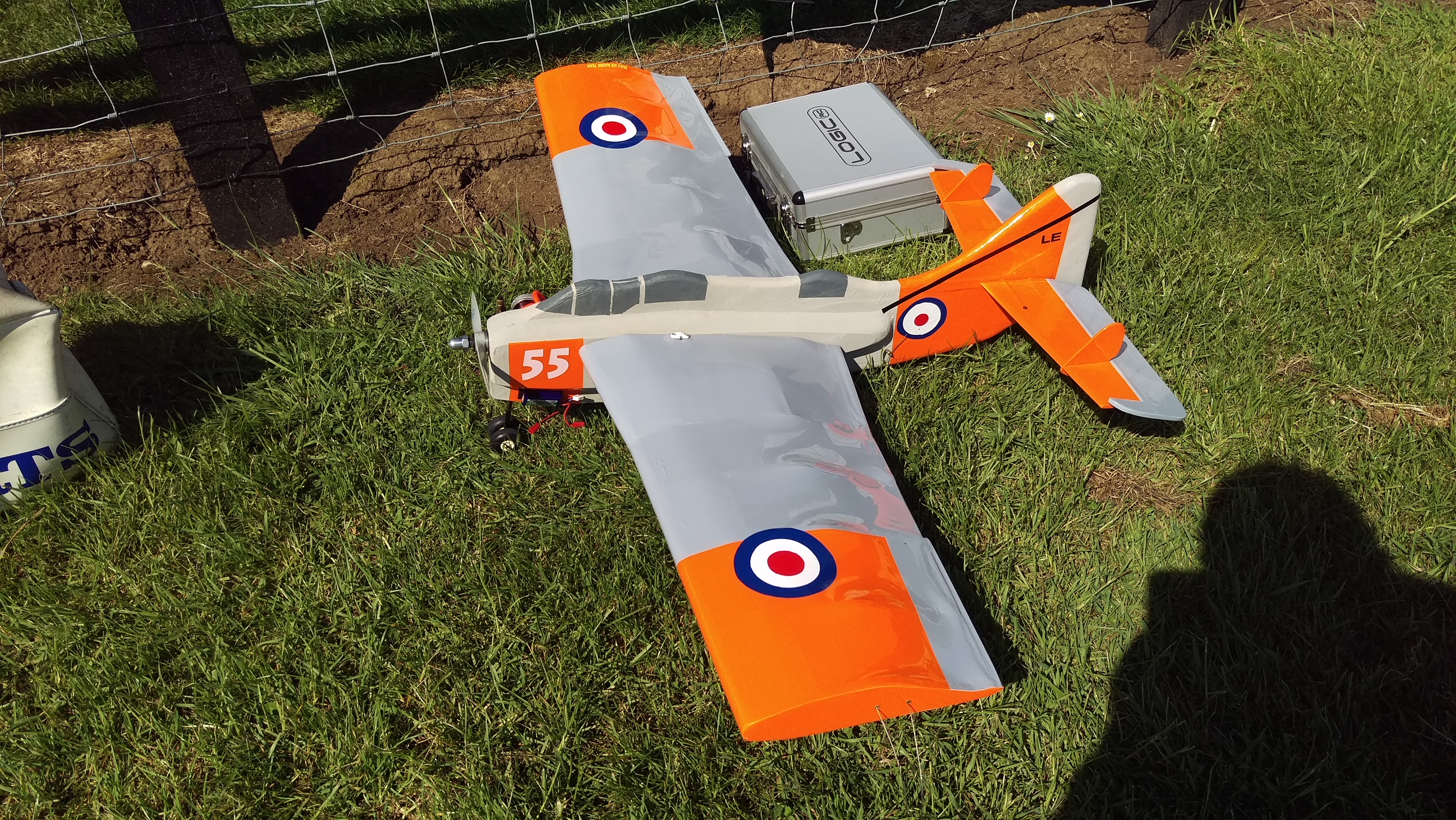 Gary Church's Fairey Gannet  -a nice rendition of a classic UK carrier aircraft and great to see fly – how about fitting contra-rotating props?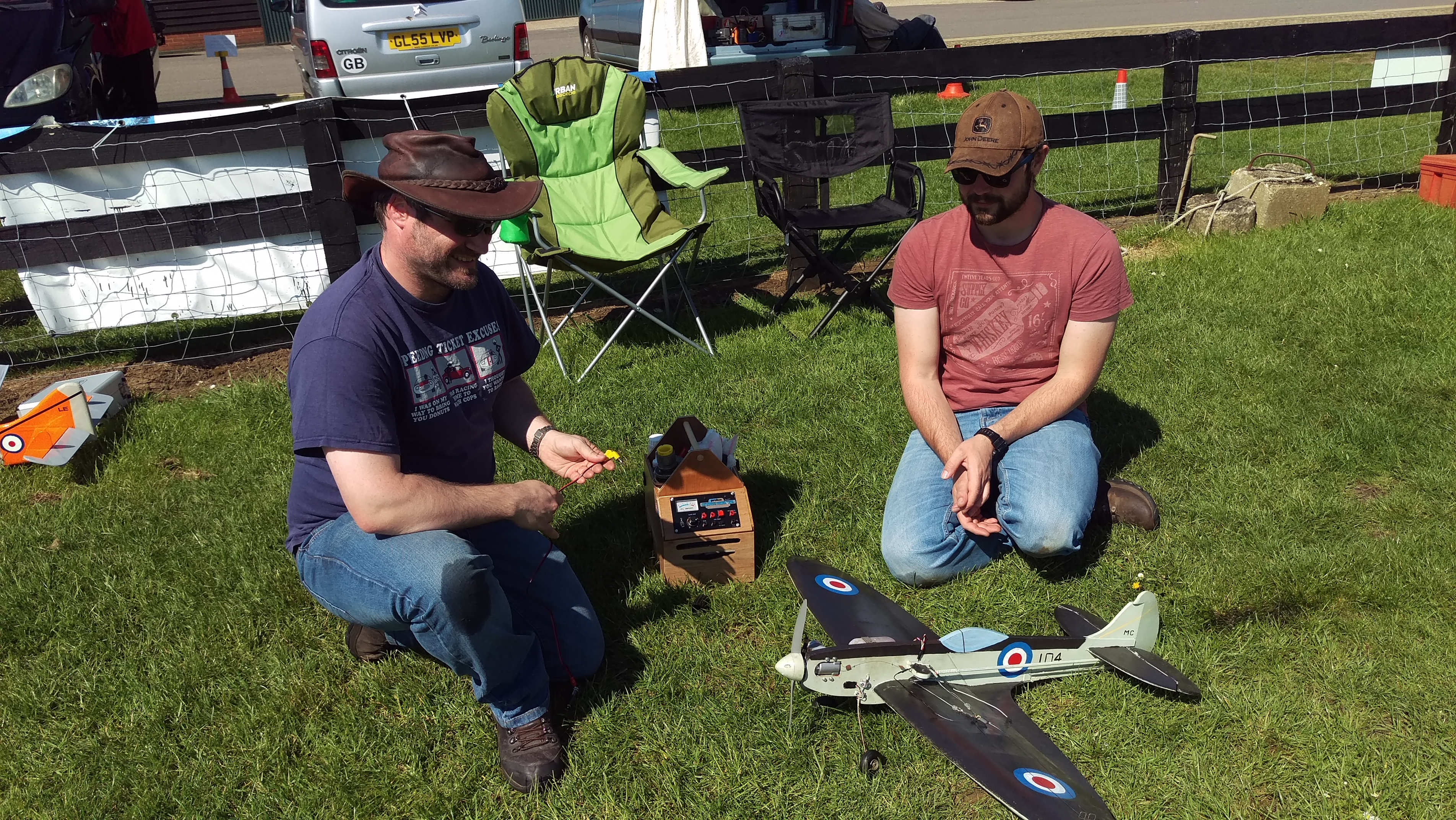 Matt Cordwell's Seafire bagged 11th place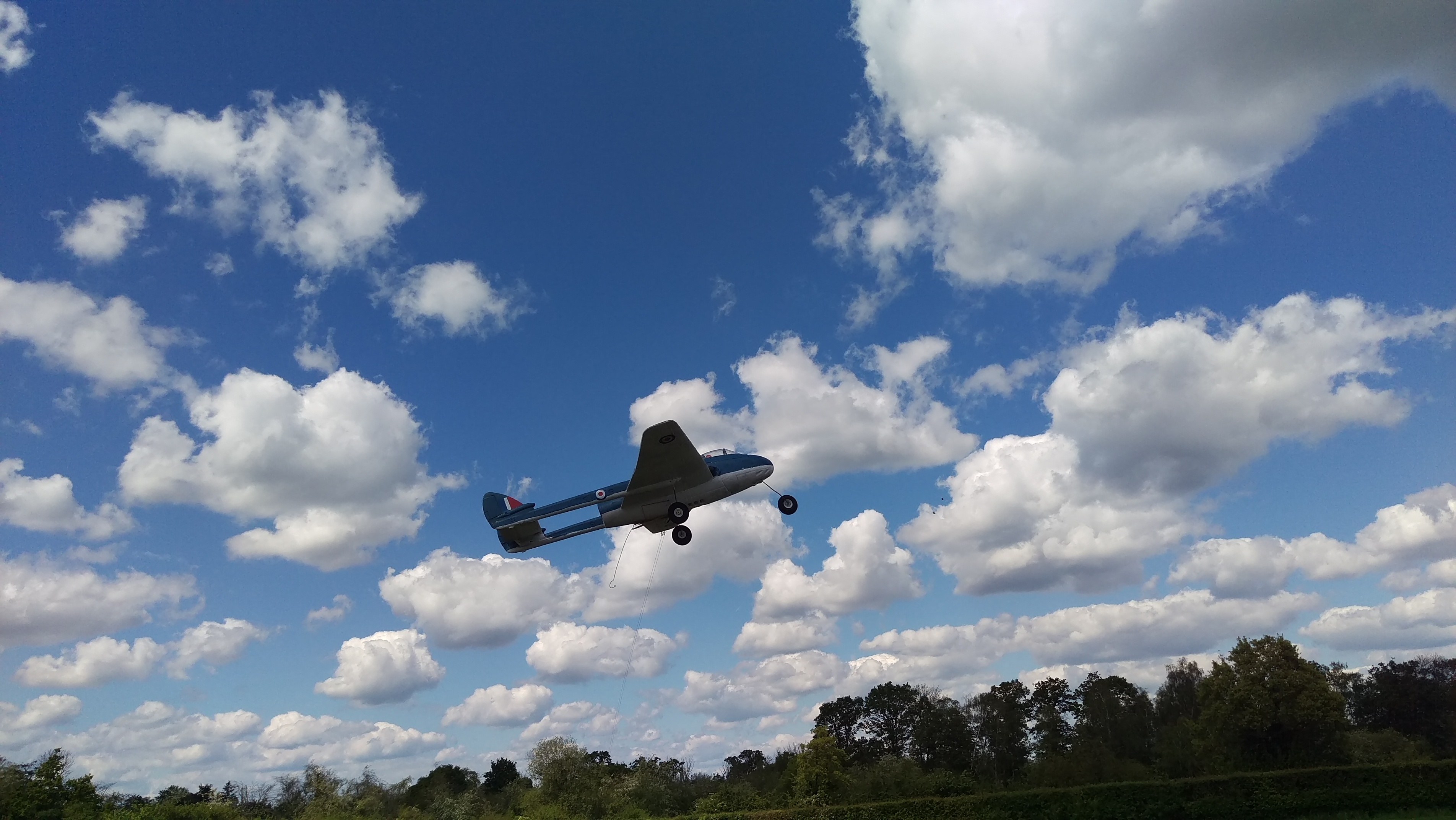 Mike Welch's ARTF Sea Vampire – our front page pin-up! EDF powered – not a high scorer but what a great sight!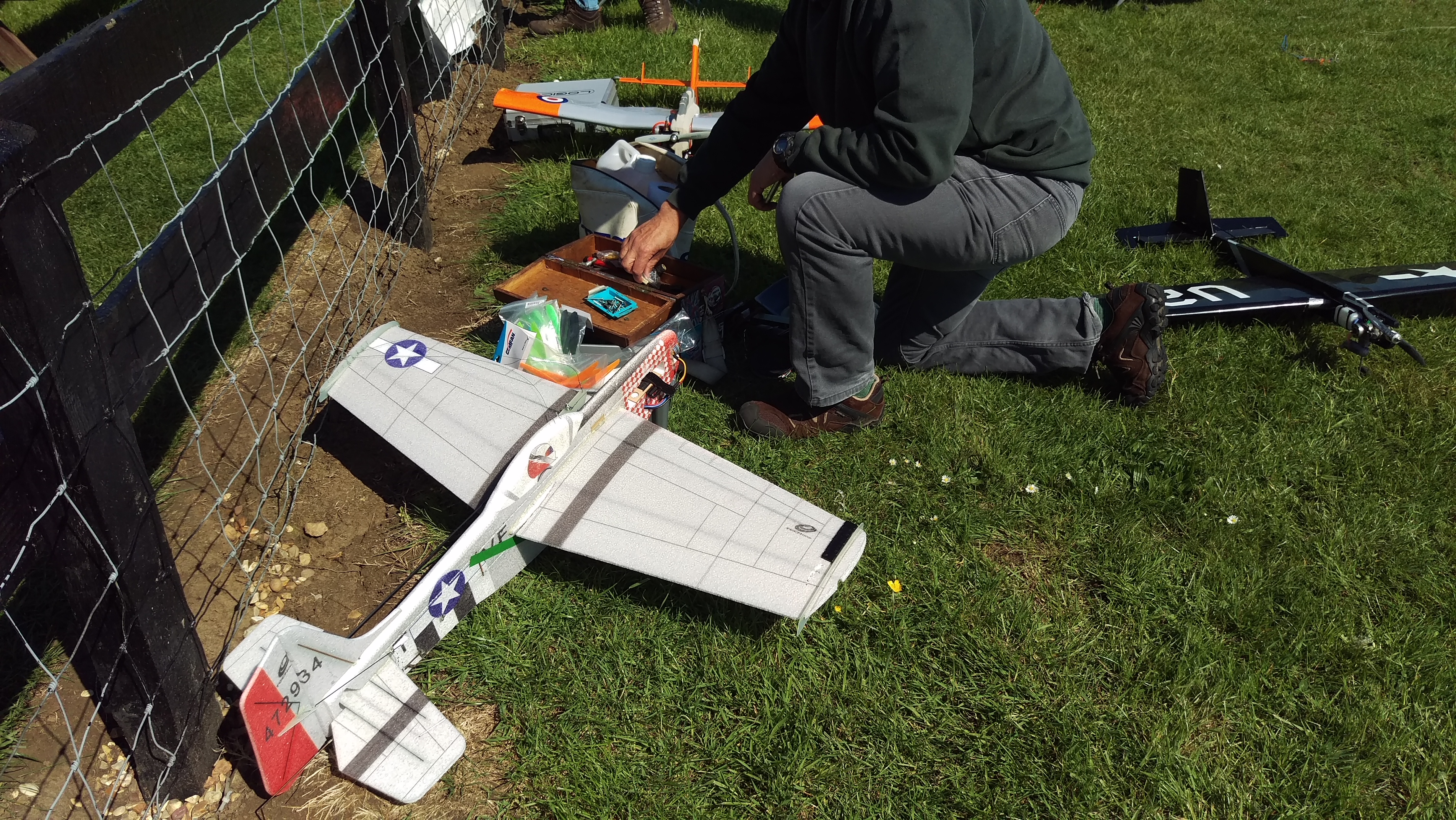 Ian Gilbert's new foamy Mustang (ARTF R/C Yak-based) took third place – his U2 (unu2usually) failed to score…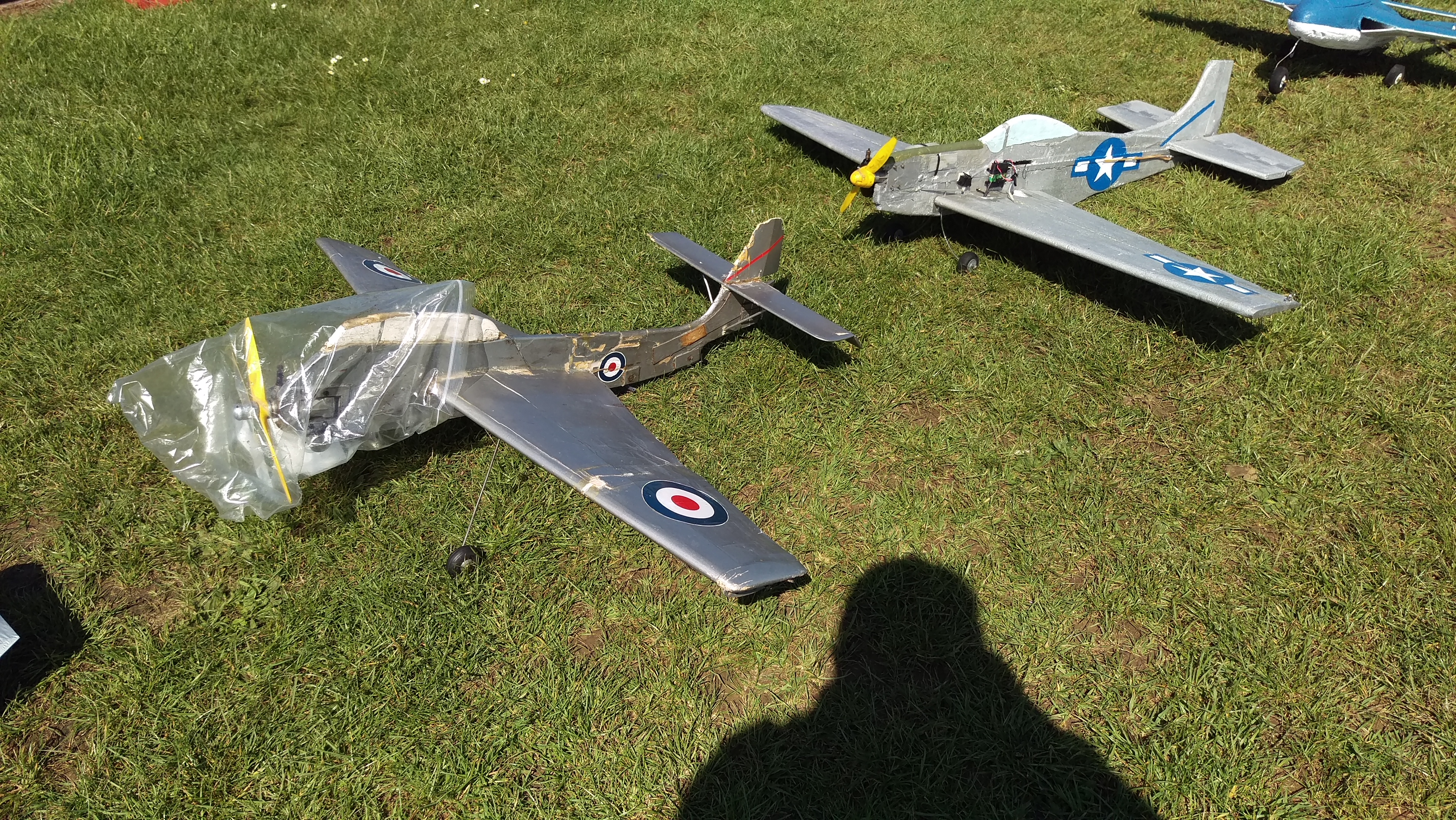 Well-used Seamew and Mustang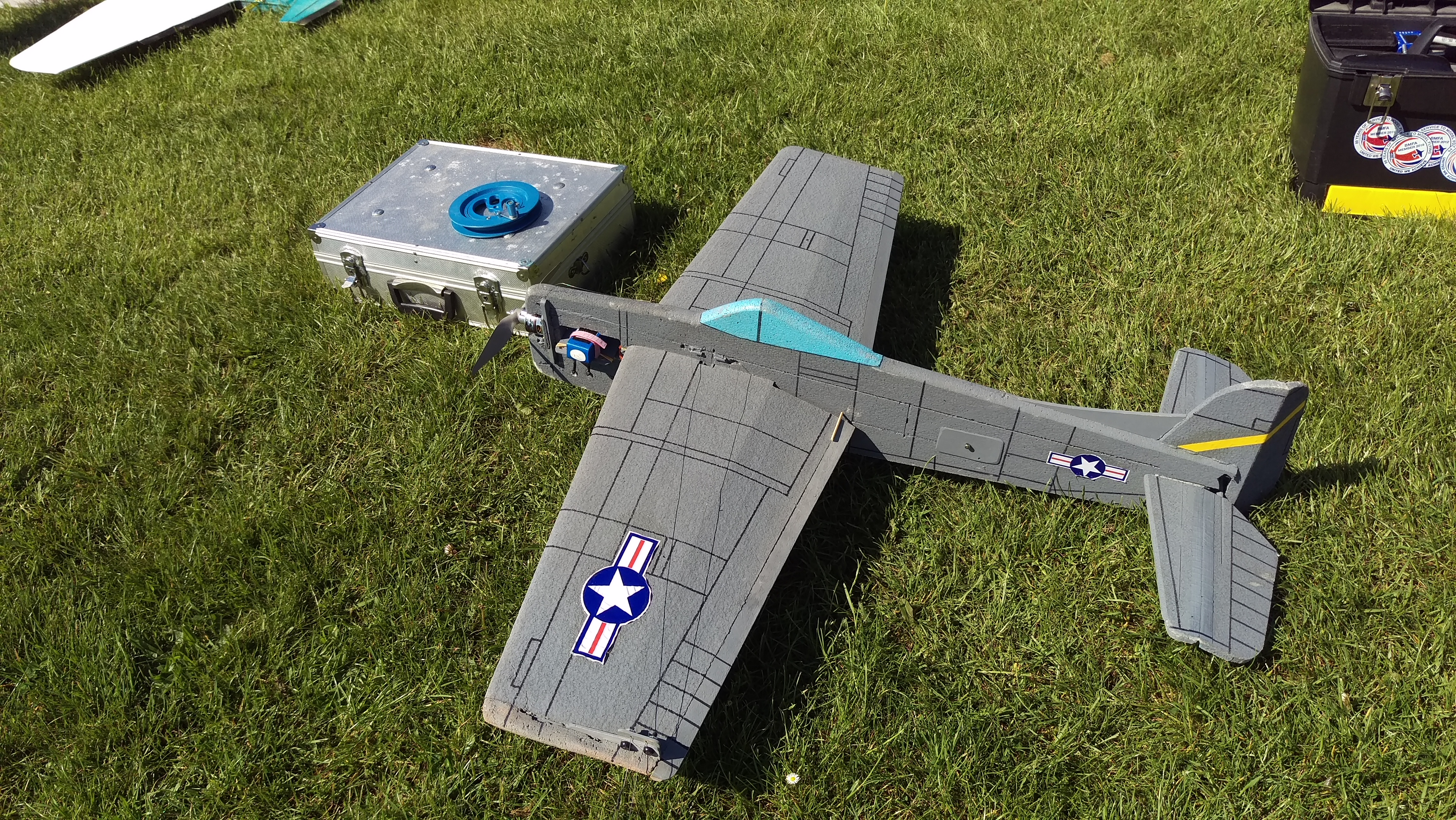 Chris Howell's Mauler – flown into second place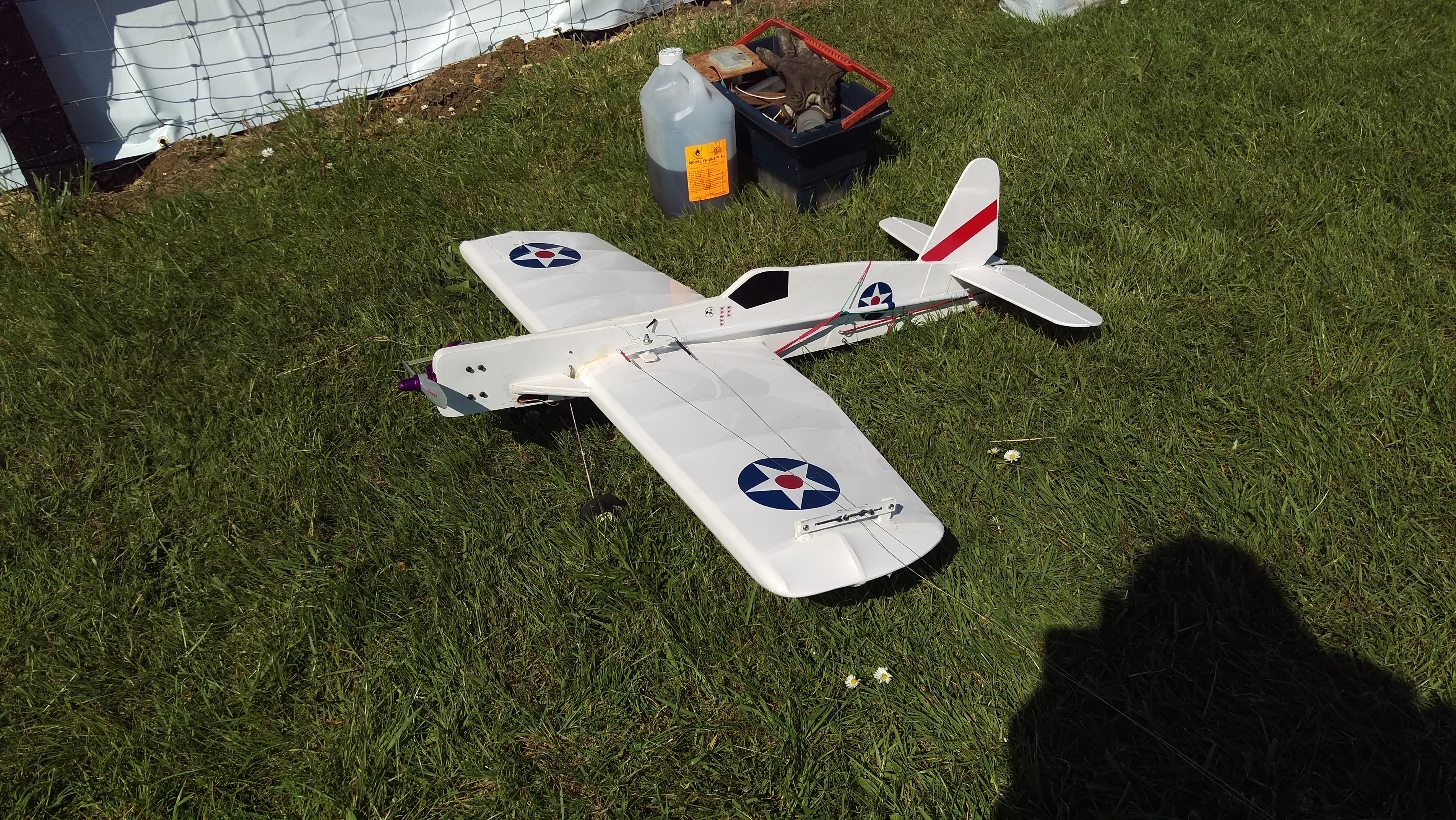 Freelance model – a sorta-Hellcat maybe?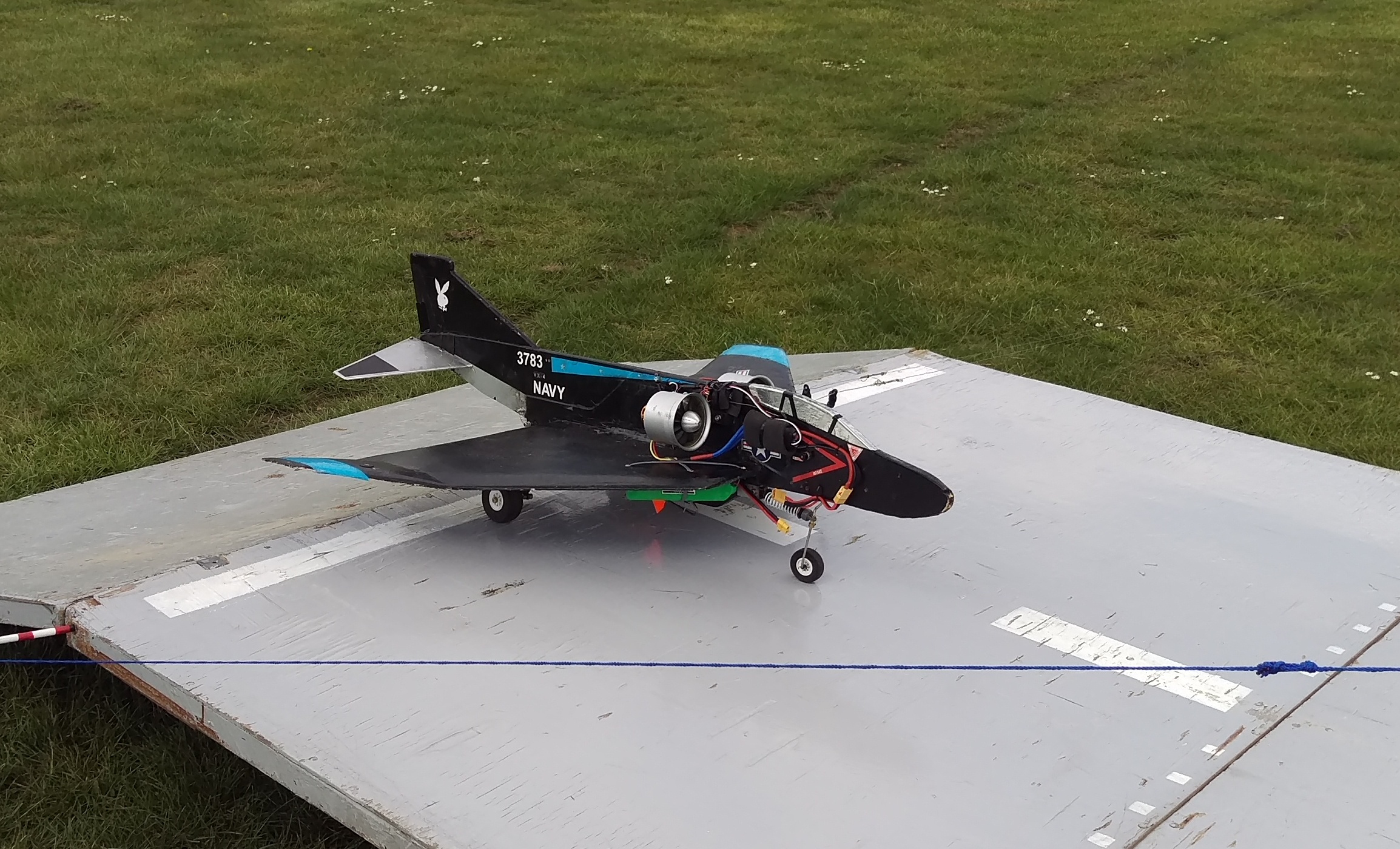 My F4 looked good but had power train problems – hopefully now sorted!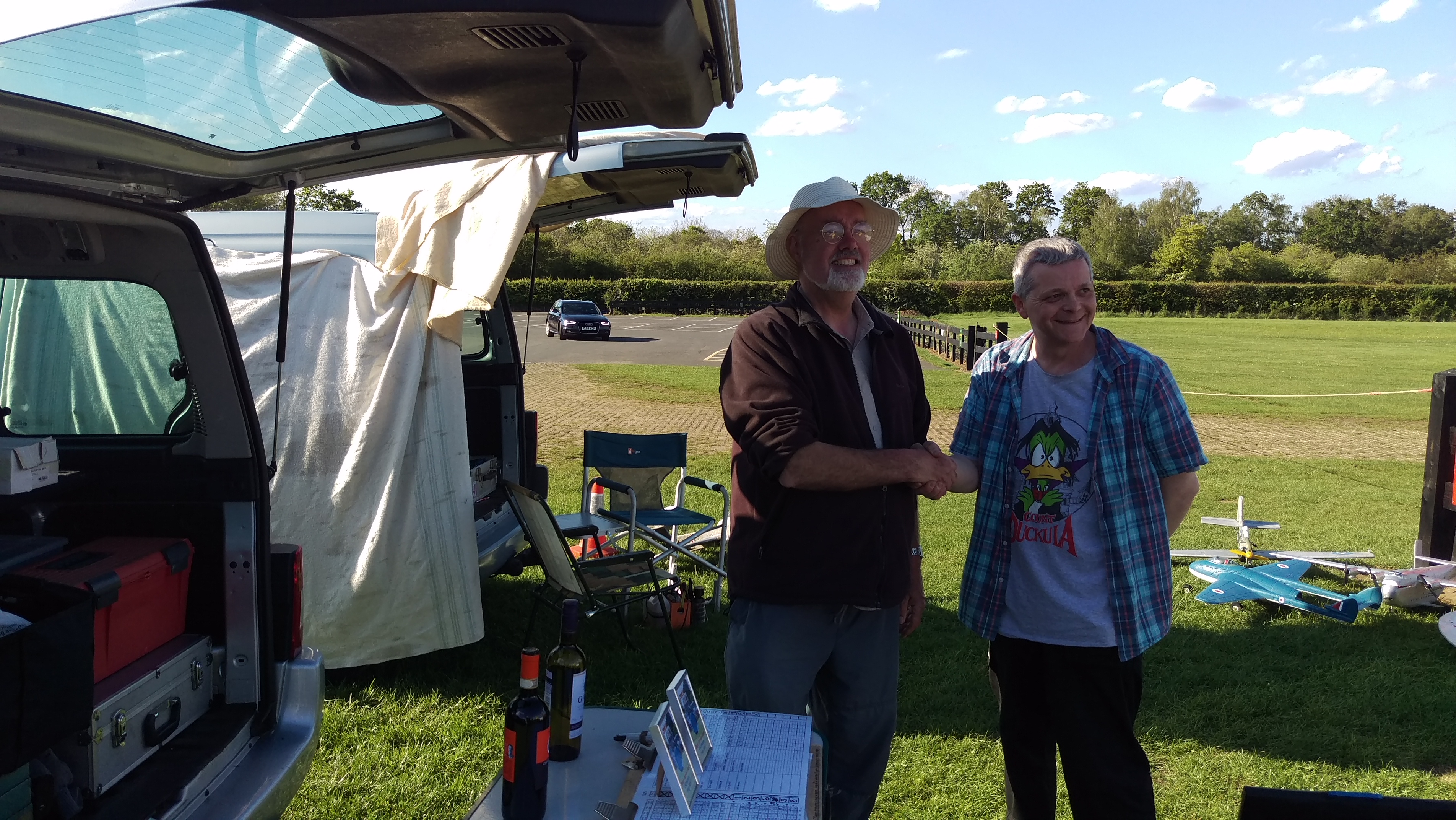 Chris Howell – second place
Nigel Frith – the well-deserved winner!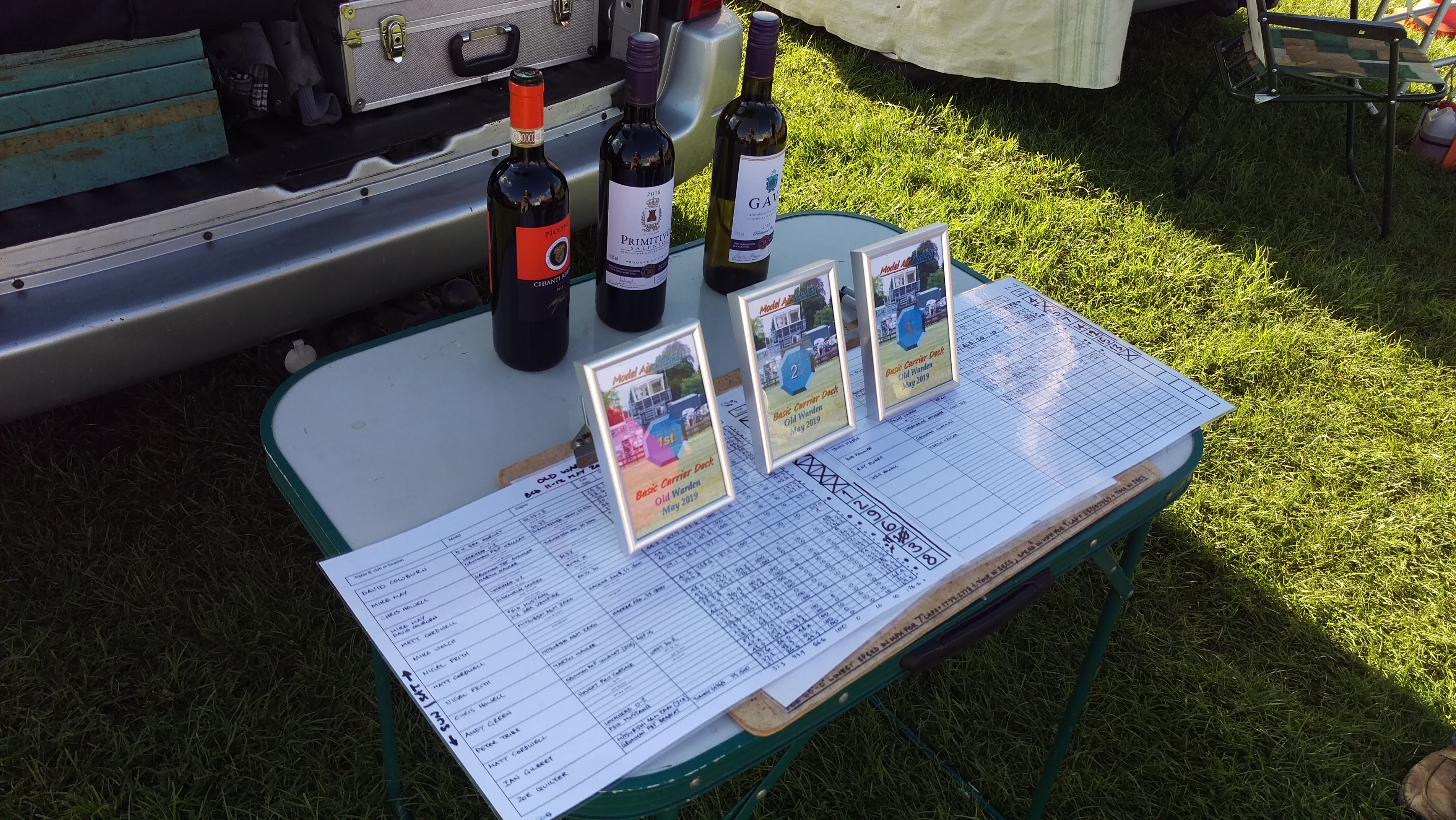 Prizes and Certificates!