---
2016 UK CARRIER NATIONALS RESULTS
Well, a month has now passed since the excitement of the 2016 UK Carrier Nationals! It's the first time in many years that the BMFA Nats have been held at multiple dispersed locations away from RAF Barkston Heath, due to the non-availability of that venue. The carrier contingent voted to hold their own mini-Nats at Old Warden during the September Festival of Flight, which is a great event in its own right with camping, catering, trade stands and easy access for carrier (not to mention being right opposite the loos – excellent positioning for those of a certain age!)
Andy Housden had worked extremely hard beforehand to ensure that all the infrastructure would be in place; this meant getting two decks and two sets of timekeepers and judges organised, sending out information leaflets to all potential; competitors, liaising with the BMFA to get certificates for the first three in each class…the list goes on and on. Also very worthy of mention are the dozen or so helpers who did everything from shifting the decks around to timekeeping – you know who you are!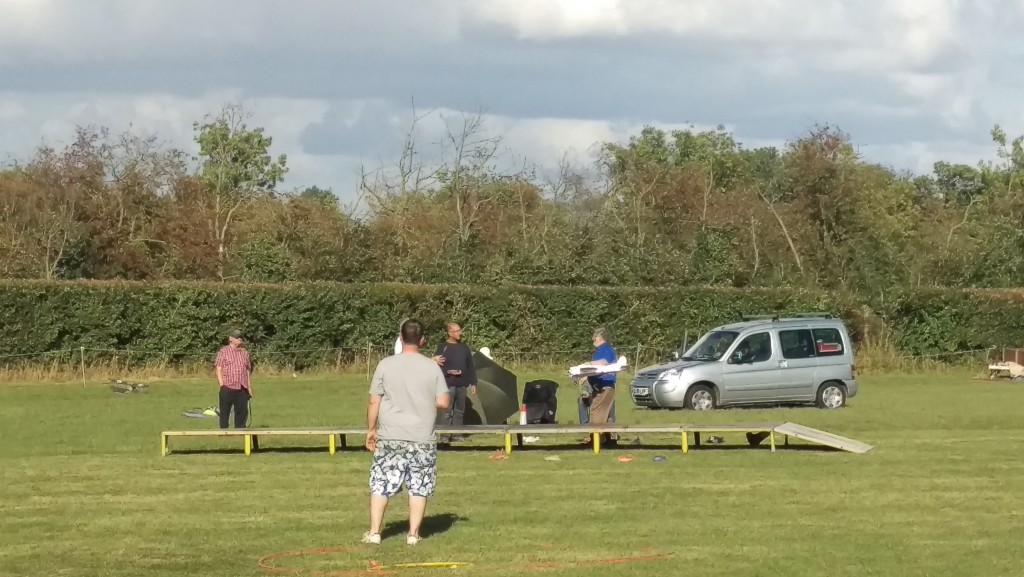 Setting it all up – HMS Incredible and its dedicated team of dockyard mateys
The only downside to OW is the restriction of model flying to 10.00 – 17:00, with no setup before 10:00 on Saturday. With two decks and two sets of pits to lay out, flying couldn't start until just before 11am. As it happened this wasn't a problem because several booked-in contestants didn't appear – or didn't aviate – mainly because of the flying conditions. Right from the start, it was clear that the weather wasn't going to cooperate – not that it rained, except overnight Saturday/Sunday which made camping less pleasant than it might have been, but the wind was cold, strong and gusty (up to 30mph). This meant that only the brave, skilled or foolhardy attempted to get airborne, with some successes and some epic crashes, leaving the contest wide open for those attending on Sunday.
BCD – SATURDAY 24th – HMS Incredible
First to fly from HMS Incredible was David Cowburn, with one of his trademark U2 models (SC32 powered), flying twice to log a best of 146.6, which turned out to be the second highest score of the day on this deck and fifth overall on Saturday – not many other competitors got a 100 point landing, but David did – he's seen below looking quietly confident behind your correspondent's fleet and its support kit – hmmm!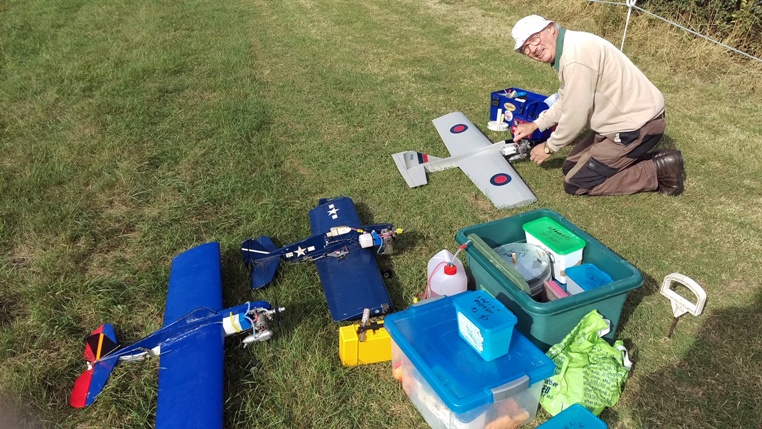 David Cowburn with his U2
Ollie Harris is one of our youngest fliers this season, and is getting better all the time. He got himself onto the scoreboard (35.66) with his Boeing Biplane model's first flight, which is more than many did (including his dad Paul, who scored 'nul points' with his Hellcat!), although the wind robbed him of a landing score.
Ollie Harris and Boeing Biplane
Paul Stubbs flew his Enya 40-powered classic Housden Hellcat for a best score of 109.92 – three missed approaches on this flight indicated the difficulty we all had (except the 'chosen ones'!) in managing the downwind approach in winds gusting unpredictably from 5-30 mph – Paul did the right thing, losing 15 points to be sure of getting the full 100 for a good landing.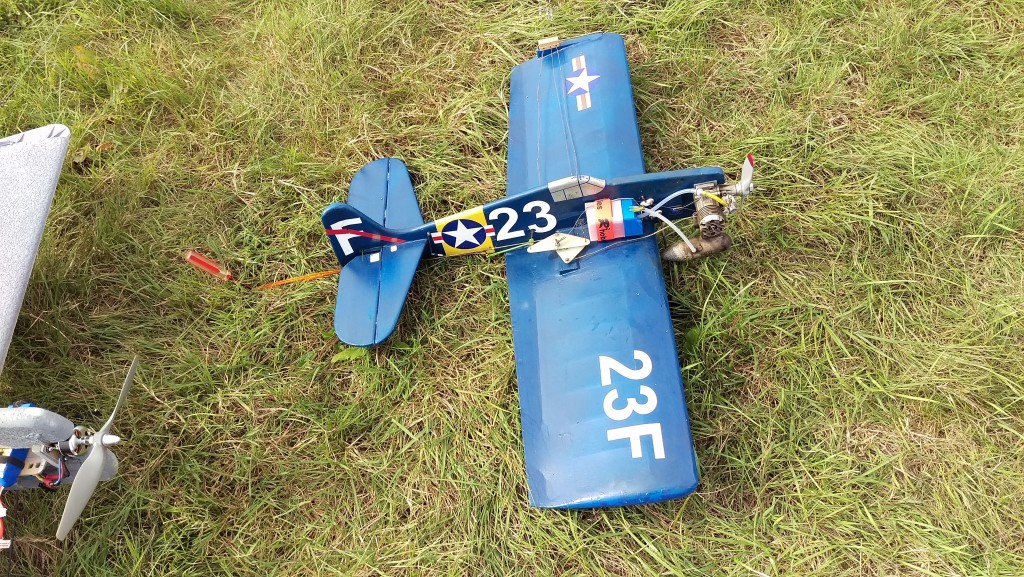 Paul Stubbs's Hellcat
Chris Howell brought his full squadron with him, – his speedy Bf109T and EPP (?Fireball?) aka 'The Flying Doormat'. It really wasn't a day for flying lightweight, bendy aircraft like the Fireball, although Chris gave it a go, resulting in a DQ for flying backwards! His trusty Bf109T then made 111.5 points. Anything less than 200 points for Chris nowadays is surprising and again, indicates how tricky the conditions were…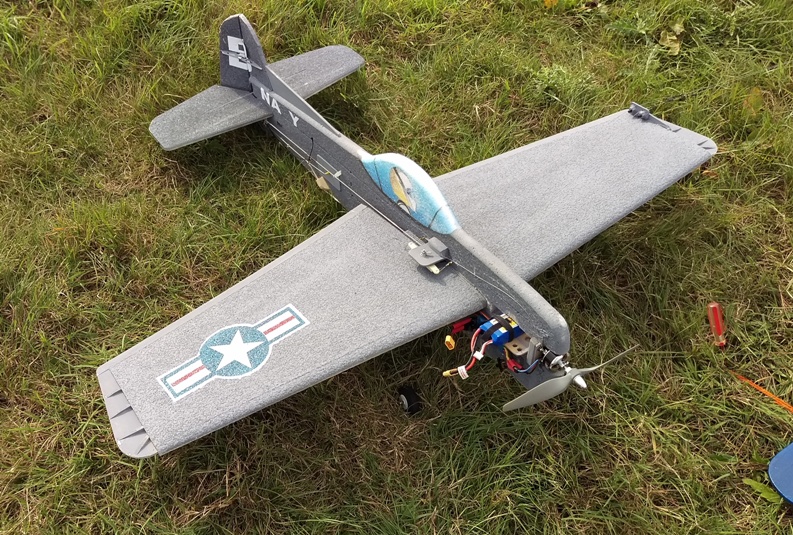 Chris Howell's Wildcat
It's been said that Nigel Frith started a whole new trend in BCD last year with his combat-wing-based Zero. Its ultra-light EPP, carbon rod construction and Hacker A30 electric motor has proven to be a winning combination in many events, but some of the older guard have been heard in the pits muttering things like "Just wait til he tries to fly it in a blow!". To his credit Nigel gave it a go, but it just didn't work out for him. His best score was 89.24, with no points for landing, about 200 points short of his best, picking up some damage as well. However, never write off a man wearing scarlet shoes! Sunday was a much better day for him…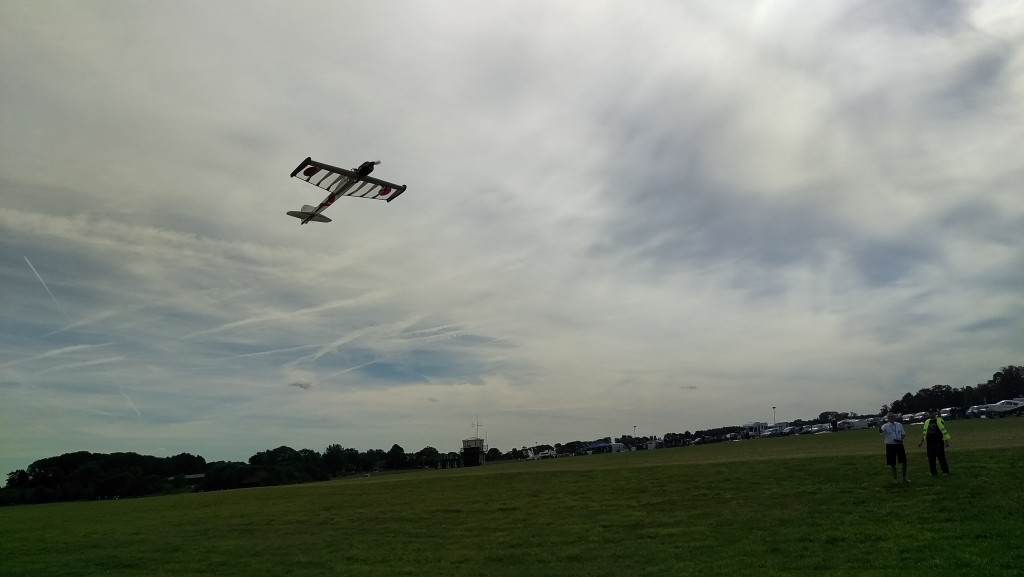 Nigel Frith's Zero against that darkling sky…
Next on deck was Chris Hague, all the way from Flyco's own territory in the south-west.His Spearfish (West 36 reverse rotation) ditched on its first flight, but made it back to the carrier on the second, admittedly leaving its model pilot a bit shaken up in a high speed minimum-point 'deck interface event', but today 76.35 points was something to be proud of, as indeed is his very nice model.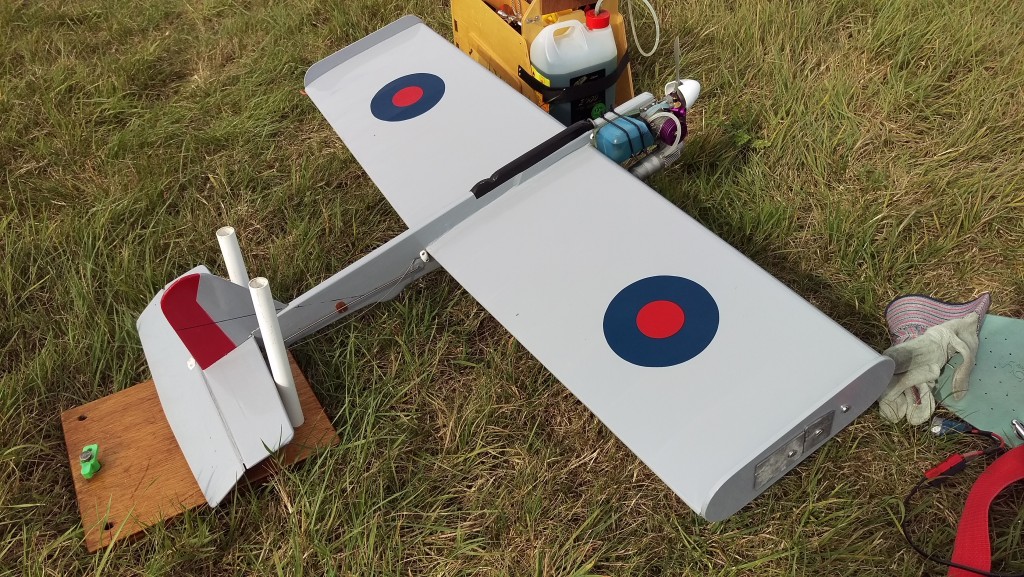 Chris Hague's Spearfish – very nicely made – spot the anti-stall wing-tps!
Earlier I mentioned 'The Chosen Ones' – so who are they? I'll leave you to think that one over and make up your own list, but for me Jan Odeyn is definitely on mine – able to fly in just about any conditions and still make a good score. Of late, in calm conditions, he's struggled to beat the new type of ultra-light model with his classic Tigercat or 5-engined "Not Fleet Shadower" but today was definitely NOT calm…He flew the his Tigercat (recently rebuilt from a CAT 5 crash) as if the wind was just an inconvenience – two perfect landings returned 176.4 and 182,7 points, leaving him deck champion for the day.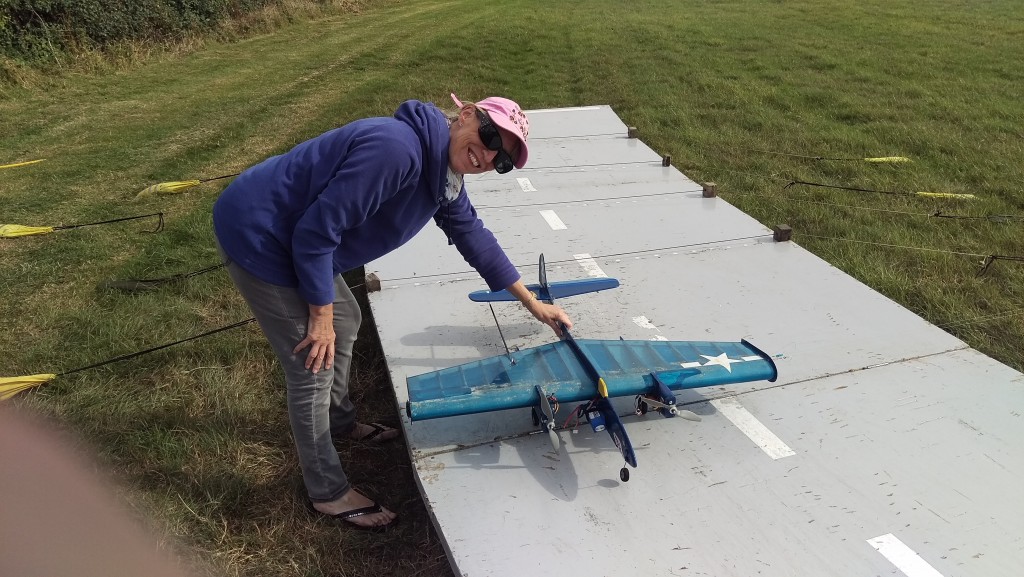 Mrs Flyco (Jane) assists Jan pre-launch…
Unusual sight on Saturday – an arrested landing (by Jan of course)!
Following Jan came Ray Ewart, with his beautifully finished Fairey Firefly powered by a Super Tigre .51 – now the biggest engine on the circuit after the demise of my Webra .61 powered MO-1! It certainly shifts (fastest "fast 7" in a fully completed flight – 24.03), and is a model capable of taking a prize in a profile scale competition too, I'm sure. Despite all these positives, Ray was caught out by the windy conditions and only made 102.5 points on his one flight due to a zero-point landing –  a real shame, although he was 5th on this deck on Saturday.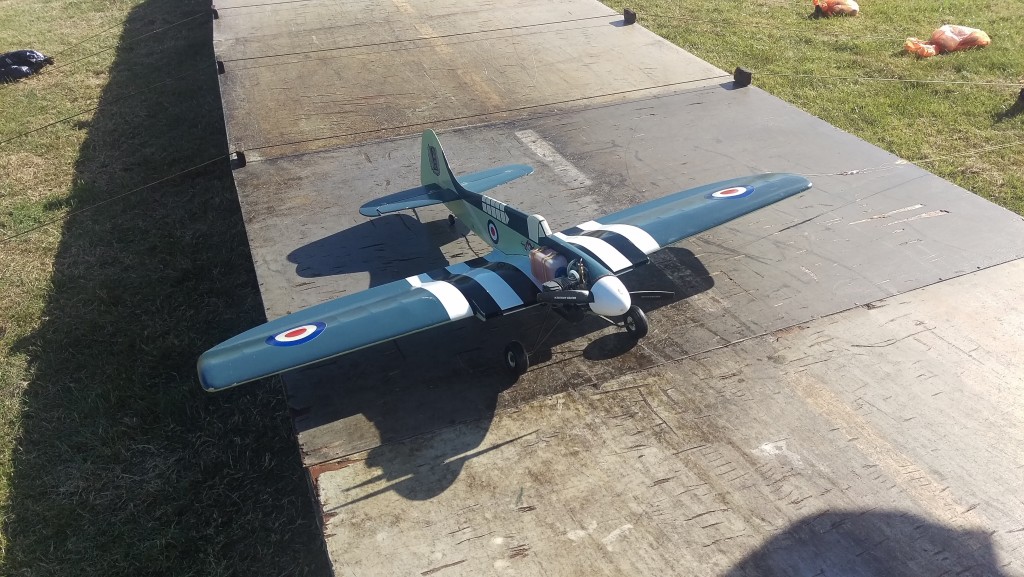 Ray Ewart's Firefly
The final Saturday BCD competitor on HMS Incredible was Peter Tribe, a chap who would definitely be one of my "Chosen Ones", flying a new model and one of my favourite designs, a Grumman Skyrocket instead of his usual Meteor. This may have accounted for his lower than usual scores, with of course the windy conditions not helping, In fact, it's the first time I've ever known Peter fail to get landing points, but things improved greatly for him on the Sunday, so his two 55 point scores on HMS Incredible didn't really matter.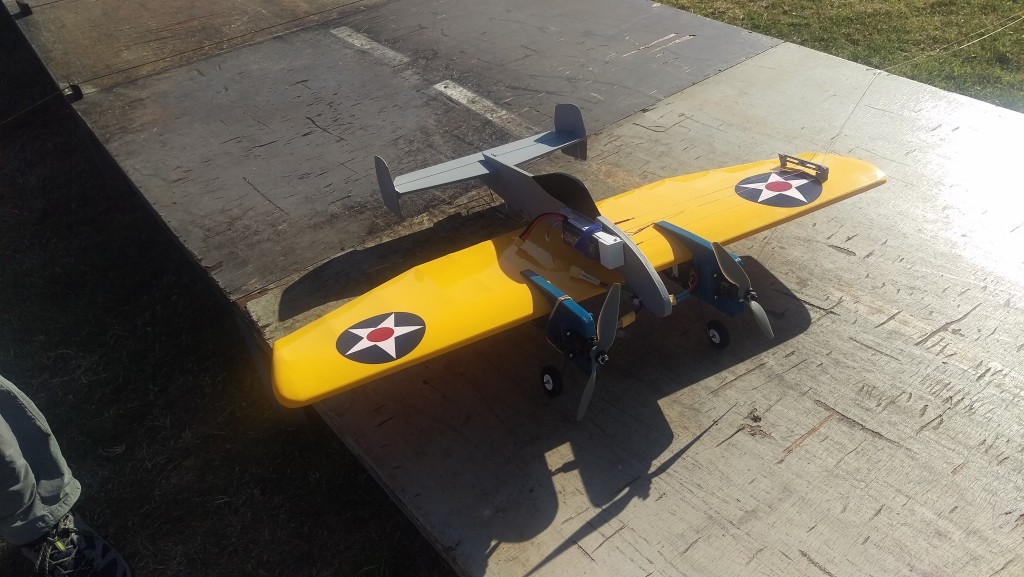 Peter Tribe's pretty Skyrocket – another very nice model!
BCD – SATURDAY 24th – HMS PERSEVERANCE
Meanwhile, over on HMS Perseverance, ten doughty pilots pulled on their flying trousers and prepared themselves to do battle with the elements. First to launch was Ian Gilbert with his Spearfish (ASP 25 powered). The 2015 champion played a cautious game, but mastered the wind and was pleased to notch up 191.4 points in the testing conditions.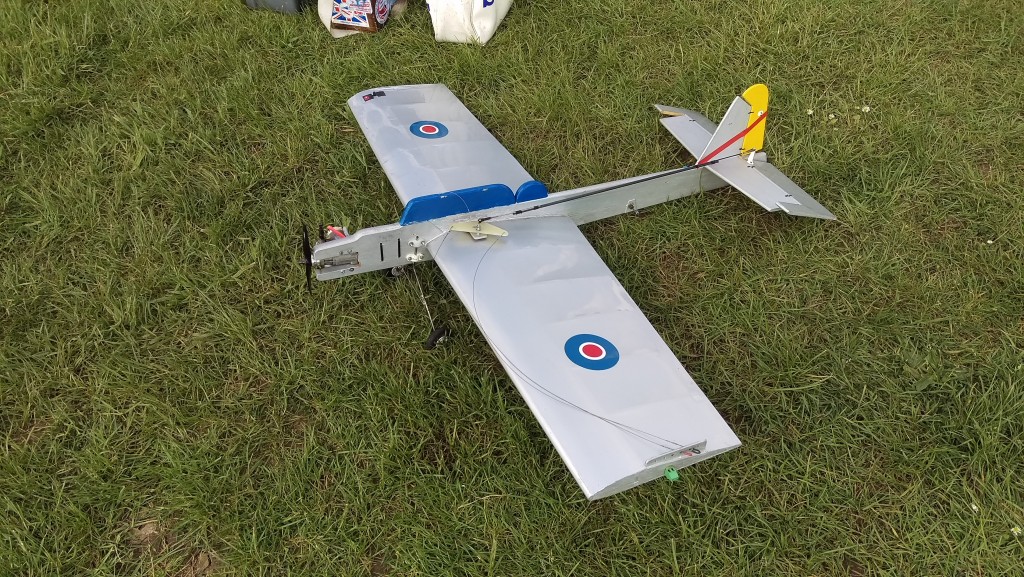 Ian Gilbert's Spearfish
Andy Green was heavily involved in running the event and decided not to fly his Sea Vampire on Saturday, so next up was Dave Holmes with his smart and speedy Seamew. Any plane that can fly the "fast 7" in 25 seconds or less is moving really well and just needs a decent slow set to get up there in the 200s., but it wasn't to be; 58.4 seconds slow and a zero point landing left Dave with 82.8 points, more then many others managed to score but not really competitive – but there was always Sunday to look forward too!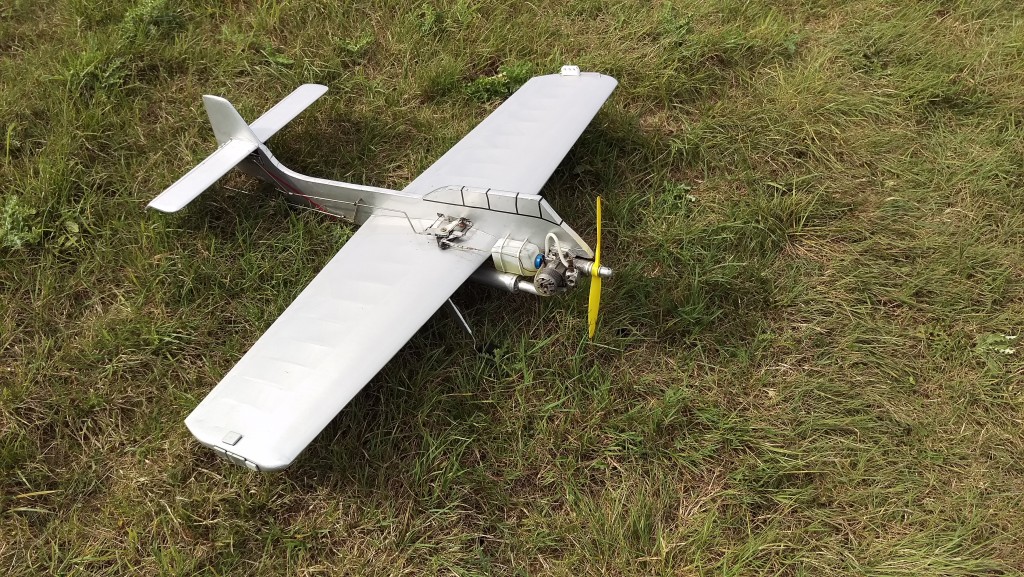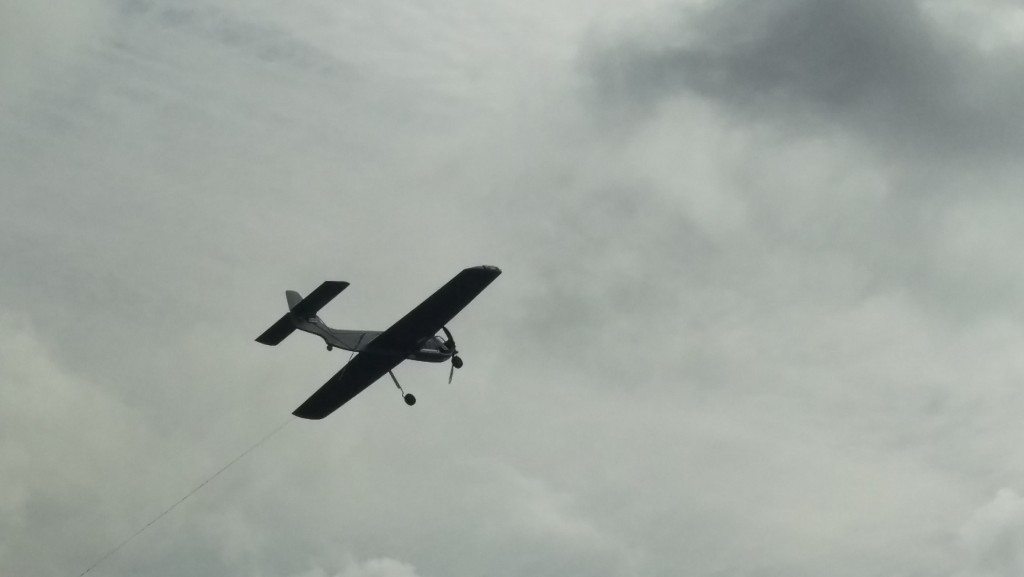 Dave Holmes's very smart Seamew
Nigel Crabtree decided to fly his electrically-powered Guardian, and it rewarded him with a very reasonable 168.1 points, a flight during which he was trying hard as he managed to pick up two warnings! Unfortunately your correspondent didn't manage to get a picture of Nigel's model, as he was preparing for his own flight which was next on the deck..
The less said about Flyco's Hellcat antics the better. Having brought the wrong set of lines with me I found to my horror that my extra link "corrections" didn't work as expected, and I had minimal down elevator. Risking all because time was running out, I launched into the teeth of a yachtsman's gale using a model with a flat-bottom wing profile, resulted in ballooning and fuel starvation on the first two take-offs, then three consecutive loops and a severe augering on the third.Oh dear, I said – or something like that…
Moving swiftly on, John Green brought not one but two Crusaders to the Nats – his vintage original and a new build. He had some real success with the golden oldie at OW last year, winning the September contest, which proves that in capable hands like his it's a design that can deliver a lot of points. I chatted to Jon about the two models, which were built to his own design. He said that he was still getting used to the new one although it clearly had potential, but he was flying the battle-scarred original due to the unpredictable weather conditions. Alas, he ditched on the slow segment on his first flight and decided not to continue in order to  preserve his fleet for better conditions predicted for the Sunday.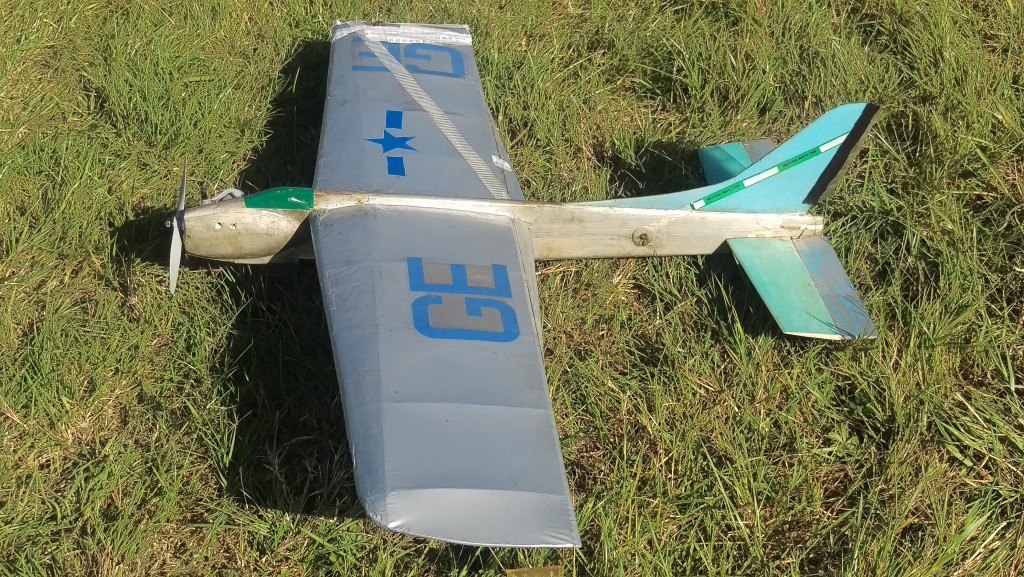 John's original Crusader (SC 25) bearing its honourable battle scars well…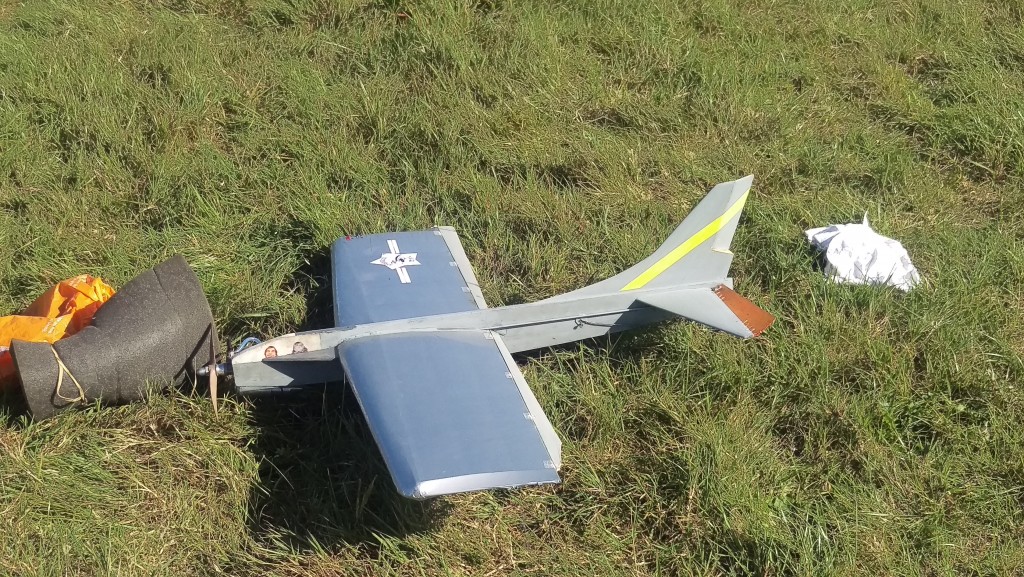 …and the new version (I like the cockpit with authentic aircrew!)…
David Goddard followed John onto the ramp with his Fairey Barracuda, but he left almost immediately; after ditching on the slow segment he decided to wait until Sunday before risking more damage – unfortunately I have no pix of Dave's flying as I was trying to repair my nearly unrepairable looping Hellcat!
Mike Welch is a perennial superstar on the carrier scene, seems to have a hangar-full of interesting models and always more on his drawing and building-boards.He decided to campaign his Blackburn Firebrand (SC 29) despite one of its fixed flaps going missing and launched confidently, completing a fast and slow segment only to be disqualified by going backwards into the teeth of the gale. Learning from this, Mike had more success the second time despite four missed approaches, eventually settling for a conservative but bankable score of 145.9 – even that included a warning. Conditions can best be imagined by looking at the top-drawer pilots who fared even worse than Mike – truly it wasn't a day for heroics…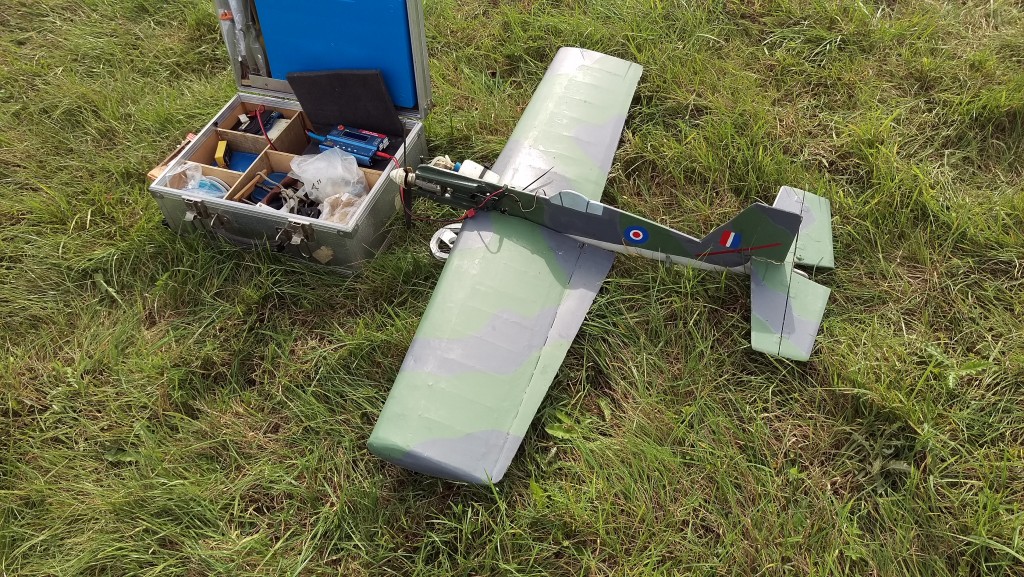 Mike Welch's partially flapless Firebrand – did the other one ever turn up – was it ever there?
CLASS 1 – SATURDAY 24th – BOTH DECKS

There was an unusually large entry for Class 1 over the weekend, but most fliers decided to wait until the better weather predicted for Sunday before risking their creations in the windy conditions. Due to the arcane rules for calculating Class 1 scores, it wasn't possible for normal mortals to work out the scores until Andy had applied his abacus and measuring-stick to the figures on the sheets just before the prize-giving on Sunday!
HMS PERSEVERANCE
Paul Stubbs tried out his Hellcat (ST40) twice, but ditched twice. Mike Welch did much better with his Sopwith Pup, racking up some landing points on his two flights (the only pilot to do so). Andy Housden then borrowed Mike's Pup and also scored flying, but no landing points, whereas Dave Holmes's rather beautiful Sopwith One-and-a-half Strutter made no impression on the scoreboard at all – it may be that Dave decided at the last minute not to risk the many hours of work he'd put in to the model by flying it in such adverse conditions – and who could blame him?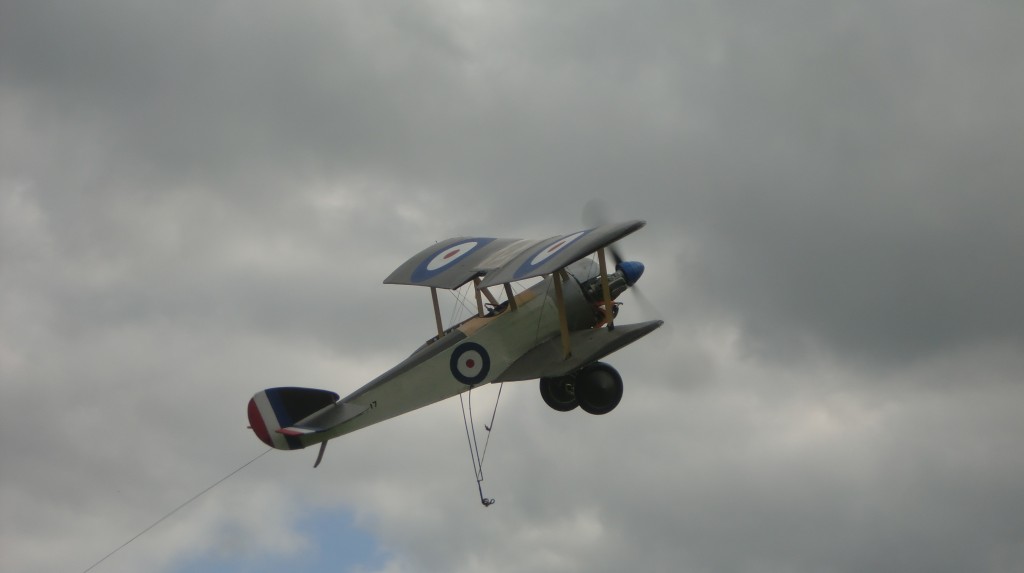 Mike Welch's classic Class 1 Sopwith Pup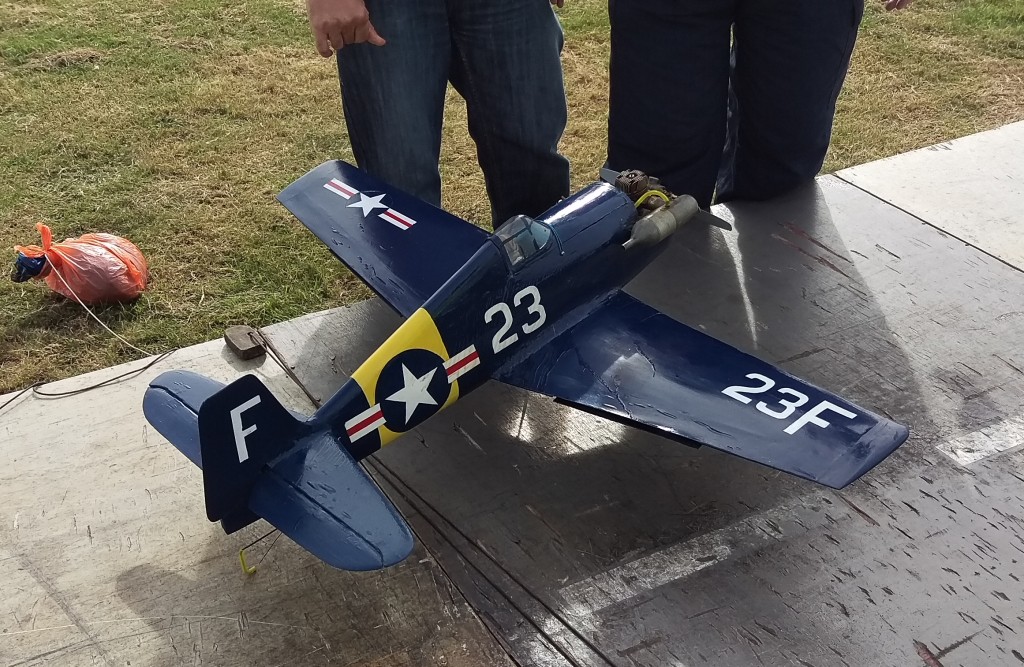 Paul Stubbs Class 1 Wildcat
HMS INCREDIBLE
Although six pilots registered to fly Class one on HMS Incredible, only two gave it a go, Chris Hague circulated with his MO-1 (OS 40FP) notching up points but no landing bonus, while Flyco tried his profile Hellcat more as a way of checking out his repairs to the elevator than in any hope of scoring. as he knew that he would lose100 points immediately for not having a full-bodied fuselage.On the credit side, the elevators worked perfectly, but on the debit side he did actually run up (?down) a final score of minus 5 points (missed approach plus a ditching…is this some kind of record?
THE HALFWAY POINT!
Wth that epic finale from Flyco, we came to the end of the proceedings on Saturday 24th September. No-one who was there will ever forget the appallingly windy and treacherous conditions for any kind of model flying;  Carrier was just about the only aviating going on for much of the time. We all retired to our tents, caravans and hotels to take stock of the damage, do repairs and hope for a better Sunday – but the exciting thing was, of course, that because of the weather this had become the most unpredictable and open Carrier Nationals since Pontius was a Pilot!
BCD – SUNDAY 25th – HMS Incredible
I seem to remember that there was some torrential rain in the middle of the night but I might have dreamed it while half-asleep in my Premier Inn kingsize bed – ah, the privations of the reporter! Whatever, the worst of the previous day's wind was over when I returned to OW on Sunday, although it was still breezy.
The plan was for the competitors to swap decks between Day 1 and Day 2, so that any nuances of judging or windshear would be evened out, and this worked pretty well. Another change was that all the Class 1 flights on Sunday were made from HMS Perseverance, thus saving time swapping out the 1-metre and 3-metre centre circles and taxing two sets of judges with applying two different sets of rules. Before any flying could take  place the two decks had to be repositioned through about 90 degrees to accommodate the overnight wind shift – it wasn't so strong, but still flukey and blowing right down the runway onto the decks.
Ian Gilbert led off with his Spearfish, but despite his best efforts the reigning UK champion was unable to improve on his Saturday score, picking up a DQ for "stopping in forward flight" then two ditchings – most unusual for Ian – but would it be enough for him to retain the title?
Andy Green took time out from judging and marshalling to bring his Seafire to the deck. His only flight saw him tally 51.7 points after failing to pick up any landing points – I'd like to sympathise with him because Andy put in a lot of effort on the organisational side, which must have had an adverse effect on his flying when he finally found time to do it – so thank you Andy, from me and everyone else at the event.
Continuing his crusade with his Crusaders, John Green flew next, notching up a much better performance on his second flight with 187.4, which would have just broken the 200 barrier if there hadn't been four missed approaches. His first flight had resulted in a ditching on the slow sector, and his last would have been his best except for a zero point landing which left him with just 98 points. However, his 187.4 propelled John into the top half of the leaderboard – good flying!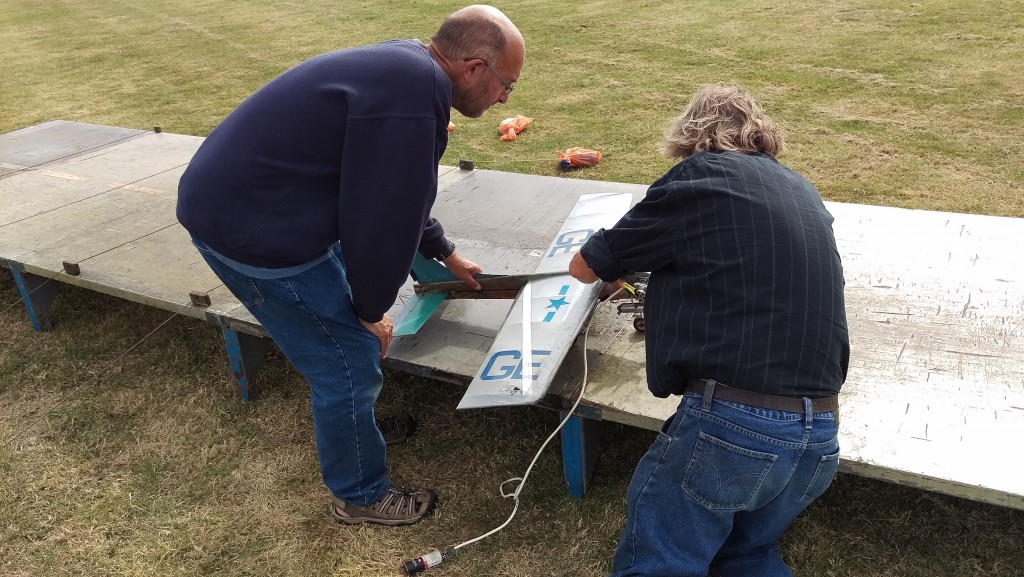 John Green had some starting troubles, but eventually got the Crusader into the air with help from Ian Gilbert
Dave Holmes was looking to improve upon his low score on Saturday and he certainly did that, with a first flight that looked set for a solid 160+ mid-table placing, until it came to the landing. Although Dave did get his Seamew back onto the deck eventually for a 100 point landing, he also notched up an unwanted record for the most missed approaches this year, with no less than six. The resulting 30-point deduction left him with just 134 – so he tried another flight to improve matters, but this time, although his speed difference was 20 points better, he went off the deck after five missed approaches for "nul points". One thing's pretty certain, 11 missed approaches in two consecutive flights must be challenging for an all-time record!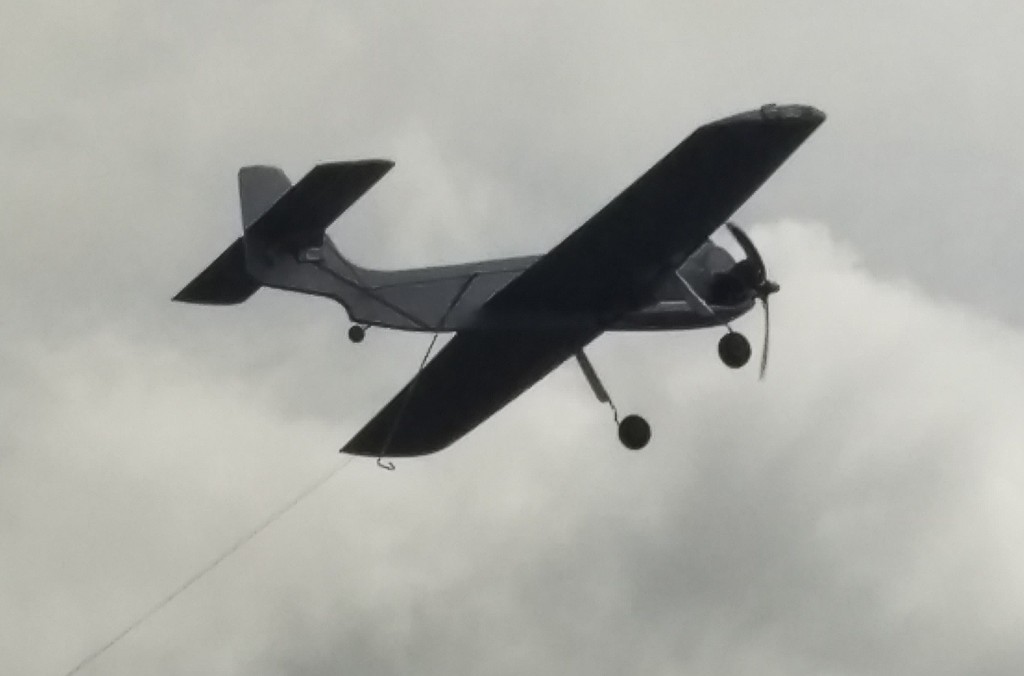 Dave Holmes's Seamew – the plane that didn't want to land!
Talking of Seamews, I was getting worried that Andy Housden's battle-worn example might not perform one of its usual miracles by a) flying and b) harvesting enough points to propel its pilot into the top five. How silly was I being? Despite taking on all the stress of organising Carrier's biggest weekend of the year and dealing with all the niggles on the day, Andy calmly fired up the OS40, stepped into the circle and delivered two virtually identical flights,separated by just half a point – 204.9 and 204.5 – identical even to the extent of both incurring two AoA warnings! Full respect, Andy!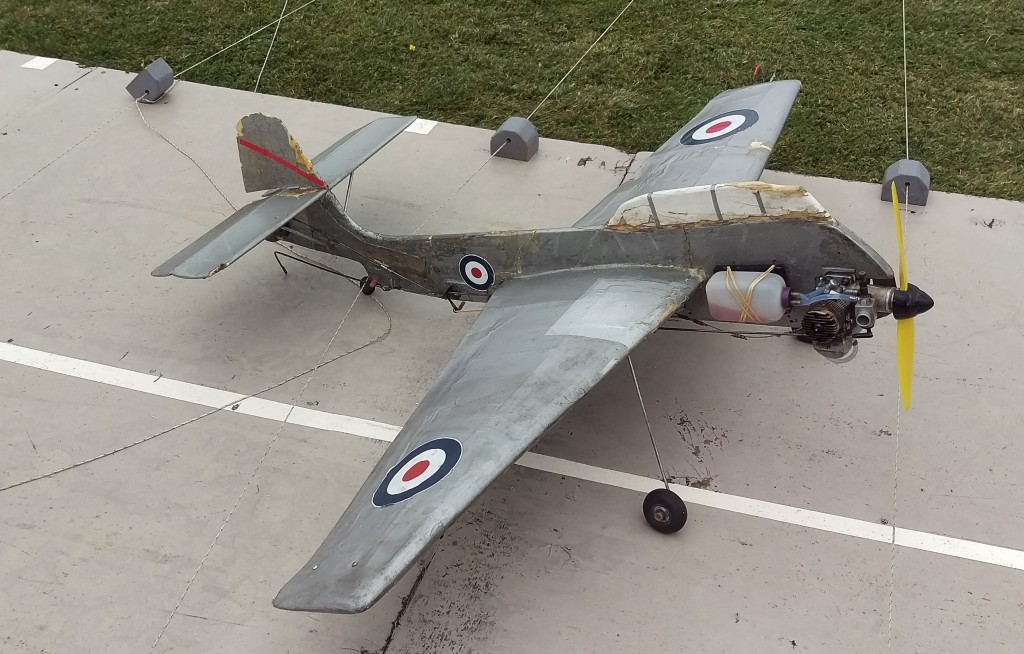 "Old Faithful" – Andy Housden's Seamew pulled off another excellent flight
Mike Welch returned next with his semi-flapped Firebrand (Hmm – thinks: was the "lost" flap just a very clever way of getting more lift on the inside wing for circle roll-out?!) Mike put in two workmanlike flights, netting a best of 178.2 with no dramas – by this time I believe that most fliers had realised that this was their last chance to get a competitve flight on the scoreboard, but it wasn't worth taking excessive risks – the wind was still flukey and there would be no second chances! Mike's score took him well up into the top half of the competition, and he seemed happy with that.
Matt Cordwell (the very nice chap who entered an interesting F18 model earlier in the year) made one flight with a Bf109T – I'm not sure whether it was his own or borrowed – but unfortunately he got no further than a scoreless attempt – a real shame as it would be great to see a new competitor have some success – maybe next year, Matt?
Nigel Crabtree then stepped up to the circle with his Guardian in an attempt to improve upon his 168.1 on Saturday, but it wasn't to be. A poor landing (40 points) and a missed approach -5 points) robbed him of 65 points on his first flight – and that was the difference between Nigel taking third instead of tenth place! His other attempts both ended in ditchings, but at least he held onto his top-ten score. It's a sobering thought that landing a few inches off the perfect line can have such a disastrous effect on a C/L pilot's placing, but then, in full-sized carrier flying, a similar discrepancy scaled-up can mean loss of an aircraft, injury or worse – so full respect to all of carrier fliers in all scales!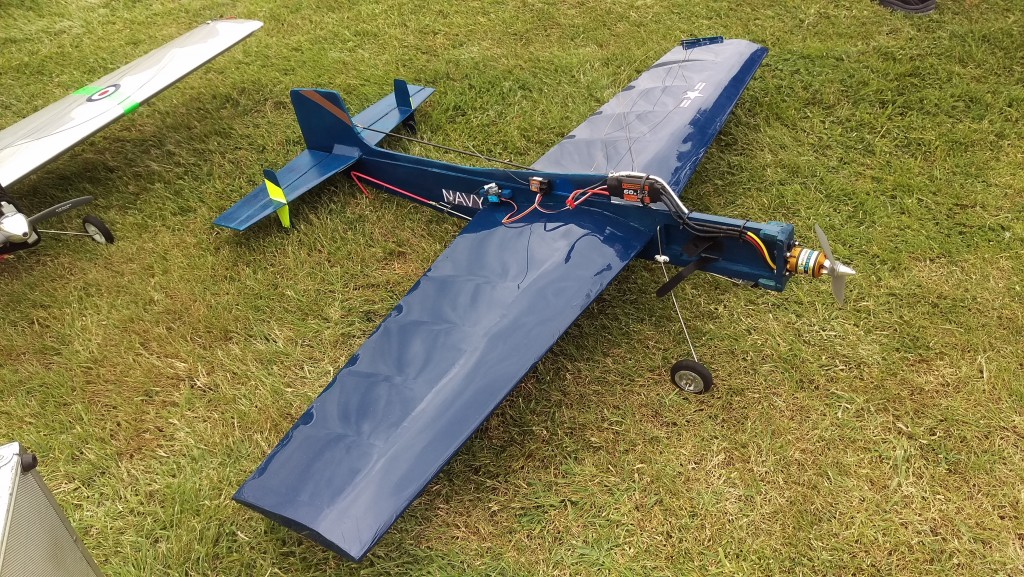 Nigel Crabtree's Guardian
The final competitor on HMS Incredible was Fred Skinner, another carrier stalwart who has raised his game radically over the last two seasons, having built a very competitive version of the US AMA record-holding profile Bf109T – a lovely model. I asked him how he'd managed to achieve this, and the simple answer was "Practice!". Fred is a Barton MFC member and lives very near to the club site which has the best c/l facility in the UK – he takes full advantage of it, and it certainly – well, usually shows! However, on the better of his two flights, Fred did all the hard work on the fast and slow laps, with the slow 7 scoring over 100 , but as for so many other pilots the flukey winds robbed him of any landing points, leaving Fred with a best of 89.8.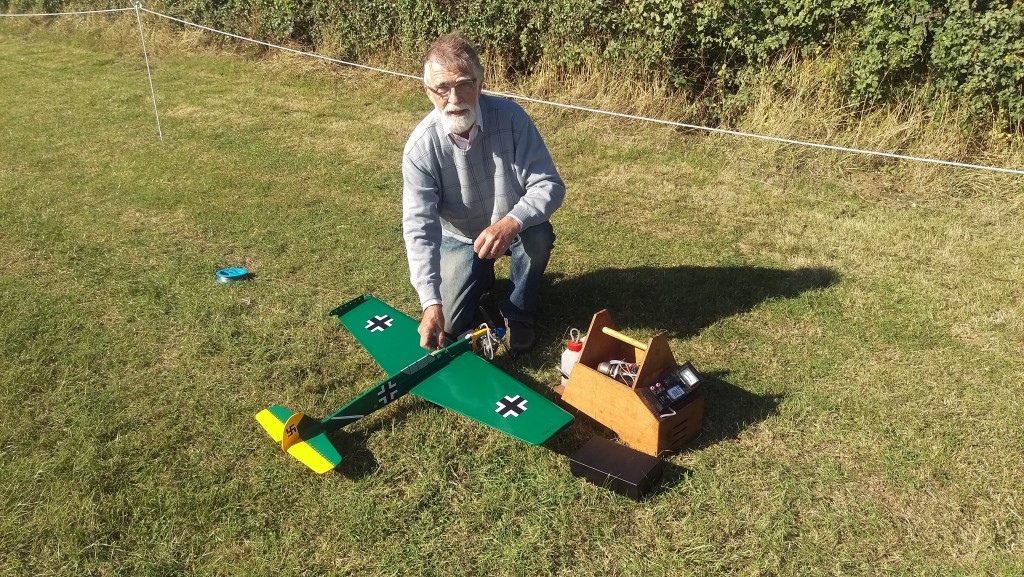 Fred Skinner's immaculate Bf109T – usually very competitve and worth 200+ points
Because there were many missing entrants on this deck's Sunday list (probably due to the unsettled weather)  flying was consolidated onto HMS Perseverance after lunchtime
BCD – SUNDAY 25th – HMS PERSEVERANCE
This session decided most of the final placings for BCD. David Cowburn decided to fly his Seafang (Irvine 40) instead of his U2 (maybe a bit less "floaty"?). He had two flights, the first notching up a good speed differential of 45.5 but foiled by the wind with zero points for landing, His last attempt worked out much better, with less differential but a full 100 point landing, netting David 154 points.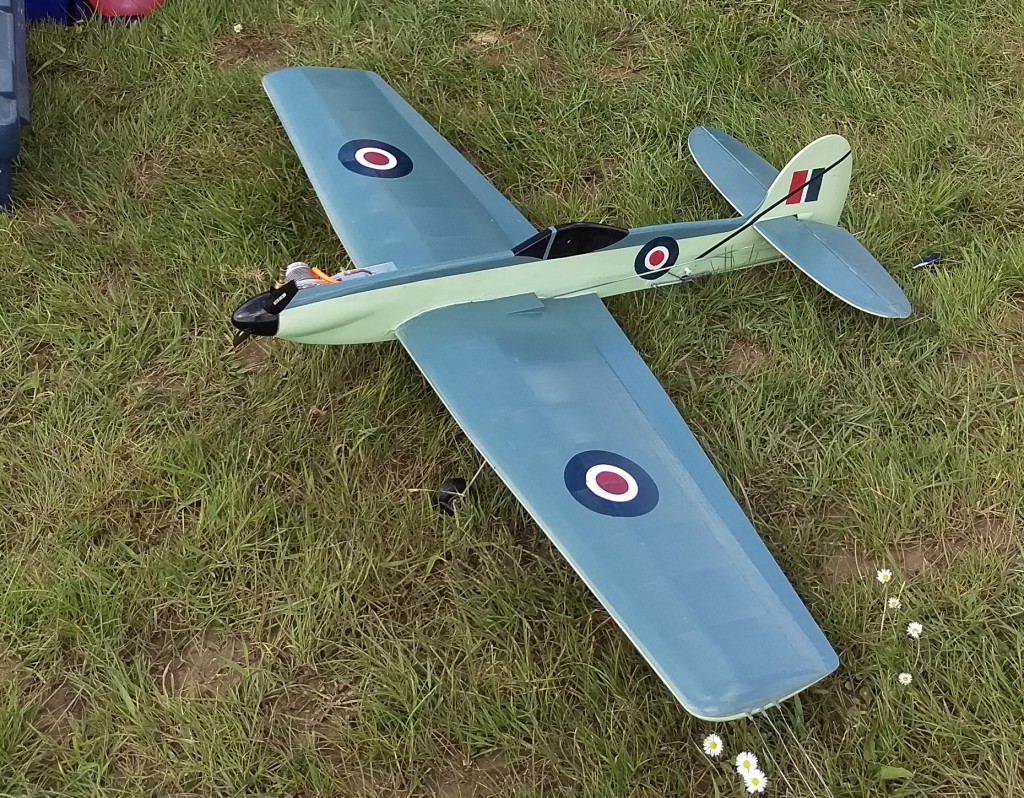 David Cowburn's Seafang
Chris Howell already had a modest score in the bag (111 with his Bf109T on Saturday) but decided to go for broke with his radical C/L converted HobbyKing EPP R/C YAK – you know, the one with that rather tactile "brushed doormat" finish. This model is ultra-light and electrically powered, taking the Nigel Frith theme even further into the future. With some excellent results already behind him, Chris was gambling upon the wind being steady enough to give his model a chance at glory, and that's exactly what happened. Chris flew a faultless first flight for 200.3 points, then used his second to rack up 219.3 with no warnings and no overshoots – that set the target for all the rest of the "Chosen Ones" (and I do include Chris in that elite group!) to overtake.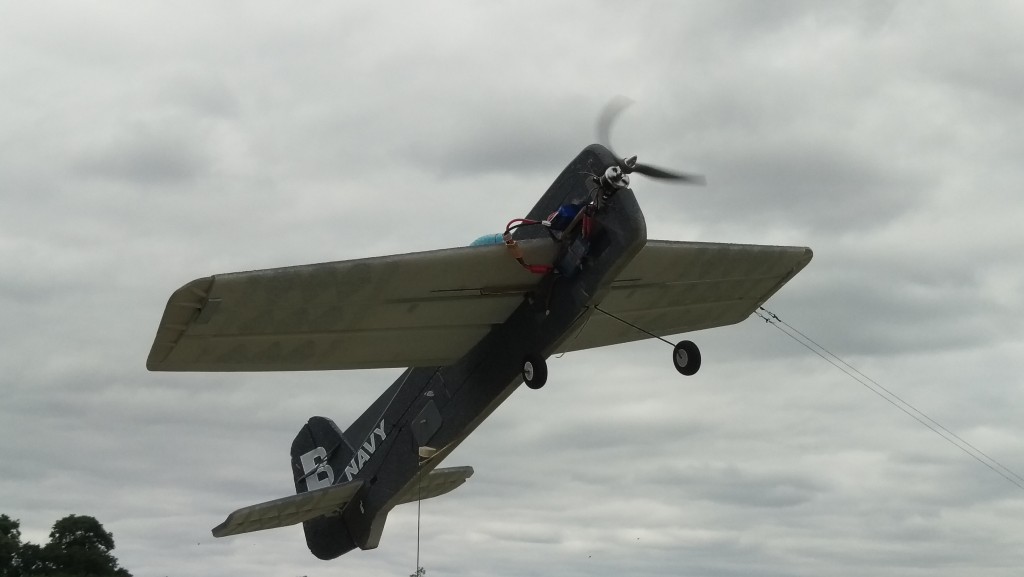 Chris Howell's 'Wildcat' – (surely it can't be a Fireball, no tricycle undercart!)
Next up for BCD was Chris Hague's Spearfish. Chris was hoping for an improvement on Saturday's 76.35 and this he duly got, but with landing points still elusive he had to settle for 89.7, which left him in the lower half of the field.
Jan Odeyn has built and flown many conventional models, and some really "out there" designs too. He brought several models to the Nats, and flew his classic Tigercat on Saturday for 182.7 points. However, with Chris Howell throwing down the gauntlet on Sunday with his excellent 219.3 points , Jan knew that something special was required! So, he chose to fly his five-engined prototype – he has described elsewhere its long and largely fictitious history that indicates it was designed for an uncertain purpose during WW2 by a minor UK factory (and only one – Jan's – was ever built). Now I mistakenly jumped to the conclusion that Jan had based his model on the General Aircraft "Fleet Shadower" – a four-engined monoplane with a big bay window in the nose, designed to fly from WW2 carriers in slow circles looking out for enemy warships, then shadowing them just out of shellfire range. Jan soon set me straight on that – it's NOT based on any known full-sized carrier design – and thereby hangs the tale of why Jan didn't take home the UK NATS BCD trophy this year!
Jan's first flight with the "Not Fleet Shadower" (NFS) was his best – clocking up a splendid 144.4 slow seven, which, with the perfect landing he made should normally have edged Chris Howell into second place by notching up 230.1 points. Even deducting Jan's one missed approach (minus 5 points) he would still have won the competition by 0.8 points with 220.1, but in fact Jan only managed to put 215.1 points on the leaderboard. Why? Simply because his "NFS" wasn't declared as an "FS", thus missing out on the10 points awarded to any model based (however loosely) upon a full-sized carrier prototype – and looking through this season's results, this has happened to Jan at least once before!  Jan's second flight clocked up a still-impressive 203.7, but the moment had passed…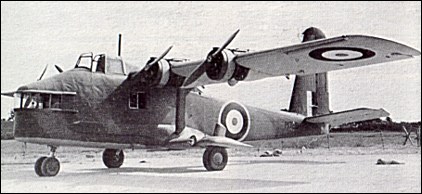 A Full-sized Fleet Shadower!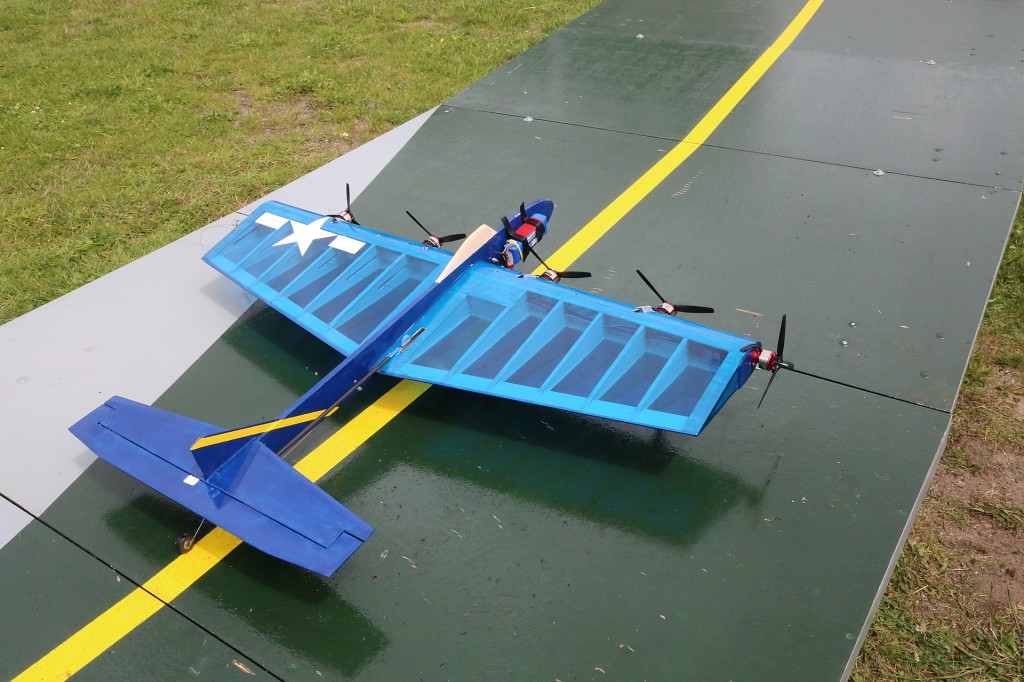 …and Jan's five-engined NOT Fleet Shadower!
Straight after Jan's foray, Nigel Frith returned to the deck to set the record straight – his Zero is a proven winner, and after some emergency repairs after Saturday's difficult weather he was obviously determined to re-establish it at the top of the leaderboard despite the blowy conditions. He made a couple of very good flights, the best of which returned 207.4 points, pushing things to the limit with 2 warnings. It certainly propelled him right into the top zone, but wasn't quite good enough to dislodge either Jan or Chris from the top slots.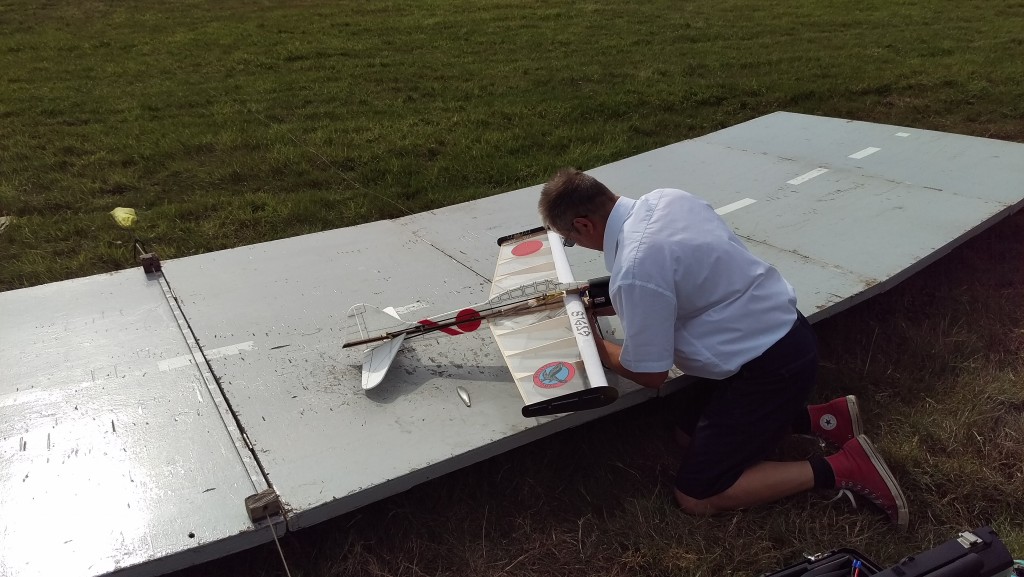 Nigel fettling the Zero before flying it into a podium place – those scarlet flying boots must have helped!
Time was now becoming short for any flier wanting to get onto the results list. Your correspondent Flyco had given up trying to repair his Hellcat and reverted to his own "Old Faithful", the Joe Just Wildcat – no mod cons at all, not even a Brodak 3-line bellcrank, but this model has always made enough face-saving points (i.e. getting us onto the scoreboard somewhere above last place!) when the chips are really down. True to form the OS 40 fired up and dragged the model round for two reasonable flights, the best of which netted 144.2 points thanks to my signature-style 10g landing that hooked all four wires. Phew!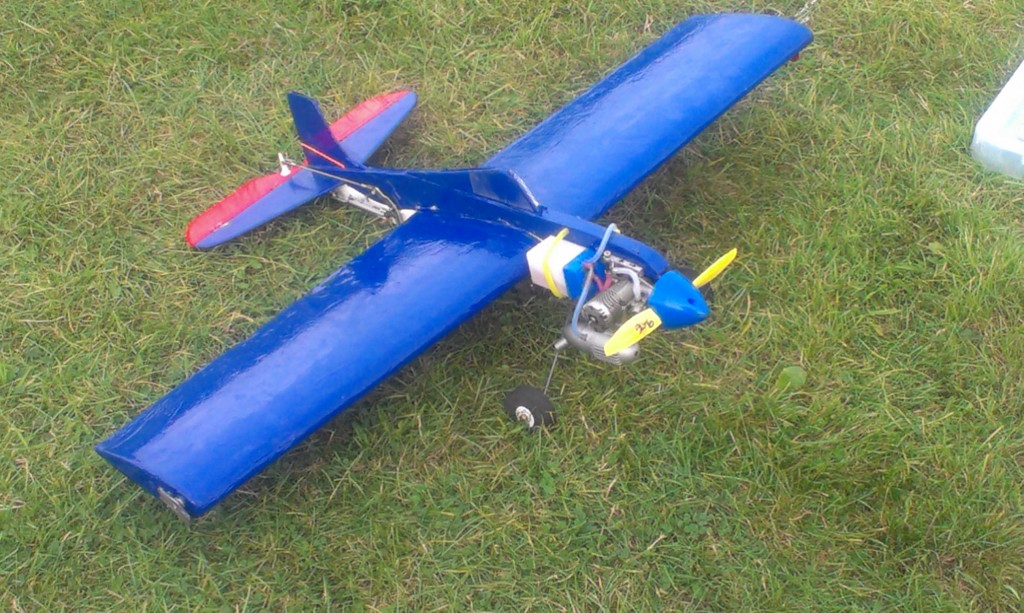 An Oldie but a Goodie – thanks to Joe!
Ollie Harris brought his biplane back after the deck crew had rectified the mess Flyco had made of the wires. His two flights both made scores but landing points were still out of reach – but it's a learning experience; Ollies time differentials were reasonable, so a bit more luck on the final approach should see better results next year. Paul Harris also tried for some points after disappointment on Saturday, but unfortunately ditched twice – Ollie, you'd better give him some tips on how to do this!
Ray Ewart has been very consistent with his superb Firefly, getting enough points to ensure at least a mid-table placing in most meetings so far. Having scored 168.1 on Saturday (no mean feat) he was hoping for a slow segment of around 2 minutes to push his score into the 200-zone, but it didn't work out for him, with each of his wto flights returning scores within one point of each other, the best being 167.9 – just 0.2 less than Saturday – so no change to his final place.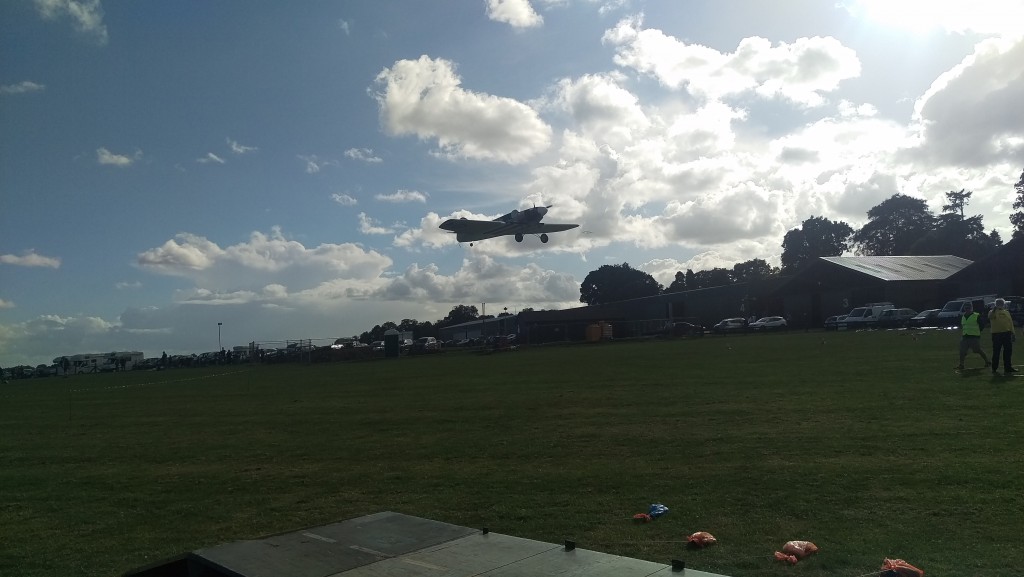 OW atmosphere at its best – Ray's Firefly near the full-sized hangars
This left just two to fly – both in my "Chosen Ones" list. Peter Tribe was first away with his rather desirable Skyrocket (2 x electric), but ditched almost immediately. Cool as always, Peter simply re-launched and turned in an excellent 191.38 to grab a top five place – great flying!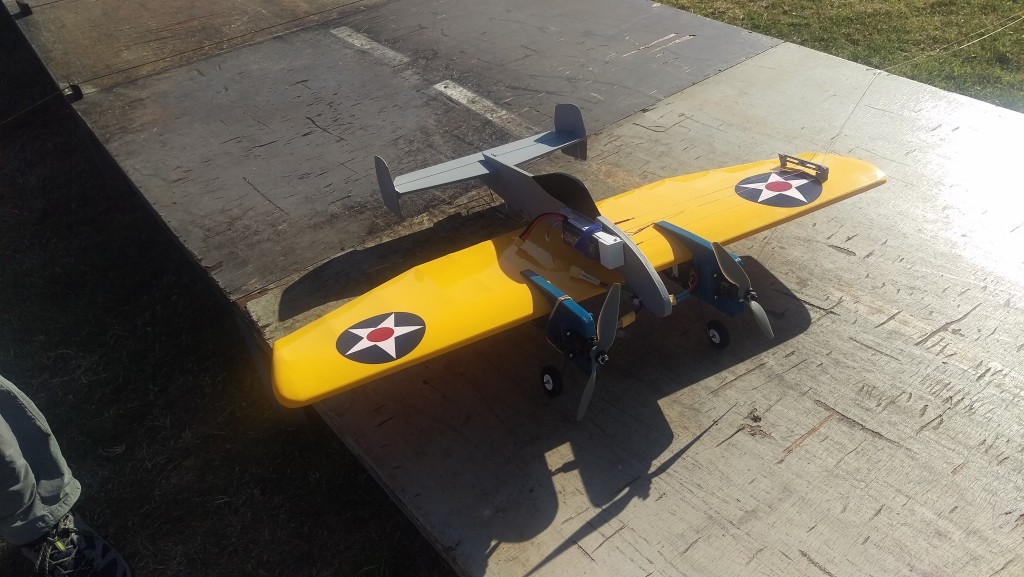 No apologies for re-using my only shot of Peter's Skyrocket – it's just too nice a model not to!
So, on to the grand finale! John Philipps had played a canny game, waiting until the very end of flying to see exactly what he needed to score to win the title of UK NATS champion – the target to beat was, as we now know, Chris Howell's 219.1. John's Sea Hornet has undergone many mods and upgrades to make it a very competitive model indeed. Add to that John's ultra-competitive style and (of course) his essential flying trousers, and I for one thought that he had a real chance of winning.
Unfortunately, his first flight had to be annulled after it became clear that the timekeeper had not stopped his watch and signalled at the conclusion of the seven slow laps – to my knowledge the only instance of this happening all weekend. John then had to land out,get the Hornet back to the deck, replace his batteries and start all over again, under more pressure than ever. Unsurprisingly, his two attempts both ended abruptly on the slow segment by ditching, while he was pushing the model to its absolute limits to get back into the contest. With no further oppportunity to fly, his challenge was therefore over, which some thought was an unsatisfactory ending to what could have been a thrilling finale.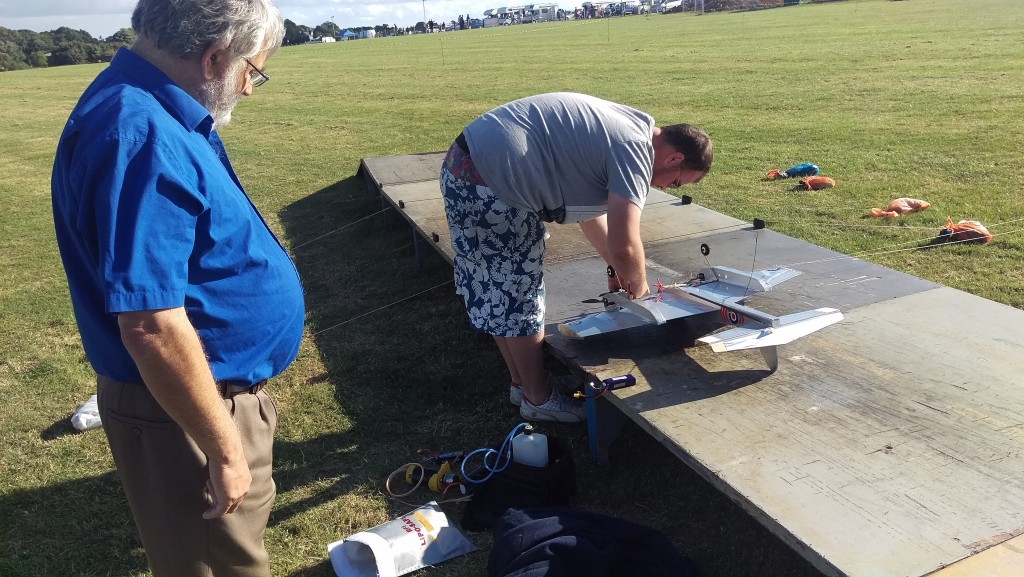 Team Philipps changing that battery during pre-flight preparation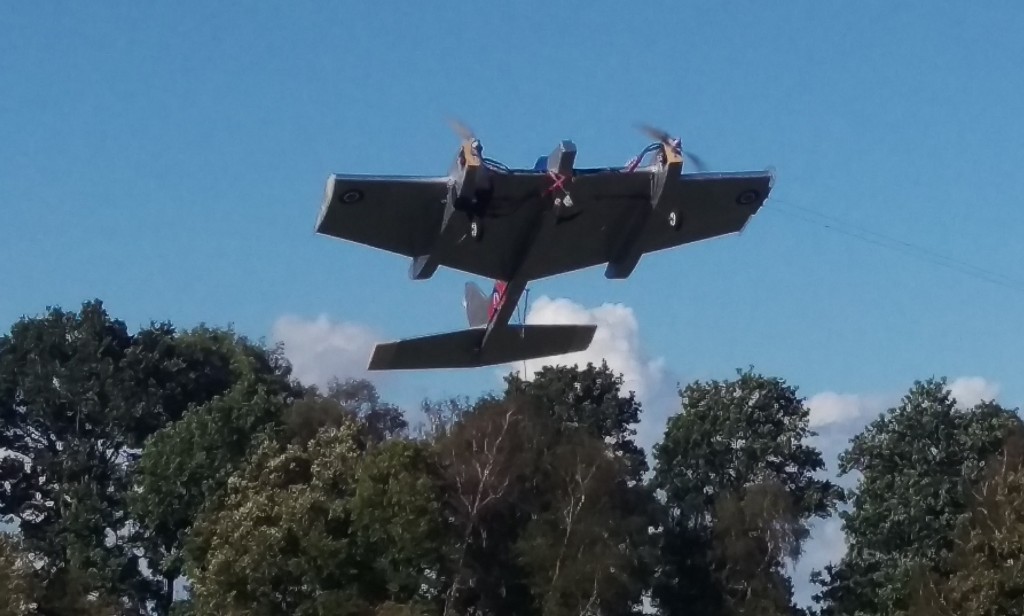 John Philipps's Sea Hornet in loiter mode…
CLASS 1 – SUNDAY 25th – HMS PERSEVERANCE
As I mentioned at the beginning of this report, Class 1 has had a resurgence this year, with 10 entries and eight pilots actually flying at the 2016 NATS. Anyone interested in out-and-out top speed, twirling at a ridiculous speeds inside a one metre circle instead of strolling round a 3-metre one, and the chance to use all the functions forbidden to BCD (flaps, ailerons, moveable CG, line sliders etc) – well anyone who likes a challenge ought to have a go! There's also the black-magic element of working out each competitor's points, based upon mph speeds and an esoteric formula that seems to involve six places of decimals…
Jan Odeyn is the doyen of Class 1, having won many contests before with his electric Martin MO-1. Interestingly, there doesn't seem to be a more competitive model for this class – Eric Conley's MO-1 still holds the US record for points, and Jan keeps winning in Europe with his, so it seems that the low-weight and style evolution we're seeing in BCD hasn't yet caught on with the senior class. Maybe it never will given that in Class 1  there's 100 points to be had just for having a full-bodied, scale-proportioned model (and therefore lost for having a non-compliant model!)
Jan flew exceptionally well as always, scoring a best of 326 points. ~Suffice it to say that the second-placed pilot was nearly 100 points behind…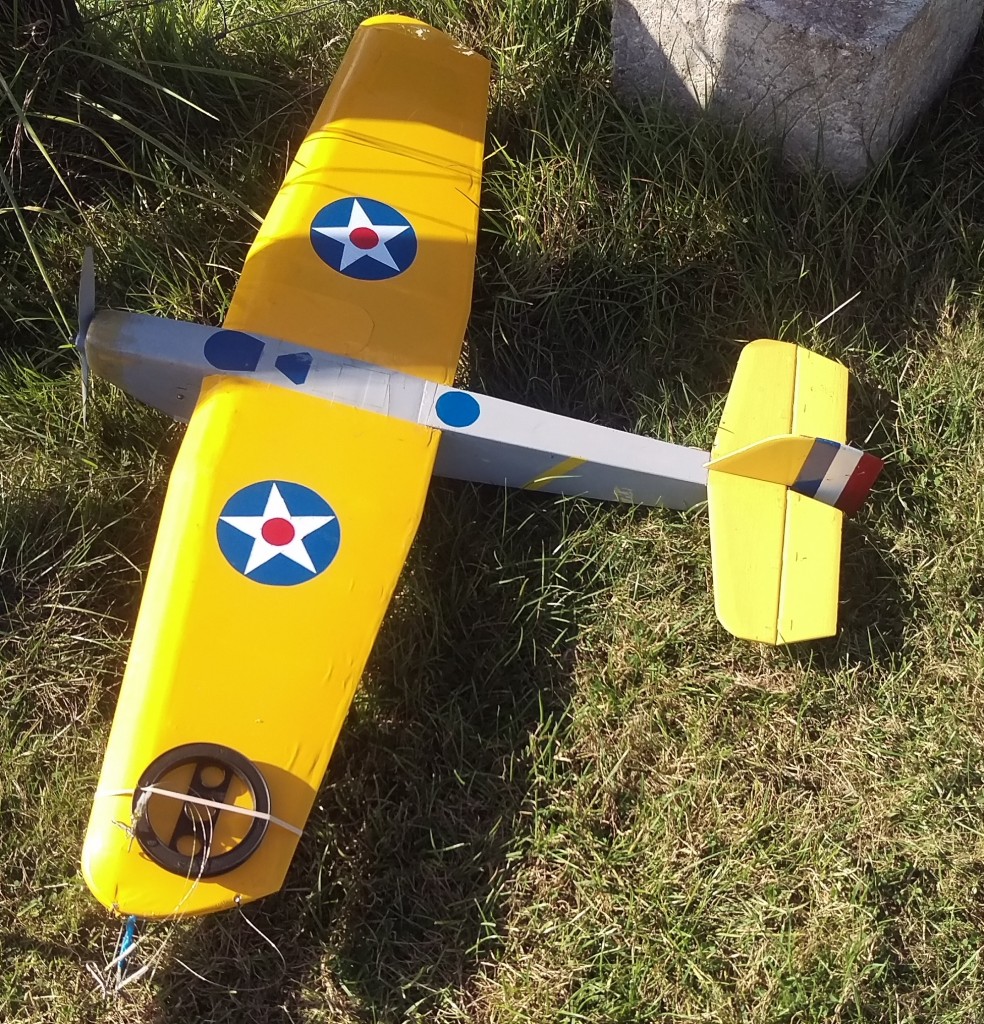 Jan Odeyn's Class 1-winning Martin MO-1
Your correspondent Flyco had originally entered Class 1 intending to fly a jet-outline Vought Corsair 2 (baby brother of the Crusader) that I'm building from the House of Balsa kit, but it just wasn't ready. I offered to scratch but Andy Housden suggested I fly a BCD model in Class 1 just for the experience, reminding me that I'd lose 100 points before I flew because it wouldn't meet the scale requirements. I'm up for a challenge so I argued my way onto the deck (quoting Andy!) and had two flights with my Joe Just Wildcat. Astonishingly, one of the flights resulted in an arrested landing (100 points) and the speed differential gave me another 66.3 – wow, 166.3 points – a bit of a result! Feeling a bit of an imposter but being assured that everything was legal, I slunk away hoping none of the other Class 1 guys noticed! (thinks: if the Wildcat had been full-bodied, that would have given me second place with 266.3…hmmm!)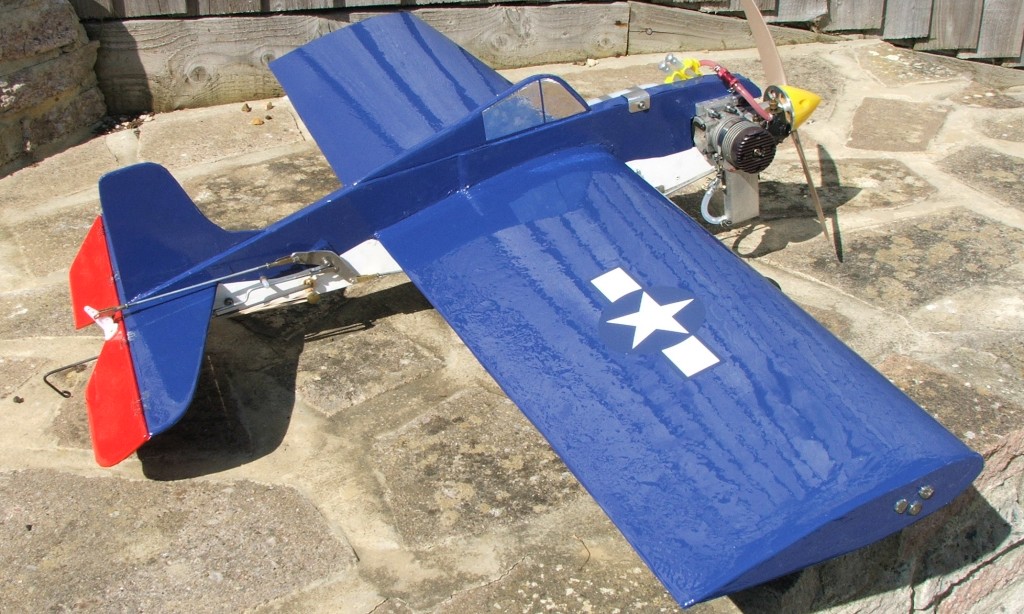 Heroic Wildcat – 5/8 in Class 1, thanks again to Joe Just!
Chris Hague is another Martin MO-1 fan, and has built a smart electrically-powered version rather similar to Jan's model. Chris's fast laps were a little off the pace but to compensate he turned in a couple of good loiters, the best of which clocked 100.6 seconds. However, two missed landings left him with a best score of 69.2 and seventh place.
Peter Tribe brought his Westland Wyvern to the deck – a model I'm always pleased to see as it was the last fixed-wing design produced by my employers, Westland Helicopters (well, that's what they used to be called, they are soon to be renamed for the fourth time by their Italian owners to become "Leonardo MW" – don't ask me, I don't know why!). A highly potent turboprop fighter-bomber in its most-developed guise, the Wyvern is an impressive beast, and also flies very well in Class 1 form. Peter has powered it with an Horizon hobbies electric motor, and it faitly whizzed round twice to land scores of 198.6 and 205.6, which brought him third place.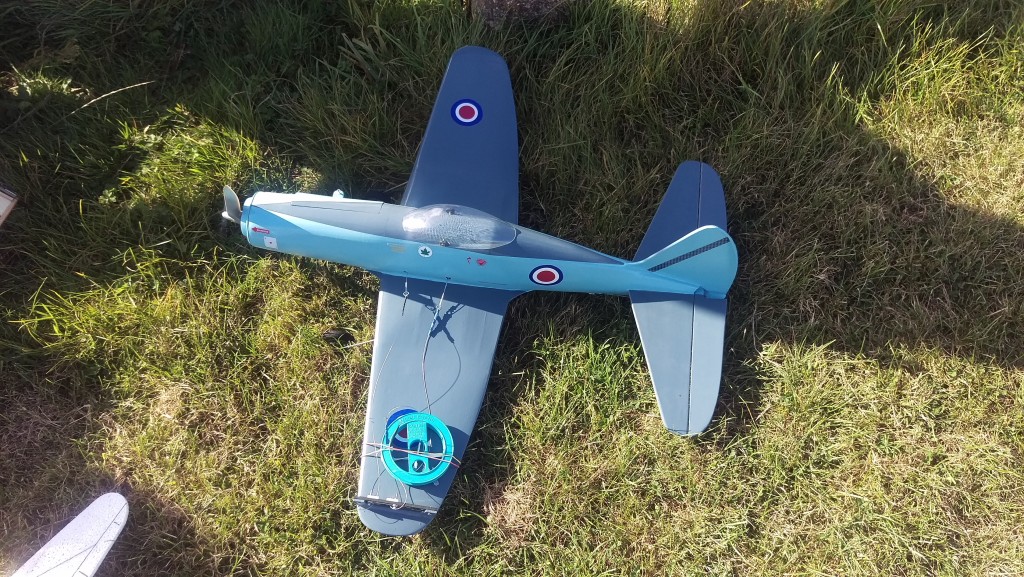 Peter Tribe's Wyvern – third placed in Class 1
Finally, Bob Philipps took time off from judging and helping other people like me to get a flight in, and astounded us all with his orange-coloured "Zomo Susei". Now that's an aeroplane name you don't see often – in fact, the only Google reference is to this page on this site! However, "Susei" apparently translates from the Japanese to "Comet", so we were looking at the last version of the WW" Yokosuka D4Y4 Special Strike Bomber, a single-seat kamikaze aircraft, capable of carrying one 800 kg (1,760 lb) bomb, which was put into production in February 1945. It was equipped with three RATO boosters (Wow!) for terminal dive acceleration. This aircraft was an almost ideal kamikaze model: it had a combination of speed (560 km/h/350 mph), range (2,500 km/1,550 mi) and payload (800 kg/1,760 lb) probably not matched by any other Japanese aircraft (thank you, Wikipedia!)
Bob and John were both intending to fly the Comet, but in the end only Bob took to the handle. John told me that originally they had powered it with a very hot pylon race i/c engine, but the weight was so much that the model was converted to electrical power. I was invited to hold it and crikey, was it HEAVY! Bob only flew it once in competition, but managed to get it off the deck, but overshot on landing. Class 1 rules are kinder on the flier for failed landings, as all points scored up to then still count, so Bob amassed a flying score of 172.4 points,
A full-sized Susei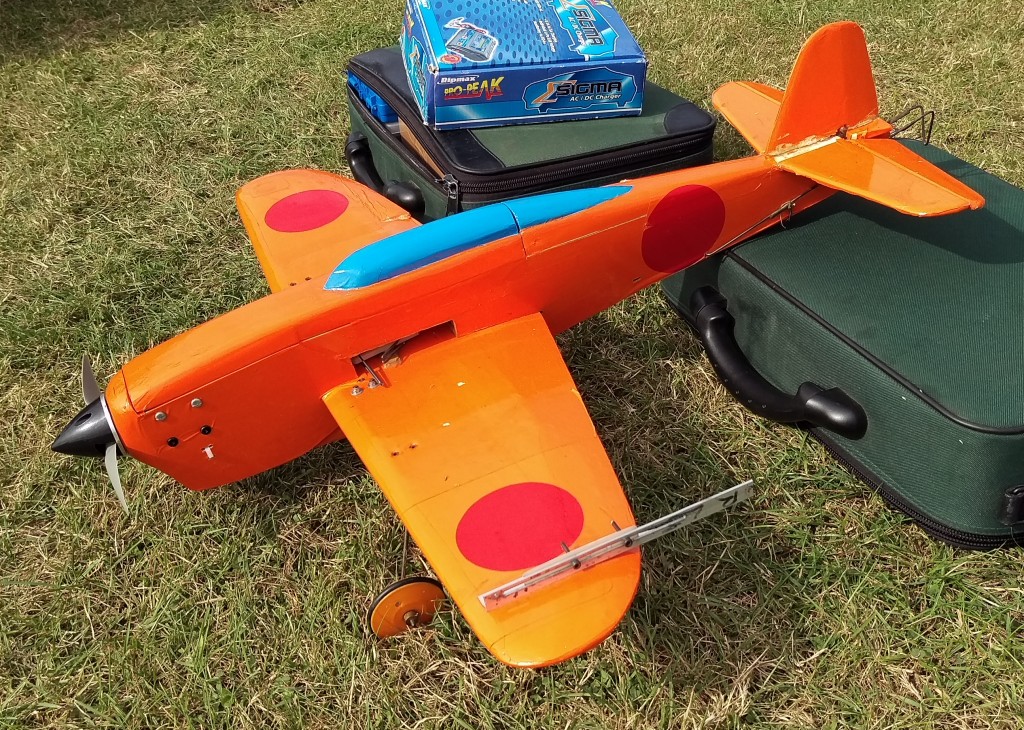 Bob Philipp's Class 1 Susei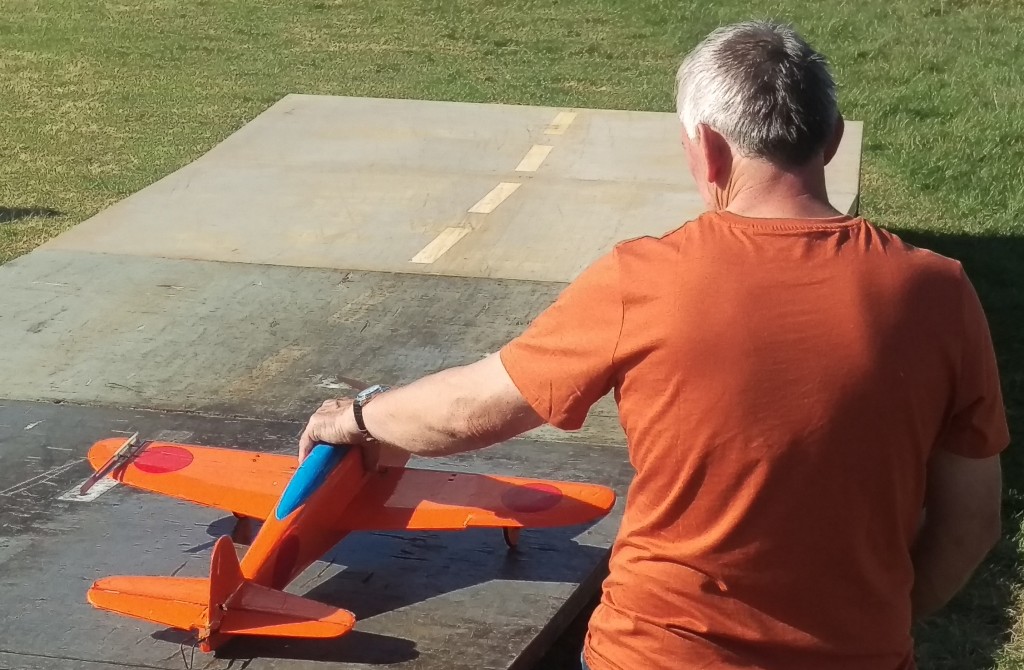 Ground-crew in matching uniform (Peter Tribe) – essential colour coordination!
STRIKE DOWN THE PLANES AND UP-ANCHOR – IT'STIME FOR THE PRIZE-GIVING!
So ended a memorable Carrier Nationals, held in an ideal location but under, well, sub-optimal flying conditions; I'm sure no-one who flew that weekend will ever forget it! The decks were packed and trailerised, and the cars and fliers moved off the hallowed turf to the carpark tarmac well before 17:00, giving Andy enough time to work out the full set of results and placings you see below.
The BCD winner was Chris Howell, who really deserved his success by bouncing back from losing all his models to thieves a year ago, to conceiving and building a very different but very effective model that defeated the best of the best on the day.
The Class 1 winner was Jan Odeyn, whose long journey back to Belgium must have been made so much easier by his convincing win – respect,  Jan!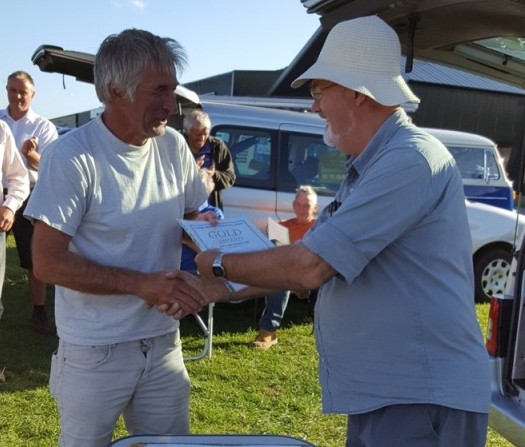 Once again, we must all thank Andy for organising a great weekend, and also all those who helped in the administration of two decks, over two days and for two classes – well done guys!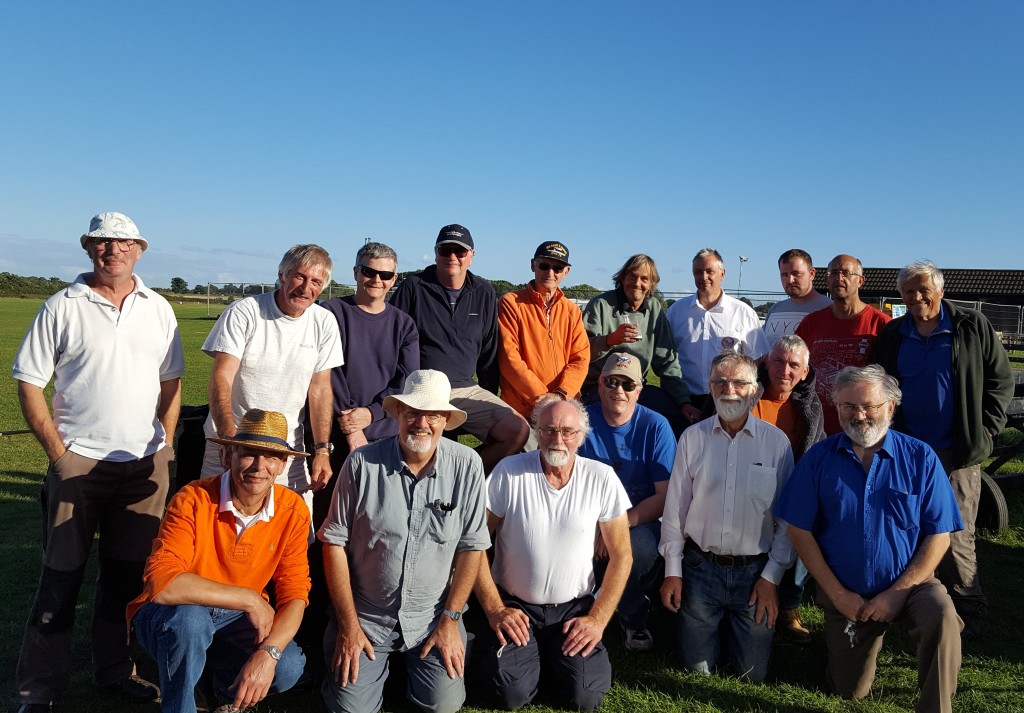 The Nats Survivors, Sunday evening
POSTSCRIPT!
I was thrashing the OS40 in my Hellcat on Saturday and could not get it to fire up – even worse,my electric starter had given up the ghost, and in best Basil Fawlty style I was cursing it in fine style. A gentle cough behind me heralded the arrival of Mrs Flyco, about to offer some advice. "You'll never start it like that" she said, "come over here and see what you really ought to be using!" Well, my arm was by now in two, so I meekly left the OS and followed her into the museum hangar behind us.
"There!" she said brightly, pointing to something just inside the door "that's what you were saying you wanted just now – Huck's Starter!"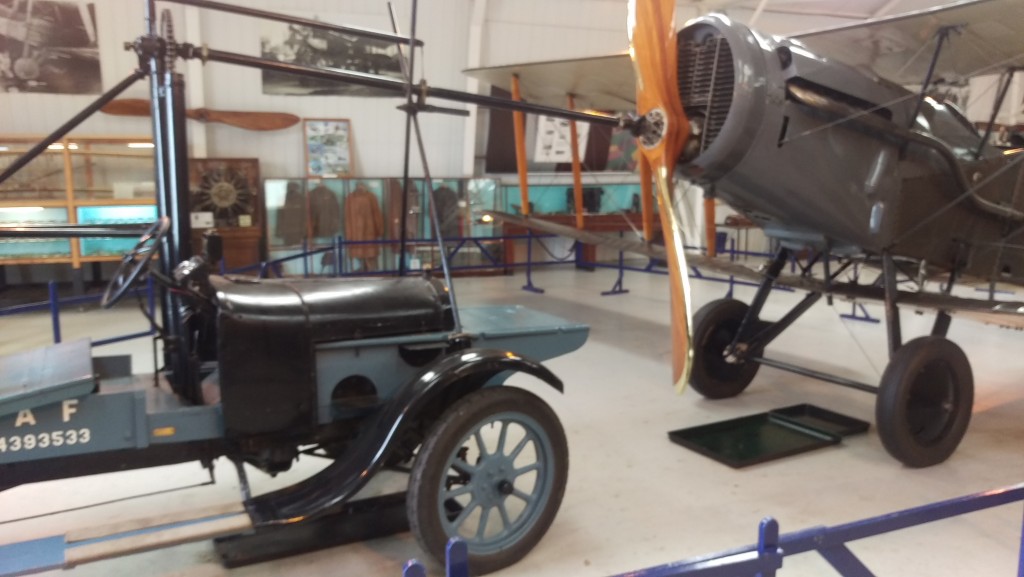 "Close, my little Poppette" I replied, "but what I was actually saying was: "F*** this Starter!"
---
"
2016 NATS RESULTS
UK CARRIER NATS RESULTS 2016
Old Warden 24-25/09/16
BASIC CARRIER DECK
PLACE
PILOT
AIRCRAFT
POWERPLANT
SCORE
1
Chris Howell
Wildcat
Electric
219.3
2
Jan Odeyn
Tigercat
Electric
215.1
3
Nigel Frith
Zero
Electric
207.4
4
Andy Housden
Seamew
OS40
204.9
5
Peter Tribe
Skyrocket
Electric
191.8
6
Ian Gilbert
Spearfish
ASP25
191.4
7
John Green
Crusader
SC25
187.4
8
Mike Welch
Firebrand
SC29
178.2
9
Ray Ewart
Firefly
ST51
168.4
10
Nigel Crabtree
Guardian
Electric
168.1
11
David Cowburn
Seafang
Irvine40
154.0
12
Mike May
Wildcat
OS40
144.2
13
Paul Stubbs
Hellcat
Enya40
139.7
14
Dave Holmes
Seamew
OS40
134.0
15
Fred Skinner
Bf109T
Evo36
89.8
16
Chris Hague
Spearfish
West36 RR
87.7
17
Andy Green
Seafire
ASP36
51.7
18
Ollie Harris
Boeing
OS15
35.7
19
John Philipps
Sea Hornet
Electric
DQ
20
David Goddard
Barracuda
NK
DQ
21
Paul Harris
Hellcat
SC12
Attempt
22
Matt Cordwell
Bf109T
Attempt
Unplaced
Johnathon Crabtree
DNF
Unplaced
Roy Green
DNF
Unplaced
Brian Hunt
DNF
Unplaced
Alan Husband
DNF
Unplaced
Bob Philipps
DNF
---
UK CARRIER NATS RESULTS 2016
Old Warden 24-25/09/16
CLASS 1 CARRIER DECK
PLACE
PILOT
AIRCRAFT
POWERPLANT
SCORE
1
Jan Odeyn
MO-1
Electric
326.0
2
Mike Welch
Pup
OS 4-stroke
235.4
3
Peter Tribe
Wyvern
Electric
205.6
4
Bob Philipps
Zomo Susei
Electric
172.4
5
Mike May
Wildcat
OS40
166.3
6
Andy Housden
Pup
OS 4-stroke
150.5
7
Chris Hague
MO-1
Electric
69.2
8
Paul Stubbs
Hellcat
ST40
DQ
Unplaced
John Philipps
DNF
Unplaced
Dave Holmes
DNF
---
…and finally! As a souvenir, and to remind everyone of the work Andy put into the event, here's a copy of his comprehensive briefing notes for all competitors –
Thank you, "Mr Carrier-Deck UK"!